Table of Contents for this Episode
Categories: First Time in Paris, Paris
Discussed in this Episode
Cruise on the Seine River
Ile de la Cité
Le Marais
The Louvre Museum
The Eiffel Tower
Opéra Garnier
Jardin des Tuileries
Orsay Museum
Montmartre Neighborhood
Saint Germain des Près Neighborhood
Head's Up: This is a transcript of everything we said on the show. If you would rather see a summary of what we said, scroll to the bottom and click on Episode Page.
[00:00] Annie: This is Join Us in France Episode 179. Join Us in France is the podcast for where we talk about France, it's many quirks, its history, its language, and of course, destinations in France you want to learn about because, hopefully, you'll be visiting soon!
[00:15] Annie: On today's episode Elyse and I discuss 10 things to do in Paris for first time visitors—and share organizational tips that will make your life a lot easier when you are there! And from experience, I can tell you that even people who have visited Paris before need to learn how to get themselves organized for Paris, because it's not the same as what you're used to at home!
[00:38] Annie: The extra content for email subscribers is going to be a Paris Attractions Map where you can see where all these things are in relationship one to the other; and how to get from one to the other using public transportation or walking if they are close to one another, which a lot of them will be.
[00:55] Annie: For the French History Brief after the episode I'll be answering the question: The Middle Ages, when did it start and when did it end?
[01:05] Annie: And since this is the first episode of 2018, I'd love to hear about your travel goals for 2018. Experts say that if you make your goals public, you're more likely to make them happen! So I'll be starting a new thread on the Join Us in France Closed Group on Facebook tomorrow, come tell us when your next visit to France is going to be!
[01:25] Annie: I think that travel is an integral part of our well-being: seeing new things, planning new adventures, putting yourself out there, away from your comfort zone, it's all good for all of us! So let's plan some great trips together at the start of this year!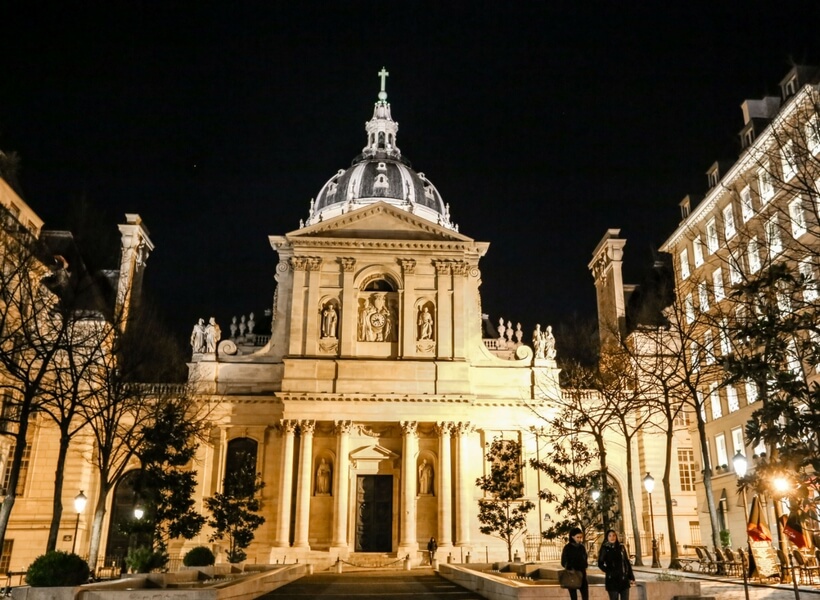 [02:10] Annie: Bonjour Elyse, how are you doing today?
Elyse: I'm fine Annie, how are you?
Annie: Good, bonjour everybody!
Elyse: Bonjour!
Annie: Welcome back! The show was dark for a couple of weeks, and we're back, so it's been good!
Elyse: It's been good, and this is a new year, so Happy New Year everybody!
Annie: Happy New Year! I must say, it was very refreshing to just hang around my house. I barely turned on my computer this whole time, which was lovely, I must admit! I took care of things around the house; took care some guide dogs; took care of family, it was wonderful.
Elyse: Good for you! And knowing you as I do, it's hard to believe you spent two weeks not looking at your computer! But I take your word for it!
Annie: I swear, I didn't even go to Facebook!
Elyse: Gasp, OMG!
Annie: Maybe 2 minutes per day.
Elyse: Well, you get 3 gold stars!
Annie: Yes, I am very proud of myself.
[03:05] Annie: Alright, so, the topic of today's episode is a first time in Paris. And things that you need to know to have a great time because a little knowledge goes along way!
Elyse: Yes, indeed!
Annie: It's hard to plan a visit somewhere you've never been because you've never been! You don't know what's important there because it might be completely different to what's important where you live.
Elyse: Not only that, but I think that part of the problem with guidebooks is that they standardize everything in a way that personal experience doesn't seem to enter into it a lot.
Annie: that's true! And Elyse and I we've been around the block of few times, we've been to Paris many many times, we've guided people in Paris as well, and so we have noticed a few things that make your life when you're in Paris.
And so, in this episode we'll talk about 10 Paris things, well, attractions or things to do in Paris.
Elyse: Exactly!
Annie: That if you're a first-time visitor in Paris, you needed to see these and you need to do these.
Elyse: You need to see and do, exactly.
Annie: Then we're going to talk about what you have to prepare in advance because things are really important to prepare in advance, and some things not so much. And when you don't know a place it's hard to know, you know, they say don't sweat the small stuff, which is true, but how do you know what the small stuff is if you don't know a place?
Elyse: Just to add that, having lived in a lot of major cities in Europe, since I lived France for a long time you can't always count on the exact same thing in each place you go. So, we're going to talk specifically about Paris.
Annie: Because things that you need to worry about in Rome are not the same things that you have to worry about in Paris. They are different, very different.
So, what you need to prepare in advance. We'll talk about tickets, we'll talk about restaurants, we'll talk about speaking French or not.
Does that matter really? Then we'll also tell you how many days we think you need for a first visit to Paris. And we'll recommend some good areas to stay in for a first-time visitor.
Paris has a lot of hotels, but we'll narrow it down. We're not going to give you the name of one specific hotel because that doesn't serve everybody's needs. But, we'll give you a good area.
[05:20] Alright Elyse, take it away! Your list of 10 things that we need to do in Paris as first-time visitors.
Elyse: So, I think that all things considered, when you go into a major capital city like Paris for the first time, there are a few iconic things that you definitely want to do. And there are things you want to see.
How Many Days Do I Need to Spend for a First Visit to Paris?
I used to be a bit more snobbish about certain things than I am now. And I realized, having done the same thing in many other cities, that is what you really should do on your first trip.
Because you get that done, and you say oh, I've done that, I've seen that! And then you can move on to your second trip, your third trip, and you can really appreciate a lot of other kinds of things at the same time.
So, so I would say that the first thing to do, and this has nothing to do with how long you stay, although I'm not sure if we agree exactly on the number of days that I think any major capital needs.
I think personally that for a major capital city Paris, another one of course would be Barcelona, or London, Rome, Madrid. You need four nights and five days.
To me if you do less, you're just running around like a chicken without your head and you're trying to get everything.
Annie: And you're going too fast.
Elyse: Yes, you're going too fast and it doesn't really let you seep in to get a bit of a feeling for the place that you're in.
So, let's go with that assumption that it's about that amount of time.
Annie: OK, sounds good!
[06:55] Things to Do in Paris for First Time Visitors, Our #1 is Take a Ride on the Seine River
Elyse: One of the things I think is an absolute must. A favorite of yours, a favorite of mine. I really do think it is wonderful, is to take one of the rides on the boat up the Seine, the boats that are called the Bateaux Mouches.
Annie: Bateaux Mouches is actually a brand, but you don't have to do it with the Bateaux Mouches, there are others that do it. Choose whichever is close to your hotel, it doesn't matter.
Elyse: In fact, you know what's happened is that the term, like the Kleenex, which is a brand name, has just become the generic term for the boats that people use. But of course you're right, it's a boat tour up and down the Seine in the city center.
Annie: And another company is Vedettes de Paris or Vedettes du Pont Neuf.
Elyse: But anyway, and my strong recommendation is to do it at night. To do it at night for the simple reason that you do get to see things lighted up and of course you get to see the Eiffel Tower sparkle which is an absolutely magical, magical moment.
Annie: Right, and that's every hour on the hour. So the bateau will slow down or speed up yes if you're around that time. So you have to time it.
Elyse: It's about an hour ride.
Annie: Hey, this is Annie jumping in with a clarification. I just called the Bateaux Mouches company to ask them when is the optimal time for you to get on the Bateaux Mouches so you can get to the Eiffel Tower when it sparkles.
And that would be half an hour before the hour. t's about an hour ride. So, if you get on the boat at the half hour point, you are more likely to see the sparkle.
But what the lady told me also is that right now the Seine river is experiencing a flood, and so they've had to change their route because the boats don't fit under the bridges (some of them anyway).
So depending on what time of year you go, you might have a different experience. But as far as telling you the best time to get on the boat for most of the year, and that would be the half hour.
Elyse: It's a wonderful enjoyable relaxing thing. You don't have to worry about if you're going in the right direction, the boat will take you there and back. And you can sit and it's a lovely introduction to the city.
Annie: Right, and they will just name all the landmarks as you go along. It gives you an idea of the lay of the land and it's just pleasant.
And some people want to do a dinner cruise and that's fine too. I've never done that.
Elyse: I've never done that, I have always a bit suspicious honestly that it tends to be very expensive. I've done it in a couple of other major European cities, it's the thing of saying I did. But usually you're paying for the sitting and eating. It's not necessarily the best food. So I would personally stick to the boat ride.
Annie: Although we've had several listeners who said that they did the dinner cruise, and they liked the food.
Elyse: I think there are several ones, so maybe it depends on which one.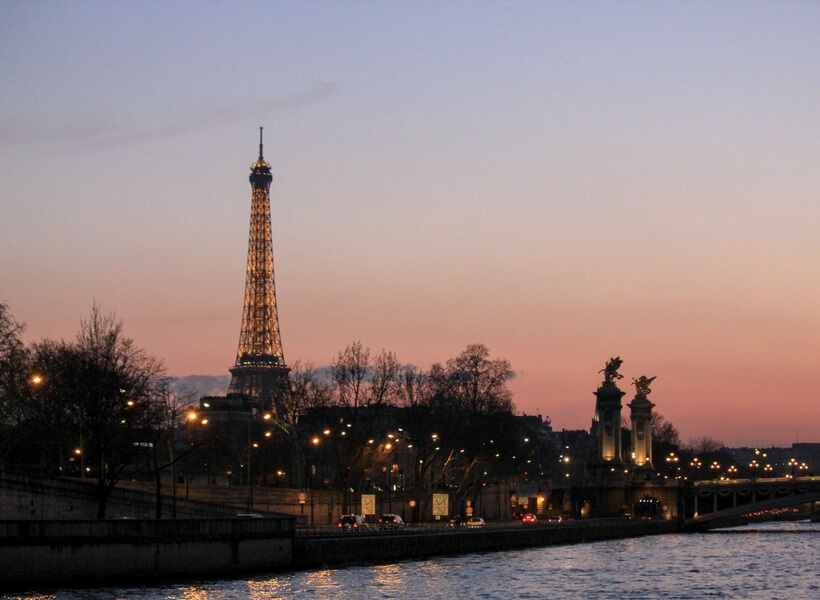 [10:00] Things to Do in Paris for First Time Visitors, Our #2 is the Île de la Cité.
Elyse: My number two, which means that we're starting at the heart heart heart of the city, the center of the city, is the tiny little island in the middle of the Seine, called Île de la Cité. Île de la Cité is where you have the wonderful famous Cathedral of Notre Dame, which is a major major monument that you must see.
And also on this tiny little island, you have two other things that are wonderful to visit if you have the time. One is this chapel called the Saint Chapelle.
Annie: La Sainte Chapelle.
Elyse: Which is famous for the magnificent stained-glass windows. And then next to it, if you see it only from the outside, that's already good, you don't have to necessarily go inside. But there is a building that is called the Conciergerie which was the very first royal palace went Paris was basically a tiny little fortified city.
And so it was redone and cleaned up and when you look at it from the outside you are looking at the castle that you recognize. And I don't mean this disparagingly, but it is literally the castle you see in the Disneyland motifs. With its cone-shaped towers, and it's beautifully cleaned up and everything.
And when you do a walk and a visit both outside and around the Cathedral, and inside if you have time to Sainte Chapelle and inside of course Notre Dame to see the stained-glass in the magnificent structure. You are actually walking around the oldest most historical part of Paris.
And it's great because you get a view to both sides of the river from there. You have a little bit of a park on both ends because it's a kind of sheer shape little islands two points as a park on either end. And you can sit and watch the boats go by the world go by and look out over the rest of Paris.
Annie: Right, and if you want more details on what you're looking at for Notre Dame, we have done three episodes on Notre Dame because we go into depth.
If you want to know about the historical background of Notre Dame in the Middle Ages. It was built in the 1100s, so there is a lot to say about that, and that was episode four of the podcast. Notre Dame Cathedral, Episode 4
If you want to learn about architecture, the Gothic, the French Gothic of Notre Dame, that's episode five: Notre Dame Architecture, Episode 5
And if you would like an audio tour of sorts with Elyse talk to you as you walk around and points out things for you to look at and pay attention to; that's episode six of the podcast. Notre Dame Cathedral Self Guided Tour, Episode 6
And we have another one as well about the Sainte Chapelle, but right this second I can't remember which one it is, but I'll put it in the link in the show notes. The Sainte Chapelle in Paris, Episode 3
[12:52] Things to Do in Paris for First Time Visitors, Our #3 is Le Marais.
Elyse: So, next to that is a part of what I think is also really a wonderful thing to do. Remember we were talking about getting a sense of what the city is and everything. And that is crossing over, doesn't have to be simultaneous of consecutive to the little visit to Île de la Cité, but to get to this wonderful wonderful wonderful area called Le Marais, you start at this other wonderful little island called Île Saint Louis.
Which you can get to by foot. If you are staying in… We'll be talking about hotels that are all not that far away from this this basic area. That the heart in the center of Paris, which is really constructed in consecutive concentric circles, it starts right here in the center and the card works its way out.
So, by definition everything that is the oldest is very close to this part.
Annie: Very close to Notre Dame.
Elyse: So, if you go across the two bridges that will take you to this little island called Île Saint Louis. Which is a lovely, very posh, but wonderful place to walk through and visit. You can stop there and have a drink or something to eat, but also just walk through it because it's very beautiful, very small.
You walk across another bridge, and you come to this other major neighborhood that is wonderful to visit called Le Marais. Le Marais has some of the oldest civil houses left in Paris, which are from the 1400s.
It has major monuments and it has a for a couple of gorgeous gorgeous Renaissance palaces that have been renovated because the now used for other purposes. And it has a collection of 17th century inner-city Château or inner-city mansions and some that are fabulous.
And it is an area filled with narrow little cobblestone streets and shops, so it has just about everything.
Annie: It's a good place for shopping and it's also a place where people like to go if they are interested in the Knight Templars because that's where they founded their order.
The Marais was developed by religious orders, the biggest one of them was the Knight Templars. Of course, most of that stuff is gone by now, but there are still a few places where you can see the remnants of that history.
So, le Marais, we did an episode, episode #27 Le Marais Neighborhood in Paris, Episode 27 and that's actually a walk. So, Elyse tells you where to go and how to proceed with you walk so you don't miss any of the lovely places in the Marais. So that's episode 27.
Elyse: And, there are of course many other things to see there, we can go on and on.
Annie: Oh, yeah, we're going quick. This is an introduction for new people so…
[15:47] Things to Do in Paris for First Time Visitors, Our #4 is the Louvre Museum
Elyse: This is something that I think you really have to do and that is go to the Louvre. Now, it is intimidating. It's a huge huge Museum. It's really very big. And I know that you agree with me that in order to do the Louvre, unless you really are just putting on your skates and trying to roll through the entire building…
Annie: The won't let you do that BTW!
Elyse: One of the things that I think Annie wants to talk about a bit later, is to decide how to choose what parts of the museum you want to see. Because it is overwhelming.
But I must say that, all things being considered, the building is fabulous to look at the inside and out. The pyramid is wonderful which is of course is very modern edition that goes strangely enough with all of this beautiful Renaissance and leader on architecture.
And it's got major collections of absolutely everything you could possibly imagine. From dishes to ancient Egyptian mummies.
Annie: Collections of old instruments.
Elyse: Instruments, paintings that like you've never seen before in your life. And for those who don't want to see paintings, you have a choice of so many things that it's unbelievable. And there's even a shopping mall underground.
Annie: And the shopping mall ain't bad!
Elyse: It ain't bad at all!
Annie: And, of course the Mona Lisa! She's there!
Elyse: You have to. I guess everybody goes here's my selfie. There I am, I saw her. I won't pass judgment on the rest of her for the moment, but I think that in spite of the fact that it is a kind of oh yeah, kind of cliché, is something to do.
Annie: I think, even who don't love museums, if they do a bit of preparation that will talk about in a few moments, then they will enjoy the Louvre.
Elyse: And you really have something for everybody's taste because you have paintings, sculpture, decoration, design, you have everything.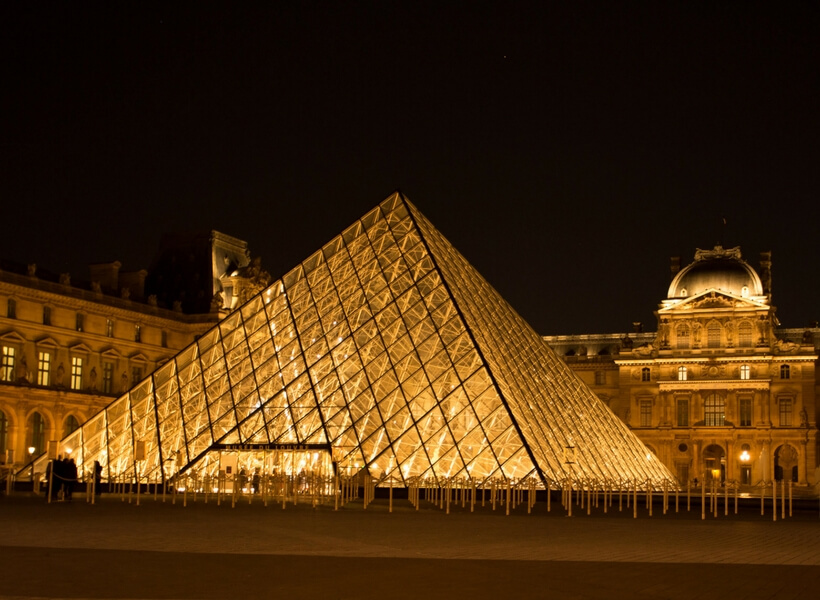 [18:01] Things to Do in Paris for First Time Visitors, Our #5 is the Eiffel Tower.
Elyse: The next one is of course the Eiffel Tower. Now we know the Eiffel Tower is a symbol that everybody recognizes as representing Paris and France. And some people will say pff, you know, but it is really something special to see.
Annie: It's spectacular! It's one of these places, attractions, where you don't have to know anything about it to be wowed. You just walk in front and you go wow that thing is amazing!
Elyse: It's amazing! The history of it is amazing. The ability to build something like that in 1890 is unbelievable. The fact that it is elegant. That's the thing about it! It's not just that it's a structure that sticks up, it's absolutely gorgeous.
And it's impressive from close underneath, and from far away. It's impressive from the boats is impressive from seeing it from the rooftops of certain places and it's fabulous to visit.
Now you don't have to go to the top, but you can do something that is also a wonderful, which you and I have done which is walk across the river to the other side to the Trocadero. This is the name of this huge esplanade and buildings that were built on the other side of the river later on, not at the same time.
And the Trocadero is a place that lots and lots and lots of tourists go because they can get these fun photographs.
Annie: Yes, it's great for photos.
Elyse: And it's a wonderful point of view, especially when you want to take some pictures and you just want to get a sense of the panoramic image of the Eiffel Tower. So, you really have to get that in no matter what.
Annie: I agree.
Elyse: And going up to the top, that's up to people.
Annie: And let me mention that the episode we did about the Eiffel Tower, about the history, about the context and all of that, that's episode 12 of the podcast. Should You Go to the Eiffel Tower? Episode 12.
Elyse: Have we really only done one? Maybe we have to go back and think about that again, do another one. I've learned lots of things about Eiffel recently.
[20:06] Things to Do in Paris for First Time Visitors, Our #6 is the Opera Garnier.
Elyse: Next one. A place again to visit also I think something that has strangely become popular in the last few years that wasn't before. And that is the Opéra Garnier.
It is a little Versailles. And if you don't want to take almost a full day to travel out to Versailles, which is a kind of beautiful but overwhelming experience, and can be really intimidating because of how big is. The crowds, and it depends on time of year.
Annie: I wouldn't recommend that first time visitors go to Versailles.
Elyse: I really don't, unless you have a particularly passionate reason that you have to see it. Because you you you are a distant related cousin to Marie Antoinette or something like that.
Annie: Well, in that case go to the Conciergerie!
Elyse: Oh, no, the blood!
Annie: Yeah
Elyse: The Opéra Garnier, which is our right of course in the heart of the city, is absolutely stupendous.
Annie: Yeah, its beautiful.
Elyse: It's gorgeous, and it is of course still functioning as a concert hall, because now it's mostly dance that is there.
Annie: Ballet, yes.
Elyse: Ballet as opposed to the opera which is somewhere else. But it's a beautiful.
Annie: It will blow you away.
Elyse: It is easy to get to. It is something that you can do and include in a busy day with other things and it is just fabulous.
Annie: Yup, and it's right by the Galleries Lafayette which are also well-worth a visit and the Printemps.
Elyse: And the Printemps. Those are great for shopping and also the Galleries Lafayette which has this fabulous rooftop room.
Annie: The dome and the rooftop. Printemps also has a beautiful rooftop for photos.
Elyse: This is the big 19th Century fancy new building area of Paris.
Annie: Department stores.
Elyse: The Department Stores and everything else.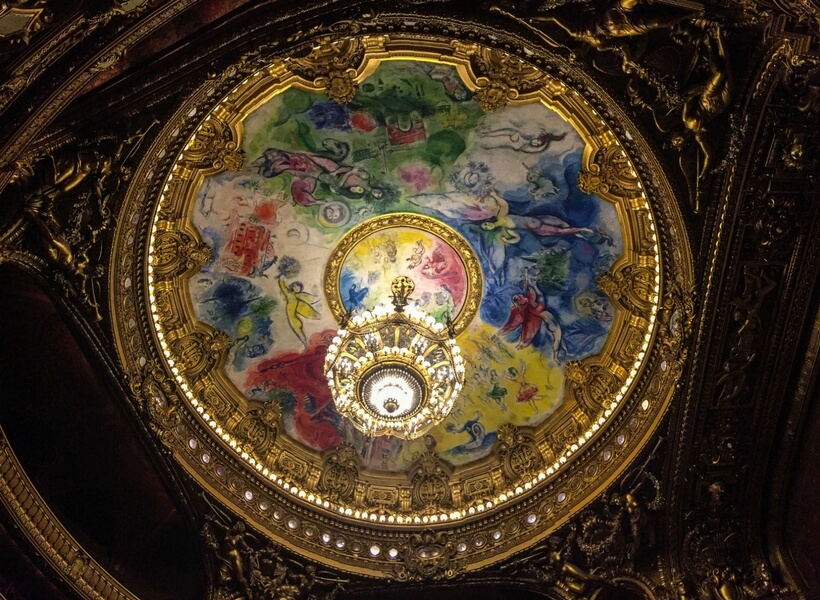 [21:28] Things to Do in Paris for First Time Visitors, Our #7 is a walk in the Jardin des Tuileries.
Elyse: A walk, let's go take a walk for a minute. One of the things that is close to the Louvre, we haven't mentioned the Champs-Élysées, and I'm not going to talk about specifically walking up the Champs-Élysées.
What I am going to mention I think is something to do to get a feel for the ancient glorious times in Paris is to walk through the Tuileries.
The Tuileries are gardens that were built out from the Louvre. They are basically a kilometer long, which is half a mile, and they take you to a spot that is really special and you really do have to see.
When you have your first time in Paris and that is the Place de la Concorde. Where you have the obelisk that Napoleon brought back from Egypt.
Annie: And he didn't steal it!
Elyse: And he didn't steal it, , they gave it to him as a present.
Annie: He stole plenty, but not that one.
Elyse: Not that one. It's over 3000 years old, covered with a gorgeously gilded a hieroglyphics.
And a walk through this enormously beautiful Italian style park with statuary, gardens, cafes where you can buy a crepe. It is an extension of what life was like under the Kings and Queens and it's just absolutely beautiful.
Annie: And there used to be a palace in the Tuileries Garden, it's gone. So there's a lot of history to it as well. I have to say about the Place de la Concorde though that it's a really busy place for cars. When you cross the streets there, follow the lights!
Elyse: Yes, follow the lights. And you walk the circle around it. But I think that as a stroll, as opposed to just visiting some buildings on the inside, it's a lovely big park and garden.
Annie: And you're right there, I mean, if you're at the Louvre, you're right there.
Elyse: And if you're visiting Paris in nice weather, in the spring or in autumn, it's a wonderful place to sit for a while.
Because that's one of the other things to do in Paris, and besides running and going to all these different places, is just sit and watch people go by. See what people are wearing, have a coffee, have a crepe, and we can do that in a café, of course, but is also fun to do it in the park.
[24:28] Things to Do in Paris for First Time Visitors, Our #8 is the Orsay Museum.
Elyse: The other museum that probably is a big must, especially for Anglo speaking people. Interestingly enough, because of the affection that most Americans, Canadians, and I think even of people from places like Australia have with a kind of art from 19 century. That is of course the Orsay Museum.
And the Orsay Museum, which is big, but certainly not as big as the Louvre, is a museum that is not the kind of museum where you have to say oh my God it can only do a small amount. I'm just going to have to choose.
It is a museum is anything that you can actually do. You can do it in about two hours, a bit more. You can stop and just do part of if you want, but of course it is THE Impressionist art museum.
Annie: Right, you can go straight to the post-impressionist area and you'll see Van Gogh, and you'll see masterpieces that you've seen your whole life. And you'll see them in real life. It's really jaw-dropping when you see it in person.
Elyse: And of course all the others: the Monet and the Renoir and the Manet. Of course, this is the big collection. It is the largest single collection of Impressionist art in the world. Even though there's quite a few pieces in various museums in the United States.
But the museum is also very beautiful building because of its history it used to be a railway station, and so it's fun, it's a fun place!
Annie: And when you're there, you have the cafeteria which will take you next to the big Orsay Clock which you've seen in pictures everywhere. You don't need to know any more than that. Just go to the Cafeteria and you'll see the clock! You can't miss it, it's humongous (and there are two of them actually, we forgot to mention that!)
Elyse: And you will undoubtedly, like anybody else, take a picture there!
Annie: Of course, it's lovely!
[26:25] Things to Do in Paris for First Time Visitors, Our #9 is a walk around Montmartre.
Elyse: so, a couple of other things to do that are more in the order of visiting neighborhoods. I love going to Montmartre. It's it's part of the city that is up on a hill.. Paris is not very very hilly, Montmartre is one of the highest parts of Paris.
Montmartre is on the northern side. It's famous for being a place that was the place where all of these artists from the 19 century actually lived and worked for a long time.
It is also famous for having a nightclub called the Moulin Rouge, which is of course where Toulouse-Lautrec used to go and do his drawings.
Montmartre has become very touristy , there's no way of getting around that. It's also famous for this very special strange on 19 century church called the Sacré Coeur. The view from up there is beautiful.
And one of the things that makes a very distinctive is that it is indeed a separate village that is part of the city of Paris but was until the very very end of the 19 century a total separate village.
And so it has kept the characteristics of the village. The houses are little houses. There are some charming little streets. There are beautiful gardens. And if you don't go up the way the most of the tourists go, but find the back way up, you will find wonderful quiet little streets with lovely little houses.
And it gives you a view out over the city from the north looking down at the rooftops at all across it's just out of this world.
Annie: She loves it! I don't like it as much, but we did an episode about that where you can hear all about our different opinions. But it's episode 134 The Lure of Montmartre, Episode 134.
And Montmartre is one of the most popular places in Paris so it totally belongs in this list.
Elyse: And it is a fun place to be. It's not a place where going to get "haute cuisine", but I don't think people care. You can have a crepe, you can have an ice cream, you can have a beer or a coffee.
Annie: Or a glass of wine!
Elyse: Or a glass of wine.
Annie: You're in Paris!
Elyse: I think they give you peanuts with your glass of wine and beer. And again, one of the wonderful things about Paris, doesn't matter where you come from, it is a style of life which is to sit down and watch the world go by. And it's a perfect place to do that.
Annie: If you want your mug drawn too! There are all these caricaturists there.
Elyse: And they are good! There's a great little Dali Museum if you're interested in Dali.
Annie: And there's more in Montmartre than we've talked about here, but we'll let you listen to episode 134 The Lure of Montmartre, Episode 134
[29:20] Things to Do in Paris for First Time Visitors, Our #10 is a walk around Saint-Germain.
Elyse: And then, I think the last of our top 10, I'm going to go back to the idea of a walk again. And and this time on the left bank side, and that is to take a walk through the Saint Germain area, which is absolutely gorgeous.
It is really of only were talking the difference between the Latin quarter where the Notre Dame is, just a few blocks away. It's extremely elegant, gorgeous, also medieval houses. Beautiful beautiful boutiques. Wine bars, places that you can sit.
Annie: Cheese places.
Elyse: It's a great place for food. Great place for looking in the windows and seeing if you can afford what's in there. But also there's this gorgeous very old church of the church of Saint-Germain-des-Près.
The church of Saint-Germain-des-Près has part of it that's actually older than Notre Dame. is a beautiful church to see from the outside. You can walk around and inside as well. It has concerts some days of the week just like Notre Dame does.
And there's an elegance in the old little streets that that are really really lovely. And it's where the people in the 1950s all those famous writers Camus and all of those people. That is where they hung out that is where they hung out in the cafes. And it it's got some live jazz and everything is just really good.
Annie: It's one of my favorite place, a very good place to stay also. I'm jumping the gun a bit, but it's also a very good place to stay.
Elyse: Now that's the top 10. I have others that come close underneath.
Annie: Yes, of course we have others!
Elyse: But there we are. If you are doing of 4 to 5 days, we have given you a lot!
Annie: Plenty to see in Paris!
Elyse: And it's wonderful and you can mix and match inside and outside and everything else.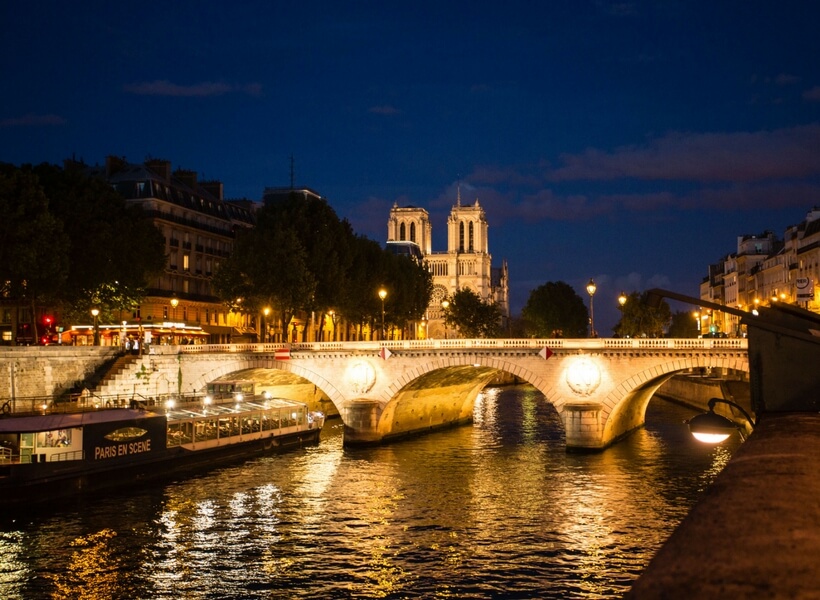 Annie: Let's talk about things you need to prepare before you come to France to make your life simple. First thing is you have to get tickets in advance.
Now, we haven't mentioned that many museums, but if you are going to go to Museums, you really need to get the Museum Pass. You might think that's a bit expensive because it's €48 for two days, for four days it's €62, for six days €74.
We're not making a penny on this recommendation, we don't care which way to go, but trust me that will save you a lot of grief! Because once you have that ticket, you can go in and out of the museum all you want .
All you have to do is flash the thing, and they will… Like at the Louvre, for instance, once you go through security (and you have to go through security everywhere now), once you're in past security, you put your museum pass up to the reader and you're in. It's really simple! And if you want to come back on a different day that's fine too.
Elyse: However, just to remind people that those are consecutive days,
Annie: Consecutive days, yes. So, if you are there for four days, I would totally spend the €48, no sorry, the €62 for the 4 day because you never know. The weather turns bad, it's too hot, too cold, too wet, whatever.
You wanted to go to Saint-Germain, but it's pouring rain, right? Well, go to the Cluny Museum instead.
Elyse: Or go to the Orsay Museum.
Annie: Or go again to … anyway, plan B.
Elyse: And just for people to know that the Louvre, surprisingly, is air conditioned! One of the biggest museums in the world, you don't have to worry about whether or not you…
Annie: are sweating to death! So I recommend that you get the museum pass. And the way you do that is on your first day in Paris, if you have a museum next to your hotel, even if it's a museum you don't intend to visit, go in, buy your museum pass.
You can buy the museum pass at the tourist office…
Elyse: train station, I think you can at the train stations as well.
Annie: You know, they are available in lots of places at the same price everywhere, you're not going to get a discount or an up sale or whatever, it's the same everywhere.
And it counts from the first day you use it. Not the day you buy it, but the day you use it for the first time.
Elyse: It allows you to not wait on very very long lines.
Annie: Yes, oh yes, it will totally cut the ticket buying line. So, that's really good. And also I think that it's psychology. Once you've paid for the Museum Pass, you'll say well, why not go in there? We're right in front of the Picasso Museum, let's walk in and see what it's like! And just do a quick run through.
Elyse: You don't have to stay a long time!
Annie: You don't have to stay a long time, you can be just there for a few minutes, take a peek and get out. So it's a very good thing to have.
[34:21] Things You Need to Prepare in Advance: Decide what you're going to do on what day
Now, the next thing you must do in advance is that you must decide what day to visit which attraction or which museum. Because some of these attractions have significantly lower attendance on specific days.
So, you can find all of that if you go to this page. I give you a link to a website, it's a French website, but you don't need to understand French to understand what they are saying. It's called jaimeattendre which is kind of crazy because it means I love to wait.
Elyse: Which is definitely not me!
Annie: jaimeattendre will tell you over months and years the average attendance of these places. And it gives you the lowest. For instance, I know because I've been there that Wednesday mornings are best for the Orsay Museum. That's the lowest attendance of any time in the week. Thursday mornings are best for the Louvre, it just is.
JEFILE
If you want to go up the towers Notre Dame, it's not like it used to be where you'd line up and you'd see that long line of people outside of Notre Dame. Now you have to reserve.
And there's an App for that, it's called jefile. And again, if you go here you'll find this link to jefie. And the way it works is you download an App from home and it won't do anything until you get close to Notre Dame. When you get to within 5 or 6 kilometers, I can't remember what it is, it will go live and it will say "would you like to go to Notre Dame today?" and you can reserve your ticket from your App.
Elyse: And remember, if you have your museum pass, then it's included, so it's a good combination to do.
Annie: And what happens there is that once… and so they assign your time to go. The App tells you it's for today only. You say I want to go today and it tells you next slot available is at 11:15. And you show up at 11:15, you go through security, and then you give your pass and you're in.
So it's much easier. Look that up here.
[36:37] Things You Need to Prepare in Advance: Decide what masterpieces you want to see in what museum.
Annie: The other thing that you need to do really, especially if you're a first timer, is that you decide of one or two things that you want to see each Museum.
The Louvre. It's so big that it's overwhelming. If you just walk around aimlessly, you will not get very much out of it. The Louvre website has a page that shows the masterpieces of the Louvre. So they'll tell you these are the biggies and why.
And if you go informed as to why… Like the Mona Lisa. Yes, everybody wants to see the Mona Lisa and I bet most of the people go don't have a clue how it got to be so famous and so popular.
Now of course when something is popular it's like a vicious circle. It gets more and more and more popular. Why? Because it's popular and everybody wants to see it. That's just human nature.
But it got to be a masterpiece for a reason and if you learn a bit about that reason you will get so much out of it, of seeing it in person.
If you are a lawyer, you have to go see the Hammurabi code. The big thing where they wrote down the first legal code. You just have to! You're in the Louvre, go see it!
So, go to the website for Louvre and the Orsay and look at their masterpieces and pick one or two or three, whatever you decide.
Elyse: And also, if you go to the websites for those museums, they show you the map layouts. So even though when you go into the museum they will give you a free layout that you can carry around with you, it's good to familiarize yourself bit ahead of time to get an idea of where some things are and check them off yourself.
And you know what works really well, if you know what room you want to go to in the Louvre, for example. I don't know, you want to see a specific painting by Delacroix, La liberté guidant le peuple or whatever. So you want to see that one. You jot down the room it's in.
And then you have all these people standing guard all around the Louvre. You can go to any of them even if you don't speak any French! And you just show them the room number, and they'll point you in the right direction or they will show it to you on your map.
And you will save so much time just because you have a human directing you. I mean it's nice to have all these Apps that do things whatever, but I think it's way better if you spend a little time learning about the pieces you want to see and go straight to them with the help of the of the guards.
[39:18] Things You Need to Prepare in Advance: Decide on a few restaurants you want to visit.
Annie: I think also you should decide on a few restaurants you want to visit. I would never go to a restaurant just because it says in the guidebook by Rick Steves, by Fodor, by anybody. I don't care who they are! I would never go to a restaurant they recommend.
As a matter of fact, I would avoid them because it's just like stock market. Once you hear about a stock in the New York Times, it's too late. Everybody's heard about it already! It's already a bad buy.
So don't go to restaurants that get recommended these guidebooks because just by virtue of having been recommended by Rick Steves in particular you will have all these Rick Steves followers in the restaurant.
At the same time, the owners know that they fill the place with people carrying Rick Steves books, they will never see you again, they have no interest in making you happy they just want to do a decent job.
Elyse: I think that one of the problems is as soon as restaurants wind up on two or three guide lists as super deals, that they're flooded with people the quality tends to go down more and Paris is a city that has thousands of good little restaurant.
Now, we know some because of the neighborhoods we've been in. We test restaurants a lot ourselves, but again there are other sites that Annie I know you're going to mention, I just think it's for people to know to avoid places mentioned in major guidebooks because it is a catastrophe.
And if a restaurant has a menu posted on the window outside that is in English and in Italian and in Spanish, don't go in! It is a tourist place.
Annie: So, the way I do it is that I use Yelp. And I don't necessarily read all the reviews. I just look to see how many reviews in French a place gets. If you have a place that has 35 reviews in English and two in French, guess what? It's Anglos that go there, so it's a tourist place.
If you have a place that inversely has 35 reviews in French and two or three in English, ah, OK, this place attracts French people.
Elyse: Now just for those out there who are thinking what is she talking about, I don't speak a word of French, why would I go to a restaurant like that? Well, the fact is, we're talking about Paris. We're not talking about remote out of the city center areas.
Everyone in restaurants in Paris speak some English. They will be able to help you it doesn't mean that you have to be able to decipher something like the Hammurabi code! You're going to be able to talk to the people and they will explain things to you.
Annie: Yes, so that's my recommendation. It is to go by the number of reviews in French that a place gets that's a good indication.
Elyse: And I would like to add something else to that. If you are someone who has a habit of going to restaurants wherever you are from, there are so many restaurants in Paris that if you're walking in a neighborhood and you see a place that looks nice that smells like the food is good, it doesn't have to be a big place.
Little places are often the best surprises, you can just, if you see a few people in it, it's dinner time that means that there are people that are already in the restaurant eating. Usually it's a good sign that the restaurant is not empty, try!
[43:04] Things You Need to Prepare in Advance: Be prepared for pickpockets so they don't get your stuff!
Annie: Right, moving on! The next thing you need to be prepared for is pickpockets. And I did a whole episode, it was episode 154 How to Protect Yourself from Pickpockets in Paris, Episode 154, you must listen to that this because it is so easy to get swindled in Paris. It's not a dangerous place, you don't have to fear for your life. But you do have to fear for your credit card and your phone.
So, listen to that episode, we go into details about things you can do to avoid most of the scams and most of the problems. Just listen to that, OK?
Elyse: this is a very good important practical information and it will really make a big difference.
Annie: So, episode 154 How to Protect Yourself from Pickpockets in Paris, Episode 154 because you know what? Your first time in Paris, if you get robbed, you'll hate the place. I don't care what else happens. You'll be like dang it! I got robbed!
Elyse: And there are ways to avoid it.
Annie: And they are pretty simple. They are not completely 100% foolproof, but they work, most of them work.
[44:17] One thing that you should NOT worry about: Transportation
Annie: One thing that you should not worry about that a lot of first-time visitors worry about is transportation. The bus and the Metro in Paris is very easy. I would mostly recommend you take the bus, but if you'd like to take the Metro, go right ahead.
There is an episode 142 of the podcast Paris Metro or Paris Bus? Episode 142 where I go into detail comparing taking the bus versus taking the Metro and why, and how it works, how those tickets work, what's the most cost-effective way to go about that in all of that.
Elyse: And again, like with museum pass, you can get either a full day pass that is good for unlimited trips both bus and metro. Or if you are staying for a long period of time you can get a week's pass, but it's really worth it.
Annie: The other thing that is easier now about transportation in Paris is that Uber is in Paris, it is very active, there are a lot of drivers, it's inexpensive.
We did a whole episode about that that's episode 151: Tips for Using Uber in Paris, Episode 151 and I highly recommend that you install the App. If you use Uber in America, you can use it just the same way in Paris and it works great.
Elyse: And of course, there's walking.
Annie: And there's walking!
Elyse: This is the city for walking.
Annie: Yeah, it's a great city for walking.
[45:38] One thing that you should NOT worry about: Whether you speak French.
Annie: And then the last ting I'm going to mention is don't worry about whether you speak French. In Paris like Elyse said, in Paris people speak English it's a city that gets a lot of visitors. It's really not hard to get by in English.
But you do need to know of few things that will make all the difference and we go into that in episode 9 of the podcast Are French People Rude? Episode 9 and I will just refer you to that and tell you listen to it it will save you so much grief.
Elyse: Yes it will!
Annie: There you go!
[46:10] How Long Do You Need to Stay in Paris for Your First Visit?
Elyse: We forgot one thing! The hotels!
Annie: No, we're getting to it! So, how many days, you already talked about it, that was on my list next, but you already talked about it.
Elyse: I think 4 nights is good. You can do more! Most major cities I've been in I tried to do five or six days which is 5 nights. I think that that's minimum for really getting a feel for a place.
Annie: But, let's imagine that you live in London and that you're just hopping over to Paris and you do that in a couple weekends that's fine too, right?
Elyse: Yeah! Then I would say to do a 3 night long weekend.
Annie: But if you're coming all the way from North America, be it Canada, or the US, or if you're coming from Australia even more because that's an even a bigger time difference. Take a few days, take your time.
[47:10] Where should I stay in Paris?
Annie: What neighborhoods to stay in? I'll let you talk about that Elyse.
Elyse: Well, OK. A lot of the neighborhoods to stay in are really connected to many of the places that we have talked about. For us, that is Annie and I, there are really two central areas of Paris that are the most wonderful.
Paris, like with the restaurants, is a city that has thousands and thousands of hotels. And you have hotels that go from really inexpensive to quite expensive. But let's talk about a hotel that's nice, that's decent, that's clean, that has basic commodities.
And that in France the system is a starred system, which is very different because the stars represent certain specific things, amenities.
Annie: Like, if you have an elevator, you qualify for more stars.
Elyse: If you have a little mini-fridge, you qualify for more stars, you have air-conditioning, things like that.
But, if you want to be in the heart of the city where you can have a choice whether you want to walk or take public transportation or whatever. The best neighborhoods to stay in are in the Latin Quarter, the Saint Germain area or the Marais.
For the simple reason that these areas, and I would say that includes the area that's really next to the Marais, which means of the district that's the number 2 district. It has no specific name, it doesn't have a charming name like the Marais, or the Latin Quarter or Saint Germain
Annie: Le deuxième arrondissement, oooh, how charming!
Elyse: What is the advantage of these? Well you have medium-sized hotels, you don't have huge hotels. They're charming they usually pay a bit more attention to you. The rooms in almost all of these hotels have been upgraded and modernized.
Annie: But they are going to be tiny!
Elyse: But they're small yet now it doesn't matter if you're a couple or if you're one person. Don't expect, this is not the United States, this is not the countryside where in being Inn's in the countryside you have lots and lots of room. It's more like actually New York City.
Annie: Yeah, with tiny bedrooms.
Elyse: Where you spend a lot of money and you get hotel rooms that actually are not very big. So, just that as a fact of life. In Paris, unless you stay in the Ritz…
Annie: The first time my husband and I walked into a Comfort Inn the US, I had booked the basic room, whatever we walked in and we have this big bedroom with two king size beds. And I was sure that they had made a mistake and we would have to pay more for this room because it was like the size of a football field! I had never seen anything like it!
Elyse: And whereas in France and Italy and particularly in Paris, because we're talking about the neighborhoods where the buildings are old. If you want to stay in something big, modern chain type hotel, there are hotels like that in Paris.
Obviously, almost anywhere you go you will be near a Metro or bus stops and you can travel anyway. If that is really something that you need to have, you can find them in the areas that are little more outline.
For instance a very nice area to find hotels that are little more on the modern chain style would be the 12th and 13th which are below Latin quarter on the left bank.
Or the eighth or ninth which is close to where the Opéra Garnier is, but my recommendation is feel the charm of the city. Stay in a smaller hotel.
Annie: Yeah, it's your first time in Paris. Honestly, I would say if you're within walking distance of Notre Dame and it's your first time in Paris that's a really good area.
Afterwards if you come back and you don't mind being a little further out and spend more time in transportation that's fine.
Elyse: It is also a question of time, because obviously it's also charming to be in the walkout go places. if you even a bit further off the Seine, and you go up to the other end of the Luxembourg Gardens, or towards the area that's where the Museum of Natural History is which is kind of the end of the Latin quarter area.
You're so close, you're a 10-15 minute walk or a very short bus ride. It gives you a sense of the charm of the atmosphere of the city.
And then for those who want something a bit more wide Boulevard and elegant, I would say somewhere between where the Opéra Garnier is, and where the Trocadero is.
Annie: Yeah that's also a very nice area. So we have a list of hotels that we use and recommends and you can find that under https://joinusinfrance.com/resource.
And you'll find all the hotels that we recommend in Paris that we've tried to the ones that either the two of us people we know or people we know have tried.
And of course we're not Trip Advisor, okay we're not making these recommendations because we have a vested interest them. We just tell you because these are the ones we like.
Alright, I think we have done it! Elyse, did I forget anything?
[52:45] You Need to Make Sure that Your Credit Card Will Work in France
Elyse: Let's talk about money. If people have questions about what to do about their credit cards and money, just know that aside from taking care of the obvious which means notifying your bank, the best way to make sure that you will have cash and not have to walk around with too much money is to have a bank card that's coded and prepared to use the ATM machines in France.
It is the best way for the best exchange and most practical and least dangerous.
Annie: So we've done an episode called Will my Credit Card Work in France? Episode 99 where I go into detail about the chip or no chip, ATMs, the traveller's check, no don't do that.
And you shouldn't worry about finding ATMs in France. Although I have had a customer was worried that she wanted an ATM inside of a bank. And most ATMs in France are on the street. And I honestly don't know of any incidents ever at ATMs in Paris, so I wouldn't worry about that
Elyse: You're right, it's not dangerous. the procedure there are a lot of banks that have used one window for the ATM and a kind of holding room.
Annie: Yeah, but that's usually for deposits!
fast you know that yet but it's usually for deposits. In Paris they are so small that outside you withdraw and inside it's for deposits. It's for business owners who want to deposit cash or checks or whatever.
Elyse: That's just what people do, it's normal.
Annie: Anyway, but that's episode 99 Will my Credit Card Work in France? Episode 99
Elyse: A good episode to listen to.
Annie: That's good prep to listen to before you come to France
[54:42] Ask Your Questions on the Join Us in France Closed Group on Facebook
Elyse: And I would just finish by saying that Paris is beautiful, it's a wonderful place is an incredible experience to visit it. And if there's other specific practical information that can help you decide on what you want to visit Paris listen to the different episodes, there are so many of all sorts.
Annie: There's a good search function on the site, and also the other really amazing resource is the join us in France closed group on Facebook that I haven't been to all week. But there are lots of people on there that visit Paris frequently and know it very well.
As a matter-of-fact one of the things I like to do there is post a picture of something a little obscure in Paris. And what do you know? Within minutes somebody says oh, this is this!
It's a place is a very friendly place where people discuss. And I'm very careful about keeping out spammers, so if you want in all you have to do is answer the questions that I asked before you join.
And you don't even have to give correct answers. One of the question is what are the names of the hosts of the podcast. Well, that's Annie (me) and Elyse (her). But if you don't remember that, you can say I'm sorry I only listened to you once, I don't remember, and I let you in anyway.
It's not about the answer the question is just knowing that you're not a spammer from India or whatever, cause there are a lot of those.
Alright Elyse we're off to a good start this year! We are going to continue that I wish all of you a wonderful happy new year and good vacation prep in France.
If you want the straight dope about France just asked me and if you want history and art and all those goody-goody things, talk to her! We will talk to you next Wednesday and hope to see you in real life in our of our tours!
[59:57] French Tip of the Week
Bonne année 2018, tous mes voeux de santé, de bonheur et de prospérité !
[60:00] French History Brief
The Middle Ages, when did it start and when did it end? Overall, in France, we consider that the Middle Ages began in 476 and ended in 1492. To simplify things, let's say that it was 500 until 1500.
It's generally divided into three parts: Early Middle Ages 500 until 1000, High Middle Ages, 1000 until 1300 and Late Middle Ages 1300 until 1500. The Middle Ages started with the fall of the Roman Empire and ended with Joan of Arc and the 100 Year War.
Early Middle Ages is characterized by the fall of the Roman Empire and the arrival of Barbarian invaders. There were the goths, the Visigoths, the vikings, the francs, and I'm saying those in no particular order because I read about it and it's still all blurry to me. Lots of people call that time "the dark ages". Everybody was at war with everybody, population declined, agriculture was difficult because there were raids and pillaging.
Slowly a new order emerged with Charlemagne who came into power around the year 800 and started to establish a new order that we now call the feudal system. It didn't happen overnight, but this is where you have lords and knights and dukes and barons in charge of specific areas and they are able to deal with the barbarian invaders. The Lords protected the peasants, that allowed for agriculture to flourish, and when there's more food, more people survive, and there is more peace and prosperity.
That's what happened during the High Middle Ages, year 1000 until 1300s. That's the time when monasteries and Cathedrals flourished all over France. Notre Dame was started in 1160. This is a time of strong population growth, the population of Europe went from 35 million to 80 million during that period. There were fewer invasions, better agriculture, large kingdoms start to emerge.
High Middle Ages is also the time of the Crusades where European rulers try to put a damper on Muslim expansion. Because while Europe was in the throes of the dark ages, Islam flourished and even took over a lot of Spain and some of France. The Crusades were about a lot of things, including reclaiming those territories.
And then you have the Late Middle Ages, 1300 until 1500. Late Middle Ages was a difficult time in terms of climate and agriculture because both Europe and North America experienced what's called the "little ice age" where average temperatures dropped. Rivers froze solid in Europe which we don't see much today.
Agriculture took a dive on account of climate and there were famines. That's also when big epidemics happen because there are big cities with no sanitation and those are the conditions that the plague and smallpox love. At the juncture of the late Middle Ages and the Renaissance you have Joan of Arc and the 100 year war.
So, that's the Middle Ages which lasted 1000 years all together: 500 years for the Early Middle Ages, 300 years for the High Middle Ages, and 200 years for the Late Middle Ages. Obviously, we have a lot more left from the Late Middle Ages than we do from the Early Middle Ages, and one of these days we'll do some episodes on Medieval Paris and what you can see of it today. But that's for another day.
[65:00] Personal Update and Announcements
I have to admit to you that taking a couple of weeks away from producing shows has been really good for me, and it had me considering that maybe I should go a slower production pace, two shows a month or something like that. But that seems like a drastic measure to me and I want to try something else instead and see how I go.
What did I do with all the time? I was able to read, go out more, not be in front of my computer so much and yet concentrate on other important projects such as reorganizing all the previous episodes into a more usable package and writing, of course.
As I worked on organizing the new site two things occurred to me:
1. We've done so much! And my self-imposed fast pace of production has forced me to constantly move forward instead of bringing out the value in the work that I've already done. So I've decided, as we start this new year, to mix things up a bit. I won't try to produce a long episode every week. Instead I'll do a long one, like today, once a month (those episodes will be with Elyse or a Trip Report with one of you listeners), and on the other weeks I'll produce a short episode about something specific that I am dying to tell you about and keep adding to the episodes which makes them so long, like the French History Brief.
So, going forward I'll do the French History Brief as a stand-alone episode. Sometimes it'll be a short bio of a notable French person whose name will pop up when you're visiting France, or a famous French story such as Quasimodo and Esmeralda at Notre Dame, that sort of thing. I enjoy producing those bits a lot and I think you'll enjoy them just as much, but they'll be shorter. Going in that direction will free-up a lot of time, so let's give it a try for a few months and see if it's easier for me to keep up.
2. The second thing is, to do my site reorganization job I had to listen again to some of the earliest episodes, and when you go back that far (4 years!) it's so clear how far I've come! I started this podcast because I had lived away from France for almost 20 years and I wanted to re-discover my own country. Well, it's stunning to me how little I knew when I got started with this project! I mean, I really knew little more than most of you when you start listening.
My first trip to Paris as an adult, and I was living in the US at the time, I bought a Rick Steves book and I followed it pretty closely! Of course I felt ridiculous doing it, even at the time, because I'm French and he's not, I have relatives in Paris and I'm pretty sure he doesn't, I can speak the language (can he? Maybe a bit, I don't know), so I wondered why am I following this book with so many other people? What am I, a sheep? Well, you know what, a Rick Steves book is a good place to start!
Thankfully, by now I am so far beyond needing a Rick Steves book and to the point where I'm writing my own books. Yes, that feels good! How did I do it? I read a lot of French historians, I read a lot of French history magazines, I listened to historians on France Culture and France Inter (radio stations) and I took notes. I'm sure my family wonders why I do all of that, most French people don't ever feel the need to do that, loved ones around me certainly do not, but I do and I love it!
And I hope to bring you to that point where you too know enough through listening to this podcast (and eventually reading my books), that you too can enjoy Paris and France like a local. Please note that it's not phony when I say that because I AM a local. Yes, that matters to me. I can smell phony from a mile away as those of us who've been listening to the podcast for a while know.
I want to welcome all the people who've joined the mailing list (you can do that by visiting https://joinusinfrance.com and clicking on a green button that says email extras. They are really extras, things that I think you need to have for a successful trip to Paris.
What else is going on in my life?
Elyse and I will be taking a day trip together to the Gers in the next few days because we want to tell you more about that part of the south west of France, and she's fun to hang out with, so I look forward to that. We'll try to record a bit on-site, but that's always difficult because of wind noise in particular, but we'll try.
And speaking of recording, you might have noticed that we used different microphones for the recording of this episode. I'm not sure I'll keep using those microphones, but that's why the sound is different.
I got a report from Patreon that shows that 75 new people signed up to support the show in 2017, my thanks to Patrons, I am looking forward to the day when this is enough of an income that it can become my full-time job. I can only do it with your help!
Alright, thank you for listening, happy trip planning, don't be a stranger, talk back via email to annie@joinusinfrance.com, or social media Join Us in France on Facebook or Addicted to France on Instagram. Have a great time in France and I'll talk to you next week!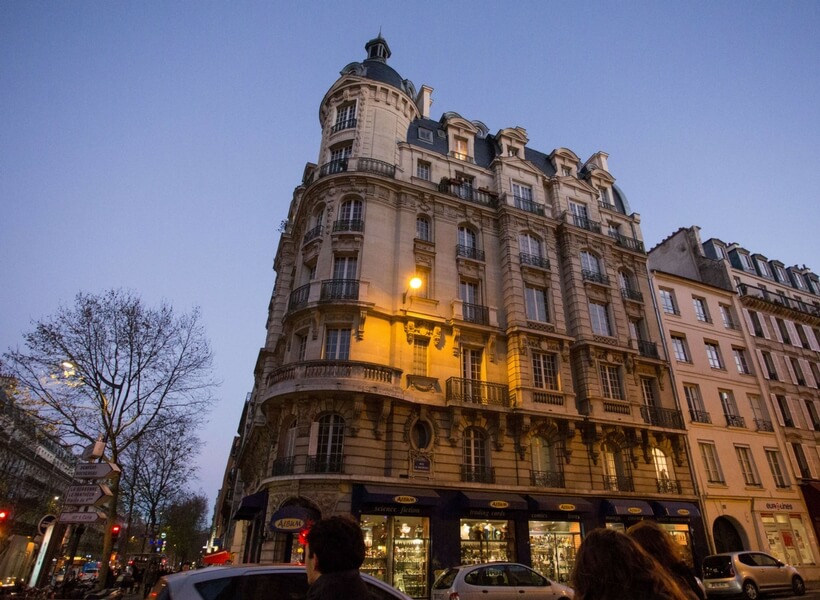 Subscribe to the Podcast
Apple
Google
Spotify
RSS
Support the Show
Tip Your Guides
Extras
Patreon
Audio Tours
Read more about this transcript
Episode Page
Categories: First Time in Paris, Paris