This post contains affiliate links, meaning I get a commission if you decide to make a purchase through my links, at no cost to you. Please read my disclosure page for more details.
Driving in France
On Join Us in France I often ask my guests what is it like driving in France for you? Many of our listeners choose to rent a car and drive because it's a great way to see the country. And most of them find it really easy to do, so long as they understand a few rules and quirks that we explain here.
Book in Advance Especially if You Need an Automatic!
Renting an automatic is not as difficult as it used to be in France, but depending on the place where you'll pickup they may or may not have a car that suits your needs. Shop for your rental car in advance!
There are also times when renting a car does more harm than good as discussed here, and if you're going to Paris or Provence in the summer, ignore at your own peril! Is Renting a Car in France Worth the Trouble? Episode 185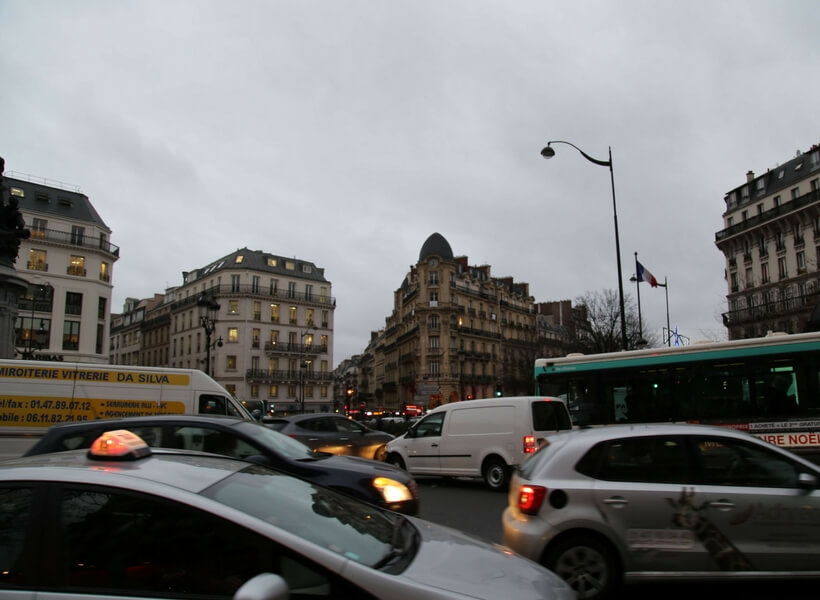 Annie, the Producer of the Podcast, Used to Teach Driving in France
I taught driving in France long ago and I am still certified to do so. These days, I only ever teach driving to friends and relatives who need a little boost to pass the driving test in France. But I can still rattle off all the gotchas for North American visitors because I drove on your roads for 18 years, so I had time to notice the differences.
An Emphasis on Visitors from the US and Canada
When you google "driving in France" you mostly find pages written for British  visitors. However, on this page we won't discuss driving on the right or putting your car on the ferry. This page is intended for American and Canadian visitors who are thinking about renting a car in France and want to know what it takes to happily hit French roads.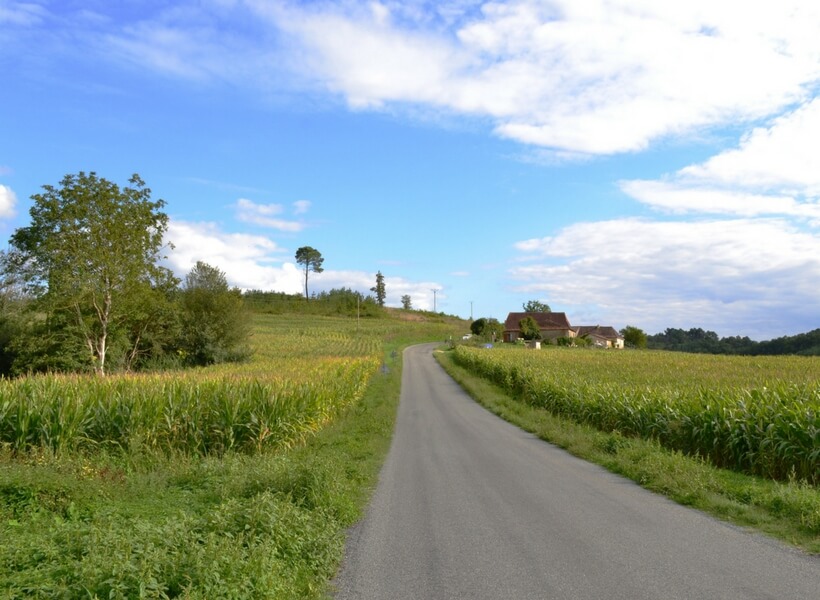 What Is It Like Driving in France? The Experience
Many North American visitors to France have described their experience of driving in France on various Trip Reports listed below. But we have one episode where we purposefully concentrate on that topic:  Tips for Driving in France, Episode 138
Erin talked about she was happily surprised by the quality of the food at rest-stops on toll roads in France Dealing with food allergies in France, Episode 170
Janice and Annie talk about getting speeding tickets from "robocops" in France  Looking for Unique Experiences in France, Episode 86
Laura tells us about her road trip in France, with stories of camping and eating vegan in France in this episode Road Trip in France, Episode 25
Matt tells us about driving around Brittany with his wife and kids in this episode  Brittany with Kids Trip Report, Episode 166
Jason tells us about driving around Bourgogne Wine Country and how easy and lovely it was!  Wine Touring in Beaune, Burgundy, Episode 128
Karie and Nathan drove around Alsace and loved it, but Nathan loves driving anywhere! Colmar and Alsace, Episode 120
Matt loved driving around the Loire Valley and fell in love roundabouts!  Trip Report Loire Valley and Dordogne, Episode 82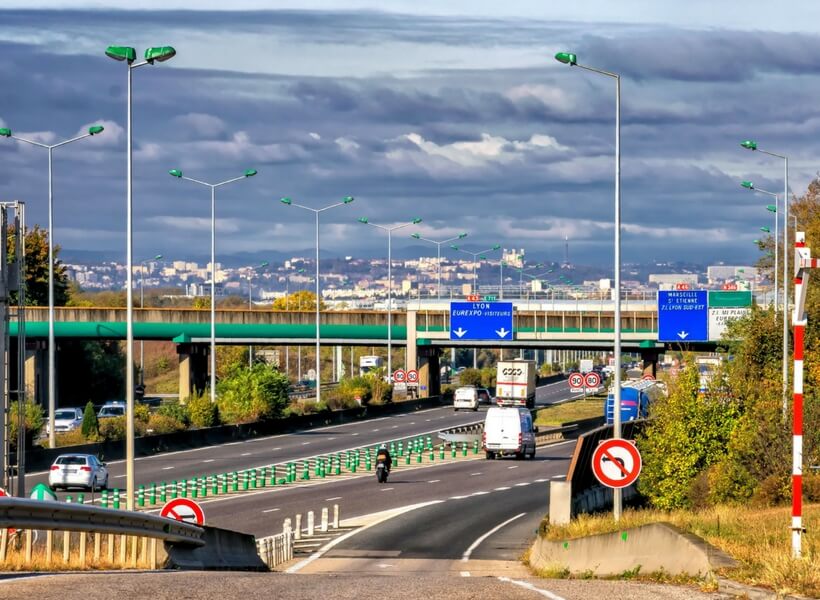 Different Types of Road Signs You'll See in France
Whereas most road signs in America contain words such as "Do Not Pass", "Speed Limit 50", "One Way", equivalent signs in France do not. You need to get familiar with a few different types of French road signs and what they mean, and then you'll be good to go! Just be glad you won't have to pass the French "code" test, which is the written part of the French driving test.
This episode of the podcast goes into lots of tips for people driving in France for the first time as well as gives an overview of road signs you will encounter:  The Rules of Driving in France, Episode 16
Signs of Interdiction—Forbidden, Stop Doing That, Rebel!
Circular signs with a big red circle mean "This is forbidden, don't do it!", and also, we see you, we give you a ticket.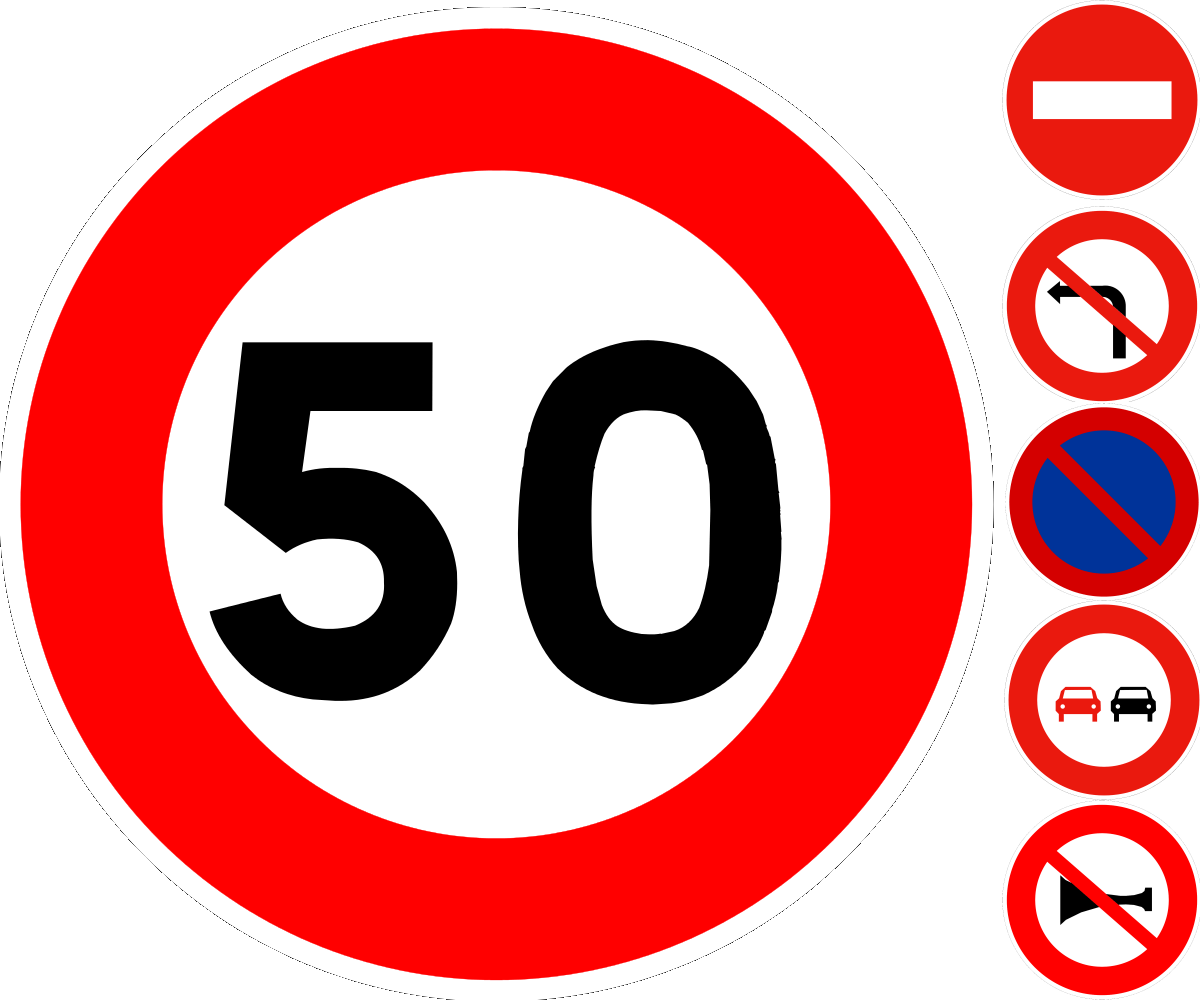 Signs of Danger
These signs are designed to warn you of upcoming dangers . The one you really need to pay attention to is the speed bump. We have them all over France and if you don't slow down you will go flying!
Priorities aka Right  of Way—You Must Understand How They Work!
The top sign means that a roundabout is coming up, you must yield to the cars that are already on the roundabout, coming from your left. Top right is the Yield sign. It means that you must yield to cars coming from both the right and the left.
The sign at the bottom right means that at the next intersection you will have to yield to cars coming from the right. They don't HAVE to show you a sign every time you may have to yield to the right, sometimes it's surprise. The yellow sign means you're on a road that has priority aka right of way, there won't be any surprises for a while.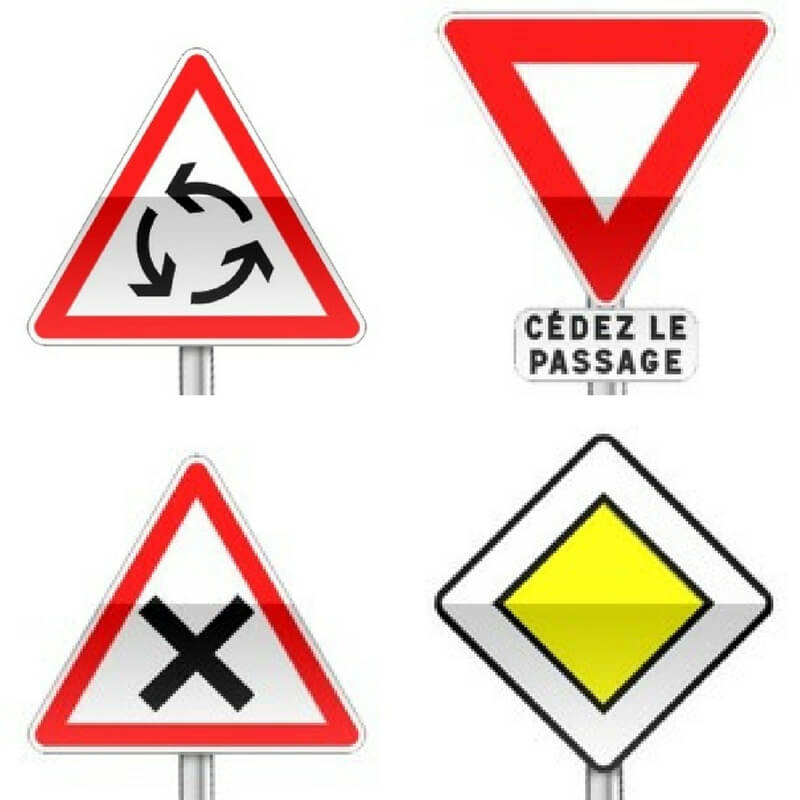 Direction Signs—There Are Some Gotchas There Too!
OK, this one has one gotcha, but it's easier to remember: blue signs mean toll road. OK, blue signs don't mean toll road 100% of the time, this is France we like to keep things complicated, but assume that you may have to reach into your pocketbook, if not right away, eventually. If it says "Péage", then definitely, it's a toll road as soon as you enter it.
Around 200 meters before a roundabout they almost always have a sign that shows the shape of the exits. I recommend you get into the habit of looking at those because they will help you find your exit faster.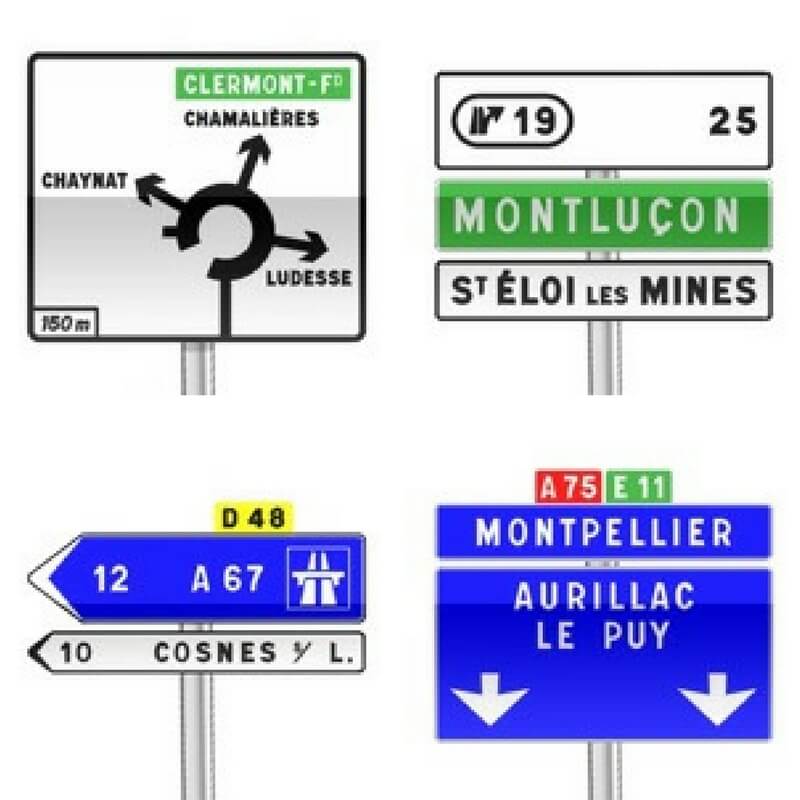 Subscribe to the Podcast
Apple
Google
Spotify
RSS
Support the Show
Tip Your Guides
Extras
Patreon
Audio Tours