This post contains affiliate links, meaning I get a commission if you decide to make a purchase through my links, at no cost to you. Please read my disclosure page for more details.
When I ask the listeners of the Join Us in France Travel Podcast what part of France they want to visit, they say they want to visit Paris first and Normandy next. When you see the video above, is it any wonder that Normandy is so popular?
For the purposes of this site I have decided to group Normandy and Brittany together. Please don't write to tell me they are different regions, I am aware of that, but for the time being this grouping works for me!
Is the Mont Saint Michel a Victim of Its Own Success?
The Mont Saint Michel is one of the oldest World Heritage Sites, it is full of beauty, history and charm. But the Mont Saint Michel is also a victim of its own success. When speaking frankly, many of the people who go to visit report that it's too crowded, too touristy, and that the experience wasn't as wonderful as they had hoped for. Why is that?
The Crowds!
Firstly, you need to learn how to avoid the crowds! Most of the tour buses leave by 4 PM, that's when you should arrive. Head straight for the Abbey (it's a bit of a hike, you will get sweaty!) and avoid all the shops and tourist traps along the way. They are not worth it, they will just slow you down. They also all feature the same uninteresting trinkets, so if you look in one, you've pretty much seen most of it.
Don't Eat at the Mont-Saint-Michel
I strongly recommend that you do NOT eat on the Mont Saint-Michel. The food is not very good and that's even if you don't find a dead fly at the bottom of your pitcher of rosé. The rosé was cold, it came straight out of the fridge. Conclusion: they have flies inside of their fridges.  That inspires confidence, doesn't it?
And the food is not very good by French standards, especially for 30-40€ per person. Even the famous omelette is under-cooked and tasteless. Get off the Mont and find a restaurant along the row of hotels, several to choose from there. There are also grocery stores where you can buy picnic items around the hotels! My recommendation is that you drop off your suitcases at the hotel, buy some picnic items, and go see the Mont at 4 PM.
Don't Sleep on the Mont-Saint-Michel
Why shouldn't you sleep there? Because it's overpriced, the hotels barely offer adequate services (explained in the episode below), and it's completely dead by 6 PM. No nightlife at all on the Mont Saint Michel. So, stay off the Mont and stay at one of the hotels nearby. Then in the evening take the free bus to see it lit-up at night. The bus runs every 20 minutes until midnight.
See? There are strategies you can use to make your visit more enjoyable! Just follow my advice and listen to this episode: Mont Saint Michel Trip Report, Episode 176.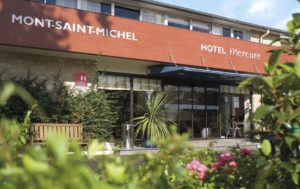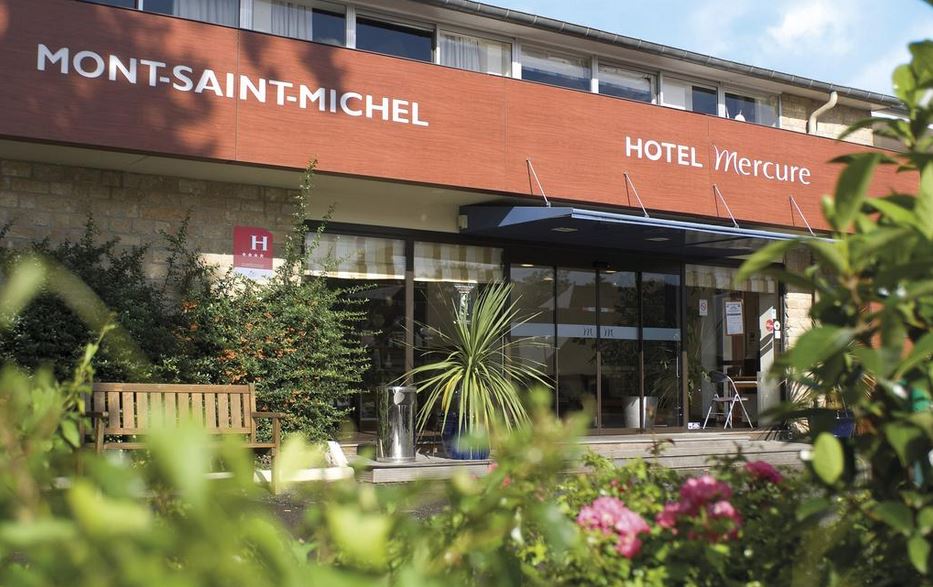 This is the hotel where I stay when I go to the Mont-Saint-Michel. An excellent value and a great choice for anybody, including families because they do have rooms that can accommodate more than 2 people. Even the single rooms are pretty big and really comfortable. They have a parking lot right under your window and the free bus stop is right outside the hotel. One night is all you need to give it justice. Their breakfast buffet is good, enjoy that before you head out!
D-Day Landing Beaches and Sites
Normandy is also where you can visit D-Day landing beaches. They are both sobering and beautiful.
Yet, Normandy is a big region, it's not as straightforward to get to as other parts of France, smart visitors will want to do extensive planning before their trip.
So, if you've been wanting to go, read on and listen to the episodes we've produced about Normandy and Brittany, it'll make your trip preparation fun and thorough.
Before you yell at me for "lumping together" Normandy and Brittany, let me hasten to say that I am aware that these two regions are separate,that they cover a large area, and that they have a long-standing rivalry. But until I have more episodes about Brittany, I will keep them together because it make sense as far as the organization of this site is concerned.
Learn About the Events of D-Day and Operation Overlord
The more you know before you arrive, the better. You don't need to know as much as a history professor or a French tour guide (they do know a lot and they will talk your ears off!) But you do need to have an overall understanding of what happened in Normandy that spelled the beginning of the end for Hitler.
Actually being able to say "Oh, that's where this happened!" is a wonderful thing.
To review the major events of June 6th, 1944 that started the Battle of Normandy, listen to Operation Overlord and the Battle of Normandy, Episode 201
More Episodes About Normandy and Brittany
Subscribe to the Podcast
Apple
Google
Spotify
RSS
Support the Show
Tip Your Guides
Extras
Patreon
Audio Tours