Categories: First Time in Paris, Paris
This episode features our frequent and very popular guest Elyse Rivin. If you enjoy her episodes, please consider supporting her on Patreon.
The first time I walked inside Notre Dame Cathedral in Paris, I thought "this is so small compared to Saint Peter in Rome!" I had just visited Rome, and although I had driven past Notre Dame Cathedral many times, I had never stepped inside. You would be surprised the number of French people, even Parisians, who have never stepped foot inside of Notre Dame! But I suppose it's no different than New Yorkers never going up the Empire State Building. Locals often ignore what's right in front of their noses.
By the time I went into Notre Dame Cathedral, I was a woman in my 40s who had just visited Rome, so that was my point of reference. What I didn't know at the time, because my passion for French history was born a few years later, is that the first stone of Notre Dame Cathedral was laid in 1163 whereas they laid the first stone for Saint Peter in 1506. 343 years separate these two massive churches! Notre Dame is a Cathedral whereas Saint Peter is a Basilica. There are lots of differences between the two and my point is, it's best not to compare them too much.
In this episode of the Join Us in France Travel Podcast Elyse explains how  Notre Dame Cathedral came about. The construction of this Cathedral is one of the most monumental undertakings ever completed in Paris and the stars had to line up just right to get it done.  Why is Notre Dame so special? Why does it get so many visitors?  There are so many churches in Paris, some are incredibly beautiful, what sets Notre Dame apart?
FOLLOW US ON:
Subscribe to the Podcast
Apple
Google
Spotify
RSS
Support the Show
Tip Your Guides
Extras
Patreon
Audio Tours
If you enjoyed this episode, you should also listen to related episode(s):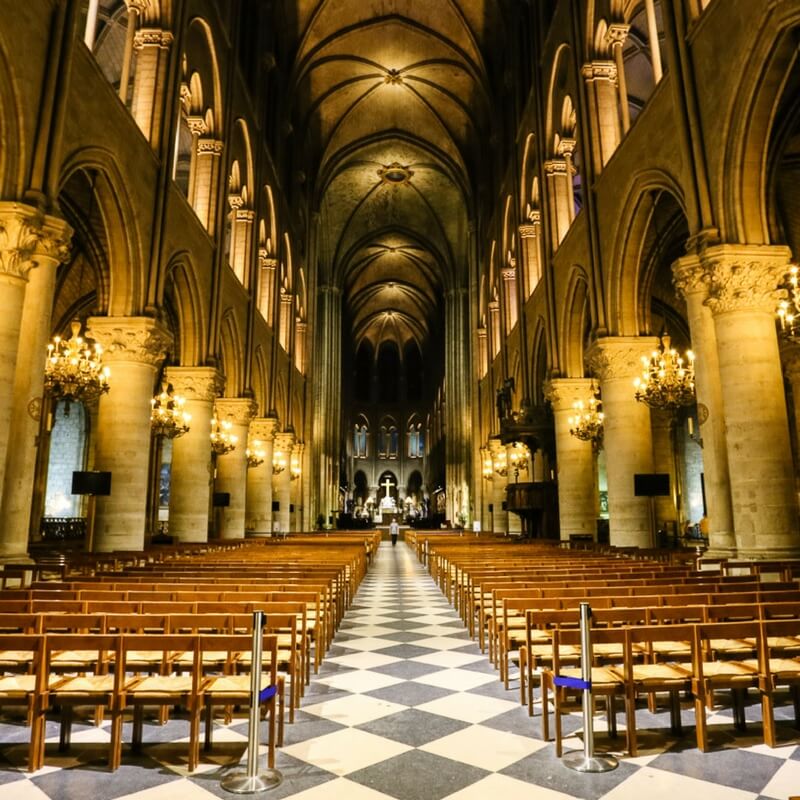 Let's Review
The Notre Dame Cathedral in Paris is the one place in Paris everybody should see. Even if you're not religious at all, even if you're of a different faith. It's a Medieval masterpiece and will set the tone for everything else you'll see in Paris.
Read more about this episode
Show Notes
Categories: First Time in Paris, Paris