Table of Contents for this Episode
Categories: First Time in Paris, One Day in Paris, Paris
Discussed in this Episode
CDG airport
RER
Les Cars Air France
Eiffel Tower
Notre Dame de Paris
Tour Montparnasse
Bateaux Mouches
Solo travel in France
These are the show notes for how to do a layover in paris on your own. Today's show was inspired by a listener question that I'll play for you in a minute. The question revolves around this: what amazing things can you do in Paris if you only have a few hours? Maybe you're on a layover, maybe you have a few hours to kill before or after a business meeting, maybe you need to wait for a friend. Don't waste that time, make the most of it! How? I'm going to tell you exactly what to do in this episode.
And it turns out that like most questions, if you're wondering, there are probably lots of other people also wondering about the same thing. So please do the same thing Renee did! Ask your questions! How do you do that? Put on your Skype headphones (or make sure your microphone is on) and either go to joinusinfrance.com and on the right side you'll see a tab that says Send voicemail, OR type Speakpipe.com/joinusinfrance and talk! You only have 90 seconds, so get to the question quick.
Thank You Supporters!
Donation Thank You: Matthew Piette, your donations go to pay for bandwidth and equipment for the show and are much appreciated! I put a lot of time into the show because I want to put out quality information about the country that I love, but I do get a great feeling when I see that you appreciate it and say thank you by tipping your guide! You'll find the tip your guide button on the right hand-side of the website.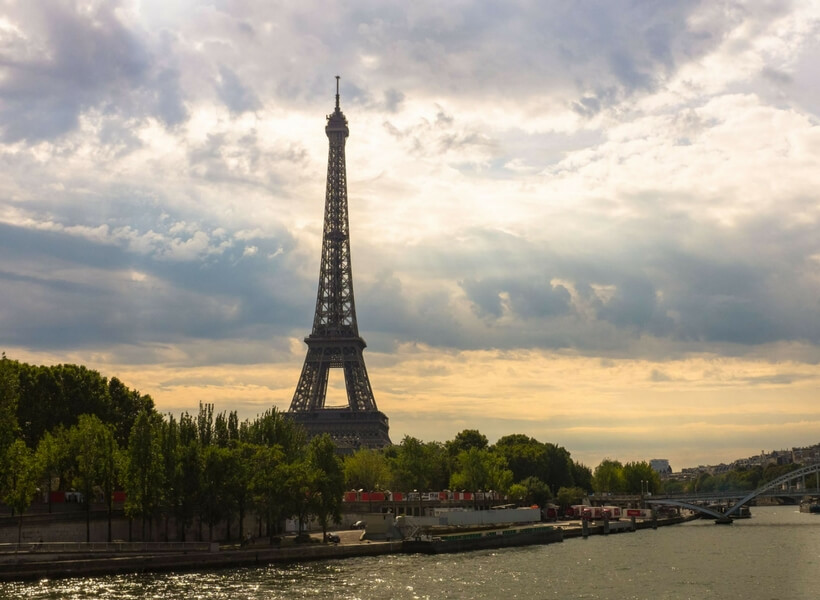 How much time do you really need on your layover to do something interesting?
1 hour to get out of the airport and find you luggage, locker, get to the train. 1 hour ride time into the city.  Then just to get back to the airport it'll be another hour and you need to get to the airport 2 hours early. So if you have a 5 hour layover all you're going to do is get out of the airport, into the city, see nothing, turn around and go back and chance missing your flight. Do NOT do that! 5 hours is not enough time to do anything other than walk around the terminals within the airport.
6 hours is a minimum and you won't do very much, but it's better than staying at the airport I think. In this show I'll outline a plan that works for folks who have between 6 and 9 hours.
Will you save any time by taking a taxi and not public transportation? Yes probably, but traffic can get nasty in Paris just like in any other big city, so it depends. Ask the taxi drivers, really, they do this all the time. We know public transportation takes 1 hour to 1h15 mn from CDG depending on where you go. It's a safe calculation because traffic doesn't slow the train down.
Here Is Renee's Question
"Hi Elyse and Annie, I have a question for you. My son who is 17 and his friend who is the same age will be spending 3 weeks in France. But they get in around 10:30 AM and somebody will be there to pick them up probably after 5 PM. So, knowing that they are going to be jet-lagged, is there a place that you recommend that can enjoy Paris and still stay safe. I don't know how much luggage, hopefully they'll travel light. Or should they keep their luggage at the airport and then go do a little bit of exploring? So if you had a 17 year old son and he had a few hours to kill, what would you recommend that they do? Thank you, I love you show!"
Response: Thank you Renee, that's an excellent question, how about making the most of their first day in Paris? When I'm done answering this questions I'll talk about people who are on a layover in Paris because it's a very similar situation.
First things first: what do you do with your luggage?
If you have a few hours in Paris you MUST check your luggage somewhere. Why? Because Paris with luggage in tow is hell even if you're young and strong. You'll see that there's one caveat to that, but for most people, you should check your luggage in somewhere. Here's why:
If you hold on to your luggage what you'll end up doing is sit somewhere most of the day and see/do nothing.
You can't get inside most public places in Paris with suitcases. Imagine going to your local mall with a suitcase, would you be out of place? Would security follow you around? Yes, absolutely!
Some large museums—such as the Louvre—offer a check area, but only for small items. Carry-on size luggage max.
You will most likely be jet-lagged when you arrive in Paris. Thieves are going to see you as easy pickings.
Truthfully, if you come from a place where petty theft is not common, you haven't trained yourself to be cautious at all times and you're an easy target. (Story of when I went to the grocery store with my sister for the first time and left my purse on the grocery cart).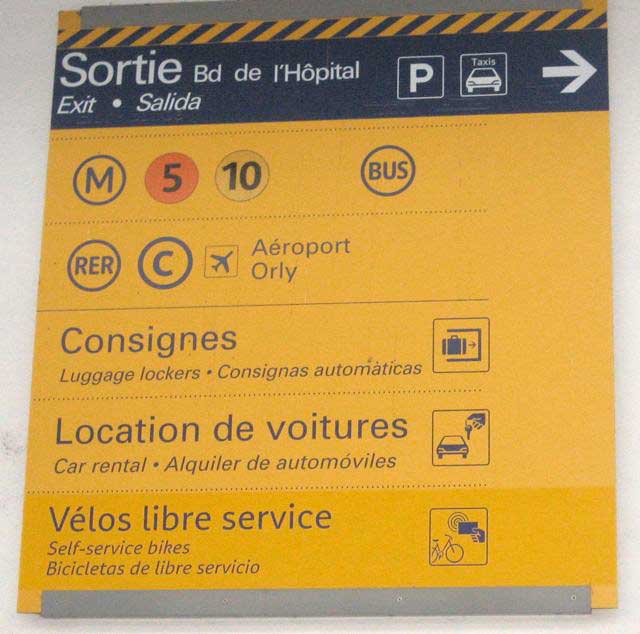 How do you find a luggage locker in Paris?
You have two choices. Do you want to go with lockers at the airport or train station, OR do you want to use lockers on a Paris street? You'll find links that spell out both possibilities on joinusinfrance.com/72.
Train Station and Airport Lockers
Look for signs that says "Consignes" or "Consignes automatiques". Signs in English will say "Left Luggage" which is how they say it in England.
Airport or a train station is a huge place. Will it be easy for you to find the lockers? I have no idea. But back when they designed Paris train stations 200 years ago accessibility was not a big consideration. Some have gotten better about that, others have not. On joinusinfrance.com/73 you'll find help on where the lockers are at CDG.
IMPORTANT: you MUST have a selection of euro coins to use those lockers. There will not be anyone on duty who can make change or take your credit card. So you'll have to show up in France with small Euro bills and spend for a pack of gum here and a drink there until you have enough change. It's about 10€ for a locker, but it won't be 10€ exactly, it may be 9,40 or 9,70 or some such. You will need exact change.
No reservations possible, you must go in person and find a cubby you can rent for the day. If they're all taken you're out of luck.
On the other hand, with the kind of lockers you find at the train station or airport you can just show up, no reserving or paying in advance, you can change your mind and lose nothing.
The other possibility is City Lockers
There are 4 locations in Paris, not hidden away inside of a train station maze, but on the streets, with an address and everything!
http://www.citylocker.paris/mobile/mobile_adr.php?ID_langue=en
I called to check them out, but I've never used them and they're not sponsoring the show in any way, just so we're clear. On the phone it seems like a reliable, legit service, and they do answer their phone quickly during business hours (good luck getting a human on the phone at the train station!) They say they have people who speak English as well as 6 other languages. Sounds good.
You must reserve online in advance, no refunds if you change your mind.
Read their FAQ for details http://www.citylocker.paris/mobile/mobile_faq.php?page_info=faq
No need to find change or coins, it's all paid via a secured credit-card on-line.
Max locker size in inches is 32 x 23 x 15 don't show up with a huge trunk!
There are 4 locations and one is on rue des Bernardins, pretty close to Notre Dame, which is the one I'm going to recommend.
Here's the Plan for Renee's Teens
Get off the plane in CDG and get on the RER B (details on how to do that in episode 71), get off at Saint-Michel – Notre-Dame.
Stop at a news-stand and get a small booklet of Paris map, they are under 10€ and you must have it even if you have google maps. Google maps are super slow and sometimes super wrong. Sorry Google! The other day it tried to send me a few hundred kilometers away from Toulouse for an address that clearly said Toulouse! So get the paper guide or a folding map with street names if you prefer that.
I suppose they'll have a credit card, but send them with some euro cash in hand, preferably in denominations of 20 or smaller), places like news-stands and ticket booths don't always take plastic.
Where you get off of the RER is called Quai Saint-Michel, walk towards Notre-Dame but don't cross the river. Keep walking along the river, the street changes names, it's now called Quai de Montebello (we do that in France, change street names right in the middle of the intersections or something), keep going until Notre-Dame is behind you and you get to the bridge past Notre Dame. Turn right, you're now on Rue des Bernardins, locker are a few meters away. The whole thing between the RER station and the lockers is 550 meters / yards.
What Do You Do Once the Luggage Is Stored?
Once you've got your luggage dropped off, you need to choose what you want to do, and there are so many possibilities! Let me list just a few within a short walk (this is not all of them, just the big ones!)
See Paris From The Top!
They are young guys, I think they should walk up the tower of Notre Dame and see Paris from up high, especially if the weather is good and chances are good since they are coming in June. You can get into Notre Dame Cathedral for free, but you need tickets to walk up the tower, but it's SOOOOO worth it! Get tickets outside of the cathedral, as you stand facing Notre Dame walk to the left and you'll see the ticket booth or line.
Being 17 they could get in free if they were European, but they'd still need a ticket, so line up! It's 8,5€ for a full price ticket, try telling them you're from England, you never know, they might believe you and give you free tickets. It used to be people used to make you prove the age of the kids in such places, they've stopped doing that for the most part. Say I'm 17 and from England and they should take your word for it. Past 18 you're out of luck.
Step Into Notre Dame
Once they are done with Notre Dame and the tower (go in the church too!) take a walk. Here are two great destinations for your walk:
Rue des Barres, it's pretty close to Notre Dame and it's so lovely! This street already existed in 1250, at number 2 rue des Barres today you will find a restaurant called Chez Julien, a very nice church Saint Gervais, definitely a lovely street to walk and enjoy.
Walk another kilometer to Rue Saint-Antoine (in the Marais, episode 27). This is the kind of place where you'll find food stores and bakeries and all that good stuff. You could buy some cheese and a baguette as you walk around and go enjoy your picnic at the Place des Vosges nearby. A royal picnic for a couple of American teens, how about that?
Before I move on to other possibilities let me say a word about Jet-Lag: stay in the sun as much as you can. Walk around; be as active as you can. That's what helps your body figure out the time change. I don't care what homeopathy pills they try to peddle these days, what works is being active in the sun as soon as you arrive. Coming from the US your flight will probably land around 8 or 9 am, some as late as 10 am. You have the whole day ahead of you. Don't sit and doze, walk around, be in the sun!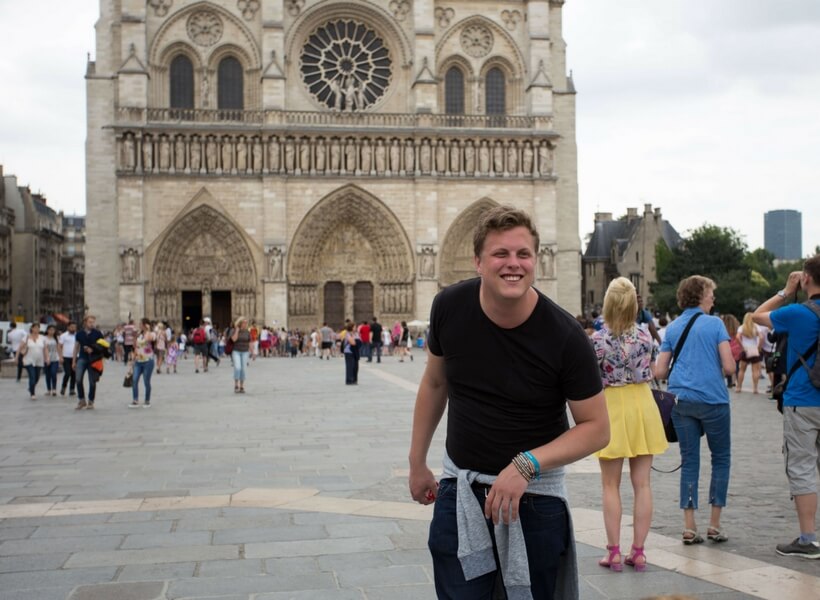 How Much Time Do You Have?
So now, let me give you my breakup of great activities depending on how much time you have.
I have 6 hours in Paris
Get to the RER, try to check your luggage at the airport at CDG which is near the RER station. If you manage that, great, if you don't, you're stuck with your luggage because you only have 6 hours. Get on the RER B and either go to Notre Dame (straight shot on RER B, 13 stops, it will take 45 mn or so) or change at Notre Dame, get to RER C towards Pontoise and stop 4 stops later at Champ de Mars – Tour Eiffel (1hr 15 mn on average). Check your watch, getting to the Eiffel Tower is an extra ½ hour! Get out, look at either the Eiffel Tower or Notre Dame very quicky (remember you need to start moving back towards the airport 3 hours before your flight!), get back on the train. It's pretty sad, but you must or you may miss your next flight.
I Have 7 Hours In Paris
If you have 7 hours do the same as above, but you can hang out at the Eiffel Tower or Notre Dame for ½ hour or so. Not ideal, but it's getting better.
I Have 8 Hours In Paris
Now we're talking! You probably don't have time to go up the Eiffel Tower (unless the lines are so small you can barely see them as you get closer which happens during low season). But if I had 8 hours I'd go to the Eiffel Tower. If the lines are too long at the tower, I'd try for a Bateau Mouches ride. which you can catch from the Eiffel Tower or Notre Dame.  Even for the Bateaux Mouches there could be lines and you may have to wait for a boat that won't leave for an hour, so that wouldn't work, but you may get lucky.
The Bateaux Mouches Or Similar
The bateaux Mouches are a great option especially if you have not managed to check your luggage in somewhere, because, pay attention to this detail, on the Bateaux Mouches they will let you on with a suitcase. This is NOT true of the Eiffel Tower BTW! The Bateaux Mouches will not check the bags for you, you'll have to haul them and keep them near you, but they allow suitcases on board. Would I want to do that personally? No. But it's a possibility that I wanted to mention. The lady on the phone said they'll allow a "reasonable amount of luggage", which for French people means 1 suitcase and 1 carry-on max.
The lines are not super long at the Bateaux Mouches generally, but April through Sept there's one departure every half hour, the rest of the year it's one boat per hour.  You might get lucky, show up 5 mn before the next boat leaves and there's still room on it. Maybe you'll have to wait for the next boat. The cruise is 1 hour no matter where you start from and you see the same sights no matter where you start from:
On a Bateau Mouche ride you'll see the same sights, just in a different order. Seeing it from the river gives you a very relaxed vantage point. You'll sail past the Orsay and Louvre Museums, Notre Dame, the Eiffel Tower, you'll get to see the banks of the Seine river, which are lovely, go under many bridges, it's a fun ride and you see a lot in a short time!
Time Recap
So let's count the time since we're on the clock:
1 hour to get your luggage and find the RER at CDG
1 hour ride into the city
However long you're going to spend in Paris
Return trip needs to start 3 hours before your flight departs.
If you decide you want to go to Notre Dame instead, they will NOT let you in with suitcases, so check your luggage either at CDG or at City Lockers on rue des Bernardins as explained earlier, then get on the bateaux mouches right there on the Quai de Montebello! You walked right past them when you went to drop off your luggage, track back, it's not far.
The Eiffel Tower
What if you really want to see the Eiffel Tower? In that case you need to check your luggage at the airport. The lockers at CDG are in Terminal 2, level 4 of the TGV-RER train station (in front of the Sheraton hotel). BTW, in France they often use the English term for lockers which is Left Luggage, so on signs you'll either see the French word "Consignes" or "Left Luggage". I'll put a map on joinusinfrance.com/73 so you can see where it is. It is located near where you take the RER anyway, so it may be a good choice for some of you, IF you have Euro coins in several denominations in your pocket. I think there may be a human there, but I couldn't verify it, so better be safe and have change.
So the plan to see the Eiffel Tower is you drop off your luggage at the airport lockers, get on the RER B, get off at Saint Michel Notre Dame, but there you look for the RER C in the direction of Pontoise and go 4 stops until Champ de Mars Tour Eiffel. Total trip should take 1 hour 15 mn from CDG.
Lines At The Eiffel Tower
The problem with this plan is that there are lines at the Eiffel Tower. If you booked your ticket on-line, you'll save yourself some time because you'll just have to queue up for the elevators. But if you have to take the line for both the tickets and the elevator, it could take a couple of hours! When I did it late May both lines only took 25 minutes, but it was a slow rainy day where lots of people stayed away. We got lucky the clouds parted just as we arrived. But you don't know what it's going to be like on the day you go.
The other problem with going to the Eiffel Tower is that there is nothing much to do nearby other than walk around and admire the tower. And, as mentioned before, NO luggage at the Eiffel Tower!
Consider Seeing Paris From The Tour Montparnasse
Another good possibility is go see Paris from the top of the Tour Montparnasse. It costs 15€ to get up there but I'm told the view is amazing and includes the Eiffel Tower, whereas if you are standing on the Eiffel Tower guess what? You don't see it! Yes, obvious point of the day, but true all the same. I haven't done it myself but would very much like to as it's probably fun with some camera equipment and I never go anywhere without camera equipment 😉
Fast Way to Get to Montparnasse: Les Cars Air France
How to get to the Tour Montparnasse? Here's another twist that I'm told is really good, but I haven 't tried it myself: take the Air France Shuttle or as we call it "les cars Air France". Un "CAR" in France is not a car, it's a bus! Here you go, extra language tip today, to make up for the fact that I forgot to include a language tip last week! So this "Car" is run by Air France and it makes several stops in Paris, including Gare Montparnasse, which is very close (3 mn walk). The Air France Shuttle has several lines, the one that stops at Montparnasse is line 4. It takes an hour each way. 30€ per person to and from CDG to city center. You can buy your ticket on line or pay the bus driver, cash only. There's a bus every 20 to 30 minutes from CDG Terminal 1, Terminal 2AC, 2BD, 2EF. Walk to the curb and look for signs. This service gets really good reviews
Link to their site so you can see the details for yourself, site in English too! http://en.lescarsairfrance.com/
This shuttle bus can also take you to Etoile — Champs Elysées, that's line 2. In that case you're hauling luggage because you'll be nowhere near lockers. That would be a problem for me, but if you're travelling light, why not?
Walk Along the Seine River
You could also walk along the Seine river without a destination. You could take a Bateau Mouche But if you wanted a destination, the Musée d'Orsay is 2km away from Notre Dame. Cross the bridge again (go back towards Quai Montebello, turn your back to Notre Dame and walk straight down the river. Along the way you'll walk past the Pont des Arts which is a foot brigde where they removed all the love locks recently, past Pont du Caroussel, which is cool too, and past pont Royal, Musée d'Orsay is to your left before you get to the next bridge which is passerelle des Solférinos. Lots to see along the river banks which have been transformed recently so there are no more cars.
Paris Streets You Should Walk On
A great article from The Local that lists great Paris streets for a stroll.
French Tip of the Week
How do you find the luggage lockers? You say "je cherche les consignes pour mes bagages, pouvez-vous m'aider ?" Particularly helpful if you choose the train station or airport lockers!
If You Have More Time
If you have 7 hours you could do the Bateaux Mouches. If you want to catch the Bateaux Mouches at the Eiffel Tower, then you'd get to see it up-close too and she's an impressive sight!
If you have 8 or 9 hours you could walk up Notre Dame or the Eiffel Tower and walk around the Ile de la cite.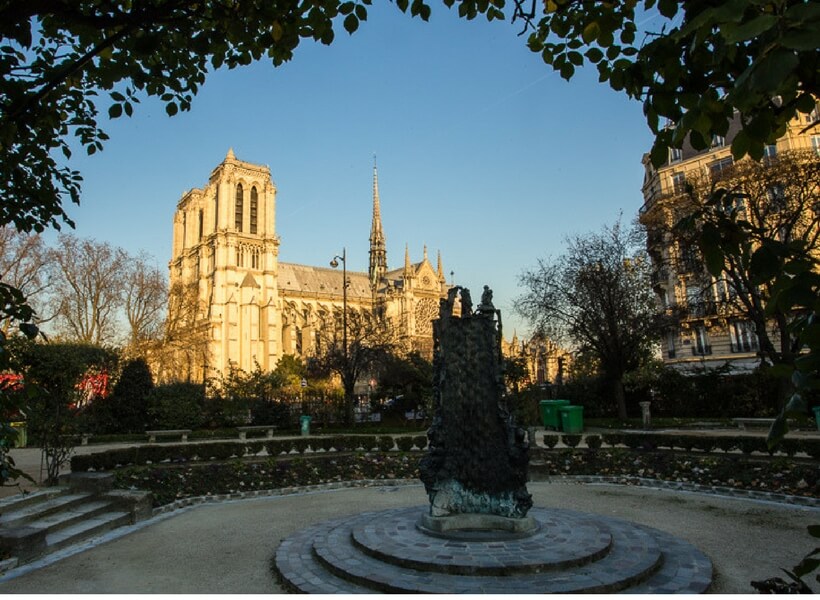 Subscribe to the Podcast
Apple
Google
Spotify
RSS
Support the Show
Tip Your Guides
Extras
Patreon
Audio Tours
Read more about this show-notes
Episode Page
Categories: First Time in Paris, One Day in Paris, Paris