Tags:
Episode with Elyse
Categories: First Time in Paris, Museums in Paris, Paris
CLICK TO PLAY THIS EPISODE
This episode features our frequent and very popular guest Elyse Rivin. If you enjoy her episodes, please consider supporting her on Patreon.
UPDATE: The Cluny museum is undergoing renovations until the Spring on 2021. Right now you can still see the Lady and the Unicorn, but check their website for updates.

This week Elyse takes us to the Cluny Museum, or Musée National du Moyen Age in French. While this museum is not usually on the list of must-sees for first-time visitors in Paris, we think it probably should be.
When Annie and Elyse recorded this episode, Annie hadn't visited it yet. She has seen been several times and it has become one of her favorites in Paris. One of the reasons why it makes the top of our list is that the Cluny Museum affords us a wonderful walk into the distant past. It is also a fairly small museum that you can see in an hour, or perhaps two if you linger.
Not to Miss at the Cluny Museum
So much to see there, make sure you make time for these:
The  Lady and the Unicorn
Roman Baths
Stained-Glass (you can see it up-close at eye level)
Statue heads from Notre Dame that angry revolutionaries had broken off
Did you get my
VoiceMap
Paris tours yet? They are designed for people who want to see the best of Paris neighborhoods
and
put what they are looking at into historical context. There are so many great stories in Paris. Don't walk right past them without having a clue what happened there! You can buy them directly from the VoiceMap app or click
here
to order activation codes at the podcast listener discount price.
Subscribe to the Podcast
Apple
Google
Spotify
RSS
Support the Show
Tip Your Guide
Extras
Patreon
Audio Tours
Merchandise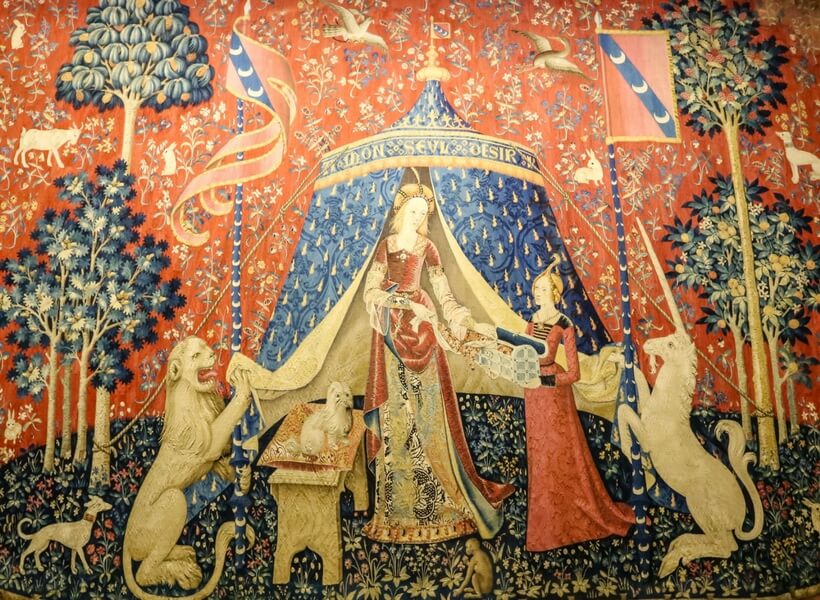 Read more about this episode
Show Notes
Categories: First Time in Paris, Museums in Paris, Paris