Categories: Paris, Solo in France
On today's episode solo traveler Corrie Fewx shares her experience with solo travel in Paris. In just 4 days she managed to see a lot of the highlights AND tried several activities that will greatly appeal to women hadn't been mentioned on the podcast before, she has a great attitude and great tips for all of us.
She went mid-November 2018 and it was a great time to be in Paris because they were starting to decorate for the Holidays, but it didn't feel like Paris was over-run by tourists. The weather was nothing startling for someone who lives in Oregon. Corrie had visited Paris in the summer before and she felt like going in November was a much better experience.
She chose to stay at an AirBnB in Montparnasse to get a bit of a feel of what it's like to be a local. She stayed on Rue Dugree, right off a metro station. It was a lively area with cafés, butcher shop, rotisserie, small stores. Just walking down the street was magical.
Tips for Solo Travel in Paris for Women
Corrie lives in Portland, OR and she likes to travel with her husband and family, but she also enjoys a solo trip every few years. Solo trips are different because it's a great way to have a lot of freedom. When you travel alone you can move at your own pace and do exactly what you want to do.
Going on a solo trip is a great time to connect with your own thoughts. It's a kind of meditative experience in a sense. You get to know yourself better because there is no need to compromise with another person. And you always come back really happy.
Many of the listeners of this podcast travel solo. It's not because they don't have a significant other, it's that this person does not like to travel as much as they do. And so, sometimes if you want to travel you have to go by yourself.
Four Action-Packed Days in Paris
Corrie stayed in the Montparnasse area based on another episode on the vibe of Paris neighborhoods. Montparnasse is more of a local's neighborhood, doesn't have as many touristy things.
Instead of trying to see the whole city, she focused on two separate areas and then went to do several activities.
Attending the Ballet at Palais Garnier
This was probably her favorite activity for the whole trip. Corrie booked a ticket for the Ballet at Opéra Garnier. Because she went solo she was able to get a box seat on the side.  The venue is amazing, the performance was perfect, it was all stunning.
Recommendation from Corrie: When you go see a performance at Palais Garnier, arrive an hour early, get a glass of champagne and you can walk around all the different levels. You'll be able to see the opera house, the staircases, the costumes gallery and walk around freely until the performance starts. Then after the performance look around some more with all the lights turned on. It's magical!
Perfume-Making Class in Paris
It was a shop called Canodra in the Marais. This is a 2-hour workshop. He goes over the history of perfume in France and in Paris in particular. You get to try all the scents and you leave with your own unique scent. It's small enough to go in your carry-on too.
Another unique activity that she found but didn't have time to do was a cancan class at Paris Latin. She'll save that one for next time!
Museum Pass: Totally Worth It!
Corrie wasn't sure about this, but she heard us mention the Museum Pass and the Sainte Chapelle  so often on the podcast that she decided to go visit it. She was blown away by how beautiful it is! And with the Museum Pass you can get in fast.
Sometimes people think the Museum Pass won't be worth is money-wise. But even if technically you didn't save any money with the Museum Pass, you WILL save a lot of time! When you only have a few days to spend in Paris, you don't want to spend hours on line!
And then you'll actually stumble upon museums you've heard about and you're not sure what's there. But you go in because you might as well since you have the museum pass and you love it! This is how Corrie got to see the Lady and the Unicorn at the Cluny museum. That is something special. Very unlike anything else you've ever seen!
Self-Guided Bakery Tour in the Marais
There are so many wonderful bakeries in the Marais, you can just walk around and make a point to go in all of them, maybe buy a little something and compare them!
She used Google maps to find bakeries near her and got to see some wonderful ones! For instance she loved Au Merveilleux where they make this really unique meringue type dessert. Small bites, great flavors.
She also loved one called Meert. This bakery is older than the United States. It's a chocolate shop with lots of choices. They also make these wafer cookies that melt in your mouth. Strangely they don't display the cookies, you have to ask for them, but they are delicious!
Picasso Museum in the Marais
While walking around the Marais she found the Picasso Museum and went in (it's part of the Museum Pass) and it's incredible. The building itself is amazing, the collection they have is really broad, a must-see!
Orangerie Museum: When You Travel Solo You Get to Look at the Waterlilies As Long As You Like!
She went to the Orangerie first thing in the morning so she got right in. It's smaller than she realized and is full of super famous pieces. These particular  waterlilies were painted for this semi-circular room. She spent a good 45 minutes to an hour in there looking at the waterlilies.
This museum was designed for contemplation. You get to sit on the those lovely oval benches and look at the colors changing from the sky-lights. That's what Monet did: he spent a lot of his life contemplating waterlilies at different times of the day and observed how things changed with the light.
Another benefit of traveling solo is that if you feel moved to spend 45 minutes looking at Monet's waterlilies you can do so without being annoying to anyone else!
Musée d'Orsay Was Open But Under Renovations
It was under construction, they are renovating the Impressionist area. They have all the paintings out, but it's not as nice as it will be. But just seeing the inside of the old train station is wonderful.
This one had a long line for security, so even if you have the Museum Pass, you'll have to wait for security. It wasn't her favorite, it will be better once all the renovations are done.
Museé National d'Art Moderne
This is not one most people go to and it wasn't on her radar. But her aunt recommended it because from the top you get a great view of Paris, so she went. The art was cool, but the view alone is worth it!
Again, this is one of the benefits of traveling solo, you can go see a modern art museum mostly for the view! And having the Museum Pass helps too. This particular museum didn't have very much information in English.
Musée du Louvre
Corrie liked the Louvre, but she went late in the day since they have late hours. She only had an hour before closing. She went straight to the Mona Lisa, could go right up to it and take a selfie.
It's worth going even if you don't have a lot of time because the building and the pyramids are so gorgeous at night.
Tuileries Garden
She ended up going twice because it was peaceful, it's a great place to go relax and people-watch. Depending on where you are staying in Paris, you might get the same type of feeling at the Luxembourg Garden.
It's fun to walk around Paris as it wakes up! Look up Il est cinq heures Paris s'éveille by Jacques Dutronc.
Catacombs: Get Your Ticket in Advance!
This was a neat experience, but do get your tickets in advance, there's always a line. She went by it several times since her apartment was in that area and there's always a line!
If you've seen the Catacombs in Naples maybe you don't need to see the ones in Paris, it's really similar.
Montparnasse Cemetery
This cemetery is smaller than Père Lachaise and it's also very nice. There are fewer famous people at the Montparnasse cemetery, but there are plenty of them and if you're in that part of the city it's definitely a must-see. It is really well-kept, all the tombs are pretty, because she was there in November there were lots of flowers.
Get a Data Plan!
There are a million ways to get data while in Paris and they are forever changing, so it's useless giving you specific instructions. But Corrie signed up for the $10 plan from her US cell provider and it was totally worth it.
Paris is supposed to have free WiFi in all parks, but it doesn't work as well as advertised.
No Sit-Down Meals
Because Corrie was traveling solo she didn't feel the need to go have lengthy sit-down meals and that allowed her to see a lot more of Paris. Next time she would probably plan at least one nice sit-down dinner. But you can eat very well in Paris "on the fly" with grab and go foods.
Going to a Turkish Hammam
This was a unique experience she couldn't have done with her husband since it's women only. She chose to go to the O'Kari Hammam and spent a good 4 hours there. It was a nice contrast to all the walking and running around she had done in Paris.
Inside it's really beautiful and ornate. You can enjoy the steam baths, the saunas, you can get body scrubs, massages. The whole experience is geared towards relaxing and rejuvenating. She walked out feeling energetic and wonderful.
Indoor Spin Class
Corrie liked her indoor cycling class at Kiwill. It was really fun to take an exercise class in French. This was candle-light and the workout was as intense as what she does in the US. This gave her a taste of what locals would do.
Bateaux Mouche
Corrie wanted to see the Eiffel Tower but didn't want to take the time to go all the way out there, so she took the Bateaux Mouche at night. It's not something you'd do over and over again, but it's fun to do one time.
Bateau Mouche is a brand name, but there are others such as Vedettes de Paris. Some do dinner, some do drinks, some it's just the boat ride.
Paris Is Safe for Solo Women Travelers
Paris is safe for solo travelers, there is lots to do, it's easy to get around. And when you go to restaurants and cafés you always see lots of other people who are eating alone. It's not an issue at all, you won't stand out.
Short Trips Can Be Fun Too!
Don't be afraid to travel alone. It's a great way to enjoy yourself, a great way to discover a city. When you're done you'll be proud of yourself.
If you wait to find 2 weeks to go see Paris, it may never happen. Don't be afraid to go for 4 or 5 days, it's great! Especially if you find a great deal on air fare, just go, even if you don't have lots of days.
Taxi To and From the Airport
Take a taxi to and from the airport. It's not expensive and especially when going TO the airport because things can happen like a strike or a break-down and you may miss your plane on account of some hiccup.
FOLLOW US ON:
Discussed in this Episode
Annie's AirBnB problem
Recording an episode with Oliver Gee from the Earful Tower
Meeting Patricia
Women's only Hammam in Paris
Perfume-making class in Paris
Solo travel in France
Subscribe to the Podcast
Apple
Google
Spotify
RSS
Support the Show
Tip Your Guides
Extras
Patreon
Audio Tours
If you enjoyed this episode, you should also listen to related episode(s):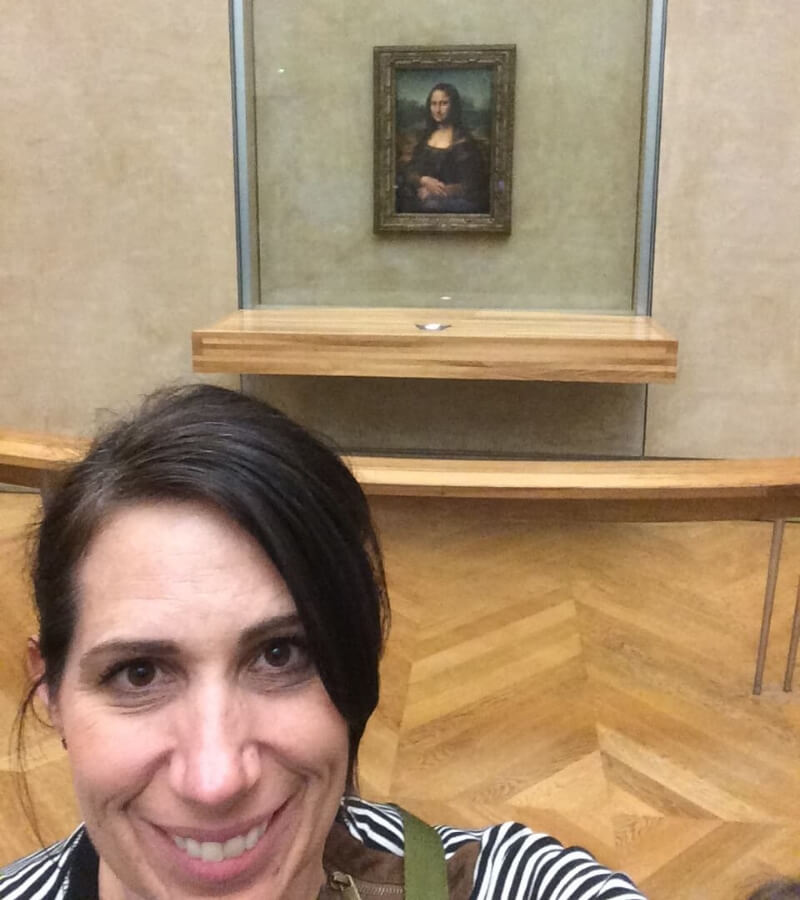 Read more about this episode
Transcript
Guest Notes
Categories: Paris, Solo in France