Category: Honeymoon in France
On today's episode, I talk to Oliver Gee and his fiancée Lina Nordin from the podcast Earful Tower. They are planning a wonderful honeymoon in France and they want to see France on a scooter!
Sounds like a scary plan to me, but they plan to go all around France, exploring a lot of the country as they go along. They are calling their adventures Amour de France, which is so cute and clever, I love it!
Discovering France on a Scooter
So, where do you go if you want to see a little bit of every part of France? You'll find out today. And what if you want to do it with a small budget a nothing much in the way of luggage? That's what Oliver and Lina go into with me today. I mean, they are traveling light, really really light! The song says all you need is love, doesn't it?
This episode came about because Calee Spinney, listener and Patreon supporter who also appeared on Running the Paris Marathon, Episode 155 to tell us about her experiences running the Paris Marathon, is a fan of both the Earful Tower and the Join Us in France Travel Podcast and she put us in touch, which was wonderful, thank you Calee!
Learn More
If you're interested about going on a road trip in France, you should also check out Episode 25, where my guest Laura K. Lawless talks about her visit to the 6 corners of the hexagon, the hexagon being the shape of France. She and her husband mostly camped and had great adventures too.
FOLLOW US ON:
Discussed in this Episode
Paris
Giverny
Rouen
Caen
Rennes
Nantes
La Rochelle
Bordeaux
Toulouse
Carcassonne
Montpellier
Aix en Provence
Marseille
(potentially Nice Monaco)
Grenoble
Lyon
Dijon
Nancy
Reims (champagne country)
Paris
Subscribe to the Podcast
Apple
Google
Spotify
RSS
Support the Show
Tip Your Guides
Extras
Patreon
Audio Tours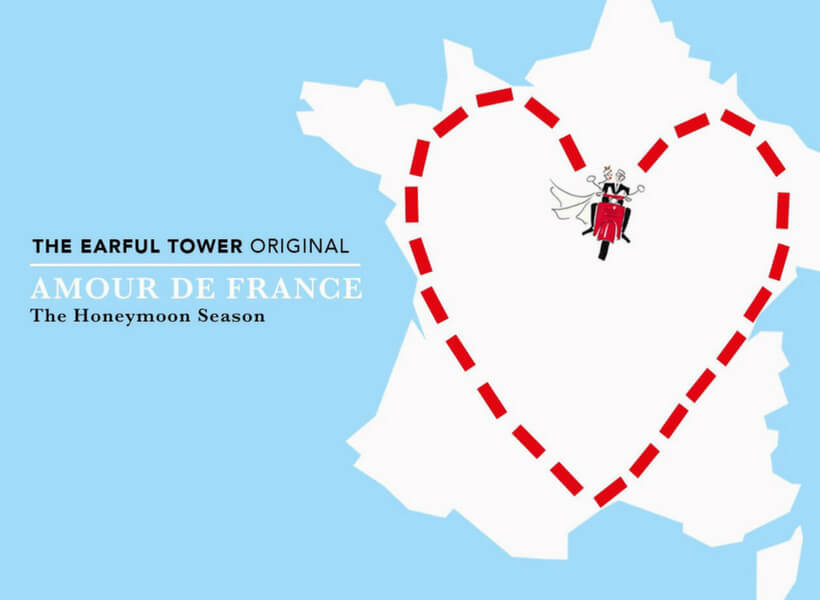 Category: Honeymoon in France