Category: Active Vacations in France
Every big sports event has to start somewhere. The Paris Marathon got its start in 1896, it had 191 participants, none of them women. Things have changed so much since then!
Today's Paris Marathon takes as many as 50,000 runners, many of them women, including today's guest, Calee Spinney who ran the 2017 edition comes on the show to tell us some of the things she wishes she knew before she ran it. If you're thinking about running the Paris marathon in 2019, you've come to the right place! Advice about the event, and all of the other things you can do while in Paris!
Paris Marathon Episode Highlights
1'38 Congratulations on running the marathon!
2'30 When did you sign up? What did it involve?
4'31 Why do you need a medical form?
6′ Do you run through gorgeous parts of Paris?
7'52 Was it well organized?
8'30 How do it work on the ground?
9′ Various extras you can buy at the Expo
11′ Is the commercial activity surrounding the Paris marathon good value or rip off?
12'30 Running on cobblestone is hard on the body
12'50 What do you wish you knew before you went?
15′ Food/water you can get along the route
17′ The finishing shirt
18′ What did you do besides running the marathon?
19′ Is Paris food good for marathon runners?
21′ Was it your first time in Paris? Where did you stay?
23′ How about safety surrounding the marathon?
24'30 Any recommendations you can share?
26′ Meeting a super-friendly Parisien
30′ Thanks and personal update
FOLLOW US ON:
Discussed in this Episode
Paris Marathon Preparation
Subscribe to the Podcast
Apple
Google
Spotify
RSS
Support the Show
Tip Your Guides
Extras
Patreon
Audio Tours
If you enjoyed this episode, you should also listen to related episode(s):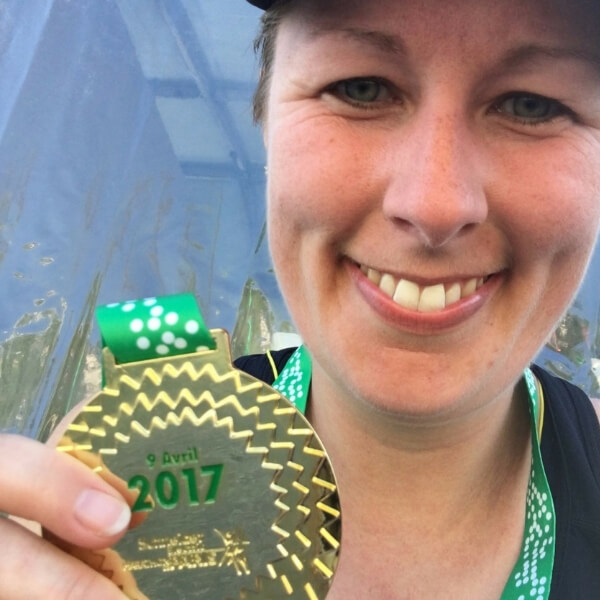 Let's Review
If Calee has inspired you to put on your sneakers and come to Paris to run the marathon make sure to prepare your visit with one of the other episodes, such as the one on how to protect yourself from pickpockets in Paris or how to enjoy Paris on a budget.
Learn More: Paris as a Destination
Read more about this episode
Transcript
Category: Active Vacations in France