Categories: Occitanie, Toulouse Area
This episode features our frequent and very popular guest Elyse Rivin. If you enjoy her episodes, please consider supporting her on Patreon.
The Aude department, located in the Occitanie region of France, offers a diverse and captivating landscape. It is home to notable sites such as the medieval village of Lagrasse, known for its historic charm and association with viticulture. The Lastours Castles, perched atop rocky spurs, bear witness to the region's rich medieval history and the Cathar legacy. Aude is also renowned for its wine production, with vineyards stretching across the picturesque countryside, producing a variety of wines, including Carignan, Syrah, and Grenache. Along its Mediterranean coast, the department boasts stunning coastal areas, including the town of Gruissan, with its sandy beaches and charming old town.
The Lesser-Known Gems of the Aude Department
The Aude department offers a delightful blend of historical heritage, natural beauty, and a thriving wine culture, making it a captivating destination for visitors.
Montolieu, the village of books
Plan on spending between 1 and 3 hours in Montolieu. A wonderful place to look for books both old and new. We love it as a place to stop for lunch. As always, it is best to visit when there's a festival or something going on because this is a village of around 800 inhabitants, not a bustling metropolis.
Best times to visit are Easter Weekend, July (look at the Pages de Jazz Festival), any Friday evening in the summer (live jazz), Aude aux Arts in early Aug. Generally speaking, it is best to go on a long week-end or summer weekend.
Montolieu's enchanting ambiance, combined with its literary legacy, makes it a veritable paradise for those seeking inspiration and a deeper connection with the written word, beautiful small villages, and a lively summer season.
Lastours and the Cathar castles
The modern village of Lastours is not remarkable, but the 3 Cathar castles are wonderful for a 1-hour hike that's doable even for people who are not super fit and families with children. Plan on 2 hours on site, more if you bring a picnic. There are no food or bathroom facilities on the site.
The castles, known individually as Cabaret, Surdespine, Quertinheux, and Tour Régine, were constructed during the 11th and 12th centuries by the Cathars, a religious sect that challenged the Catholic Church's authority.
The Lastours Castles played a significant role during the Albigensian Crusade, a brutal conflict waged against the Cathars in the 13th century. These imposing fortifications provided strategic vantage points, allowing the Cathars to resist multiple sieges by crusader forces. However, in 1211, the castles fell to the crusaders, leading to the suppression of the Cathar movement in the region.
Fanjeaux, a Medieval Village
Fanjeau is not far from Bram and is a medieval village at the edge of wine country. There is a lot of history there, much of it connected to Saint Dominic and the Cathars. You can walk the self-guided walking tour outlined here  or stop for a drink or a meal.
Lagrasse and Villerouge-Termenès
There are vineyards all around Lagrasse and Villerouge-Termenès. This is the heart of Corbières wine country where they grow a wide variety of grape varietals such as Carignan, Syrah, and Grenache. Those are picturesque villages / small towns with medieval architecture, cobblestone streets, beautiful bridges and an old abbey here and there. It is also a cultural hub, hosting wine fairs, harvest celebrations, and gastronomic festivals that showcase the region's heritage. Lagrasse is a nice location to base yourself out of when exploring this area.
Rennes-le-Château, Great Stories
This small village has gained international fame due to its enigmatic history and captivating legends. At the heart of Rennes-le-Château (episode 280)lies the beautiful Church of Saint Mary Magdalene, known for its intricate architectural details and stunning panoramic views of the surrounding landscape.
The village's allure is intertwined with the mysterious priest Bérenger Saunière, who served in Rennes-le-Château in the late 19th century. Legend has it that Saunière discovered a hidden treasure or ancient secret during his tenure, sparking speculations of hidden treasures, the Holy Grail, and secret societies. This mysterious legacy has inspired countless books, movies, and conspiracy theories.
Beyond its enigmatic past, Rennes-le-Château offers visitors a chance to explore its charming streets, lined with picturesque houses and quaint shops. The nearby stunning natural beauty of the Aude Valley and the majestic Pyrenees mountains provides a breathtaking backdrop to the village.
Gruissan, Port Leucate, Port-la-Nouvelle and Bages where the Aude meets the Coast
Gruissan, Port Leucate and Port-la-Nouvelle are charming towns along the Mediterranean coast in the Aude. They offer a perfect blend of history, beaches, and natural beauty. In Gruissan, the medieval village atop a hill provides stunning views, while sandy beaches attract sun-seekers and water sports enthusiasts. Port Leucate is a favorite for water sports. In both towns you can explore the narrow streets, and discover quaint shops and cafes. Nature lovers will appreciate the nearby Regional Natural Park of Narbonne. Bages is where you go walk around to see the pink flamingo and the lagoon.
Natural Sites in the Aude
Now let's go visit some enormous caves. You have the Gouffre Géant de Cabrespine and the Grotte de Limousis both make for wonderful visits and are not well-known to non French speakers.
GR 367 between Foix and the Lagoon on the coast. It's 155 miles and it takes you through many of the Chateaux Cathares. There are also a lot of Voies Vertes in the Aude department. For instance the Canal du Midi, the Passa Païs between Mazamet and Bédarieux, la Voie Verte de la Montagne Noire, Voie Verte du Piémont Pyrénéen.
Cathar Castles by level of difficulty
Easisest: Chateau de Saissac, Chateau de Villerouge-Termenes.
Moderate: Chateau d'Aguilar, Chteaux de Lastours, Chateau de Termes, Chateau de Puilaurens, Quéribus
Difficult: Chateau de Peyrepertuse
Wine in the Aude Department
There are a lot of wine producers in the Aude department. If there's a sign that says visit the winery, you can stop in unannounced and see if someone is there to have you taste the wine and possibly buy a few bottles. Minervois and Corbières are the two biggest areas. In Limoux they produce Blanquette de Limoux. Annie loves the O de Camplong wine from the tiny village of Camplong.
Don't stay in dicey neighborhoods in Paris, take a look at my list of great places to stay here.
#AudeExploration, #HistoricalHeritage, #WineCulture, #CoastalBeauty, #MedievalWonders, #Lagrasse, #LastoursCastles, #GruissanBeach, #VineyardAdventures, #FrenchEscape, #DiscoverAude, #CulturalTreasures, #ScenicLandscapes, #ExploringFrance, #HiddenGems
FOLLOW US ON:
Discussed in this Episode
Montolieu
Lastours
Fanjeaux
Lagrasse
Villerouge-Termenès
Rennes-le-Chateau
Gruissan
Leucate
Port-la-Nouvelle
GR 367 between Foix and the coast
Abbbaye de Fontfroide near Bages
Carnaval de Limoux
Alet-les-Bains and its Benedictine Abbey
Subscribe to the Podcast
Apple
Google
Spotify
RSS
Support the Show
Tip Your Guides
Extras
Patreon
Audio Tours
If you enjoyed this episode, you should also listen to related episode(s):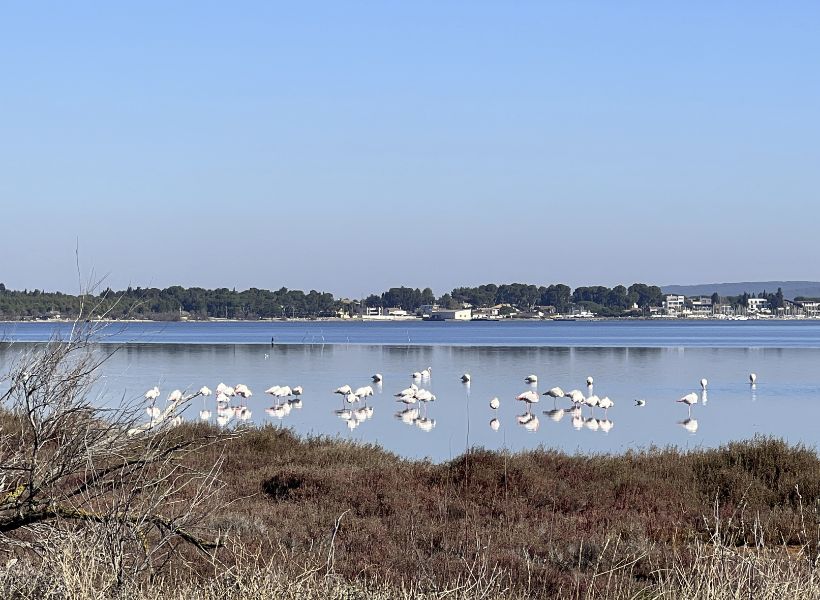 Read more about this episode
Show Notes
Transcript
Categories: Occitanie, Toulouse Area