Categories: Off the Beaten Track in France, Toulouse Area
This episode features our frequent and very popular guest Elyse Rivin. If you enjoy her episodes, please consider supporting her on Patreon.
Limoux is a city of about 10,000 not far from Carcassonne. If you're exploring the southwest of France, this is another great stop where you can enjoy genuine France and really get to know the French countryside.
Limoux in Occitanie
Limoux is in the Aude department and is part of the Occitanie Region. The Aude covers a large area west of Castelnaudary and all the way to the Mediterranean. Other cities in the Aude are Lézignan, Narbonne, Carcassonne, and Quillan.
The landscape around Limoux is hilly, and is a type of "garrigue" meaning that it's a mediterranean landscape. The city is not heavily populated, Limoux is mostly agricultural, but has a fair amount of tourism as well. But we don't mean Eiffel Tower tourism, but rather the kind of wonderful rural tourism where visitors go to stay a while and enjoy the local culture, hikes, and nature.
The local rivers are called the Aude and the Cougoing and that is one of the reasons why the city floods fairly regularly. The local Abbey is called Saint Hilaire and is a little bit outside of the town.
The area followed the Cathar religion and was a victim of repression against the Cathars. It is know as "Cathar Country" that is part historical and part lore. One of these days we'll do an episode about the Cathars, but it's hard to untangle what is fact from what is stories.
La Blanquette de Limoux
The local wine "blanquette de Limoux" is famous (and for good reason as we discuss in the episode!) The soil around Limoux is great for grape vines and olive trees because the soil is poor and does not retain water.
Fun Fact: Thomas Jefferson imported 600 bottles of Blanquette de Limoux into America because he considered it to be the best white wine he had ever tasted.
The blanquette de Limoux was the first white wine in France to receive and AOC or Appellation d'Origine Contrôlée. They have both a sparkling and non-sparkling wine.
In the US, you'll be able to purchase both white and rose brut sparklings from Michel Olivier in Limoux. Both are dry, well made, balanced and are exceptional good value at $12-16/bottle.  Interestingly the grapes used in both bottlings are chardonnay, chenin blanc and pinot noir.  Typical foods for this region are aligot, tielle setoise, tielle, brandade, cassoulet and petit pate de pezenas. Dave Walsh
Le Carnaval de Limoux
The Carnaval de Limoux pre-dates all the carnivals in France and dates back to the 1500s. It starts late January and runs until Easter and goes on every week-end. They use white masks to indicate what band or club they belong to.
Alet-les-Bains
Alet-les-Bains is a place where there are baths and this started with the Romans. They have a lovely Abbey, it's in ruins but you can visit it. Between Limoux and Alet-les-Bains you get a lovely view of the area.
FOLLOW US ON:
Discussed in this Episode
Blanquette de Limoux
Cathars
Carnaval de Limoux
Alet-les-Bains
Subscribe to the Podcast
Apple
Google
Spotify
RSS
Support the Show
Tip Your Guides
Extras
Patreon
Audio Tours
If you enjoyed this episode, you should also listen to related episode(s):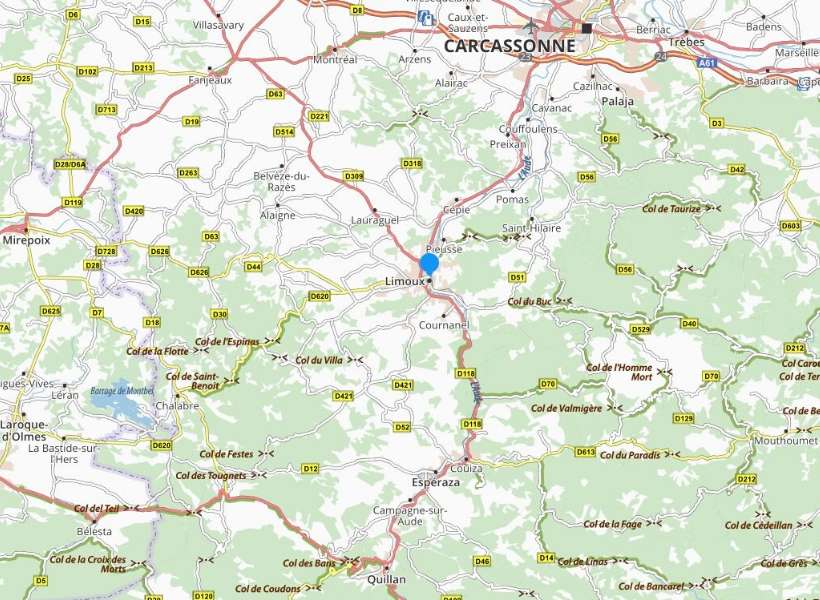 Let's Review
A visit to of the old Cité de Carcassonne takes half a day, so adding a visit to Limoux and Alet-les-Bains would complete the day very nicely. Don't forget to buy a few bottles of the local AOC wine!
Categories: Off the Beaten Track in France, Toulouse Area