Tags:
Episode with Elyse
Categories: Day -Trips from Toulouse, Toulouse Area
CLICK TO PLAY THIS EPISODE
This episode features our frequent and very popular guest Elyse Rivin. If you enjoy her episodes, please consider supporting her on Patreon.
How much do you know about the city of Carcassonne? Are you thinking about going to see it for yourself? I have to encourage that because what a place and what a story!
Depending on the Day and Time of Year, Carcassonne Can Be Extremely Busy
But be warned: it's a touristy place. If you go without any preparation, you might be there with bus-loads of other visitors. Listen to this episode where we share all the secrets to a great visit to Carcassonne.
Let's start with this fact: the city of Carcassonne is the largest intact medieval walled city in all of Western Europe. It is like walking into a medieval dream. And because it is so stunning visually, it attracts a lot of visitors.
Are terrible crowds in Carcassonne a fatality? No. Choose your day and if you can't choose the day, at least choose your time. The crowds are only there for a few hours a day.
The Story of Raymond Roger Trencavel
And, whatever you do, listen to the story of the Cathars and how Raymond Roger Trencavel became a local hero fighting a cruel northerner named Simon de Montfort. The story will make the city come to life for you!
In this episode we also explain how the Walled City fell into disrepair and would have been dismantled were it not for the efforts of Prosper Mérimée and Viollet-le-Duc.
How About Eating Some Cassoulet?
Are you ready for a world-famous local specialty? How about some local wines? It is all in this episode on Carcassonne France.
And if you're in France with children, we can guarantee that it will awake their imagination and they will want to play knight and damsel. Nothing says that adults can't do the same.
Oh, and I almost forgot to mention: the walled city of Carcassonne is a UNESCO world heritage site, because there are few places in the world where old stones and history collide so beautifully.
Episode Highlights
What is Carcassonne?
How big is it?
Where Is Carcassonne?
Historical Background
Roman Times
Carcassonne France today, the climate and industry of the modern city
Hôtel de la Cité in Carcassonne
The Cathars
The Count of Toulouse
The Cathar Religion Takes Root in Occitania
What Is the Cathar Religion?

The Cathar Consolamentum
Aristocratic Women and the Cathar Movement
Cathar Geographical Expansion
Simon de Montfort, the Vilain
The Crussade Against the Cathars
No Water within the Walls
Trencavel, the Hero

Carcassonne After the Cathars
Carcassonne Gets a Second Set of Ramparts
The "Lice" in Carcassonne (FYI, nothing to do with head lice!)
Carcassonne Becomes Part of the Kingdom of France
Carcassonne the Impregnable City
The new city of Carcassonne
The Walled City Falls to Ruins
Prosper Mérimée and Viollet-le-Duc Save Carcassonne
1850 Renovations of Carcassonne
Back to the Hotel de la Cité
Tips on the Best Way to Visit the Cité de Carcassonne
Entrance to the Medieval City of Carcassonne Is Free
The Shops in Carcassonne
The Secret of the Wall
Conclusion
Did you get my
VoiceMap
Paris tours yet? They are designed for people who want to see the best of Paris neighborhoods
and
put what they are looking at into historical context. There are so many great stories in Paris. Don't walk right past them without having a clue what happened there! You can buy them directly from the VoiceMap app or click
here
to order activation codes at the podcast listener discount price.
Subscribe to the Podcast
Apple
Google
Spotify
RSS
Support the Show
Tip Your Guide
Extras
Patreon
Audio Tours
Merchandise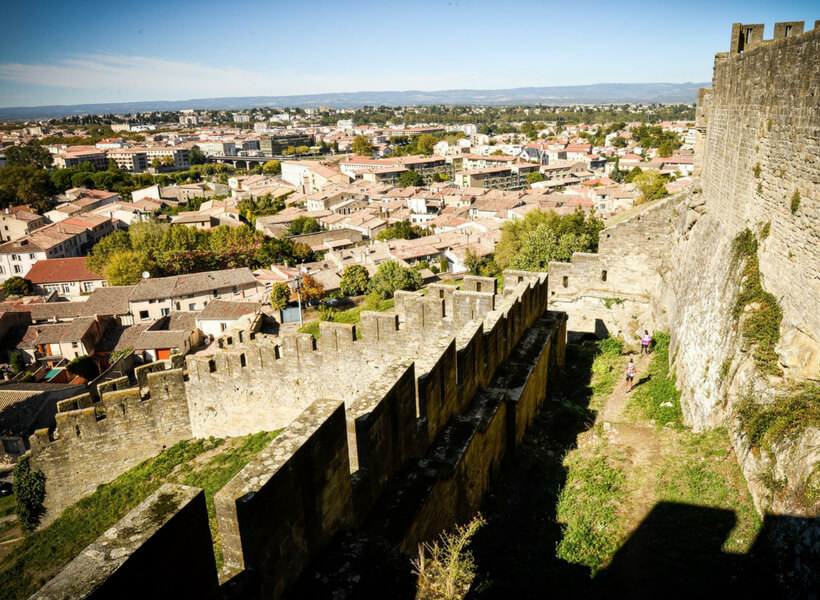 Read more about this episode
Transcript
Categories: Day -Trips from Toulouse, Toulouse Area