Categories: Day -Trips from Toulouse, French Food & Wine, Off the Beaten Track in France, Toulouse Area
This episode features our frequent and very popular guest Elyse Rivin. If you enjoy her episodes, please consider supporting her on Patreon.
In this episode Annie and Elyse talk about the lovely city of Castelnaudary. But this being our 300ths episode we also celebrate the moment, discuss the achievements of the podcast and our aspirations going forward.
We also talk about Annie's southern French accent (which is shared by our current Prime Minister Jean Castex). And how could we talk about Castelnaudary without talking about Cassoulet? Castelnaudary is, after all,  the world-capital of this delicious dish!
Castelnaudary is a major stop on the Canal du Midi and has an impressive set of 5 locks followed by a "Grand Bassin" and an artificial island called Ile de la Cybèle.
A major Amazon depot is going to be established in Castelnaudary so that should bring in younger people. But it is a medium city and quite a few English expats and a good standard of living. Maybe you should visit if you're looking for a place to settle in France that's not too expensive.
Did the Cassoulet Originate in Castelnaudary?
Anatole France certainly thought so! There was also a cookbook in the 1600s that describes a stew that sounds a lot like Cassoulet! Cassoulet got its name from the dish Cassole or Cassolette. Cassoulet in Castelnaudary is made with goose (not duck) and doesn't have bread crumb on top.
Restaurant Recommendation
Annie and David ate at a restaurant called Chez David and it was delicious. They claim to make it from scratch and cook it for 7 hours. Make a reservation, it's not very big and it fills up! Cassoulet is a mix of slow cooked goose, pork and beans. They have a special white bean from Castelnaudary, but it's quite expensive and it just tastes like a white bean.
Making Cassoulet from scratch in America is not easy, but you could make it if you use chicken thighs, pork ribs and Italian sausage.
When in Castelnaudary, Do the Walking Tour!
The Tourist Office has put together a nice 4k walking tour that will take your through all the interesting sites in the city. Careful around the church, you want to be on Rue du Collège or you might get lost.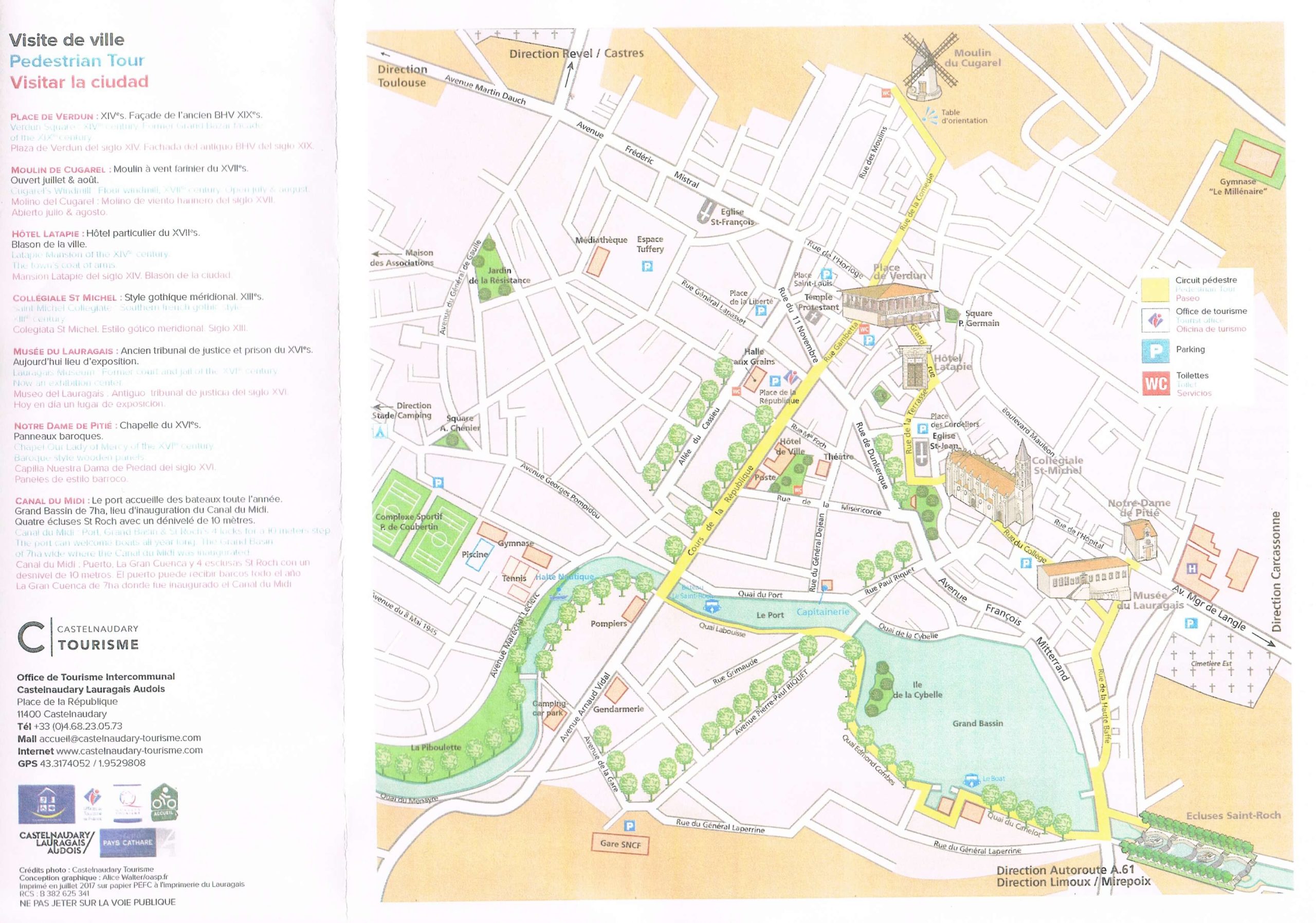 Must-Sees in Cathar Country
Want to learn more about the Cathars? Here are the places you should visit in one graphic.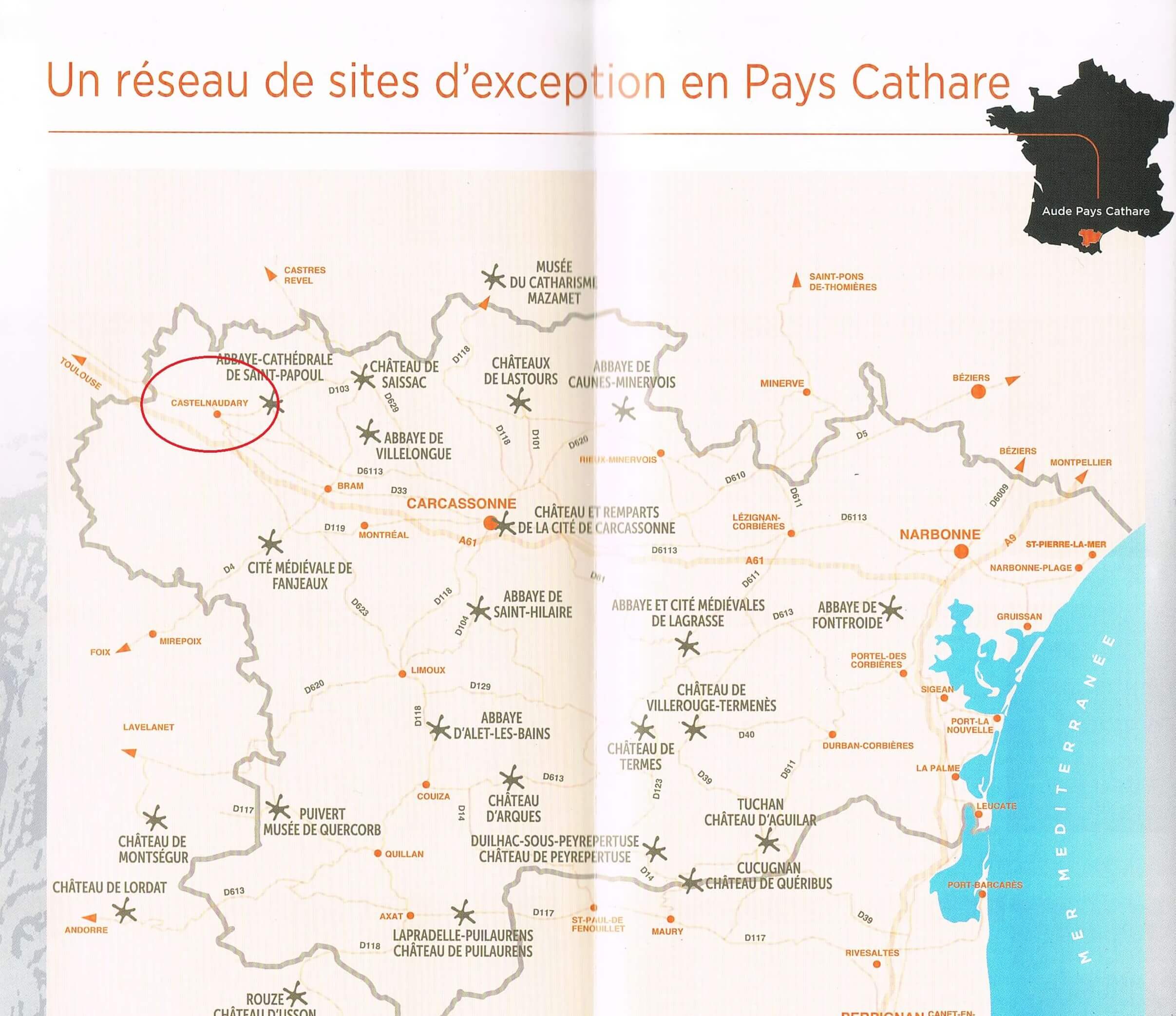 FOLLOW US ON:
Discussed in this Episode
Castelnaudary Cassoulet and Canal du Midi [11:22]
Le Lauragais [13:01]
Wheat growing area [14:04]
A lot of British people lived in Castelnaudary [14:40]
Castelnaudary economy [14:53]
Castelnaudary is a good choice for people looking for a nice place to live in France that is not too expensive [16:13]
Ruins of the Castle [17:26]
Castelnaudary and the 100 Years War [18:02]
Pieere Paul Riquet and the Canal du Midi [19:28]
Grand Bassin in Castelnaudary [20:13]
Ile de la Cybèle [20:48]
The importance of the Canal du Midi [21:39]
About the Cassoulet and its origins [28:40]
Why Castelnaudary claims Cassoulet started there [29:50]
Cassoulet comes from Cassole [31:39]
The difference in Cassoulet recipes between Toulouse Carcassonne and Castelnaudary [31:37]
Cassoulet is time-consuming and ingredients are hard to find in the US [34:36]
You don't need a cassolette to make Cassoulet [37:16]
How do you know if you're getting home-made Cassoulet? [38:25]
Restaurants that claim their Cassoulet is home-made [38:41]
The intestinal consequences to eating Cassoulet [40:37]
Castelnaudary is off the beaten track and lovely [41:59]
Is it a transat or a chaise longue? [42:53]
Seuil de Naurouze [43:12]
Cugarel Windmill in Castelnaudary [44:21]
The Lauragais is pretty [44:37]
Starting a podcast is a steep learning curve [46:55]
Subscribe to the Podcast
Apple
Google
Spotify
RSS
Support the Show
Tip Your Guides
Extras
Patreon
Audio Tours
If you enjoyed this episode, you should also listen to related episode(s):
Read more about this episode
Transcript
Categories: Day -Trips from Toulouse, French Food & Wine, Off the Beaten Track in France, Toulouse Area