Categories: Paris, Trains in France
On today's episode we discuss getting around France using public transportation: buses and metros in Paris and national trains & regional buses in the rest of France.
Some places in France you need a rental car, but there are many where you do not. Many places in France having a car could ruin your vacation! This episode is your essential training how the transportation system works in France.
Lachlan Cooke has been visiting France since he was a teenager and he loves the French public transit system. He has become very proficient at it and shares his best tips and tricks. We also talk about the best travel Apps out there. Apps will make your life simpler if you get the right ones for France!
Using Public Transportation in France: Trains, Buses and Metros
In this conversation we will split things up between public transit in Paris and then move on to long distance transportation by train to the rest of France.
Paris had the first public transportation system in the world, it started in 1662 when the King gave permission for carriage transportation on a set route that charged a standard fare. We LOVE our public transportation system in France, and we use it a lot.
The Metro System in Paris
Then the Paris Metro was setup for the 1900 Word Fair in Paris. It opened with 10 lines that still exist and have added 4 since then. Paris' metro is the second busiest in Europe. Moscow is the first. In 2015 the Paris Metro carried 4.16 million passengers per day! This massive operation is run by the RATP, which is worth remembering because they have a good App!
On average Paris Metro Stations are 548 meters apart so most people can walk to a metro station from anywhere in Paris. The Metro opens at 5:30 AM and goes until 1:15 in the evening on week days, 2 AM on Fridays and Saturdays.
The system is divided into 5 zones, most visitors always stay within zone 1 and 2. Versailles is in zone 4 and the airport CDG, Disneyland and Fontainebleau are in zone 5.
T+ Tickets = Carnet
You can buy a "carnet" of 10 tickets for 14,9 €, single tickets are about 2€ each. On the machines you want to look for t+. On the machines you can select English which is a good idea even if you speak some French. Most metro stations have an attendant that can help you, but there isn't an attendant at every metro exit, you may have to try a different exit at the same station.
Mobilis Day Pass
For central Paris the Mobilis day pass sells for 7,5€ for the whole day. You can also get a Mobilis pass that will go all 5 zones, and it's 17€ or thereabouts.
Paris Visit Pass
The Paris Visite Pass is designed to serve the needs of visitors. It comes in configuarions of different number of days. The advantage of Paris Visite is that you can start it any day of the week.
Navigo Découverte
If you're a frequent visitor to Paris you may want to get a Navigo Découverte. The pass itself if 5€ and you need a photo ID. Then all you have to do is recharge it every time you go to Paris. It costs 22.80€ for the week and it runs Monday to Monday only.
Fare Inspectors and Enforcement in the Metro
There are ticket inspectors in Paris, you will see them often at Bastille. Do not throw away your ticket until you're on the street, they can check it at any time. Sign your Navigo card or you may get in trouble because they don't want people exchanging passes.
You can transfer between the metro and the bus system, but there are lots of rules that pertain to that. For instance you can't use the same ticket to get back on the same bus line in the same direction.
Sometimes getting a Navigo Pass is easiest because you won't have to mess with fare rules you don't want to learn about. Also, the tickets will probably disappear in a few years and all fares will go to a card based system.
Understanding Metro Lines
There are paper maps that you can get for free at any metro station. There are also maps posted on the wall. The crucial thing to know is that you need to know two things before entering the metro:
The line number you need (there is a color associated with every line)
The name of the end point that will take you in the right direction
If you have Google Maps on your phone, it has a public transit icon that will show you how to get there by metro or bus rather than by car. It will tell you a lot of details! Some of these Apps will even tell you if you're better off being in the back of the train or in the front. It will also tell you what number exit is best for you.
The Plan du Quartier posted on the wall when you exit the train will show you the best exit for you. Stations like l'Étoile have exits that can be very far from each other, so it's worth checking what the right exit is for you.
Châtelet - Les Halles a Ginormous Transportation Hub
This is a beast of a Metro / RER station where everyone gets lost until they've done it several times and can go on automatic mode. Avoid changing or exiting at that station if you can.
Pickpockets on the Metro and Generally in Paris
Dont stand near the exits. Standard strategy for pickpockets is to wait for a stop, grab something and run. If you can tuck yourself in a corner or with your back to the opposite doors (not the ones that open!) you'll be safer from pickpockets.
Be careful whenever there is a distraction going on. If something strange is happening, this is the time to mind your belongings even more! Don't bring too much, don't have all of your cash, your credit cards, your work badge, your US Driver's license and passport in your wallet in Paris. That stuff should stay in the hotel safe. Just take one card and a little bit of cash as you leave your hotel for the day.
Leave your passport at the hotel! Technically in France you're supposed to have ID on you at all times. Photocopies are enough, leave the original ID in the safe. French cops understand that US passports are a target of pickpockets. If they want to see your original passport they will ask you to go to a police station later and show it.
Buses in Paris
Buses are wonderful because you can see where you're going to hop off at any point (almost). Paris has 63 bus lines and 4000 buses. If you are out late they have night buses.
Bus numbers actually mean something and if you understand the system, it'll make your life easier. This is explained in this Wikepedia article.
When you get on the bus get on the front door, say bonjour to the driver and go towards the back. Most Paris buses have displays that tell you what the next stop is, how long to the end of the line. With Google Maps you can follow the blue dot to see exactly where you are on the line. That means you must have cellular data, make a plan for that before you leave home!
If a bus driver tells everyone to get off the bus but it's not the end of the line (maybe it's the end of their shift or it's time for their break or something), just get off and wait for the next bus at the same bus stop.
Great Bus Lines for Visitors
Wherever you are staying, make a note of the buses that stop near there. There are also a couple of lines that are great for visitors:
Bus 96 which starts at Montparnasse, goes trough Saint Germain and Le Marais.
Bus 69 which goes between the Eiffel Tower and Père Lachaise.
Apps You Should Have on Your Phone to Get Around Paris
The Apps you need to have on your phone to get around Paris easily are
Google Maps
CityMapper
 RATP App for real-time updates
If you use your phone a lot at home, you will be completely lost without it in Paris, find a Paris data plan that works for you!
Train Transportation in France
The trains are run by the SNCF. There are a few classes of trains. Some of them require reservations and the others do not.
TER Trains
TER are regional trains. You don't need a reservation, the price is exactly the same no matter when you buy your ticket. You're better off just buying the ticket when you arrive at the train station. Stamp your ticket in a yellow machine that looks like this.
TGV Trains
These are the high speed trains and it makes it easy to go cross country. Reservations are mandatory and ticket prices go up the longer you wait. Tickets are available 92 day before travel and tickets are released in batches, you won't see any tickets available beyond 90 days.
There are 3 classes of tickets on the TGV:
Prems: not changeable, not refundable
Loisir: some changes are possible with a fee
Pro: fully refundable
If you're coming in with a flight and might get delayed, it may be wise to pay for loisir or pro class tickets.
Checkout Man in seat 61, this is a site with lots of great information about train travel everywhere in the world and very good for train info in France.
Eurostar and Thalys have their own reservations systems, they also need to be booked in advance.
How Early Do You Have to Be to Take the Train in France?
Plan to show up and be inside the train station 30 to 20 minutes before your TGV train is scheduled to leave. This gives enough time to get your ticket checked and find you car. Your ticket states your car and seat number and the train will display the car number. You'll see the seat numbers once inside of the train.
How Do You Find the Right Car on the TGV?
If you board the train at the end of the line your train will probably sit on the platform for 30 minutes, there's plenty of time to find your car.
But if you board the train where the TGV makes a 2 minute stop (for example in Mazamet on the Toulouse to Paris line), you will want to be as close as possible to where your car is going to be.
Here is how that works: the train picture on the platform will show you a picture of the train and with its car numbers next to a letter. There are letter markers on the platform. Go close to that letter and when the train pulls in you will be close to your car number. There is always staff on the platform, ask for assistance if needed.
You can enter the train anywhere and move around the train to find the right car, but it's easier to find your car while on the platform.  There will be several warnings before the train actually takes off, and there are platform managers that watch the train to make sure all passengers had enough time to get on. They won't hold back the train because you're late, but if you're on crutches and it takes a while longer, they will accommodate that.
Best Way to Buy Train Tickets in France
Annie likes to get my tickets via OUI.SNCF. You want to install the App on your phone and buy from the phone that way everything is on your phone.
TrainLine also has an App, it's British-based. Loco2 also has an App you can use.
If you buy your train ticket on Oui.sncf you'll be updated in real-time as to what's happening with your trip. Delays, strikes, technical issues, etc. If you buy with other Apps, you may not find out in time. There's also another App called SNCF that focuses on traffic updates rather than buying tickets.
The App Rome2Rio let's you find out how to transit between any two spots in the world.
Ouigo TGV Discount Trains
There are discount TGV trains called Ouigo. Sometimes they make you pay for luggage, there are restrictions. Also Ouigo trains tend to not allow you to change your tickets. But they are really cheap! You can find fares between Paris and Nice for 20€. Ouigo also requires you to be there 30 minutes before, so if you're chronically late, forget it! Ouigo does not go between all cities in France, but when they do it's a great option.
Regional Buses in France
France has a lot of regional buses. Some places there aren't good train options and regional buses are much faster/cheaper. For example between  Annecy and Chamonix, the bus is better than the train, it's more direct and cheaper too! The two biggest bus lines in France are FlixBus and Ouibus.
GoEuro App to Compare Trains and Buses in France
How do you find out about these options? Use and App called GoEuro that shows you both trains and buses. You can buy the ticket right from the App. You can select for trains and buses so it's a great way to compare trains and buses in France.
Train Strikes
France is famous for epic train strikes. The last one happened in 2018 and Annie talked about it in this episode: Train Strikes in France, 2018 Edition, Episode 189. When there's a train strike it's useful to look at buses.
Buses almost never go on strike in France and they are a really good way to go! Buses in France are safe and comfortable and Annie also did an episode about that: Bus Transportation in France, Episode 75
On strike days there are still trains running. It's usually 1 in 3 trains so they are packed. The site to check for strike information is cestlagreve.
EuroRail Passes
The rules just changed for 2019 and it's now either a global pass for all of Europe or a single country pass and nothing much in between. With the EuroRail pass you still have to make a reservation to go on the TGV and you have to pay a reservation fee. You can't get on every train is eligible for EuroRail pass either, so it's generally not a good deal unless you're going to be moving around a lot.
When Visiting Nice in Provence, the Buses Are Wonderful!
In the Nice area you can get a 7-day transit pass for 15€. That pass covers the whole Riviera except for Monaco. Provence has great bus transportation because there is a need to get cars off the road. These buses will take you to Villefranche-sur-Mer, Vance, Saint-Paul-de-Vence. You won't need a car if you get good at using Google Maps!
FOLLOW US ON:
Discussed in this Episode
Rome2Rio App
RATP App
Oui.SNCF App
Google Maps
CityMapper App
TrainLineApp
Loco2
OuiGo App
GoEuro App
Rome2Rio App
SNCF App (for realt-time traffic update)
Regional Bus System Around Nice (Provence)
Solo travel in France
Subscribe to the Podcast
Apple
Google
Spotify
RSS
Support the Show
Tip Your Guides
Extras
Patreon
Audio Tours
If you enjoyed this episode, you should also listen to related episode(s):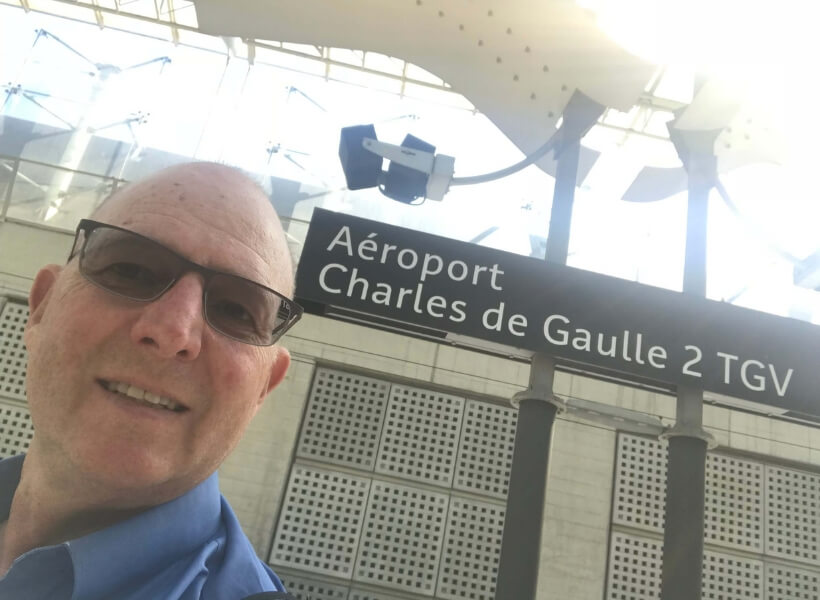 Let's Review
Train travel is one of the nicest ways to discover France. In Paris the ease of using the metro and buses can't be beat. Of course, if you have a family of 4, maybe the economics won't work the same for you. But for solo travelers, public transportation options in France are fantastic. And don't worry that it's going to be seedy or whatever. It's not! If you try it,  let us know how you like it in the comments.
Read more about this episode
Transcript
Guest Notes
Categories: Paris, Trains in France