Category: France How To
In today's episode I want to help you master the basics of bus transportation in France. The train is a favorite mode of transportation in France, but there are good reasons to consider taking the bus rather than the train sometimes.
Reasons Why You Need to Look at Bus Transportation in France
First of all, the train is not always an option because of strikes. In 2018 the SNCF, the French Train Company, went on strike for 60+ days in the spring and summer. See Train Strikes in France, 2018 Edition, Episode 189 for details.
Secondly, bus transportation is one of the most inexpensive ways to get around in France. And while you often can't find a plane or train ticket for tomorrow or the day after, you probably will find one one of the bus lines.
Thirdly, the bus is comfortable! Most of the regional buses you will ride in France are new and have WiFi and individual power plugs. Compare that to low-cost airlines in Europe with their ancient uncomfortable planes!
Fourthly, if you're interested in rubbing shoulders with regular French people, you will find them on the bus. Most bus riders are younger and not scary at all.
Some of the Bus Companies You May Want to Consider
Please note that I have no commercial relationship with these companies. New bus companies come to life all the time while others fail. These are the bus lines that have been around for a few years and are likely to stick around.
How Do You Choose the Right Bus Company?
Most people choose based on itinerary and price. Also watch out for pickup and drop off points. Some of these companies have agreements to work near  major transportation hubs, others will make you take another bus or metro before you get to where you really want to go.
French Tip of the Week
Here's a French travel phrase we'll all need sooner or later: "j'ai besoin d'aide", I need help. At the end of the show I also play a clip from a person who has a very strong South Western accent, so strong that it's unusual.
FOLLOW US ON:
Subscribe to the Podcast
Apple
Google
Spotify
RSS
Support the Show
Tip Your Guides
Extras
Patreon
Audio Tours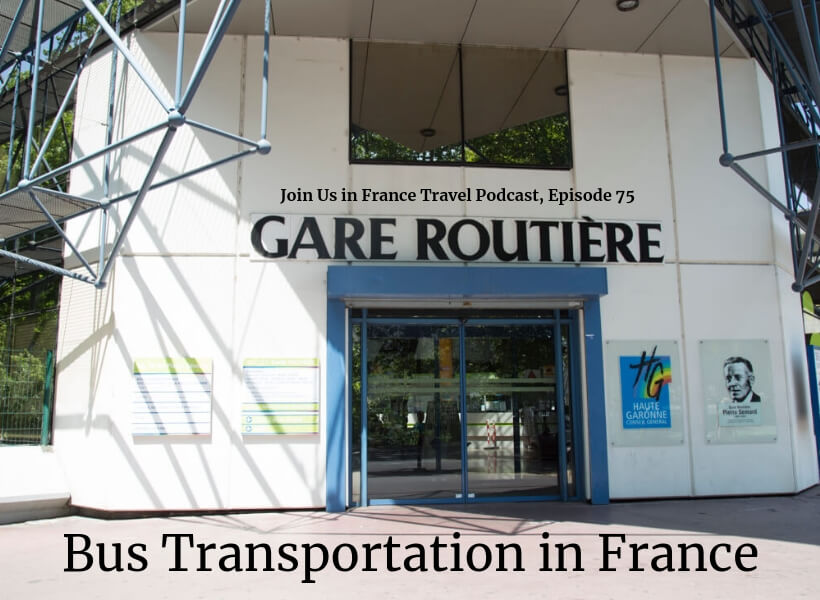 Read more about this episode
Show Notes
Category: France How To