Table of Contents for this Episode
Category: France How To
Why Look at Bus Transportation in France?
Why is it important that you understand bus transportation if you never take the bus at home? Let me give you four reasons.
Strikes
For reasons that I won't go into here, strikes are common in the transportation sector. Just last week there were Taxi strikes, SNCF strikes (train system), and air traffic control strikes are announced for this week. The ability to be versatile in your transportation choices will make you immune to those unpredictable strikes. If one way won't work, choose another!
Bus Transportation Is Cheap
Overall buses are the most inexpensive way to get around in France. They are also more spontaneous. You can decide to go tomorrow and find good deals. Flights for tomorrow may be full, but one of those buses probably has room. Having said that, it is always best to book in advance if you can.
WiFi on Board
As the fleet of buses gets renewed, the buses are also getting more comfortable. Some offer WiFi and plugs to charge your devices while on board. Not all of them do, compare prices and services.
Genuine French Life
Buses are a wonderful way to get a feel for regular French people and interact with them. This is not going to be a bus full of tourists, as a matter of fact you'll probably be the only tourist there.  These are regular French people living their regular French lives. A great opportunity to practice your French!
Trans European Buses
In this episode I also explain how buses to other European countries work, and list some of the companies you may consider. There is a lot of competition in this area because the bus is a vibrant mode of transportation in Europe. Just a few years ago it was the opposite, a few bus companies kept the market under their thumb. Then regulations evolved and we witnessed an explosion of offerings in the market of bus transportation in France and in Europe.
Understanding the Bus System
How do you find out if a place where you want to go to is on a regional bus line? Since every department does it a little bit differently, you'll need to search. Search for the following terms: "bus régional" and the name of the department you want to know about. How do you know what department you're in? Here's the map of French departments!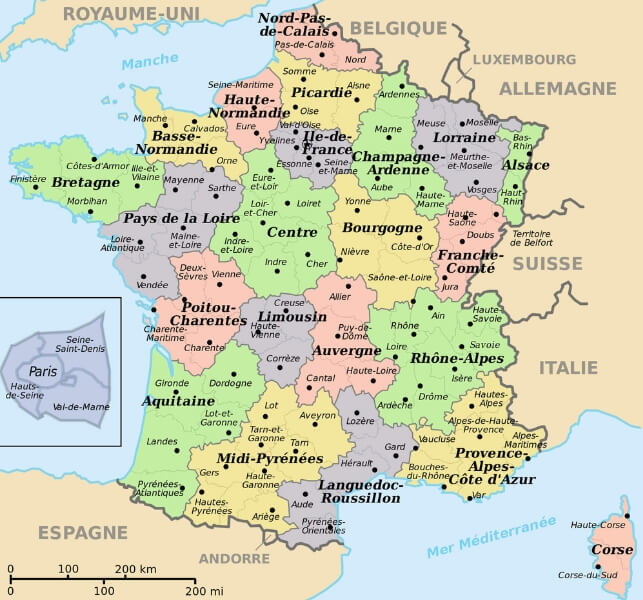 Why You Are Better Off Without a Car In France
Driving in major French cities is not conducive to a relaxing vacation. If you need to rent a car, definitely park it at your hotel and either walk or use public transportation. There is a big cultural difference between France and North America when it comes to cars. French people who choose not to own a car or use a car are not strange in any way. Buses are popular and not seedy at all.
Subscribe to the Podcast
Apple
Google
Spotify
RSS
Support the Show
Tip Your Guides
Extras
Patreon
Audio Tours
Read more about this show-notes
Episode Page
Category: France How To