Category: Paris
This episode features our frequent and very popular guest Elyse Rivin. If you enjoy her episodes, please consider supporting her on Patreon.
Thank you everyone who expressed sadness and support in the wake of the  Notre Dame fire , Elyse and I were very touched.
For those of you visiting Paris soon, chances are you won't be able to approach Notre Dame because the site is not secured yet and they need to prioritize access to workers and builders. Why? Because any fire site is a potential hazard, should a large storm move through right now, parts of the Cathedral could fall.
Preseident Macron has set a goal to restore the Cathedral within 5 year, which is lightning fast by French standards. This has to do with the fact that France will host the 2024 Olympics.
Original Medial Roofs Burn Like Tinder
"La forêt" (the forest) burned. There was 200 tons of wood that held up the copper roof. All the wood dated back from the 1200s, it was extremely dry and burned like tinder. What is astonishing is that this roof structure lasted as long as it did.
There aren't many Gothic Cathedrals anywhere in the world with an original roof structure because by now most of them have burned in one incident or another.
There were no sprinklers at Notre Dame and this was a conscious choice because they didn't want to risk installing anything new which in itself is a fire hazard.
It's a miracle that nobody died among the 400 professional firefighters who worked on this fire!
The Organ at Notre Dame
One of the joys of visiting Notre Dame is hearing the organ. You'll hear an impromptu recording Annie made at the Notre Dame if you listen to the episode until the end.
We are confident they will be able to restore it to full power because the organ did not suffer any fire damage. That doesn't mean that there won't be extensive renovations needed on the organ, let's keep our fingers crossed.
What Other Cathedral Can You Visit Instead of Notre Dame?
The Cathedral that is most similar to Notre Dame is the Saint-Denis Basilica. Unfortunately, Saint-Denis is in the middle of a rough neighborhood. It's not all that dangerous but it may be unsettling to some visitors.
We recommend you go in broad day-light no matter who you are and if you're not a city-dweller who is used to seeing rough neighborhoods, you may want to go by taxi or Uber and ask to be dropped off at the door instead of taking the metro.
Saint Eustache is Elyse's choice. It is right next to Les Halles. There you will see the flying buttresses and gargoyles, etc. But the inside is a little bit funky.
Saint Sulpice is a little bigger than Notre Dame and it is Baroque. Saint Etienne du Mont is gorgeous in a different style, worth a visit no matter what! The Sacré Coeur is also really popular, but the increase in tourism might be a problem for that particular church because it is a parish that has a love-hate relationship with tourism.
How Close Can You Get to Notre Dame Now?
You won't be able to approach Notre Dame by foot for the next few months. It is possible that the closest you can get is by taking a boat ride on the bateaux mouches or other company. We're not sure about this, but that might be the best way to see it after the fire.
What Will Notre Dame Look Like After the Restoration?
There are a lot of opinions about this. We don't know who is going to decide, but given that the schedule is tight, they won't be able to go around and around in circles trying to decide for years.
When Violet le Duc did the last major restoration in the middle of the 1800s he kept it in a style that conformed to Medieval standards. It is likely that they will do that again, especially since we have excellent 3D modeling of the roof of Notre Dame.
Victor Hugo Saved Notre Dame
When Victor Hugo published his novel The Hunchback of Notre Dame in 1831  nobody cared about Notre Dame. Anything of value had been stolen during the French Revolution and the Cathedral was in terrible repair.
The novel helped the people of Paris and France see it as an important landmark and as a cornerstone of French culture. We owe Victor Hugo a great debt of gratitude here.
One of the episodes of the podcast is a recap of Victor Hugo's story. Give it a listen and you'll understand how he achieved this: The Hunchback of Notre Dame, Episode 181
Controversy About the Rebuilding Money
Big donors have come through with big pledges to rebuild Notre Dame. Many other people and corporations have joined in and there is already almost a billion dollars in pledges.
At the same time we're having political issues in France with the Gilet Jaunes who are protesting every Saturday against high taxes. Lots of French people are saying forget the Cathedral, help regular people like us instead. Many of these people probably never set foot into Notre Dame and don't care about the history.
There are always people complaining that money is spent on this instead of that and that's certainly happening here. This is par for the course, but it will not stop the rebuilding efforts from going forward.
FOLLOW US ON:
Subscribe to the Podcast
Apple
Google
Spotify
RSS
Support the Show
Tip Your Guides
Extras
Patreon
Audio Tours
If you enjoyed this episode, you should also listen to related episode(s):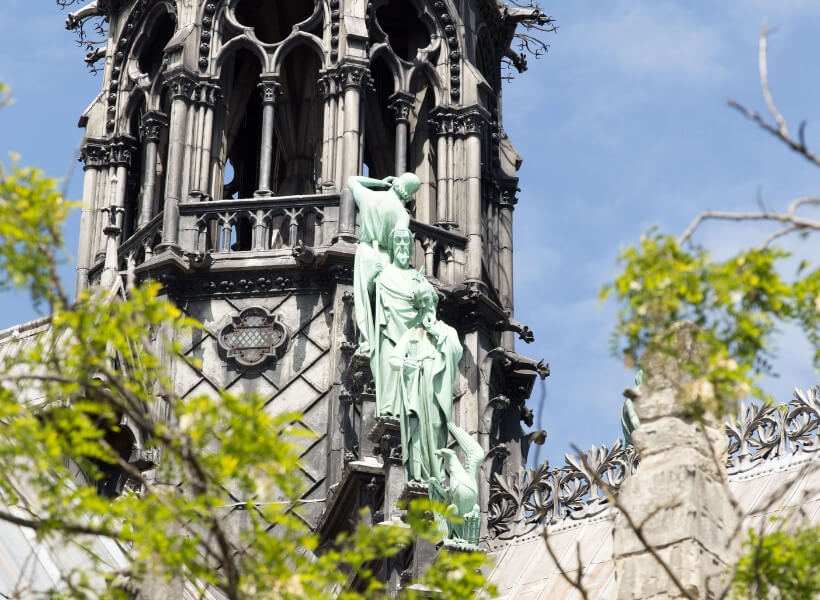 Let's Review
We look forward to having Notre Dame back. We also hope that it will stand stronger than it has for the next 1000 years. With such overwhelming international concern and outreach, we are now certain that rebuilding will take place. We can only hope that it will be done in 5 years because we can't wait to go back!
Category: Paris