This post contains affiliate links, meaning I get a commission if you decide to make a purchase through my links, at no cost to you. Please read my disclosure page for more details.
Categories: First Time in Paris, Honeymoon in France, Paris
My guest on today's episode is Emily Magistrelli from Miami. She and her husband chose to have their honeymoon in Paris because it's famous for being romantic, plus they love history, gorgeous churches and wine. Paris was the right choice indeed!
This was a first time in Paris for both of them. But they were well prepared after listening to many episodes of this podcast, asking questions on the related Facebook group, and making a detailed day-by-day plan on a Google map.
In this episode Emily lists the 4 things she's really glad they did on their trip and a few she wouldn't do again. They spent 5 full days in Paris. While that  was adequate, an extra day would have been better because they had so much fun!
Choosing a hotel is an important decision for any trip, but even more so for a honeymoon, don't you think? Don't go too cheap when the occasion calls for it! But you don't have to spend a fortune either. This is a hotel in the 300€ per night range.
Emily chose the Hôtel Le Mathurin in la Madeleine neighborhood. It was safe, convenient and comfortable.  It's a great looking four star hotel and spa. They could use the spa for free, the only thing they needed to pay extra for was massages. Emily told them it was their honeymoon and the hotel gave them a nice room with a patio.
They took full advantage of the hotel and  enjoyed coffee on the balcony every day. Emily recommends this hotel as a great choice for a honeymoon in Paris!
Four Wonderful Things to Do on a Honeymoon in Paris
#1 Hire a Professional Photographer
You don't want all your photos to be selfies or rely on strangers to take photos of you, especially for a honeymoon.
Emily was inspired to look for a professional photographer from another episode of the podcast, then looked for someone on Instagram. The person she ended up choosing is called Gloria Villa (villagloria on Instagram).
Their photo session started at 6 AM. They went to the Trocadero where they had the place to themselves. And then they took the bus and the metro with the local photographer and went to the Alexandre III bridge. Many of the photos used to promote this episode are
#2 See the Churches
Emily and her husband are devout Catholics so they enjoyed visiting churches in Paris. Her favorite was La Madeleine. But every church in Paris is interesting. They also really enjoyed the Saint Germain des Prés church as one of the oldest churches in Paris.
You can't go inside of Notre Dame now because of the fire of April 15, 2019. But you get a great view of Notre Dame from the Bateaux Mouches and also if you approach Notre Dame from its north side
#3 Spend Time in Montmartre
Montmartre is a little bit outside of the center of Paris but it has so much character. The hills and the view are wonderful. Emily wished she had dedicated a full day to Montmartre and the Sacré Coeur.
One of the things that makes Montmartre different from the rest of Paris is that Baron Haussmann didn't touch it. And for a long time it was an area for poor people. How it has changed by now!
Recommended Restaurant in Montmartre: Café Rozelle
#4 Go Out for a Nice Dinner
Originally they wanted to go to the Jules Vernes on the Eiffel Tower, but they were too late and it was all booked up. Instead they went to Le Ciel de Paris at the top of Montparnasse with a lovely view on to the Eiffel Tower. That was a great splurge.
The experience of dressing up and going to this nice restaurant was lovely and it didn't turn out to be as expensive as they thought it should be. Make your reservation late enough that it's dark and you can see the Eiffel Tower sparkle on the hour.
What They Wouldn't Do Again
Champs Elysées: it feels like a shopping mall, it was nice to see once, but they wouldn't go again.
Latin Quarter: some parts of the Latin Quarter are too touristy and too busy. It's good to buy souvenirs.
Picasso Museum: the Museum Pass was great and since they were in the Marais they went in the Picasso Museum, but it's not something they would do again.
Favorite Museum
The Orangerie because Monet's waterlilies are mesmerizing. And it's not so big, you can enjoy it in an hour or two. The Museum Pass for 4 days was well worth it, especially if you consider the price for the 2 day.
Going to Versailles in the Afternoon
The left Paris to go to Versailles around 1PM and they didn't experience much of a line at all because they had the Museum Pass. They had lunch at Angelina and really enjoyed that. Mont Blanc is Annie's favorite there. It's a chestnut paste with meringue inside. It's one of their specialties.
Going to Versailles first thing in the morning is not a good idea UNLESS you have a booked tour of the King's Private Apartments in the morning. If you didn't book this tour then plan to arrive during the lunch lull.
Use Google Maps
Emily created a day-by-day plan on Google Maps to maximize their time: consolidating your activities by area is a great idea and saves a lot of time transportation. It's good to map things out so you know that the chocolate shop you wanted to see is not far from a church you wanted to see
FOLLOW US ON:
Subscribe to the Podcast
Apple
Google
Spotify
RSS
Support the Show
Tip Your Guides
Extras
Patreon
Audio Tours
If you enjoyed this episode, you should also listen to related episode(s):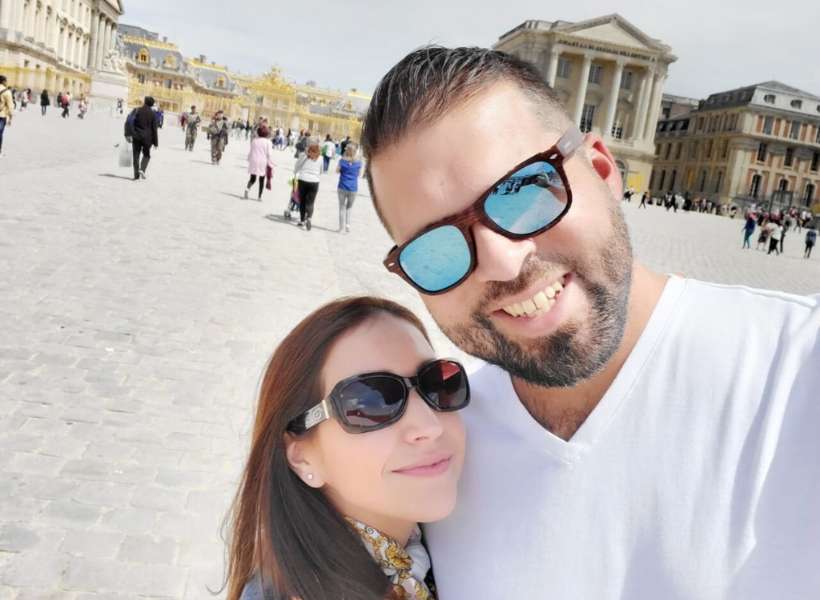 Let's Review
Don't let planning your honeymoon in Paris drive you nuts! What you really need is learn what to concentrate, forget the rest and have a great time in Paris!
Read more about this episode
Transcript
Guest Notes
Categories: First Time in Paris, Honeymoon in France, Paris