This post contains affiliate links, meaning I get a commission if you decide to make a purchase through my links, at no cost to you. Please read my disclosure page for more details.
Categories: France How To, France on a Budget
On today's episode David Blanc and Annie Sargent present the ultimate guide to getting around France cheaply using trains, buses and Apps. We also discuss low-cost airlines both for your long-haul flights and for regional flights within France. Some of them will surprise you!
David Blanc and Annie Sargent are both tour guides in France so they've used all of these companies and can speak from personal experience. Please note that none of the recommendations we give here are affiliate arrangements, we do not stand to earn anything, we recommend them because we like them!
Why You Need to Learn About Low-Cost Airlines
How things have changed in the travel industry the last 10 years! We now have many options available to us that are cost-effective, safe, and with great quality offerings. French people know about many of these options, but visitors will probably be hearing about them for the first time. Get ready to save some cash!
A local's guide to traveling around France
Annie and David are both French and both live in France, which is why we've used these low-cost options. For example, did you know that we have low-cost regional airlines in France?This is fairly new, 5 years maybe.
The big booking engines you're using today do not show you those low-cost airline regional flights because they can't make a commission from them.  If you don't know to search out those flights, you'll never see them! Major airlines can get you a good price on point-to-point flights, but not to connections.
Case in point, Annie is from Toulouse and lives in Toulouse now, but when she lived in the US and flew home to visit her family she often noticed that the Paris to Toulouse flight (60 minutes) was always really expensive. But there weren't really other options back then, you had to bite the bullet or stay in the US.
Strategies for getting around France
To start the show, let's look at all the ways you can travel within France or to other European capitals from Paris.
Travel by Air
The most obvious way to travel around France is by airplane. These are short-haul flights either to France or to Europe. There are regional airports all over France and the major carrier is Air France, but there are others now.
Air France Subsidiary: Hop!
Prices on Hop can be really high unless you book 40 days in advance and include a Saturday night within your round-trip ticket. That's because if you stay over a Saturday night you won't be considered to be a business person. Hop flights are listed on the official Air France website.
You can use your Delta miles to book flights within France because they are part of the Sky Team alliance. If you book Paris to Marseille with your miles, it'll cost you as little as 6,000 miles, which is not much, and 23€ in airport taxes.
EasyJet Competes with Air France (to Some Degree)
EasyJet flies between Paris and Nice and Toulouse, but they don't fly everywhere you might want to go. They are a medium-cost airline unless you book 2-3 months in advance and are not traveling at a busy time of the year.
Flights Between European Capitals on Ryanair, EasyJet, Tansavia, and Vueling
You can get great deals from Paris to other European cities particularly if you fly with no checked luggage. Check prices on Ryanair, EasyJet, Tansavia, and Vueling. These are the 4 low-cost airlines operating out of Paris and France in general. They serve many destinations from Paris.
Buyer Beware: Ryanair
Pay attention to the details when booking with Ryanair. This is a company that tries to make money on everything except the ticket price. They charge for in-cabin luggage, they charge (50€!) to print your ticket at the airport, they charge for food and drink, this annoys customers so much that they started a meme about them charging to use the bathroom and lots of people bought it.
Also, Ryanair is famous for flying in and out of odd small airports. In Paris, instead of flying out of CDG or ORL, they use the airport of Beauvais about 50 miles away from Paris. Between Beauvais and Paris you'll take a bus that will cost 16€ one way. So, when you factor in all the extras you'll pay on Ryanair, it may not be worth it at all.
Ryanair is convenient to link regional airports to cities in the UK. For example, Ryanair flies out of Carcassonne, which is not convenient if you live in Toulouse (as I do) and can be scary on a day with strong wind because it's a tiny regional airport runway with few services. Never again as far as Annie is concerned!
EasyJet: Not Bad at All!
By comparison to Ryanair, EasyJet is luxurious. You do pay (25€ or so) to check a bag, but that automatically upgrades you to early boarding and the experience is much nicer. EasyJet also flies out of "normal" airports. In Paris they mostly have flights to ORL with only a few to CDG, so if you're arriving from the US you may have to change airports.
Vueling to Barcelona
Annie has flown Vueling and it was fine that day, but they are famous for chronic delays especially going to Spain where they have big operations and over-work their staff.
Long-Haul Low-Cost Flights Between the US and Europe
Where you can really save big bucks is on the long-haul flights between the US and Paris (and other European Capitals).
Right now it is incorrect to assume that because you're buying a ticket from a low-cost airline you'll necessarily get bad service or an old aircraft or bad entertainment systems or awful food. The opposite is true most of the time! Many of these low-cost airlines are adapting to passenger needs much better than traditional airlines.
For example, Norwegian has WiFi on board (for a fee) whereas Air France only has it on a few newer planes. Movie selection is also better on these low-cost airlines!
Having said that, nobody knows how long these low-cost airlines will continue to operate. Wow Air, Primera Air and XL Airways have already failed. Norwegian has needed to be refinanced several times from the country of Norway, which is not OK by European regulations, so it's hard to know how long they will last.
For now it seems that Level and French Bee are better bets because they have very profitable airlines backing them.
Norwegian Airlines
Norwegian is the most famous of these low-cost long-haul airlines. It serves about a dozen US Cities direct to Paris. You can sometimes find flights across the Atlantic for under $300 round-trip. At that price you will not get a checked bag or a meal.
French Bee
San Francisco to ORL only when I talked to David, but they now also fly to New York, Tahiti and other places. They own brand new A350 airplanes which are very comfortable. This airline (and Norwegian) offer the same deals whether you originate in Europe or the US, but airport taxes are higher in Europe.
Level to Montreal, New York, and Las Vegas
Level is a new subsidiary of British Airways and Iberia, one way fare can be as low as 99€ one way. They also fly brand new planes and they add new routes every few months. They fly to the French Caribbean islands because that's a popular destination originating out of Paris.
Meals are not included, but you can place an order from your screen and they'll bring it to you. This is actually better than normal airline service because you get what you want when you want!
Air Transat or Air Canada to Toulouse or Marseille
If you don't want to fly into Paris, Air Transat or Air Canada have flights to French international airports that are smaller than Paris airports, but still get a fair amount of flights to Africa and to Canada. These are not low-cost airlines, you still pay 600 or 700 per flight.
Bus Travel Within France and Through Europe
There are more and more bus companies entering the regional market in France. When I did the episode about Bus Travel in France BlaBlaBus (formerly Ouibus) didn't exist, but now it's a major player. So is FlixBus.
Watch-Out: the Paris Bus Station Is Hard to Find!
If you're taking a bus out of Paris you'll probably leave from the Bercy Bus Station, but it's not near the Bercy Metro Station which is confusing. Please look for it on Google Map and plan on a good 10 minute walk between the Bercy Metro Station and the Bercy Bus Stop. Pay attention to the drop off points too, buses aren't always as convenient as the train.
Going to Reims on the TGV vs the Bus
An example of where taking the bus saves you a lot of money. If you take the TGV it'll be around 100€ (depending on when you go and when you book and all that). But if you go on FlixBus between Paris and Reims for 99 cents each way, that's not even the price of a metro ticket! But to get that price you have to book in advance. Going to Reims by bus takes 2 hours vs 45 minutes on the train.
Sometimes the Bus Is the Only Option
As an example, if you want to go to Etretat in Normandy from Paris, FlixBus is your only option (besides renting a car, obviously, but that's a lot more expensive!) FlixBus and other buses are professionally run. I wouldn't recommend them for long distances because professional drivers have to take mandatory breaks so going anywhere takes a lot longer than in a car, but for trips under 200 kilometers regional buses are a great option.
Best App to Find All Your Bus Options
There's an App that lets you see all the bus options within France, it's called Bus Radar. This is an inter-city bus App that lists all the options available to you and you can both buy and follow all your purchases from that App.
Trains in France
Trains are really popular in France, but they are also fairly expensive because it's a monopoly and it will remain a monopoly for a few more years. The SNCF has created a low-cost offering called Ouigo.
The biggest difference between a normal TGV (called inOui now, we do love cheesy names in France!) is that the expensive offerings have WiFi, food and drink on board, newer trains usually.
The Difference Between inOui (Regular TGV) and Oiugo (Discount TGV)
inOui and Ouigo use the same train tracks, run at the same speeds, but users will notice a lot of differences. On Ouigo there is no food, no WiFi, you have to pay extra to get a plug, you pay extra for suitcases, you buy the tickets with the Ouigo App, but the train goes just as fast and it's usually a lot less expensive.
Discounts on TGV Trains (inOui)
Sometimes if you want to take a round-trip on the TGV out of Paris and you can do it on a Saturday you'll get great discounts on the price. Sometimes it's a good idea to get out of Paris on a Saturday because that's the day they have demonstrations, closures, it can be a mess. Why not go to Reims for the day?
Ouigo Service
Ouigo is run completely different from inOui. Ouigo uses a different App, the checkin process is totally different, you can't use the normal SNCF service desk, they don't accept American Express, there are lots of small differences.
By now you have a choice between inOui and Ouigo to almost every city in France. Ouigo is soon to start offering fares between Paris and Lyon for as little as 10€.
If you buy your Ouigo tickets as soon as they open for sale (early October and June) you get 10€ to go between Paris and anywhere in France for 10€. Prices go up beyond that, but it's always an incredible price.
If you need to bring a big suitcase, buy it at the same time you get your ticket and it'll cost you 5€, if you pay for the extra suitcase on the day of travel at the train station it'll cost you 20€. You have to print your ticket at home although Annie has traveled on Ouigo with the ticket code on the phone.
Ouigo is also great for families because children pay 8€ no matter the distance and no matter when you book. So you're traveling with a lot of kids on board!
On Ouigo you are only allowed one carry-on suitcase and 1 purse. If you buy lunch at the train station it'll have to fit in your purse or they will charge you for another bag.
Don't Try to Buy Your Train Tickets Too Soon!
Train tickets are released for sale in batches about 3 to 6 months in advance. If you try to buy too soon you won't see any availability. Set a reminder to check for ticket availability every month. It's always a bit of a guessing game when those tickets will become available because the SNCF wants to charge as much as possible so they like to keep us guessing.
Arrive at the Train Station 40 Minutes Early!
inOui and Ouigo do not depart from the same platforms and in big train stations it's not always clear where you have to go. Arrive early and pay attention to the train number once it comes up on the display. At a train station like Gare Montparnasse you may have to change halls.
I like to arrive 40 minutes early so I have time to get the lay of the land, buy my sandwich, see the platform number (usually displayed 30 minutes before departure) and be one of the first people on the train (seats are numbered, but I don't like to be rushed).
On a regular inOui TGV you can pretty much run onto the train so long as the doors are open. But with Ouigo they want you in  line 30 minutes before departure or they may deny boarding. I've never seen that to happen, but that's the rule.
Getting Around France by Car
For most North Americans the default solution is always the car. They may consider a train, but the car is always their first choice. If you're going to tour Normandy or see Chateaux in the Loire Valley, it makes sense to have a car. But car rentals in France are expensive unless you make your arrangements in advance.
BlaBlaCar
This is a French tech success story. Blablacar is a ride sharing service. When French people plan on going somewhere but they know their car won't be full they can offer the open seats through the BlaBlaCar App.
In that case you're riding in a private car with a stranger but for a low price. You can read the reviews of the drivers and you can get great prices. The difficulty is that they usually want to pick you up at a meeting point and will drop you off at a pre-arranged point. So, it's not door-to-door service.
If you want to practice your French this is an excellent choice because your driver is most likely going to be French and won't speak any English!
Renting a Private Car
This is really popular especially in Paris where most people don't own a car, but it would be hard to do if you don't speak French.
One App to do this is called Drivy where you create an account, upload a picture of your driver's license and the company validates your account. You can choose a car nearby and you meet the owner of the car sign a standard contract which comes with full insurance and off you go!
Getting from CDG to the Center of Paris
Most flights arriving from the US will land early in the morning. That's rush-hour in Paris so if you take a taxi you are likely to spend a lot of time stuck in traffic. It doesn't matter so much now because it's a fixed fare between the airport and the city, but seeing the meter run when stuck in traffic used to drive visitors crazy.
Another option is to take the RER (regional train), which is faster at that time of day, but it's also rush hour for the trains! Sometimes being on one of those trains is like being in a can of sardines. But, there are 2 types of RER trains. One is an omnibus that stops everywhere and the are the direct trains that don't stop everywhere. It's worth waiting for a train that won't stop at every station!
FOLLOW US ON:
Discussed in this Episode
Hop Air
EasyJet
Ryanair
Air France
Vueling
Norwegian
French Bee
Level Airline
Air Transat
Air Canada
BlaBlaBus (formerly known as Ouibus)
FlixBus
Subscribe to the Podcast
Apple
Google
Spotify
RSS
Support the Show
Tip Your Guides
Extras
Patreon
Audio Tours
If you enjoyed this episode, you should also listen to related episode(s):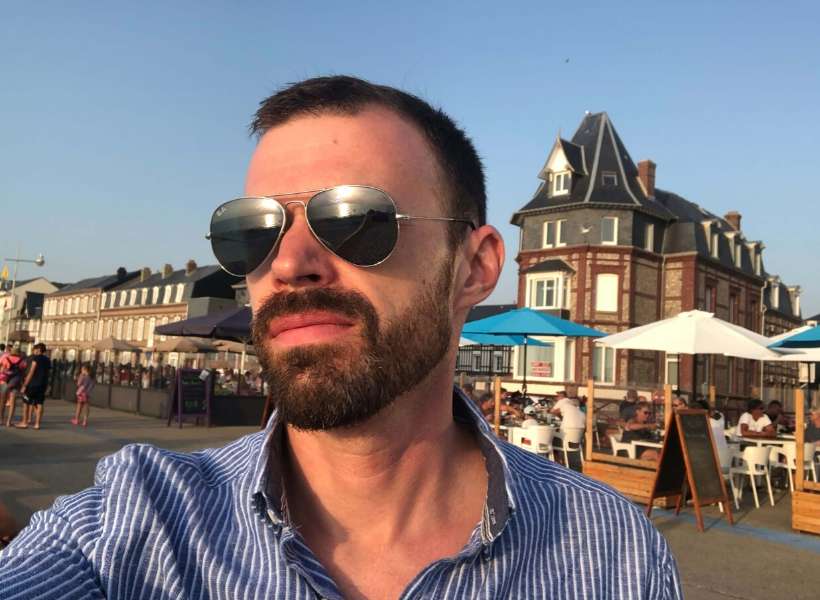 Let's Review
In France taking the train is really natural to most people. As a matter of fact trains are faster than flying most of the time because you don't have to arrive so far in advance and you will be dropped off right in the city center.
Read more about this episode
Transcript
Categories: France How To, France on a Budget