This post contains affiliate links, meaning I get a commission if you decide to make a purchase through my links, at no cost to you. Please read my disclosure page for more details.
Category: French Customs & Lifestyle
Today Annie suggests perfect gifts for the Francophile: gifts for cooks, gifts for travelers, gifts for kids, gifts for men, gifts for sports enthusiasts, and gifts for the host or hostess. We're going to get spoiled again!
If you liked this episode, you'll probably also like episode 45 Christmas Markets in France.
Gifts for the Host/Hostess/Cook
Cheese Marker Set:  they look like thought bubbles, nice round things with a poking end, they are made of slate and come with some chalk so you can write the name of the cheeses you are serving. Now THAT would come in handy even if you already have a well-appointed kitchen!
Cheese Slicer: If you're going to make raclette or serve a cheese platter it is best if you slice your cheese at the last minute so it doesn't dry out. Slicing cheese is not very fun when you don't have the right implement! So I finally broke down and bought one and I love it! This one is by Oxo Good Grips and it comes with a replacement wire.
Cheese Board with Lid: I have to admit I'm not a big fan of cheese boards because I have beautiful plates and they do just fine. But one thing that would be nice is a serving board with a dome or glass bell because cheese is best served at room temperature but it gets stinky if you leave it out, not to mention how it will attract flies. There aren't a lot of good choices for such items in the US, but I found a good one for you. Talk about how you should get one in France next time you visit,  ask for a "cloche à fromage" or "cave à fromage". Explain that it fits right in the fridge. Or talk about the artisanal one I found at a market with a retractable mesh top.
Le Creuset Dutch Oven: Mine is probably a hundred years old and it's still as good as new. It doesn't chip or stain or rust, it is perfect. Expensive, but perfect. I use it like a crock pot on low heat to make all sorts of stews. But you can also use it on high heat to make your stir-fry. And in the summer if you put it in the freezer for a few hours, it'll keep your food cool if you place it in a shady spot on the terrace. Very versatile.
Instant Pot: You cannot make a pot-au-feu without an Instant Pot or a pressure cooker. You can use it to make couscous, cook beans, a roast, carnitas, etc. This is a cook's best friend!
Mastering the Art of French Cooking by Julia Child: this book is 40 years old and still as good today as they ever were. Julia Child understood the way regular French people cook. It doesn't take a culinary degree, it takes good observation and common sense.
Herbes de Provence: inexpensive and absolutely necessary if you are going to cook anything French!
Walnut Oil or Hazelnut Oil: these oils add wonderful flavor to the simplest dish or vinaigrette. Using different types of oils is also healthy for you!
Amora Mustard: very strong French flavors here!
Crêpes Pan: this is one where you NEED the special pan because if you don't and use an every-day frying pan your crêpes will stick.
Fondue Set: you don't need the electric fondue set, but it will keep the temperature better than something with a small flame underneath. You can use it to make Fondue Bourguignone with beef (serve with ketchup, mustard, mayonnaise, and sauce Bourguignone if you can find it, but don't worry if you can't, it's not that good, honesty!)
Crême Brûlée: to make this magical dessert you will need a kitchen torch and some ramequins. Don't go cheap on the torch, but look for the ramequins that will fit your needs. I like ramequins that stack, some like big, some like small, some like shallow, some like deeper, it's too personal for me to recommend a ramequin!
Madeleine Cookie Pan: Madeleines are easy to make, here's a recipe I've tried and liked.
Bon appétit wood sign for your kitchen 🙂
Laguilole stainless steel steak knives: you don't want the ones with wooden handles, they don't go in the dishwasher!
Classic French Cookbooks not by Julia Child 😉 The Foods of France and The Art of French Baking
Bring a Touch of France into Your Home
Provence Tablecloth: They are usually yellow and blue, have sunflowers or olives on them.
Throw Pillows: It says on the cover "Paris Is Always A Good Idea" which is a quote by Audrey Hepburn. When I lived in America (I said France on the show, I meant America) I liked a little touch of France in my home, I really didn't want the whole thing to look like a cliché of Provence.
Clothing for Men and Women
Bonjour t-shirt: never forget to say bonjour again!
Paris Saint-Germain Soccer Jersey or  Soccer Ball I don't really like soccer, but this is the biggest team in France and they have A LOT of fans! Possibly some in your family too.
Stade Toulousain Rugby Ball: I'm from Toulouse, I love rugby!
Les boules de pétanque: great game, can be played seriously and competitively or leisurely on a sunny day.
Tour de France Official Polka Dot shirt: this is the jersey for the mountain climber leader.
Tour de France: the Official Story. Who knew so much was happening behind the scenes?!
Vintage Perrier Ad T-Shirt: this was the Perrier ad in 1960. Do you think an American company would have gone with that image back then? Possibly not.
Genuine men's beret: always in style, especially for men, and not just older ones!
Annie's favorite: the yellow rain jacket! This is not sold under the same brand you'd buy in France, but they look remarkably similar. Another hint that these may be the same ones they sell in France is that they say it's a plus size jacket, but XXXXXL is a US women's size 20. I need a rolling my eyes graphic here, but I don't know how to do it.
Le Coq Sportif T-Shirt for men: the singing rooster of course, what could be more French?
For Children
French Flash Cards for Kids: some people do great things with flash cards, but if you're going to use those, one of you must be good at French!
Radio Pomme d'Api: if you want your children to learn French, surround them with French sounds. This is a good way to do it for free and they choose some really fun songs. Sometimes I listen just to get a big smile on my face!
Le Petit Prince Bilingual: this is a classic, if you haven't read it, you must, right now!
Lego Eiffel Tower: I know some parents who'd have fun with that one too!
For Travelers
Power Strip: some hotel rooms in France don't have enough plugs. This power strip is light and compact, and it does NOT have surge protection which is what you want. American surge protector strip will trip the general at our house in France, we don't know why, but it happens every time.  So if you bring some other power strip, make sure it doesn't have surge protection or it'll be useless.
Carry-on suitcase, European size: If you are taking a connecting flight anywhere in Europe this is the size you need!
Microfiber Travel Towel: this towel is great and you cannot do better for the price. It won't take up half of your carry-on and it works well. OK, I like extra heavy cotton hotel towels better, but this will do the trick and it dries fast.
Moleskin Notebook: so you can write down what you do every day on your trip, because after a while it all becomes a blur. Notebooks make a great gift for someone who is planning for a trip, it means all the things they can look forward to.
Ticket Stub Organizer: this is great for travelers and people who like to collect small mementos that will mean a lot to them in a few months or years. Looking at old tickets stubs or menus or business cards is a great way to journal your life and interests.
Movies for the Francophile: this is my list of favorite French movies.
To Learn French
Pimsler is excellent! I used it for Spanish and I made more progress with this program than any other I've tried.  If you have 20 minutes each day you can dedicate to learning French, you'll love it.
Stocking Stuffers
Paris skyline necklace: this one won't break the bank, but I bet it'll bring a smile to her face!
Holy Crêpe Mug: I just have to say that we all need a silly mug every now and then 🙂
FOLLOW US ON:
Subscribe to the Podcast
Apple
Google
Spotify
RSS
Support the Show
Tip Your Guides
Extras
Patreon
Audio Tours
If you enjoyed this episode, you should also listen to related episode(s):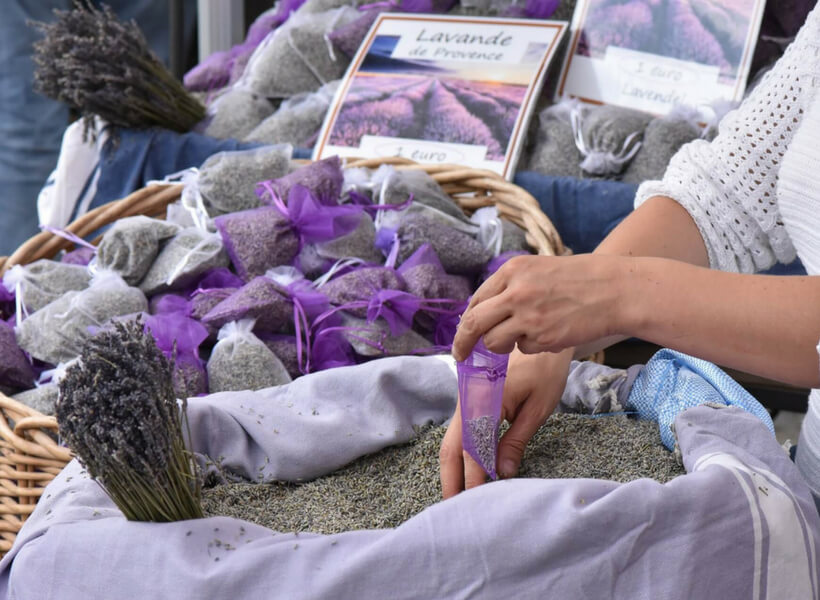 Category: French Customs & Lifestyle