Categories: Day -Trips from Toulouse, Off the Beaten Track in France, Toulouse Area
This episode features our frequent and very popular guest Elyse Rivin. If you enjoy her episodes, please consider supporting her on Patreon.
When you live in Toulouse, as Elyse and Annie do, taking a trip to Gaillac wine country is quite easy. But should you do it next time you visit France? Listen to this episode and decide for yourself!
On this drive, Elyse visited two small towns, one is Rabastens and the other is L'Isle-sur-Tarn and in between they stopped along the Gaillac wine route.
A lot of this follows the gorgeous Tarn river and it can easily be done as a day trip from Toulouse. But you need a car or bicycle or wheels of some sort to do this.
About Gaillac Wines
Elyse is not a big fan of Bordeaux wines and Bourgogne are generally too expensive. But she loves Gaillac wines because they are quite unique. But, of course, when it comes to wine you should drink what you like!
Gaillac wines are the oldest ones in France. When the Romans arrived in this area they soon found out that they made good wine here with their own grape varieties. Some of these grape varieties are still around, most are not.
The Romans were really good at creating trading routes. But when the Roman Empire fell, a lot of the wine economy of this area fell into great difficulties and they didn't export wine for a long time.
Later when monasteries were established all around the South West, they started making wine and selling it. They used the ancestral grape varieties and brought in new ones. Starting in the 800s and 900s Gaillac wines started to make a name for themselves. Even kings wanted to import this wine! It helped that you could navigate the Tarn and the Gironde using a boat called a "gabare". This made it possible to take the wine by boat all the way to the ocean in Bordeaux.
Once the people who controlled access to the port in Bordeaux started to impose taxes they made Gaillac wines too expensive compared to Bordeaux wines and people forgot about Gaillac wines over time. But it's since made a big come-back and it's wonderful to see how many small producers make great wine in this area.
Grape Varieties Used in the Gaillac Region
In this area they use grape varieties called Loin de l'oil, and Mauzac and they are both unique to this area. They also use Muscadel and Sauvignon Blanc. Duras and Braucol are used in reds  and are unique to this area. You'll also find a little bit of Servadou noir. They make every sort of wine including whites, reds, a little bit of rosé, and a few sparkling wines. A very good bottle of Gaillac costs much less than a good bottle of Bordeaux or Burgundy.
Why Are There So Many Pigeon Towers in the South West?
There are pigeon towers all over France, but you'll see them especially in the south west of France. Some have fallen into disrepair, but many are being renovated. Even the broken down ones are protected and look really nice.
Pigeon towers are there because the Counts of Toulouse and later the King of France decreed that to make Gaillac wines you needed to fertilize the land with pigeon poop and not cow manure. Bird fertilizer doesn't leave any specific odors or acidic taste in the soil, so it was the best way to fertilize. This is why piegon towers popped up all over the countryside so they could gather up bird excrement and use it on their land!
Driving Around Gaillac Wine Country
Elyse started her visit in the town of Rabastens then hopped on the D18, see map below. Along the way there are 5 chateaux that are open to the public. In the winter they are open by appointment and on week-ends, but in the summer months they keep longer hours.
They drove a small section of the local wine road. When you visit you'll see signs directing you to the many more places. They went to Domaine de Mazou, Domaine Sarrabelle, Mas de Rious, Michel Issaly and Château de Saurs. It's lovely countryside driving surrounded by vineyards.
Château de Saurs is special because they have an actual old château and this is the oldest wine producing chateau in the Gaillac area. It's a large wine producer, they have an italianate style garden and you can taste the wine. Elyse got to meet the "chatelaine". She's from the same family that created the Entrecôte and they supply Saurs wine to the restaurant. The chatelaine came across as a tad "hautaine" which means that she knows she's the cat's meow.
Rabastens, L'Isles-sur-Tarn and Gaillac
When you drive this route you should stop at these two charming towns and take a look around their historical center. Both Rabastens and L'Isle-sur-Tarn are dynamic because they attract younger families. The attraction is that they are pretty towns with reasonable real estate prices. From those towns you also have easy access to Toulouse via the freeway.
Rabastens
Rabastens is a cute town. Part of it is buit-up high up on cliffs above the Tarn river. There are wonderful old houses that are well-taken care of. The church, Notre Dame de Bourg has a facade that's classified as a UNESCO World Heritage. It's on the route de Compostelle. It's a charming small town with a funky little museum with a section on wine-making, archeology, roman ruins,  crafts, painting.
L'Isle-sur-Tarn
You might think from the name that this town is on an island, but it's not. It's called that because it's on a bend of the Tarn river. This is a bastide built in the middle of the 1200s on a grid system. The bastide center is lovely, has a huge open square and market. Like most bastides, the church is not on the center square. There are local houses called "pontet" where the houses connect from one side of the road to the other.
Gaillac
Gaillac itself is not particularly pretty or charming. It used to be somewhat decrepit and is trying to find its second wind. It is the center of wine distribution. You can visit the Abbey Saint Michel wine producer. The building is no longer an Abbey. They offer tasting of all the different wine producers of the area.
FOLLOW US ON:
Discussed in this Episode
Rabastens
Lisle-sur-Tarn
D18
Chateau de Saurs
Domaine de Mazou
Domaine Sarrabelle
Mas de Rious
Michel Issaly
Loin de l'oil
Mauzac
Muscadel
Sauvignon Blanc
Duras
Braucol
Servadou noir
The reason why we have pigeon towers in France
Subscribe to the Podcast
Apple
Google
Spotify
RSS
Support the Show
Tip Your Guides
Extras
Patreon
Audio Tours
If you enjoyed this episode, you should also listen to related episode(s):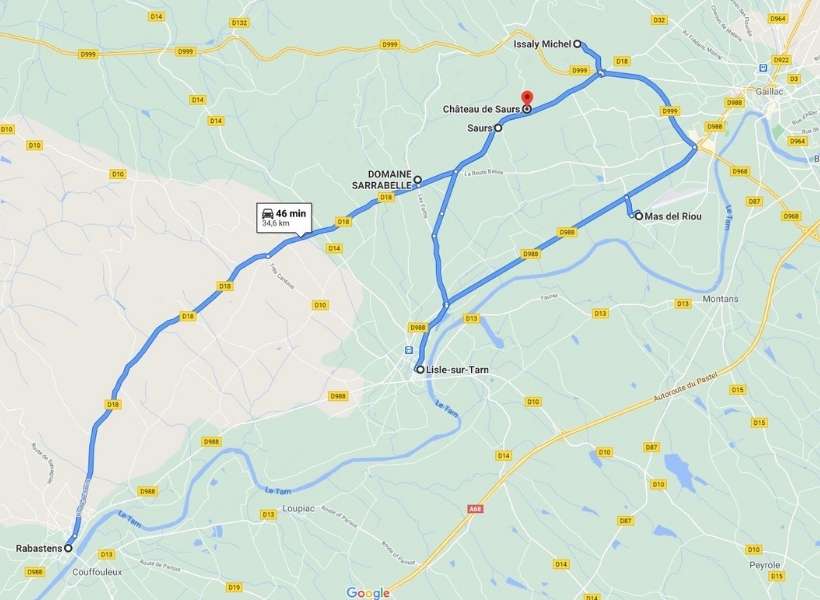 Categories: Day -Trips from Toulouse, Off the Beaten Track in France, Toulouse Area