Category: French Food & Wine
French wine can be really confusing. For one thing, French wines are almost always blended and they normally don't name the grape types used to produce the wine on the label.
They'll say Saint-Émilion Grand Cru and no mention of the names of the grapes used on the bottle. So, what are you to do if you like merlot or pinot noir because that's how you normally choose your wine?
French Wine Q&A for Beginners with a French Wine Scholar
French Wine Scholar Dave Walsh comes on the show today to answer wine questions from the Join Us in France Closed Group on Facebook. A lot of these questions had to do with choosing wine in France. It turns out that you're not the only one who gets confused by the wine list in France!
There are a few things you need to know, and then you'll be ready to choose your wine in France like a local.
A Long History of Wines in France
French people are not trying to be confusing by how we name our wines. But we have a long history with wine and we're more comfortable sticking with place names. Vintners know the varieties they use to make their wines. But they don't want to put that information on the bottle because they don't think the public cares! Most in the French public certainly don't care, but what about other people?
When you talk to average French people they have no idea what grape varieties go into a Bordeaux. But they do know if they like Saint-Émilion better than Blaye! And they base it only on geography, not on wine varietals. "Terroir" is what matters most to French people.
"Terroir" Vs. Varietal Names
French people are comfortable with place names because that's a "terroir". "Terroir" comes from "terre" (ground / earth), but it also includes wind, sun and climate in general.
It is as if the location the grapes are grown in matters more than the type of grapes used.I happen to think that it's a bit of a foolish notion, but France is quirky!
How Is a Visitor to Make Sense of This?
As a visitor who is not as well versed into French geography, how are you supposed to make sense of all of that? I recommend you pull out a map. Maps are good to understand most things, including wine.
I also recommend you listen to Dave and this French Wine Q&A for beginners because he explains how people who visit France can make sense of French wine names. What's more is he makes it wine fun and simple! Be sure to click through to the show notes below to see Dave's French wine chart.
FOLLOW US ON:
Subscribe to the Podcast
Apple
Google
Spotify
RSS
Support the Show
Tip Your Guides
Extras
Patreon
Audio Tours
Recommended in this Episode
Recommended on today's Episode: J'aime attendre, a website that shows what the average wait time is at various monuments and attractions in France. You may also want to install the free App Hurikat.
If you enjoyed this episode, you should also listen to related episode(s):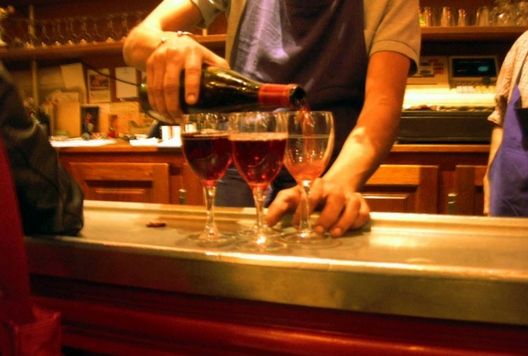 Let's Review
Thanks for asking such good questions, and we hope you're now ready to face the wine jungle in France. I know, I know, it's a rough life, but somebody has to do it. And whatever you do, remember this: Pinot Noir = Burgundy and big reds from Napa = Bordeaux!
Read more about this episode
Show Notes
Category: French Food & Wine