Categories: First Time in Paris, Paris, Paris Walks
Discussed in this Episode
Pont des Arts
Vert Galant Park
Quai des Tournelles along the Seine
Jardin du Luxembourg
Place des Vosges
Jardin du Palais Royal
Champ de Mars or Trocadero
Square Marcel Bleustein-Blanchet in Montmartre
Buttes de Chaumont Park
Square des Batignoles (shopping on rue de Lévis)
Parc Monceau (shopping on rue de Lévis)
Lac Daumesnil in the Bois de Vincennes
This is Join Us in France Episode 190. Bonjour, I'm Annie and Join Us in France is the podcast where we talk about France, its many quirks, its history, its language, and of course, destinations in France you want to learn about because, hopefully, you'll be visiting soon.
Join Us in France is brought to you by Patreon supporters and Addicted to France, the small group tour company for people who want to enjoy France to the fullest with zero stress. Check out our upcoming tours in May 2018 on AddictedtoFrance.com
On today's episode, let's talk about having a picnic in Paris. I'll tell you about my 12 favorite places to have a picnic in Paris. I haven't had 12 picnics in Paris, sometimes I just went there to enjoy my afternoon pastry, I went for the view more than anything.
I'll also tell you about some great French picnic foods. Some I am quite sure you've never tried before, and some that will only be for the more adventurous eaters among us.
And, hey, you're going to Paris, don't forget to pack your cork screw in your checked luggage, you should open a couple of bottles while there, don't you think?
And because it's so new and exciting I want to mention that Join Us in France is now on the Amazon Echo or Dot, all you have to do to get started is say Alexa, enable Join Us in France, and off you go, you can listen on your Alexa machine! And if you're helping someone else listen to the show, keep in mind that they can also listen on Spotify, Google Play Store, iTunes, it's getting super easy to listen to podcasts, not just this one, but any of them.
The show notes for this episode are on joinusinfrance.com/190 where you can see all these French names I'll be using throughout this episode.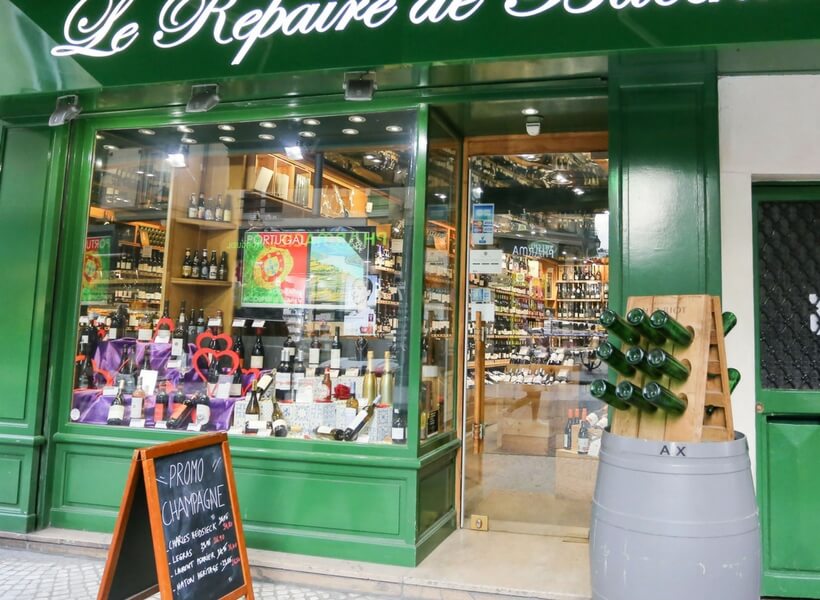 Ah, a picnic in Paris! On a warm sunny day, what a good idea! There are always people enjoying their lunch outside when the weather is nice, does that count as a picnic? I think so!
I'll tell you about great picnic spots for couples, great places for people with kids, picnics for people who are tight on time and money and for those who have more funds. There's a picnic place for everyone in Paris!
What I won't tell you about is the many picnic services in Paris, where you hire someone to bring you everything you want at a give time and place. You can do that too, but I haven't tried any, so I don't want to give an opinion one way or the other.
Now, the word picnic doesn't mean the same thing to everyone, does it? For some of us, it means a picturesque meadow, a lake with some boats, a picnic blanket, a wicker basket with amazing foods inside, maybe women wearing gorgeous dresses, just like it was in the paintings.
For some of us, having a picnic means we just got off work at lunch, stopped by the nearest grocery store, got a pre-made sandwich and a drink and went to enjoy it on a bench. You'll see groups of students doing that, guys who are still wearing their work clothes, moms who grab a bite while their kids run around the playground. That's the simplest iteration of the picnic in France.
In this episode I won't try to tell you how simple or fancy YOUR picnic should be. My goal here is to share some of the places I like to go have a picnic in Paris myself and what I think makes them a good place to go. What you bring to the picnic and how dressed up you are ladies, that's your business!
As far how the food is concerned, well, I don't think that the food is what matters most when having a picnic. If I want a gourmet dinner, I'll go to a gourmet restaurant. But there are some fun unusual French picnic foods I want to tell you about and also talk about where you can get them generally speaking. Some of us will want to buy more expensive wine and cheese, and some of us will be happy with everyday quality products. I won't try to argue with you either way! Your wallet, your choice!
If you've been listening to the podcast for a long time, you know that I was raised blue collar in France. My father was an electrician and my mother was a home-maker. They took us kids all over France and we picnicked everywhere we went. So, I give you my blessing, if you feel like going to Franprix or Paul and grabbing something simple and pre-made, do it and enjoy it! That's the way most French people have their picnics.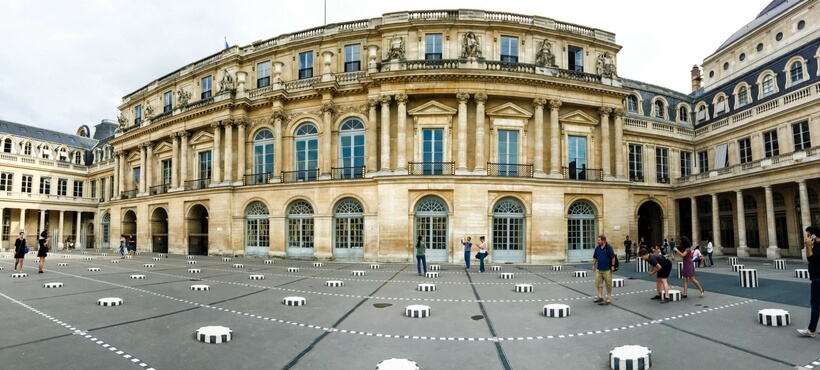 I won't try to list ALL the places you could have a picnic in Paris! There are 500 parks scattered all around Paris, some of them really small, some very big. Any of them would be a fine choice for a picnic, and sometimes the simplest choice, the one close to where you are right now is the best choice.  Always balance the desire to try something you heard mentioned on the podcast with the time investment it'll take. If you have a perfectly good picnic place next to where your hotel is, maybe that's the best choice for you!
Also, let me address the question of drinking wine while on your picnic in Paris right up front. Everybody understands that it's fine to have some wine with your picnic. You're in Paris, there's wine for sale everywhere. However, French people don't have a high tolerance for public drunkenness. In Germany they have Oktoberfest where public drunkenness is a given. I've seen places in London and Glasgow where people are drunk out of their skull in public and nobody bats an eye. This is not France.
In France, there is a fine line between getting a little buzzed and getting drunk. When people get to the point where they're drunk, they do bad things like break their wine bottle accidentally, throw up, get aggressive or fall asleep, start talking or singing at the top of their lungs, and none of those are acceptable in Paris.
If you get a little buzzed and you talk a bit louder or gesticulate more than usual, that's no big deal. You need to keep it to where you still have your wits about you, you can walk straight and you'll remember to pick up your trash before you go. If you can keep it reasonable, 2 drinks, maybe 3 at most, you won't have any problems. But if you're so drunk you can't remember how many drinks you had, that's bad and you'll find trouble.
And always, always, always, leave the place clean after you're done. Bring a trash bag. That's all for the preaching part of the show today!
So, let's talk about places where I'd go have my picnic in Paris. I have tried to give you a good mix of suggestions that are right at the heart of Paris and easy to get to if you're a typical visitor with accommodations in the center of the city. But I also suggest some that are a little outside but still worth it.
My first 3 choices are in what I call the hyper center of Paris and along the river on the left bank. They are all within a mile of one another. I'll put a map of those 3 in the show notes joinusinfrance.com/190
#1 The best place I think is Pont des Arts, especially in the evening. The Pont des Arts is a pedestrian bridge not far from the Ile de la Cité and the Louvre. It's a nice wooden deck material that you can sit on, there are a few benches in the center. The bridge railing is see-through now that they've removed all the god-awful so-called love-locks, and what a view you have from there!
You have the Pont Neuf in the distance, the Louvre on one side, and the Académie Française on the other. It's a great photo spot too. If sitting on the ground is not an issue for you, that would be my first choice. You're not far from the Saint Germain des Près neighborhood where there are lots of places to buy food. So, if you're strolling around Saint Germain des Près, select a few things you want to eat and drink, and make your way down to the Pont des Arts.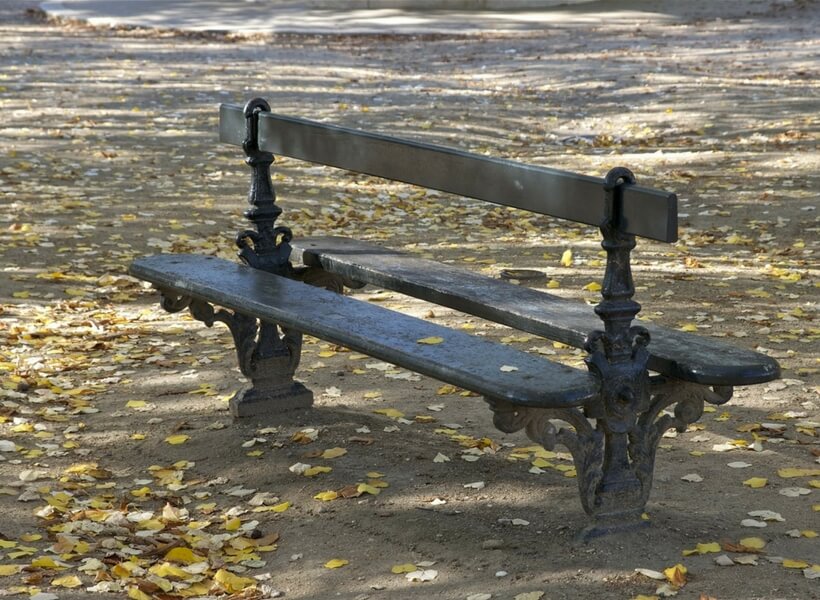 #2 Another good choice near there is the Vert Galant park. This is a great place for romantic couples and you will witness a fair amount of public displays of affection, but it's a such gorgeous spot right between two arms of the Seine River. You'll get a nice view onto the Louvre, the Pont des Arts, nice place to see the sunset also! There are maybe a dozen benches, but the park itself is small and can be crowded. Try it, like the Pont des Arts it can get crowded, but it's worth a try.
#3 My third choice would be along the Seine River Quai des Tournelles : you will have a wonderful view to the back of Notre Dame, lots of places where you can sit, not necessarily on benches per se, but there are lots of ledges where it's fine to sit. You'll see all the boats come and go, you'll see the light fading over Notre Dame if you go in the evening. I love that spot!
#4 Still in the left bank, but further away from the river is the Jardin du Luxembourg, it would be high on my list of places to go for a picnic in Paris, I just love the place, we talked about it in detail in episode 184, so I'll encourage you to listen to that. Great choice for a picnic, but you can't sit on the grass. They provide lots of wonderful chairs and benches. And it's a great place to go with kids!
Now let's go to the right bank!
#5 You can have a picnic on Place des Vosges, of course! It's in the heart of the Marais, go grab your falafel at l'As du Falafel or one of the other take out food places on rue des Rosiers, and eat it while sitting on the grass on the place des Vosges. There's a famous crêpe place on rue des Rosiers too, it's called La Droguerie, and it's only take-out. This picnic takes no preparation at all, all you need is nice weather! There are some park benches, but it's a popular place, you'll probably have to sit on the grass. And the view around the grand architecture of the Place des Vosges is so nice! There is a small playground for kids too. OK, a really small playground for young kids, but the food and view should keep everybody happy for a bit.
#6 Here's one most people won't think about: the Palais Royal is great for a picnic! Have you ever heard of the Colonnes de Buren? If you don't know the name you've probably seen the photos, I'll put one on joinusinfrance.com/190 it's a strange and interesting permanent "modern art" installation. It's a big courtyard surrounded by beautiful buildings that are the home of the French Culture Ministry and the Comédie Française (like the Royal Shakespeare Company in London).
And right next to it, you have the Jardin du Palais Royal. It's a small little garden, really well kept, nice benches, it's really good, very posh, not a branch out of line. What's nice about having a picnic at the Jardin du Palais Royal is that you'll find places to buy your picnic foods nearby. There are also some take-out type places and a nice vegetarian/vegan place on 41 Rue des Bourdonnais, 75001 Paris. But there are all sorts of food vendors in the neighborhood and it's worth walking around and discovering the area, so a great choice, even if it's not lots of people go to.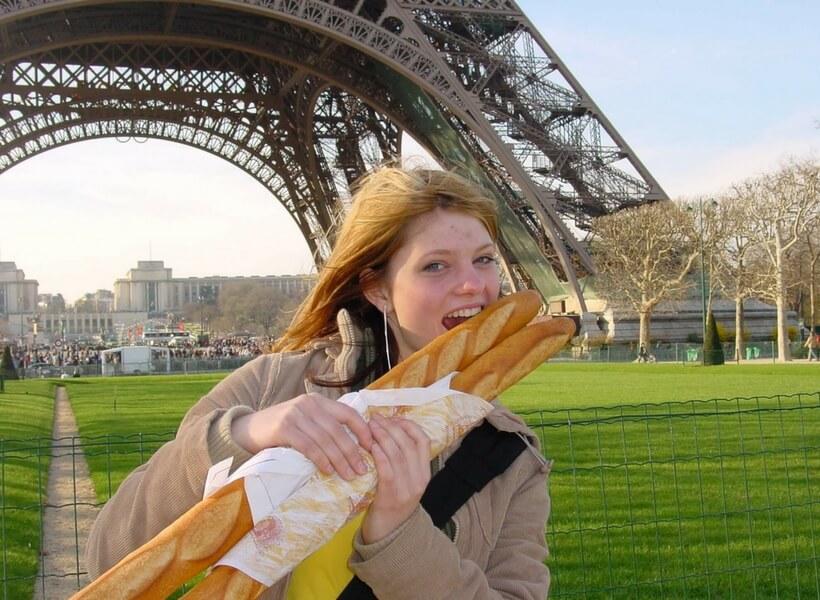 Let's move west a little bit:
#7 How about the Champ de Mars or the Trocadero : Well, yes, having a picnic facing Eiffel Tower is a super popular thing to do! If you approach from the Champ de Mars area you'll walk past lots of food vendors around the Ecole Militaire metro stop. Go looking around the neighborhood a bit, there are lots to choose from and it's a wonderful Paris neighborhood!
Or you could go to the Trocadero metro stop and be a little higher up on the other side of the river. Both sides get great views! Sometimes Champ de Mars is blocked off for one reason or another (like they are setting up for an event or they are letting the grass recover from an event that just took place), so maybe Trocadero is a safer bet, but either way, you'll have to walk a bit to find your perfect spot.
Going to the Trocadero or the Champ de Mars for your picnic is so NOT an original idea that there are Indian guys walking around selling 5€ wine bottles to tourists for 20€. Hey, business is business! OK, really, it's not a bad place for a picnic, but that's where everyone thinks to go, so I won't get any originality prize for suggesting it, which doesn't mean that you shouldn't do it if you'd like to, the view is amazing!
Now, let's get a little further out from the center.
#8 For those of you who are around Montmartre, there is a little public park called square Marcel Bleustein-Blanchet. It's right next to the Sacré Coeur. You'll have great views onto the Basilica, some towards the city, it's not a place that's known to the hordes of tourists that normally grace, hum, plague Montmartre, so you'll have some peace and quiet there. There are a lot of benches and places you can sit. No playground, but it's fenced and safe place for kids to run around.
In Montmartre, you could also go to the Wall of Love near the Abesses metro station, but it's more of a place to stand and watch. I think there are only 2 or 3 benches there and lots of people coming and going. Maybe that's a good place to go eat your crêpe or ice cream rather than a meal.
#9 Now let's go east to the 19th arrondissement. You could go to the Buttes Chaumont Park. It gets beautiful views over Paris, nice green surroundings, but you're far away from central Paris. I've been there a few times, it's nice, but is it worth taking the time to go that far? You'll need to decide. If you're going to take pictures, a 200 millimeters lens will barely cut it, 300 would be better, you need a tripod too. You are far from the center! You won't run into lots of tourists there most days. Also good for people with kids who want to go in the day-time because there's a nice playground and other things for kids. I wouldn't go there after dark, OK? It's not scary, but it's not the poshest part of Paris.
#10 Back to posh Paris: Another one that's great for people with kids is the Square des Batignoles. It's a little English garden in the 17th arrondissement. Not a big place, quite popular because it's really scenic, there are ducks, a playground, benches (sitting on the grass is not allowed in that park), a river, some caves looking things, my description doesn't do it justice, google it, it's really scenic! Also a good place if you want your kids to play with French kids, because it's not a hot spot for tourists.
#11 Not too far from Square des Batignoles, Parc Monceau is also a favorite of French people and quite posh. You'll find lots of benches, a playground, you can sit and run on the grass, the area is full of beautiful 19th century palaces including the Musée Nissim de Camondo that we described in Episode 187, Overview of Paris Museums. It's a lovely neighborhood for visitors who want to get out of the purely touristy scene and see life in Paris for locals. OK, well-off locals, but the area is lovely.
In between Square des Batignoles and Parc Monceau, you have a typical pedestrian Paris street called rue Lévis with lots of interesting food vendors and a good place to go if you want to see something like rue Cler, but better because it's still genuine and not frequented by 99% tourists. So, if you're going to picnic either at Square des Batignoles or Parc Monceau, buy your picnic foods on rue Lévis first and you'll have two great Paris experiences!
#12 Lac Daumesnil in the Bois de Vincennes : it's gorgeous, there are little row boats, getting there takes some dedication, but if you want to reproduce the picturesque picnics you've seen in the paintings, that would be a good choice.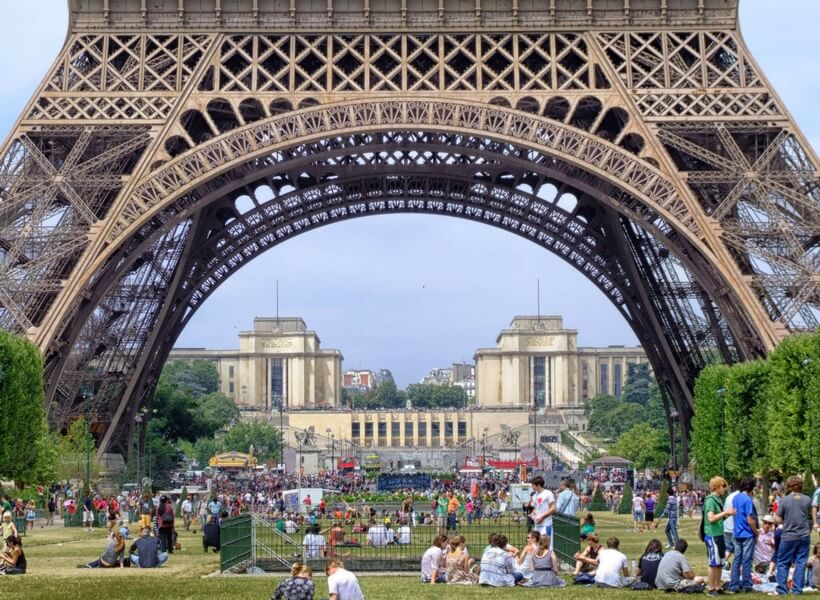 French Picnic Foods
So, these were my 12 places for a great picnic in Paris. Now, let's see about what you're going to eat! I opened the episode with the admission that I was raised blue collar in France, and it's going to show! I like my simple, every day French picnic foods.
I'm a little paranoid about food poisoning, so I like my picnic foods to spend as little time as possible out of the fridge. If you have access to a kitchen in Paris, you could make food and take it with you. In that case, be mindful how long the food is going to be out of the fridge, especially in the spring and summer when it's hot out!
You can buy a pre-made sandwich in almost any boulangerie in France. Some specialize in selling sandwiches like the bakery chain Paul. Bakeries that sell sandwiches will also sell you pastries, drinks, chips, sometimes salads. I see nothing wrong at all with having that sort of picnic, which puts me at odds with Vogue magazine that wrote an article recently specifically instructing Americans NOT to grab something quick. Oy, I say OY! Who are they to tell people how to have a picnic?!
The other way you can do this, of course is go to a grocery store. I'd stick to the recognizable grocery store brands for this because sometimes those corner grocery stores owned by whoever don't have the freshest items on hand. You'll recognize a bigger brand store even if it's your first time in France. They are called Franprix, Carrefour, Monoprix, Casino (yeah, it's not a gambling establishment, it's a grocery store!), you'll find a number of grocery stores that specialize in organic, those are called Bio something or other, and those are also big in France.
At the grocery store, you'll be able to get a little more daring and buy typical French picnic products that I bet you've never tried before! Go to the area where they sell ready-made sandwiches (it's a refrigerated case) and take a look at the salads. Some are regular green salads, BORING! But that's also where you'll find the grated carrot salad, the grated celery root salad (celery rave in French), the sliced cucumber salads, the cubed beet salad. All of those are great vegetarian choices. You'll also find tabbouleh salad, some vegetarian, some have a little chicken or shrimp. And then look for something called salade de museau. Definitely NOT vegetarian! This is a prepared pork product (can be beef too if you buy it from a Kosher store) it's a sliced meat product with sliced onions and pickles with a vinegary dressing. I love this stuff, it's extremely fatty and will give you a heart attack, but once a year for a picnic, it's a treat. My father always insisted on some of that for our picnics growing up! Yeah, very French blue collar!
You'll also find all sorts of pâtés at the grocery store. Pâté de campagne, pâté de foie. Want to get fancy? Buy a small glass jar of foie gras at the grocery store! Don't buy a big thing of foie gras from the refrigerated case if you've never tried it before, this stuff will run you 50€, it's too big. You can find a small jar for 15€ maybe. You can find foie gras in glass jars of various sizes in the area where they sell regional products. At the grocery store you can also get cold cuts, dry sausages, hams, French ham is so much better than American ham, try one called "jambon au torchon", it's so good! Jambon de Bayonne is another specialty, not my favorite, but you could take a trip all over France just trying different regional specialties!
And of course, we have the cheeses. Even a small grocery store in France will have more choices for cheese than the fanciest American grocery store in the Western US where I usually go. And if you go to a bigger store, you may find a cheese counter where they'll slice whatever you want. If you can get it from a counter, do that, it's a lot better than the pre-wrapped stuff and not a lot more money. Don't be shy about asking for small amounts of different cheeses, that's why they have the cheese counter. Don't expect free samples, that's not commonly done, but they'll sell you small amounts if that's what you want.
At the grocery store, spend some time looking at all the items. You'll recognize some items, but not many. It's fun to look at all the different things, don't you think? You can buy sodas, bottled water, wine and beer at the grocery store. Get your kids to try some Orangina! It's the French orange soda. You can also get picnic plates and cups at the grocery store, they won't be anything fancy, but they'll get the job done. And if you refuse to drink wine out of a plastic cup, you can find wine glasses for 3 or 4 euros in most grocery stores. French grocery store cork screws suck, bring one from home!
Now, let's get a little fancier with more expensive foods. You could go to separate stores to get your different foods. Go to a cheese shop. Go to a charcuterie. Go to a boulangerie. OK, I should have said that at the top: get your bread from a boulangerie and not the grocery store. Some French grocery store bread is OK, but any old boulangerie will do better.
Going to a proper cheese store (and there are lots of them in Paris!) opens up a bigger cheese selection for you and that can be both good and bad. For a first timer in France, all our cheeses can get overwhelming. I've had people gag by the overwhelming smell in the cheese store because they've never been in a place like that!
We have a lot of cheeses made of raw milk, and many of the ones you will find at a proper cheese store are made of raw milk. The word is "lait cru" in French. Not everybody wants that and if your gut hasn't been trained to raw milk, you may not enjoy the digestive process. I'm not saying you'll die from listeria because raw cheese producers are really careful about how the milk is handled from farm to store, but if it's new to you, it could cause digestive discomfort.
But cheese stores is where you will find some outrageous French cheeses! Get small quantities, I never met an American who enjoyed odd French cheeses all that much. OK, my husband loves them, but he's unusual.
It's all a matter of palate training. Most people can't go from plain cheddar to incredible Roquefort from a producer that only makes 100 lbs per year. I have one such Roquefort in my fridge right now, my husband got it at a fancy cheese shop, I can't eat it, it's so strong and so salty! But he can eat it in small doses. So, know what you're getting into.
And also know that clerks at the cheese shop can advise you for or against certain products. Listen to them! They know to go milder with visitors from North American and they will reserve their cheese oddities for locals. It's better that way, I think!
And let's end on the unspoken rule of all good picnics in France: You must end your meal with a dessert of some sort! You will find nice pastries in most  boulangeries in Paris. Are there differences between those boulangeries? Are some pastry shops better than others? Yes, definitely, but those differences are too subtle for most people to tell the difference.
You know what happens when you do blind wine tastings, right? French wine snobs pick the wines from California! Same with pastries. If you didn't know where the products came from, you probably wouldn't know any better. A lot of what we perceive as quality has to do with marketing.
So try the patisserie closest to you and don't worry about what you read on-line. Most pastry chefs in France follow the same classic recipes and they all use the same ingredients!
Some pastry chefs have more know-how and are a lot better at marketing.
Once you've been in France many times and are starting to get a taste for the subtle differences, then it's worth going out of your way to try fancier places. Getting started with bread and pastries from almost anywhere is fine for first time visitors.
Conclusion
Thank you Paige Anderson, Kim Martin, Everybody's National Parks, and Steven Heiner for pledging to support the show on Patreon this week! My my thanks also to all the other patrons who support the show month after month, thank you for giving back! To support the show on Patreon, go to PATREON.COM/JOINUS and you guys rock!
Getting a Ticket in the Paris Metro
The RATP, that's the metro authority in Paris, is doing more enforcement of rules and sending out teams to give out tickets to offenders. I want to talk about this because it's a new push and because one of the people who participate in the Join Us in France Closed Group on Facebook got fined and it rattled her quite a bit.
Long day on their feet, her husband put his feet on the seat in front of him. They got fined 60€ on the spot by someone who wasn't pleasant about it. So I went looking for some of the behaviors they are looking for to warn you because they are not doing a good job at informing the public.
They will fine people who have a Navigo Pass, even valid, if they fail to scan it upon entry. That's happened to my daughter in Toulouse and it made us both mad, but they need people to flash their card so they can keep accurate stats.
Traveling without a ticket will get you fined. OK, that's a given.
Urinating in the metro will get you fined. OK, please more of those tickets.
Forgetting your bag on the metro will get you fined now. That's a biggie because whenever anything is left behind, they have to assume it's a bomb and call the bomb squad. That stops traffic and is a huge pain for everyone. But, I've forgotten stuff on public transportation myself, so I know it happens without any evil intent. Now, it will cost you.
No skates or skateboards on the Metro, no wheelies that were so popular with my kid long ago. OK, I get that.
You can't stay in the train past the last stop or you'll get fined. This is for the heavy sleepers I guess! They do have to send staff to check all trains, so that makes sense.
No putting you feet on seats. OK, I get that, but who hasn't done it? It's a lapse in judgement, but a minor offense if you ask me, but it'll get you a 60€ fine too!
No trying to break any of the equipment or forcing doors open. Makes sense.
No begging in the metro. I don't know how they'll enforce that. I don't like the folks who get inside the cars to beg, but sometimes I like the singers in the tunnels.
You can't transport something too bulky or too smelly. They don't mean suitcases, relax!
Smoking on the metro is what will get you the heaviest fine: 68€.
No walking the wrong way. So if you're supposed to exit this way and you exit through the entrance, they'll fine you for that. Only locals do that because they know the tunnels. They fined a pregnant woman who was trying to save herself a few steps by going the wrong way. Twitter went nuts over that!
Moral of the story is, the enforcers are out in the Paris Metro. I'm not sure how I feel about this, but I understand why it can't be anything goes and why they can't just give warnings. When they "warn" people, the cute blondes get the warning and everybody else gets the fines. That's wrong too.
The best way to connect with me is via email annie@joinusinfrance.com or if you have a question you'd like answered on the show, send email to annie@joinusinfrance.com. You can also join the awesome Join Us in France Closed group on Facebook where lots of knowledgeable folks hang out and exchange France trip advice. Au revoir, have a great week of trip planning!
Subscribe to the Podcast
Apple
Google
Spotify
RSS
Support the Show
Tip Your Guides
Extras
Patreon
Audio Tours
Read more about this transcript
Episode Page
Show Notes
Categories: First Time in Paris, Paris, Paris Walks