This post contains affiliate links, meaning I get a commission if you decide to make a purchase through my links, at no cost to you. Please read my disclosure page for more details.
Categories: French Food & Wine, Provence
Ever thought of taking a cooking class in France? Or maybe doing some wine touring? Karen and Scott Solcher love to do that at home in the US, so decided it was time to make it happen and on their 4th visit to France.
They did the research, considered many options, and then decided on a few specifics. They come on the podcast today to share their experience and provide some tips for visitors looking to do the same.
Just FYI, this podcast has no commercial relationship with these wineries or cooking classes. Only genuine recommendations here!
Wine Touring and Cooking Classes in Provence
What could be more French than enjoy some great food and wine? We love to eat and we love to share a good bottle in France. But it takes a lot of know-how to make that great meal and the wine tastes better if you take the time to appreciate it!
Wine Touring in Provence
The first wine tour they did was at La Madelene through a company called Rhone Wine Holiday. This is a Bed & Breakfast outside of Vaison-la-Romaine.
They started out with a 60 minute wine lecture, then a delicious dinner on site, and the following morning they went to 4 wineries:
Domaine de Mourchon in Seguret hosted by the wine maker. Wines of good value by American standard because there some great wines to be had around $15 in the Rhone Valley.
Chateau de la Nerthe in Chateauneuf-du-Pape. This is a more prestigious more expensive wine. Nice showroom, but if you just stop by without being part of a tour you may or may not get to visit the winery.
Domaine de Cristia in Courthezon. They only got to see the showroom here, but they had a lovely selection of wines.
Saint Jean du Barroux in Ventoux. Very enthusiastic vintner with an unconventional approach, really different from what they are used to.
All the people who welcomed them in these various wineries spoke good English which made it easy to have real exchanges with these locals.
Cooking Classes in Provence
Karen's favorite part of the trip was Uzès and the cooking class in Arpaillargues-et-Aureillac for cooking class with "Cook'n With Class". Not much in the village besides the cooking class and a little museum. They prepared a 3 course menu.
They made a pita bread from scratch, white bean hummus with parsley and oil sauce, black olive gnocchi with a green olive sauce, lamb tenderloin with Spring vegetables, and apple tart for dessert. Plus local wines, of course!
They were the only Americans there, the rest of the attendees were French and the class was bilingual with people who spoke good English. This company offers different types of classes and some in Paris.
Provence Restaurant Recommendations
They had lunch at Verger des Papes in Chateauneuf du Pape. Great family-run restaurant right underneath the ruins of the chateau. Lots of local patrons, great value.
Another one they tried was dinner "La Fleur Bleue" in Crestet. Great local place where it seems everyone was hanging out that night.
In Nîmes they recommend the Vincent Croizard restaurant. The 6 course tasting menu was lovely. It's an eclectic restaurant where the chef decides what's best today and where you have to trust his expertise rather than choose from a menu.
Visiting the City of Nîmes
Karen and Scott rented a little apartment right in the center of Nîmes that had 3 flights of stairs but lovely views. Driving in Nîmes is not at all straighforward and parking even less so.
This city is a must for visitors who enjoy Roman ruins. The Roman Amphitheater is in great shape and still being used. The Jardin de la Fontaine and the ruin temple are fun to see and from the tower you get great views onto the city. You can get a ticket that includes all 3 and saves you waiting in line.
Market in Uzès
The Saturday market at Place aux Herbes was extensive. It has food, clothes, pottery, all sorts of things. It's a lovely Provençal market that takes up a lot of room. The fruits and vegetables were gorgeous and looked really tasty. French people overall eat more fruits and vegetables than Americans, especially when eating at home.
General Tips About Visiting Provence
Renting a car in Provence (and anywhere really) can take a while  before you're ready to drive off. Don't plan something too close to the time you land. Remember, people in Provence are not in a huge hurry to get anywhere and efficiency is not a big priority.
Learn the rules of the road in France, and if you must have an automatic transmission book your car in advance. When parking in a paid parking lot you have to pay at a kiosk and not at the gate. Don't rent the biggest car you can afford. Roads in Provence are tight!
Don't trust your GPS blindly! If it looks too small to drive through, don't listen to your GPS. If French people give you direction, pay attention to that.
Get your euros at a cash machine, but if you ask for 200€ the machine will give you 4x50€ which is hard to use. Ask the machine for 190€ instead, avoid multiples of 50!
Public toilets: carry wipes and hand sanitizer because public toilets in small villages are not always the cleanest. That's because they are really meant for cyclists!
Pack light! Don't check a bag if you can help it. Typically in France if you have a couple of layers and a raincoat you will do fine.
Airport security: anything with a chord has to come out in Spain. Compartmentalize things so it's easy to remove like items.
Hotel rooms in city centers are small. It's still worth staying there because that way you can enjoy the night-life and have as much wine as you want before dinner!
Hotel website Booking has great penetration in France. But sometimes it's better to book directly through the hotel website. In Uzès they particularly liked Hotel Entraigues.
One regret: they didn't stop at the Carrières des Lumières.  It is near Baux-de-Provence and totally worth it!
FOLLOW US ON:
Discussed in this Episode
Vaison-la-Romaine
Seguret
Chateauneuf-du-Pape
Courthezon
Ventoux
Crestet
Arpaillargues-et-Aureillac
Subscribe to the Podcast
Apple
Google
Spotify
RSS
Support the Show
Tip Your Guides
Extras
Patreon
Audio Tours
If you enjoyed this episode, you should also listen to related episode(s):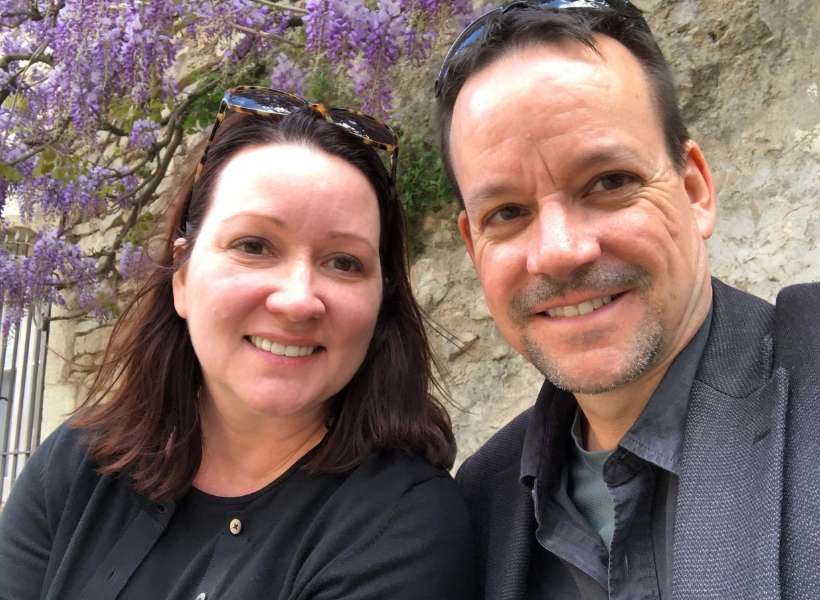 Read more about this episode
Transcript
Guest Notes
Categories: French Food & Wine, Provence