Categories: French Food & Wine, Provence
Discussed in this Episode
Vaison-la-Romaine
Seguret
Chateauneuf-du-Pape
Courthezon
Ventoux
Crestet
Arpaillargues-et-Aureillac
Scott and I traveled to France in April, 2019 without our kids.
We live in Lawrence, Kansas.
This was our 4th trip to France.  Scott and I have traveled together for three of the trips.  We each went to France when we were in High School.
2019:  Madrid>Marseille>Vaison la Romaine>Malaucene>Pont du Gard>Uzes>Nimes>Marseille
We have no blogs; we do not participate in Instagram/Facebook/Twitter/LinkedIn.
We have been following Join Us in France since 2015!
The trip:
Spent no time in Marseille except at the airport.  Rented a car and stopped to have lunch in Rognac.  Ate at "Le Grotte de Loup".  Arrived at 1330; all locals.  Food and service was superb!
Vaison la Romaine—stopped to walk around city center and ruins.  Did not see museum.  Free parking on periphery of city.  GPS wanted to route us through city center on our way to Malaucene.
Malaucene—"La Madelene/Rhone Wine Holidays":  4/24 and 4/25.  La Madelene is a former 12th century priory converted to a B&B.  Greeted by Phillip and Jude Reddaway who provide northern and southern Rhone wine tours.  We took the short tour plus 1 extra night.
~arrival—60 minute "Rhone Wine Briefing"
~dinner at the priory prepared by Jude; local and seasonal ingredients
~amazing breakfast and then on to tasting by 0930!  Drove through Sablet and Plan de Dieu
Tasted at:
~Domaine de Mourchon in Seguret (hosted by winemaker Walter MacKinlay)
~Chateau de la Nerthe (Hosted by Nadeige)
~Lunch at Verger des Papes in Chateauneuf du Pape
~Domaine de Cristia in Courthezon (hosted by Emmanuel Brunier)
~Saint Jean du Barroux in Venteoux (hosted by winemaker Phillipe Gimel)
~dinner "La Fleur Bleue" in Crestet
~breakfast at the priory (Eat the almond pastries!!  They are divine.)
Pont du Gard; arrive early—parking and ticketing tips on the show
~lunch in Sernhac at "La Provence"
~Domaine de Poulvarel wine tasting; met with Adele (speaks English) who gave us a personal tour of the winemaking facilities and poured for our tasting.    It was a great experience and we highly recommend you stop by on your trip.  These wines can be found in the US at www.lastbottlewines.com and are a superb value. 
4/26:  Uzes—passed a lot of roundabouts; had to relearn how they work
~Hotel Entraigues; booked directly through hotel site (a wonderful hotel and very kind, friendly staff)
~Walked around city center, went to wine store that was celebrating their expansion.  Bought a bottle of bas armanac for the trip
~dinner "La Cuisine du Boucher"
4/27:  Uzes—nice breakfast at the hotel
~Saturday market at Place aux herbes—WOW!
~walked to Haribo to buy gifts for our kids
~lunch at "L'ecrin des Sauvers"
Unfortunately, the Duke was in residence so could not tour the Duche
~dinner at "Le Comptoir de 7" (recommended by Elisabeth Glas [winemaker at D de Poulvarel])
4/28:  Arpaillargues-et-Aureillac for cooking class
~Cook'n With Class"
Chef Eric Fraudau and wife Yetunde Oshodi-Fraudau
3 course menu prepared on site—so much fun.  We were the only Americans. Bilingual.
They also have a school in Paris.  Received photos and recipes from our day there.
~Drove to Nimes and met our landlady for our apartment (Geraldine S)
"une ame a Nimes" Had a nice kitchen, terrace with a grill—had all the amenities including three flights of stairs; was GREAT; however.
~dinner at "Vincent Croizard"
6 course tasting menu—amazing!  Reasonably priced.  Wine was a great value.
4/29:  Nimes
~Maison Carree
~Arena
~lunch "Le Petit Mas"
~Jardins de la Fontaine; Temple of Diana, Tour Magne
~Cathedral de Notre Dame de Saint Castor
4/30:  Drove to Marseille
~stayed at Best Western at the airport.  Dropped off car.  Free shuttle to airport, comfortable and quiet.  Nice room service menu.  Good local wines.
Long flight home back to reality
Tips:
Speak some French—Bon Jour, Merci, S'il vous plait. Know a verb or two if possible; etre, avoir, etc.  Always say "Bon Jour" before asking your question or making a request.
Renting a car—reserve online before your trip, allow ample time for pick-up (a slow process).
Cars in France in general; know some driving rules, signs, speed limits, manual transmission.
If your B&B host gives you driving directions, use them.
GPS in general—not always accurate.
A tiny word about public toilets—be prepared ahead of time—carry tissues and hand sanitizer.
Pack light! Pack light! Pack light!  Carry on only—we've missed flights because of checked bags. 
Airport security along the way; compartmentalize your carry on for ease.
Staying in city center; rooms are small, but you're out seeing the city anyway J
Don't over schedule your trip. Decide what you want to do and how long it will take, but you are in Provence, so slow down and enjoy the beautiful scenery, weather, food and wine.
Bookings vs. Trip Advisor vs hotel website; if you can't find a room on one site, try the hotel website.
Cash; get cash at the airport ATM, get an odd amount so you have some small bills for tolls.
Regrets—do follow the suggestion of a locale. "Carrieres des Lumieres"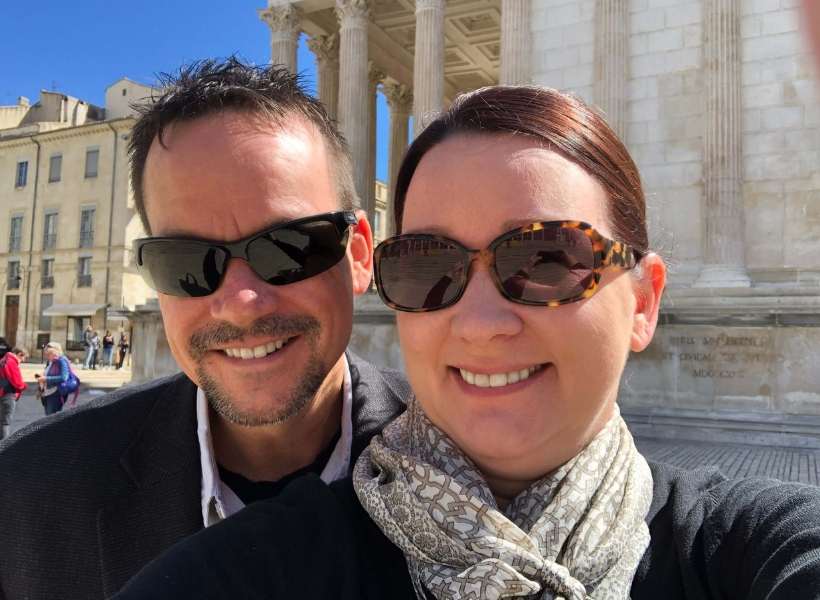 Subscribe to the Podcast
Apple
Google
Spotify
RSS
Support the Show
Tip Your Guides
Extras
Patreon
Audio Tours
Read more about this guest-notes
Episode Page
Transcript
Categories: French Food & Wine, Provence