This post contains affiliate links, meaning I get a commission if you decide to make a purchase through my links, at no cost to you. Please read my disclosure page for more details.
Categories: Alsace and Lorraine, Champagne Area
Today Annie Sargent brings you a conversation with Dan Funsch about his trip to France around the theme of WW1. On this occasion, Dan wanted to retrace the steps a WW1 soldier who is very special to him because he was his grandfather.  He had well annotated photos of his grandfather in various places and wanted to see them himself. We also discuss what Dan learned about doing family research in France, Joan of Arc,  and spending Bastille Day in Paris.
About Retracing the Steps of a WW1 Soldier
Dan went to several places to retrace his grandfather's journey during WW1. Our conversation will take us to Reims, several places in the Marne and Bas-Rhin departments, Strasbourg and Paris.
Lots of people have relatives who served in France both during WWI and WW2 and retracing their footsteps is a wonderful way to learn about history and honor their memory.
After the interview I'll update you on the newest way to get a Passe Sanitaire for visitors to France as outlined in this document.
Staying in Reims
Dan and his wife took the Eurostar and that was a nice experience. It is just like going through any other long tunnel. Then they rented a car to get to Reims where they stayed at the Hotel de la Paix.
It was Dan's first time in Reims and the city exceeded his expectations. Next time they would probably spend a couple of nights in Reims because it's a lovely city just to explore.
Moving Beyond the Horrors of WW1
This is where Dan realized how strong the determination of the French and German people to live in peace. That part of France, from Reims to the Champagne area and all the way to Strasbourg was devastated by WW1 but you find posters and plaques all over the area proclaiming the need for peace. We tried nationalism and war and it was awful. There are official winners and losers, but everyone loses a part of themselves in war.
Sainte-Menehould, Marne
They chose Sainte-Menehould as a central place to retrace the footsteps of Dan's grandfather. This was a good place to stay to look around Verdun and WW1 events.
Dan's grandfather was involved in the Meuse-Argonne offensive in 1918. He was a physician who worked in field hospital number 11. They searched the American war records to find the history of this field hospital which was similar to what they found in his photos.
There isn't much to see or do in Sainte-Menehould, but it was conveniently located for the purposes of this trip. It is on the western edge of the Argonne forest. From there they took day trips to several small towns: Brizeau, Passavant and Beaulieu.
How to Retrace the Steps of a Soldier
They used his pictures and the tree lines and the outline of buildings to place the hospital where it made sense for it to have been. The idea was to drive all around, and in the process they drove through the town of Varennes-en-Argonne where Louis XVI was captured. They also went through the Argonne forest where the craters from the shelling are still clearly visible.
Verdun and Fleury-devant-Douamont
Going to Verdun was not about retracing the steps of a WW1 soldier because the battle of Verdun was over by the time Dan's grandfather was in the area. But what was interesting is that they happened upon a commemoration with a group of people and a band who were remembering a town that got entirely wiped off the face of the earth. This town was named Fleury-devant-Douamont.
There is a rememberance every year at Fleury-devant-Douamont where French, German, EU officials gather with military bands and remember the people of the village who died. This is an important lesson on how to remember the past and acknowledge the terrible events that happened there in the spirit of unity and reconciliation. We can share the memory of a divisive event in a way that unites rather than divide.
Family History in the Vosges
Dan also enjoyed some family history on this trip. He stayed at an Inn where his own parents had stayed 40 years. That Inn belongs to a family that has a link to his ancestors who moved to America. The hotel is called Logis Hôtel Des Vosges (Famille Wehrung).
They were able to do some genealogy work in the town to try to fill in some missing links in their family history. He went to the Mairie and to the church and found out that dates got messed up during the French Revolution. This makes it very difficult to find records based on dates. This information is kept at the Departmental archives in Strasbourg where he went next.
Strasbourg
There are many reasons to go to Strasbourg: the Cathedral, the astronomical  clock, the light display, the island, Petite France, the medieval city center. Part of Dan's family is from Germany, so it was lovely to be in an area like Strasbourg which is a perfect mix of Germany and French cultures. The local tourist office in Paris is great and so are the Michelin green and red guides.
Domremy-la-Pucelle and Joan of Arc
They made a stop at Domremy-la-Pucelle where Joan of Arc was born. There were few people there. The image of Joan of Arc became ever-present in France when the war against the Prussians happened in the middle of the 1800s. If Joan could push the English back, then surely we can also push the Prussians out.
More recently, the image of Joan of Arc has been co opted by the extreme right in France. As a result, French people are more hesitant to use her image now.
Bastille Day in Paris
There are big differences between the way French people celebrate Bastille Day and the way Americans celebrate July 4th.  They went to the Bastille Day parade on the Champs Elysées and were surprised to not see floats and school marching bands. Instead it is a purely a celebration of the French military.
Many stores and restaurants are closed on July 14th in France, you will find food in Paris, but don't be too picky, you might have to make-do with a croque-monsieur! When visiting rural places it is always wise to ask yourself what will be open when it's time to eat, especially on a holiday!
Hickups with the Rental Car
A few weeks after returning home from their trip to France they got a ticket in the mail. And it was all setup for him to go pay his fine in American dollars. Since Dan had rented his car with a major American credit card that brags about their supplemental car insurance, he thought he was covered. That didn't turn out to be the case. They will send you a ticket for being 1 over the speed limit. They will find you and send you the ticket!
When he returned the car with a small dent which happened in a parking lot, he had to pay 500€ on the spot to cover the damages. He filed a claim with his credit car company and had all the paperwork to show that he had paid the 500€, but they still denied his claim. Take this as a cautionary tale: you may do better if you purchase additional insurance through the car rental company.
Halloween in France
French people know about Halloween which doesn't mean that they do much at all for Halloween. For our French expression of the week today, let's ask: how do you say trick or treat in French? Qui veut me donner des bonbons ?
FOLLOW US ON:
Discussed in this Episode
Reims
Valmy
Sainte-Menehould
Brizeau
Passavant
Beaulieu
Varennes-en-Argonne
Fleury-devant-Douamont
Simone Veil
American WWI Meuse Argonne Cemetery at Montfaucon
La Petite Pierre in the Vosges
Logis Hôtel Des Vosges (Famille Wehrung)
Domremy-la-Pucelle
Spending Bastille Day in Paris
Subscribe to the Podcast
Apple
Google
Spotify
RSS
Support the Show
Tip Your Guides
Extras
Patreon
Audio Tours
If you enjoyed this episode, you should also listen to related episode(s):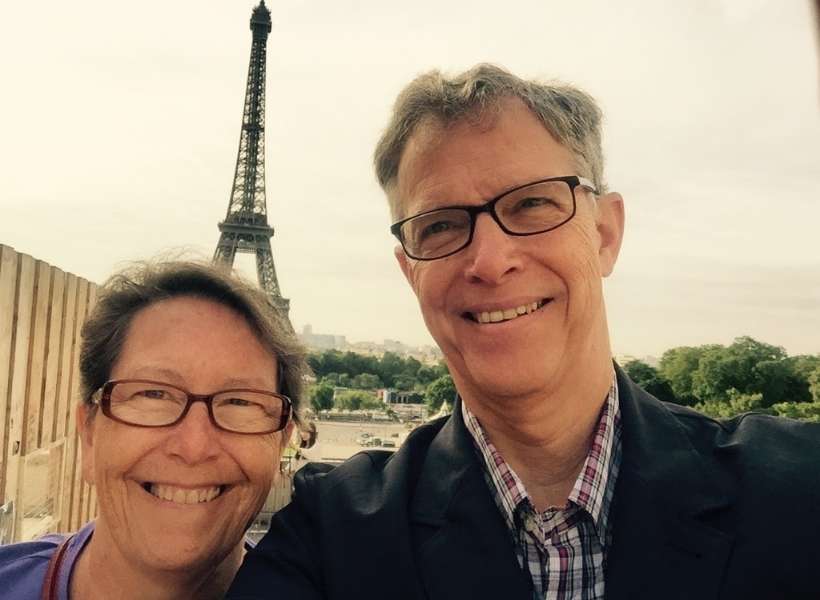 Read more about this episode
Guest Notes
Categories: Alsace and Lorraine, Champagne Area