This post contains affiliate links, meaning I get a commission if you decide to make a purchase through my links, at no cost to you. Please read my disclosure page for more details.
Categories: French History, Hauts-de-France, Off the Beaten Track in France
On today's episode Greg and Annie talk about a little-known place called Chateau-Thierry in the north of France. It's just a little north-east of Paris in the Aisne department, Marnes valley, and the Hauts-de-France region.
Now, I say Chateau-Thierry is little-known, but if you're a US Marine you've probably heard of it because this was the place where major WW1 battles took place and where US Marines came to life as a specific branch of the military.
Hotels Recommended in this Episode
If you're going to visit this part of France during Memorial Day week-end (which is on the last Monday of May) expect that the area is going to be flooded with American visitors. Book your room far in advance! You may want to do the same around the French November 11 celebrations (Veteran's Day in America).
Hotel des Francs in Soissons. The un-restored Cathedral of Soissons is right across the street from the hotel. It is still standing but you can see the damage done to the Cathedral during WW1.
Maison Joussaume Latour in Chateau-Thierry. Just half a block off the main square, the owners spoke some English and they have A/C. Great place to stay! They can also arrange for you to go fishing in the Marnes river!
Remembering WW1 in France
I am publishing this episode on November 10th 2019 and tomorrow, November 11 is the national day for the remembrance of Victory and peace in France. We called it Armistice Day in France and it is called Veteran's Day in America.
I think it is very important that we remember WW1 because of the devastation it caused. As bad as WW2 was, it didn't come close in terms of human loss. We live in a world full of political anxiety mostly because constant access to news pushes our buttons. But let's put things into perspective!
Compared to 1918 the world today is amazingly peaceful! The poorest countries in the world are lifting themselves out of poverty at an amazing rate, we all live longer and healthier lives. A lot fewer children die under the age of 5 and a lot fewer men and women die in battle. The word is actually getting more peaceful.
And it is my hope that we can keep it that way by remembering the sacrifice of those who came before us (including both of my grandfathers and I am sure many of yours as well) who showed us the way to a better existence. They were caught in a terrible war, but we don't have to be.
A Visit to Chateau-Thierry and Belleau Wood
If you happen to visit around the time when the annual celebrations take place (Memerial Day Week-End and November 11) you will find a lot of visitors both local and from abroad. French people are tremendously grateful for the help we received from Americans. They will often engage visitors in conversation to tell them about their family member who was saved by an American.
The Belleau Wood battle field is 7 or 8 miles north west of Chateau-Thierry in a rural area. You can see the monument on the road between Chateau-Thierry and Soisson. You need a car to get to the war monument.
There are two things you can visit on this site:
The battle field which is about 10 acres, maybe 10 football fields pressed together. This doesn't seem big (if there's nobody trying to kill you!)
The Monument maintained by the American Battle Monument Commission.
You can see them both in about 45 minutes. The area surrounding the battle field is full of beautiful wheat fields today as it was back then.
Helpful Resources for Belleau Wood
The website of the American Battle Monument Commission is really good. This is the agency responsible for maintaining all the monuments and cemeteries where Americans have fought outside of the US.
If you have a relative that fought in an American war and visit the cemetery during a celebration, they will assign you a special seat during the ceremony.
The Logistics of Visiting on Memorial Day
You should book your room well-ahead of time because this is not a touristy area, they don't have a lot of hotel rooms. A lot of Marines go every year to be there for Memorial Day on the last Monday of May. The first year Greg went he couldn't find a room in Chateau-Thierry so he stayed in Soissons at the Hotel des Francs. Nice hotel but no AC!
Soissons is not a touristy town either, it fills up on Memorial Day Week-End (last Monday of May) and around November 11 when French people celebrate the Armistice.
About Chateau-Thierry
Chateau-Thierry is not a touristy town, expect that restaurants will only serve at lunch and dinner (nowhere to find lunch at 4 PM!) and we couldn't find a bike rental place. There are some car rental places, in Chateau-Thierry, but if you need an automatic it's really important that you reserve your rental car in advance or you may not be able to find one!
Belleau Wood US Marines Monument
The battle site of Belleau Wood has been preserved for the last 100 years. After the battle the French government decided to donate the entire battle field to the United States Marines in honor of what they had done.
If you want to go see a WW1 battle field that has sat undisturbed for the last 100 years, Belleau Wood is the place to go. You'll see all the trenches, the bomb holes. All the trees are still standing that received all the bullets and shrapnel.
The Battle of Belleau Wood During WW1
In 1917 the Germans decided to make one final push towards Paris. The closest they ever got was this place called Belleau Wood which is about 50 miles north-east of Paris.
Had the Germans been able to get 20 miles closer to Paris they would have been able to shell it, so this was a vital position to save. When the Germans reached Belleau Wood and the little town of Chateau-Thierry, the American Army was not ready to fight them. But there were also 2 Regimens of US Marines who were ready.
The French General in charge of the operation, lacking a French Army, decided to see if the Marines could get the job done and stop the advance of the Germans. And they did! The Marines were able to stop the German Army from advancing further towards Paris.
The Importance for Belleau Wood for the History of US Marines
When the Americans decided to get involved in WW1 in 1917 the US Army was not very big. They had a few troops that had battled against Mexico and some in the Philippines, but they had no standing army.
So they had to put a group together piecemeal and they had to do it in Western France, landing troops in the area while French and British officers trained them so they knew what to expect what they'd find when they got to the battle field in Eastern France.
The exception to this was the US Marine Corps. They were stationed all over the world and were engaged in what they called "banana wars" protecting American interests in various places or fighting insurgencies here and there.
The Marines had not been tested in a modern industrial war yet, nobody knew if they would be up to the task. The German Army was a formidable opponent for them to take on!
The Marines were all lined up in a wheat field and the Germans were all dug in. The Marines were ordered to march in formation and retake the hill. French Generals warned that this was a bad way to go about it because they would all get mowed down by machine guns. The Marine officers decided they wanted to show everybody that they had no fear and decided to proceed with this plan. It resulted in hundreds of Marines being killed just walking up the hill.
When they finally made it to the woods after suffering hundreds of casualties, the battle raged on for 3 weeks. When you visit you can see why that happened. These woods are very dense, it's almost like jungle fighting.
There are 16,000 Americans (mostly Marines) buried at the monument on this site. Many of the soldiers are identified, but inside the tower you will see all the names of the missing whose bodies were never recovered. They think there are still 1,600 dead still in the woods.
What Else to Do in this Area?
Verdun is amazing for anyone interested in WW1 history, and even for those who aren't. Plan on a day at Verdun.
Fort Douaumont is really interesting and/or depressing. You can go down into the fort, most of which is still standing. You can see the terrible living conditions soldiers experienced.
There are good signs on the road that indicate WW1 monuments, you'll see them as you drive around the north east of France.
The Oise-Aisne American Cemetery is also wonderful. They have a ceremony there too on Memorial Day.
Soisson is a good base to go see Verdun and Reims and memorials to the east, but you'll spend some time in the car if you do it that way.
The German cemetery is also on the road between Chateau-Thierry and Soisson. The interesting story there is this cemetery was created soon after WW1. But when when the Germans occupied that part of France again they disinterred any Jewish soldiers that had been buried there.  These Jewish soldiers have since been put back.
Joan of Arc: at the castle at Chateau-Thierry there is a gate that states that she was there in 1449 and helped kick the English out of the area. Great views from up there!
Small museum dedicated to Jean de la Fontaine. He spent the later years of his life in this town.
At the museum across the street from the cemetery you can request a guided tour of the battle field.
Monument that overlooks the whole valley, you can climb up the stairs and have a great view. But there's also a new museum in the basement run by the Battles Monument Commission, it's free and it's great.
The Franco-American Friendship Building in Chateau-Thierry
The Devil-Dog Fountain (ask at the museum)
Driving in Rural France
Driving in rural France is not very difficult, but the roads are narrow and you will probably have to slow way down when another car comes in the opposite direction.
Road signs in France are totally different than what you're used to in North America. French roads have a lot more signs than American roads, but you might be confused about what they mean. Read the show notes for Episode 16 to get a basic understanding of what French signs look like. Listening to this episode will help a lot too!
Don't let them talk you into a bigger car. Get the car you need for the passengers and luggage, but no bigger. Roads are tiny in France, you don't want to be driving a massive car if you don't have to!
FOLLOW US ON:
Discussed in this Episode
Chateau-Thierry
Belleau Wood
Memorial Day (last Monday of May)
Armistice Day (November 11 aka Veteran's Day)
Verdun
WW1 history
American Battle Monument Commission
Soissons
Driving in France
Subscribe to the Podcast
Apple
Google
Spotify
RSS
Support the Show
Tip Your Guides
Extras
Patreon
Audio Tours
If you enjoyed this episode, you should also listen to related episode(s):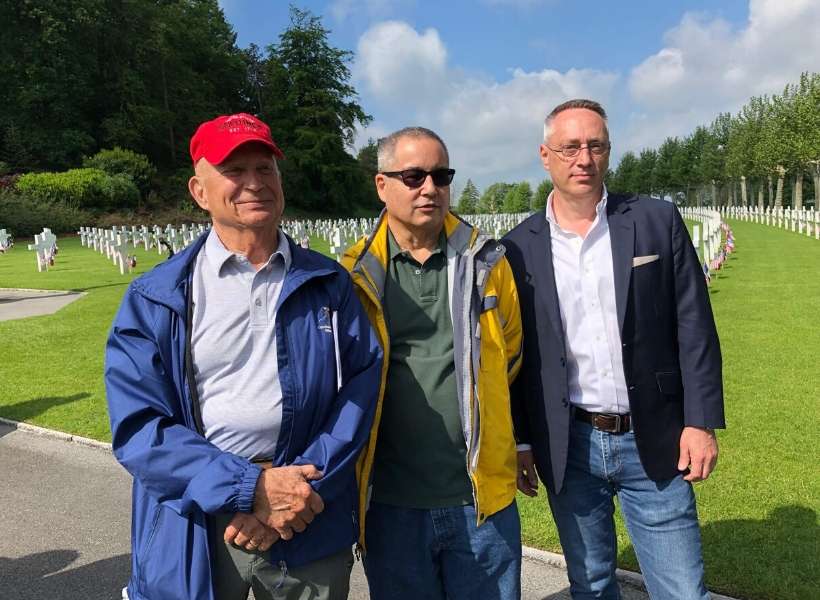 Read more about this episode
Guest Notes
Categories: French History, Hauts-de-France, Off the Beaten Track in France