Categories: French History, Hauts-de-France, Off the Beaten Track in France
Discussed in this Episode
Chateau-Thierry
Belleau Wood
Memorial Day (last Monday of May)
Armistice Day (November 11 aka Veteran's Day)
Verdun
WW1 history
American Battle Monument Commission
Soissons
Driving in France
CHATEAU-THIERRY/BELLEAU WOODS
I GENERAL HISTORY
A World War One and the Battle of Belleau Woods
1914-1917
France, Belgium, and Great Britain v. Germany, Austro-Hungary, Ottomans
Terrible war, millions dying by hideous means.  All armies depleted by 1917.  America decides to enter the war.
American Army nearly non-existent, will take at least one year to fully train and prepare.  Germany settles with Russian in 1917, freeing up hundreds of thousands of troops for the western (France/Belgium) front.
1918
American Army continues getting ready, but as of June, 1918, still not fully ready.  At its peak, the American Army is expected to grow to 40 divisions (around 2,000,000 soldiers.)
US Marine Corps is ready, and present in France with two regiments, the 5th and the 6th (around 10,000 Marines in all).
Beginning in May, 2019, Germany makes one final push towards Paris.  The closest they ever get to Paris is near the town of Chateau-Thierry.  There, they not only occupy the town of Chateau-Thierry, but all the nearby woods as well.
A strategic wood known as Bois de Belleau is occupied by the Germans in June, 2019.  The troops that are available to kick them out are the American Marines.  They are sent towards the wooded hill.
Birthplace of the modern Marine Corps
Prior to this battle, nobody knew if the Marines could fight in against a regular, modern army.  Up until then, they had protected American interests all around the world, but only in small police type actions (rescuing embassies, protecting American legations, etc.)
The Battle of Belleau Wood
The Marines were lined up in the woods facing Belleau Wood, and ordered to march straight across a large wheat field to drive out the Germans.  The French officers who had previously been training the Marines warned them not to "march" across the field, but the Marine officers ignored this sage advice.  As they approached the wooded hill, the first wave was mowed down by machine gun fire.
The Marines learned quickly, and after that, they found out how to approach machine guns and other heavy weapons with a modicum of success.
They drove out the Germans after more than two weeks of very heavy close in combat (much of it hand to hand).  Supposedly, during this battle, the Germans took to calling the Marines "Teufel Hunden", which translates roughly as "Devil Dogs".  That nickname is in use up to today.
The French general who was in charge of the sector was so impressed with the abilities of the Marines, that he awarded both the 5th and 6th Regiments the "Fouragère de Guerre".  These regiments wear this on their uniform to this day.  [see photo.]
Over 1,800 Marines died taking this very small patch of ground.  Roughly 10 acres.  There are still over 1,600 bodies in the woods unaccounted for.
Present Monuments
Today, at the base of the hill (on the other side, facing the little village of Belleau) is a beautiful American Cemetary.  [see photos].
Also, just down the road is a German cemetary usually skipped by American visitors, but still worth looking at.  [Tell story of the replaced Jewish gravestones?] [see photos?]
In Belleau there are two things worth seeing:  The little museum to the Marine Corps, and the "Devil Dog Fountain" which is across the street behind a locked gate.  Getting the key is simply a matter of asking the museum caretakers.
[The fountain is dedicated to US Marines, and per legend, if you drink from this fountain, you will live another 10 years!]
Between Belleau and overlooking the valley of the Marne and Chateau-Thierry is a very large monument built to honor the American Army and Marine Corps.  Underneath this monument is an excellent museum illustrating the history of our involvement in this part of France.  You can see this monument from anywhere in Chateau-Thierry.  [see photo]
In the [now] city of Chateau-Thierry is a beautiful little church right off the town square which is dedicated to Franco-American friendship.
All of the cemeteries and monuments are currently maintained by the American Battle Monuments Commission.  [see www.ABMC.gov]  NOTE:  you can look up relatives buried in France from either war on this site.  And, if you are going to a particular ceremony at any monument and can show that you are related to a dead serviceman, you will be seated in a special place of honor.
Three monuments maintained by ABMC near Chateau-Thierry are:
Battlefield of Belleau Wood itself.
Cemetery of Aisne-Marne.  Inside of the tower has the names of all the Marines and Soldiers who were never recovered.
Chateau-Thierry Monument with museum. [photos]
ANNUAL CEREMONY
Every year, on Memorial Day weekend, US Marines descend on Belleau Woods to honor the Marines who died in the battle.  There are thousands of US Marines stationed in Europe and many more come from the US.
[There are no "ex-Marines".]
The ceremony is attended by lots of locals as well as a unit of the French Army.  [in 2019 a platoon of the Foreign Legion attended.]  There is a parade into the cemetery, accompanied by marching bands provided by both the Marine Corps and the French Army.  [see photos].
Speeches are given, wreaths laid, etc.
What struck me most about this ceremony, in both 2018 and 2019 is the friendliness of the locals.  Complete strangers approach and ask you about why you're there, if you have any relatives buried there, etc.  [experienced the same phenomena in Normandy during June, 2018.]
Also, you will be approached by US Marines both past and present who want to know if you have any connection to our Marine Corps.  Extremely friendly atmosphere. [it helps to have a 'high and tight' haircut!]
After the ceremony, there is a free party held in the courtyard of the Devil Dog Fountain.  [see photos]
In all, a VERY collegial event.
US Marine Corps band also gives a free concert in the town square for the people of Chateau-Thierry, the day before the ceremony.  [see photos]
MY PERSONAL PARTICIPATION
Went two times, 2018 and 2019.  Almost no information available on YouTube or other travel sites.  Had to sort of "wing it".
But, LOTS of US Marines want to go to this place.  It is a place of pilgrimage.  I cannot stress this enough!  EVERY Marine I've talked to wants to go there, but they don't know how.
First time was with a close friend from work who is a retired US Army Colonel.  We both had an interest in military history.
2018 Trip
Stayed in Soissons, apx 40 km away b/c Chateau-Thierry was all sold out.  Rented a car at CDG, drove out to Soissons (very easy drive).  [Don't rent cars at airports. Do it in the states before you arrive and/or rent from sources like Eurocar!]
Stayed in the middle of Soissons, right across from the cathedral which is being restored.  (It was destroyed in WW1.)  Soissons was where the first king of France was crowned.  Name of the hotel was Best Western Hotel Des Francs.  Great, modern hotel, but NO A/C!!
Driving had its benefits.  Was able to visit Verdun and the towns along the eastern front "Mort pour la France."  Those losses made Belleau Wood look like a tiny battle, which it in reality was.
Allowed us to discover the German cemetery next door, with its malevolent history of ejecting the Jewish corpses.
Also visited Chateau-Thierry.
Some, but not a huge number of good restaurants, all centered around the town square though.  Got the impression most of the people in Chateau-Thierry ate lunch at home…
Visited the Franco-American Friendship House [where nobody spoke English!]
Then went on to Normandy, etc.
2019 Trip
Went with my wife, and decided this would be a good little town to stay in to recover from jet lag.
Restaurant situation was the same.
Stayed at B & B called Maison Joussaume Latour, which was just a half a block off the main square.  Owners spoke limited English, but the place was fantastic.  They had A/C!!
Warning, Best Western also has a hotel near Chateau-Thierry, but it is outside normal walking distance, and they cater almost entirely to Americans.
In addition to repeating all the above, also saw the following in Chateau-Thierry:
The hilltop castle where Jean D'Arc kicked out the English Army in 1429.
The raptor bird show (very good, but only in French.)
The little museum dedicated to Jean De La Fontaine (writer of children's moral tales.)
Took a guided tour of the battlefield.  VERY informative and highly recommended.  Sign up for same in the little museum in Belleau.
Of note was the HUGE Carrefour in Chateau-Thierry.  Bigger than ANY Walmart I've ever been in!!
Stayed 4 nights, which included a day trip to Reims to see the cathedrals there.  About an hour away.
Did not get to see a lot of the champagne producers/caves in the area even though we were invited by locals at the cemetery.
My wife's first time in France, and Chateau-Thierry was a great little town to settle into and get a "feel" for being in France.  Some people speak English but don't expect it.
4 nights was plenty, including the day trip to Reims.
[If you don't know a lot about the war and what other nations sacrificed, and if you have another day or two, visit Verdun to see 70,000 graves and the skeletons of 70-80,000 more in the ossiary next to the cemetery to see just a small portion of what the French lost in one battle—and the Germans lost as many. An entire generation of French youths was lost in the four years of WWI, and that sacrifice tempered French and British politics, making them afraid to oppose Hitler nearly 20 years later, until it was almost too late. That cemetery alone is a strong lesson of the price paid by those fighting in WWI years before the US sent its young men to France.]
SIDE NOTE
Battle of Belleau Wood kept US Marines out of Europe in WW2.  Right after the battle, all the headlines in the US screamed, "US Marines, First to Fight!"  This upset the US Army to no end, and thus resulted in intense lobbying by the Army to keep Marines confined to the Pacific War in WW2.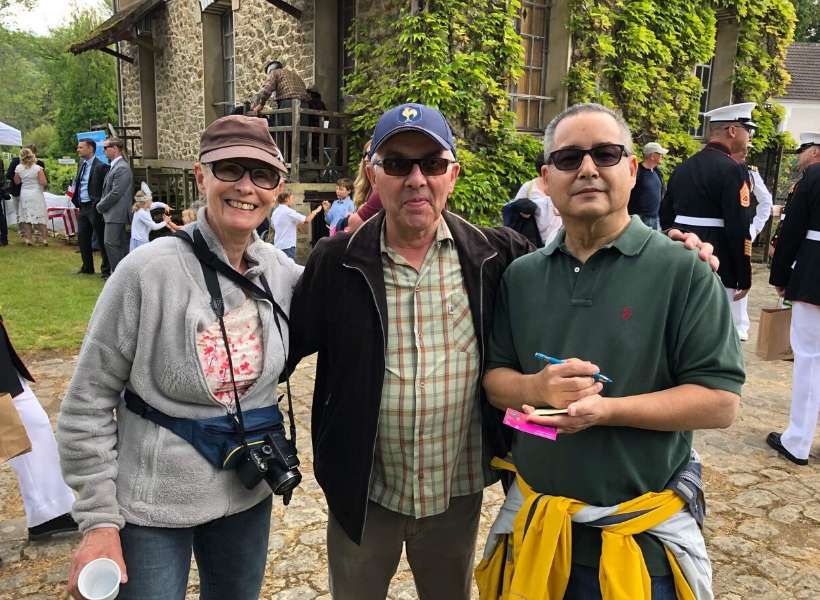 Subscribe to the Podcast
Apple
Google
Spotify
RSS
Support the Show
Tip Your Guides
Extras
Patreon
Audio Tours
Read more about this guest-notes
Episode Page
Categories: French History, Hauts-de-France, Off the Beaten Track in France