Categories: French History, Hauts-de-France
On today's episode, Annie reviews seven WW1 memorial sites in France where we remember soldiers from English-speaking countries. Soldiers from many countries fought and died in France during WW1. We remember them today on the occasion of the WW1 Armistice Centennial taking place in France on November 11, 2018.
WW1 Memorials Sites in France
France was deeply scared by WW1 and it's impossible to understand France without a basic understanding of what happened during WW1. Visiting WW1 memorial sites in France is one of the best ways to realize the deep cuts the war brought about. It will also make it possible to bring history to life for you and your children.
"World War I was the most colossal, murderous, mismanaged butchery that has ever taken place on earth. Any writer who said otherwise lied, So the writers either wrote propaganda, shut up, or fought." Ernest Hemingway
Off the Beaten Track in North-Eastern France
It must be said that the part of France where WW1 memorial sites stand is not generally considered the most "touristy" part of the country. Some people visit France dozens of times and never make it there. That doesn't mean that they are not worthwhile, especially to those who enjoy off the beaten track parts of France and history, of course.
Seven WW1 Memorial Sites in France Dedicated to English-Speaking Soldiers
#1 Pozières
In today's episode, we start with the memorial in Pozières between Arras and Amiens. It is mostly a British cemetery and one of the most popular WW1 memorials in the area.
#2 Viller-Brettonneux
Then we move on Viller-Brettonneux where you'll find the Australian National Memorial.
#3 Fromelles
The only Australian-only war cemetery in France.
#4 Bullecourt
When in Bullecourt you can visit 3 sites:
Musée Jean & Denise Letaille
Bullecourt Digger
Slouch Hat Memorial
# 5 American WW1 Memorials in France
There aren't as many WW1 memorials in France because America didn't send as many troops as other countries.
# 6 Somme American Cemetery
This cemetery is in Bony and is part of the battle of the Somme.
#7 Montfaucon American Monument
This monument is located near Verdun, not in the same area at all as the other ones mentioned here.
Other Memorials You May Consider Visiting
Recommendations from our Facebook followers:
Tisha Guy

I visited the Canadian memorial at Vimy. It is beautiful.

Cathy Paskin

Oh my yes!! The Butte de Montsec in Lorraine is absolutely take-your-breath-away beautiful!!

Kevin Albrechtsen

Went to the Notre-Dame-de-Lorette International Memorial, at Ablain-Saint-Nazaire near Arras. It was tremendously sobering! Over 40,000 graves!

Robin Gunter

Yes, the Douaumont Ossaury. Something I will never forget.

Julia M. Gray

The Lafayette Escadrille Memorial near Paris. Not very well known but I enjoyed the visit. A young man from my town was in the Escadrille and was killed.

In the news: Bealleau Wood American Monument, the memorial President Trump snubbed while visiting France this week "because of the rain" says the press. This memorial is an hour northwest of Paris in the Somme theater.
Biggest American WW1 Cemetery in France: Saint-Avold (Moselle, 10,489 graves).
FOLLOW US ON:
Discussed in this Episode
Pozières
Viller-Brettonneux
Australian National Memorial
Fromelles
Bullecourt
American WW1 Memorials in France
Somme American Cemetery
Montfaucon American Monument
Spanish Flu
Musée Jean & Denise Letaille
Bullecourt Digger
Slouch Hat Memorial
Amiens
Lille
Arras
Verdun
Annie talks about things to see in London
Subscribe to the Podcast
Apple
Google
Spotify
RSS
Support the Show
Tip Your Guides
Extras
Patreon
Audio Tours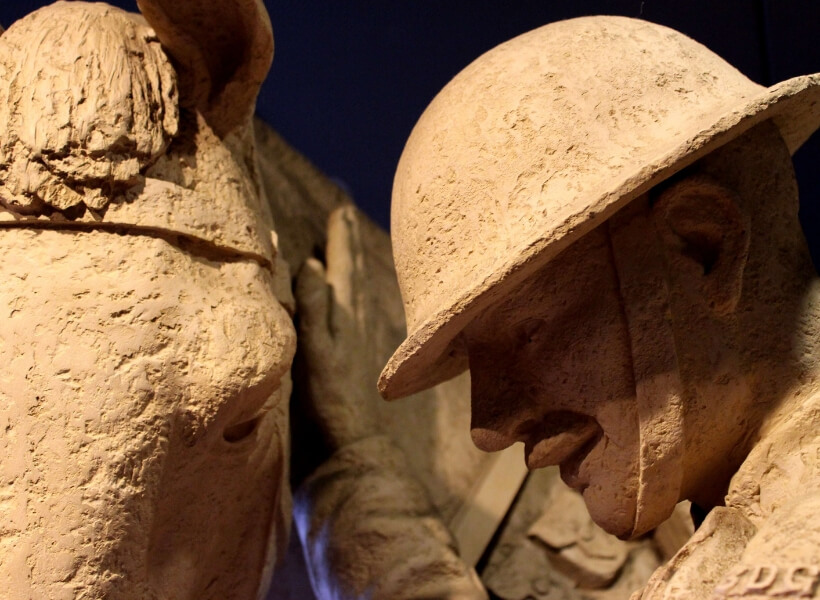 Read more about this episode
Show Notes
Categories: French History, Hauts-de-France