Category: Museums in Paris
This episode features our frequent and very popular guest Elyse Rivin. If you enjoy her episodes, please consider supporting her on Patreon.
On today's episode Elyse and Annie discuss the best places to see modern and contemporary art in France. She loves this stuff and pleads her case for the latest iteration of the arts really well. Maybe even people like me who prefer older more approachable art should check it out!
Modern and Contemporary Art in France
We have a lot of museums in France, many of them in Paris, and most of them filled with beautiful old things. But today we are going to concentrate on modern and contemporary art you can see not just in Paris, but all over France.
The Difference Between Modern and Contemporary Art
Modern Art includes art from the 20th Century starting in 1901. Contemporary Art includes art from the last 30 to 40 years.
Palais de Tokyo in Paris
Sometimes Modern Art museums are worth visiting because of the architecture of the building itself. In the case of the Palais de Tokyo in Paris, it was part of the Trocadero and was reconverted into a space for contemporary art.
So the Palais de Tokyo is an interesting juxtaposition of a structure from another time and some of the most cutting-age art from today.
Musée d'Art Moderne de la Ville de Paris
This is the other side of the Palais de Tokyo and displays contemporary art, but not quite as cutting edge as Tokyo.
Centre Pompidou in Paris
In Europe, this is the biggest center for modern and contemporary art anywhere. We both agree that it is very nice and if you're only going to see ONE modern and contemporary museum in France, it should be this one.
There are still some curmudgeons who don't like the exterior look of this museum, but we think it's fun and visually interesting. The view from the top of the Beaubourg is also to die for!
Fondation Cartier
In the 14th arrondissement not too far from the Catacombs, on Boulevard Raspail is the Fondation Cartier. The building was designed to hold contemporary art.
Fondation Vuiton
This is a recent museum that opened in 2014 from the private collection of one of the richest men in France Bernard Arnault. Frank Gerhy designed the building which is worth a visit by itself. It is in the middle of the parc of the Bois de Boulogne, so a little bit out of the way in the 16th arrondissement. But you can go by metro + bus or by car.
This museum features a permanent collection of art from post WW2 on (last 50 years) and temporary exhibits by major contemporary artists. It is very popular and exhibits do sell out.
Picasso Museum in the Marais
The Picasso Museum is modern art, it features mostly Picasso work and is included in the Museum Pass. Because it is in the Marais, it is easy to get to  as well. You will see some of Picasso's most famous works there.
Jeu de Paume Museum in Paris
This museum is very close to the Orangerie Museum and the buildings were built at the same time and look very similar. It was originally designed at an indoor tennis court and it is not a museum dedicated to photography.
This is a space for art photography and photography that has political or historical significance. Photography, and especially art photography originated in France.
Le Centquatre Paris
This cultural center opened in 2008. It's a space that participates in all sorts of arts: temporary exhibits, music concerts, theater, poetry reading, bookshop and restaurant. It is not very far from the Sacré Coeur, in that area.
Mac Val Paris in the Val de Marne
This is a contemporary art museum in the town of Vitry-sur-Seine in the general area of Disneyland Paris. Only French artists, relatively young, inexpensive and quite popular.
Modern and Contemporary Art in France Outside of Paris
CAPC Musée d'Art Contemporain de Bordeaux
There's more than wine in Bordeaux! The CAPC. It opened in 1983 and it's in a really nice part of the city. They have a small permanent collection that they received from the Beaubourg, but they mostly have really interesting temporary exhibits, and the area is worth a visit.
Musée Soulages in Rodez
They call him the painter of black due to his interest in this color "non-color" and its reflections. The building itself is interesting. The city center of Rodez is tiny, there isn't much to do there, so this museum and its restaurant are a good option.
Musée des Abattoirs in Toulouse
The building (a former slaughter house) park and area are interesting. But the permanent exhibit is based on the private collection  of one man and you either love it or you don't. This is contemporary, WW2 and up, sometimes the temporary exhibits are wonderful. There are some pieces by Fernand Léger outside of the museum that are great.
Le Carré d'Art in Nîmes
Architect Norman Foster was commissioned to design this museum building and he found his inspiration right across the street with the Maison Carrée, a wonderfully preserved Roman Temple. One is made of stone and the other of glass. There is no permanent exhibit here either, they take temporary exhibits that come through. But it's really neat from the architectural point of view.
Musée d'Art Moderne et Contenporain in Saint Etienne
It's a wonderful surprise to find a modern and contemporary art museum in an industrial and off the beaten track city such as Saint Etienne!
Museum of Modern and Contemporary Art - Mamac in Nice
This museum has some great art from the middle of the 20th century on. For example Niki de Saint Phalle where she actually lived. Nice also has a beautiful Matisse Museum.
MAEGHT Foundation in Saint-Paul-de-Vence
Just a few kilometers north of Nice, this private museum is outstanding by both the beauty of the building and the quality of the collection. All major French artists of the 20th century contributed pieces to this museum making it truly exceptional  for a big village like Saint-Paul-de-Vence.
LAM Museum in Lille
Lille Métropole Musée d'art moderne, d'art contemporain et d'art brut. Art brut means people who didn't train as artists. No folk art or traditional, but art from people who create without training. This is also in a big contemporary building.
Musée d'Art Moderne et Contemporain de Strasbourg — MAMCS
This museum is housed in a building that is only 20 years old. Half of the building is dedicated to contemporary and modern art and another side to more traditional art.
There are surely other Modern and Contemporary Art Museums in France, this episode is not exhaustive.
FOLLOW US ON:
Discussed in this Episode
Palais de Tokyo in Paris
Museum of Modern Art of the City of Paris (Musée d'Art Moderne de la Ville de Paris)
Centre Pompidou in Paris
Fondation Cartier
Fondation Vuiton
Picasso Museum in Paris
Jeu de Paume Photography Museum in Paris
Le Centquatre Paris
Mac Val Paris in the Val de Marne
CAPC Musée d'Art Contemporain de Bordeaux
Musée Soulages in Rodez
Musée des Abattoirs in Toulouse
Carré d'Art in Nîmes
Musée d'Art Moderne et Contenporain in Saint Etienne
Museum of Modern and Contemporary Art - Mamac in Nice
MAEGHT Foundation in Saint-Paul-de-Vence
LAM Museum in Lille
Musée d'Art Moderne et Contemporain de Strasbourg — MAMCS
Subscribe to the Podcast
Apple
Google
Spotify
RSS
Support the Show
Tip Your Guides
Extras
Patreon
Audio Tours
If you enjoyed this episode, you should also listen to related episode(s):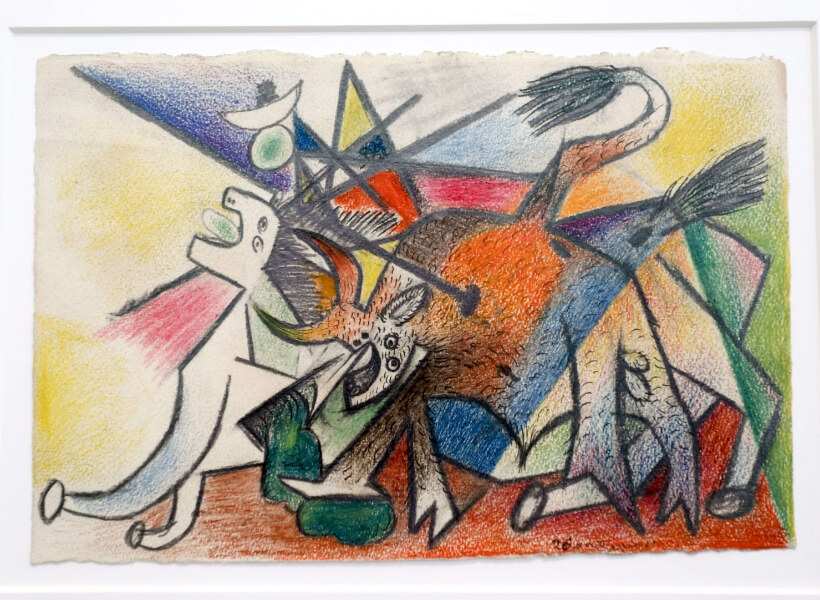 Read more about this episode
Show Notes
Transcript
Category: Museums in Paris