Category: Museums in Paris
Discussed in this Episode
Palais de Tokyo in Paris
Museum of Modern Art of the City of Paris (Musée d'Art Moderne de la Ville de Paris)
Centre Pompidou in Paris
Fondation Cartier
Fondation Vuiton
Picasso Museum in Paris
Jeu de Paume Photography Museum in Paris
Le Centquatre Paris
Mac Val Paris in the Val de Marne
CAPC Musée d'Art Contemporain de Bordeaux
Musée Soulages in Rodez
Musée des Abattoirs in Toulouse
Carré d'Art in Nîmes
Musée d'Art Moderne et Contenporain in Saint Etienne
Museum of Modern and Contemporary Art - Mamac in Nice
MAEGHT Foundation in Saint-Paul-de-Vence
LAM Museum in Lille
Musée d'Art Moderne et Contemporain de Strasbourg — MAMCS
Not sure if contemporary art museums are worth your time? This is the episode that lists the biggest and most famous contemporary and modern art museums in France and explains what they specialize in.
Choose wisely because some of them will leave you scratching your head!
Modern and Contemporary Art Within Paris and Region
Centre Georges Pompidou AKA Beaubourg
The biggest and most important center of modern and contemporary art in Europe. There are people who dislike its exterior with all its tube and colors, but we think it's fun.
The Beaubourg opened in 1977 and was designed by Renzo Piano and Richard Rogers. They were tasked with creating a cultural space for the people. It houses a large public library, a film center, and a museum.
This museum is organized in chronological order. So if you want to have an idea of contemporary art from the start up until now, and see how things evolved, this museum if perfect!
The view from the top is also wonderful, photographers will want to visit just for that! The elevator structure, the colorful tubes, it's all interesting to see and very unique.
This museum also invites blockbuster retrospective exhibits that attract a lot of visitor. If you only have the time to see one contemporary art museum, this should be the one. It rivals with the MOMA in New York.
Picasso Is Modern Art, Not Contemporary
One of the great things about the Pompidou is that it shows modern art such as Picasso and Georgia O'Keefe that are over 100 years old by now and that we'll all seen. This makes these pieces feel approachable compared to contemporary pieces that you'll see towards the end of the visit of the Pompidou.
As a teacher, Elyse finds it interesting to see what pieces stick in the mind of young University students who aren't art students. Sometimes the pieces they remember are the most contemporary ones, which is not what older people experience generally.
Fondation Cartier
This contemporary art museum is near the Catacombs in the 14th arrondissement. This museum space features a lot of international art from America, China, and every continent. They sometimes feature some photography, there's a cinematheque (movie house that shows artsy films), they have readings,  etc.
This is a cultural center as well as a museum. There is no permanent exibit at the Fondation Cartier, all exhibits are temporary and can be a variety of types of art.
This is the type of place that attracts few tourists and mostly local intellectuals and people who are interested in art. This is where parisians go.
Palais de Tokyo and Museum of Modern Art of the City of Paris
Both are housed in the same building from 1947 for the World Fair. It's all part of the Trocadero area. This building is called Palais de Chailot and you can see it really well from the top of the Eiffel Tower. The view towards the Eiffel Tower from this building is to die for as well!
They don't have a rooftop terrace, but they both have cafés from where you have a gorgeous view towards the Eiffel Tower, including an outside Terrace.
Musée d'Art Moderne de la Ville de Paris
The Musée d'Art Moderne de la Ville de Paris is a sort of overflow of Centre Pompidou. They always have wonderful early 20th Century art. They have temporary exhibits, Elyse was one a few years ago about pop art there.
They will also have some Matisse, Derain, Dubufet, and other French artists you may not have heard of but are wonderful early 20th Century artists. This particular opened in 1961. It's a medium size museum, it's a great place to go when the weather is nice to enjoy the view too.
Palais de Tokyo
This museum re-opened in 2012 and it is a space specifically and only for the most eccentric contemporary art.  The space is really large and can accommodate very large installations. It's a mono-space that can be rearranged to suit the art being shown.
The art featured here is always very recent, from unknown contemporary artists. Some are just out of art school, some are a bit older but haven't been featured much. Mostly it is not painting. You'll see performance art, installation art, a lot of it is strange. It is usually French artists but always current.
This is the kind of place where art students go because it displays all the edgy new stuff. It's inexpensive so it's open to all, there are night performances with rock music and the like. A lot of "regular museums" tend to attract older people, this one makes a point to be for young people by young people.
Fondation Vuiton
A recent space that opened in 2014 funded by Bernard Arnault who is one of the richest men in France. His rival is Pinault and opened a contemporary art museum in Venice.
This museum displays a private collection inside a space designed by Frank Gerhy. The space itself is worth a visit, but it is out of the way in the middle of the Bois de Boulogne, so it takes a while to get there.
In this museum you can see a permanent collection of art from the last 50 years and major temporary exhibits. A really neat place to go and the exhibits do sell out, keep an eye on it and book in advance.
Picasso Museum in the Marais
By now Picasso's art is very well-known and therefore approachable for most people. This collection is extensive and shows off very well how Picasso was both a genius and a little bit crazy.
Jeu de Paume Photography Museum in Paris
This museum is very close to the Orangerie Museum and the buildings look very similar. It is a museum dedicated to art or historical photography. This space displays international artists who work in the medium of photography.
Le Centquatre Paris
Their website is 104.fr and they use the hashtag #104. This is an art and cultural space in the 19th arrondissement of Paris. They do a little bit of every sort of art and even have a bookstore and restaurant. It is located in the Montmartre area, not too far from the Sacré Coeur Basilica.
Mac Val Paris in the Val de Marne
This is a museum that caters to people who don't necessarily have the means or the inclination to go into Paris and a big museum like the Louvre. It caters to younger French artists and seems to be popular.
Modern and Contemporary Art in France Outside or Paris
CAPC Musée d'Art Contemporain de Bordeaux
In Bordeaux you'll see some really beautiful limestone buildings, drink some really nice wine, but you can also visit the CAPC. It opened in 1983 and the building used to be storage hangers. Check out their temporary exhibits and do go because it is in a really nice part of Bordeaux just to look around.
Musée Soulages in Rodez
Rodez is a small city 2 hours north-east of Toulouse by car. The museum is dedicated to Pierre Soulages, one of the greatest living French painters. He is a very old man, born in 1919. The building of the museum itself is striking and the art is interesting. They have both a permanent collection and temporary exhibits.
Musée des Abattoirs in Toulouse
Both Annie and Elyse have visited this museum many times and it's an interesting part of the city. We particularly like the large mosaics by Fernand Léger that are displayed outside of the Abattoirs Museum. We don't like the permanent collection in this museum.
Le Carré d'Art in Nîmes
You can't miss it when you visit Nîmes because it is right across from the Roman Temple and the area is gorgeous! Check out what the temporary exhibit is, they have no permanent collection because museums have to be rich to purchase art!
Musée d'Art Moderne et Contenporain in Saint Etienne AKA MAMC
This is an up and coming museum and Saint Etienne also happens to have a very good art school, which is probably how they got the funding for this museum. Saint Etienne also has a really nice mine museum.
Museum of Modern and Contemporary Art – Mamac in Nice
This is a great place to go see art by Niki de Saint Phalle, the collection is impressive. The building itself is impressive and modern-looking. This museum has both permanent and temporary collections.
MAEGHT Foundation in Saint-Paul-de-Vence
Private Museum built by a man named Aimé Maeght who was an art buyer who had a lot of money and connections. He was able to collect pieces from some of the most famous artists of the 20th century. The building blends in to the Provençal landscape beautifully as well. Very much worth a visit and one of Elyse's favorite modern and contemporary art museums in France.
LAM Museum in Lille
This museum distinguishes itself by the fact that it has a large collection of "art brut" (Wikipedia translates it as "outsider art"). Sometimes a little bit distrubing, but always interesting.
Musée d'Art Moderne et Contemporain de Strasbourg — MAMCS
Stasbourg is a city that we recommend visiting for itself as it is gorgeous. We've talked about it in another episode. But this museum is also wonderful and colorful and really pleasant.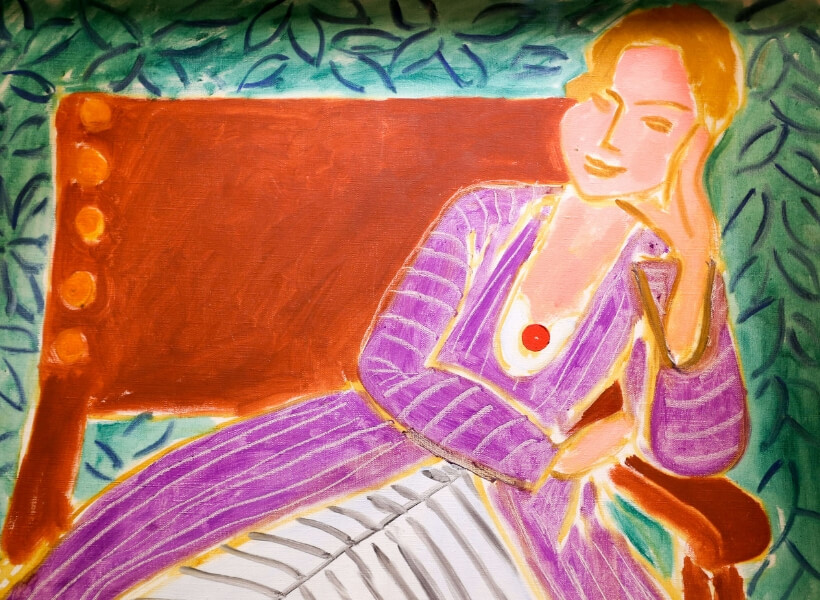 Subscribe to the Podcast
Apple
Google
Spotify
RSS
Support the Show
Tip Your Guides
Extras
Patreon
Audio Tours
Read more about this show-notes
Episode Page
Transcript
Category: Museums in Paris