Categories: Burgundy Area, French Culture, French Food & Wine
There is no doubt that Burgundy wine and gastronomy are some of the best in France. That's one of the reasons my guest, Ellen Shaunessy, decided to visit this part of France with a friend. Plus it's easy to get to from Paris on the TGV train and driving in this part of France is easy.
Ellen has a great advance over most visitors to France because she speaks French fluently from her work in Paris years ago. She knows how to ace a trip to France and has taken several trips with friends who trust her good advice. Let's hear what she has to say! To see the day-to-day details click on Guest Notes below.
Ellen's Tips for Visitors to France
Start your trip in Paris because that's when you have the most energy.
If you have budge constraints stick with trains (car rentals, gas and tolls add up fast in France).
Use the site Gite de France to find accommodations with locals outside of Paris (this is especially great if you intend to use your French!)
If possible it's best not to plan anything on the day you arrive somewhere. Use the time to explore and get your bearings.
In Paris you'll probably feel like you're always missing something because there is so much going on.
Pick one activity for the day. For example a vineyard tour day or a cooking class day.
Burgundy Wine and Gastronomy Tours
Ellen selected a tour company called Authentica Tours so they could see some of the countryside without renting a car. This is a small company that runs their tours in a small van. There were only 4 or 5 people that day, so it's almost like a private tour. They drive you around the countryside, tell you about the history of the region (there is a lot of Roman history in this area). They do both wine and cheese tasting tours.
Ellen and her friend also took a free walking tour of Dijon offered by the Tourist Office. Even if you don't find a free walking tour, going to the Tourism Office is always a good idea because they have a lot of information for you.
Wine Tasting and Cooking Class in Beaune
While staying in Dijon they took an early train to Beaune to be there in time for their market tour that started at 11 AM. This tour is only offered on market days. They had a chance to browse the market before they met up with the Cook's Atelier ladies. The ladies introduced them to local vendors. They cooked the food and shared a meal with them which was wonderful.
Following the cooking class they went to the exhibit called Cave des Aromes. They learned a lot even though they mostly enjoy wine without being trained. They also went to the Hospices de Beaune, which is a must-see.
What's interesting is that there used to be a boulangerie in Corgoloin (where they were staying at a gite), but it's now been replaced with a boulangerie truck! Have you ever seen one? They are common in rural France.
This gite is an easy walk to the train station and provides bikes for people who want to explore on a bike. They went to Nuit-Saint-Georges on the bike. The area is pretty flat, so it's doable even if you're not an avid biker.
Must Try Burgundy Regional Specialties
Bœuf Bourguignon
Coq au vin
Poulet de Bresse
Œufs en meurette
Charolais beef – hamburgers are amazing here
Gougères
Escargot
Anything with crème de cassis, including Kir (an apératif)
Pain d'épices
Époisses cheese
FOLLOW US ON:
Discussed in this Episode
Dijon
Châteauneuf-en-Auxois
Vercingétorix Monument
Semur-en-Auxois
Tonnellerie Francois Frères [29:00]
Château de La Rochepot
Puligny-Montrachet
Meursault
Châteauneuf-en-Auxois
Kir and Kir Royal
Castelsarassin (Occitanie)
Subscribe to the Podcast
Apple
Google
Spotify
RSS
Support the Show
Tip Your Guides
Extras
Patreon
Audio Tours
If you enjoyed this episode, you should also listen to related episode(s):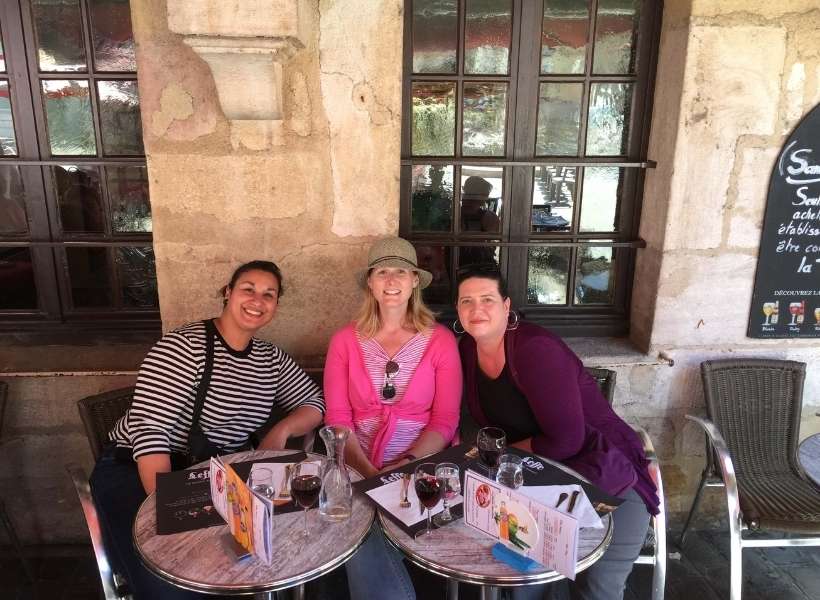 Read more about this episode
Guest Notes
Categories: Burgundy Area, French Culture, French Food & Wine