This post contains affiliate links, meaning I get a commission if you decide to make a purchase through my links, at no cost to you. Please read my disclosure page for more details.
Category: Bordeaux Area
This episode features our frequent and very popular guest Elyse Rivin. If you enjoy her episodes, please consider supporting her on Patreon.
On today's show, Elyse takes us to the UNESCO World Heritage city of Bordeaux, France and tells us a little bit of the story of Eleanor of Aquitaine as well as some of the unsettling parts of the history of Bordeaux having to do with the slave trade.
Bordeaux, France: Best Attractions for Visitors
There is plenty to see and enjoy besides the wine. In this episode we don't really talk about Bordeaux wine. If you're interested in wine, I recommend you check out the other episodes listed below.
Port de la Lune / Port of the Moon (UNESCO World Heritage Site)
Pont de Pierre
Musée du Vin
Bordeaux Water Mirror
Rue Sainte Catherine and Rue de la Porte Dijeaux (shopping areas)
Many little squares and plazas with cafés and restaurants within the city center
The tourist office: especially good if you want to find a day excursion outside of the city to vineyards or other attractions
Porte de la Monaie
Saint Michel Church
Musée d'Aquitaine and Tour des Anglais
Bordeaux, France: a City for Walking
As always, we recommend you stay in the city center so you can enjoy the city night life. When staying in the center of Bordeaux, you won't need a car at all. The Bordeaux city center is full of one-way streets and parking will be difficult and/or expensive. Only rent a car if you intend to see attractions outside of the city!
But if you do need to get around quickly within Bordeaux, you could use Bordeaux's great tram system that goes right along the river. Or their bus system, which is also well developed.
Hotels We Like in Bordeaux
Quality Hotel Bordeaux Centre: this is a great value hotel in a wonderful location.
Intercontinental Bordeaux Centre: for a plusher experience and also an amazing location.
Notable Museum in Bordeaux
Musée d'Aquitaine
Musée du Vin
Bordeaux Is on the Gironde Estuary, Not on the Atlantic
Bordeaux is about an hour from the Atlantic ocean on the estuary of the Gironde. It is gorgeous to fly over where you can really see the big mouth of the estuary opening up into the ocean. But the city center of Bordeaux is about 100 kilometers from the Atlantic Ocean as the crow flies.
FOLLOW US ON:
Subscribe to the Podcast
Apple
Google
Spotify
RSS
Support the Show
Tip Your Guides
Extras
Patreon
Audio Tours
If you enjoyed this episode, you should also listen to related episode(s):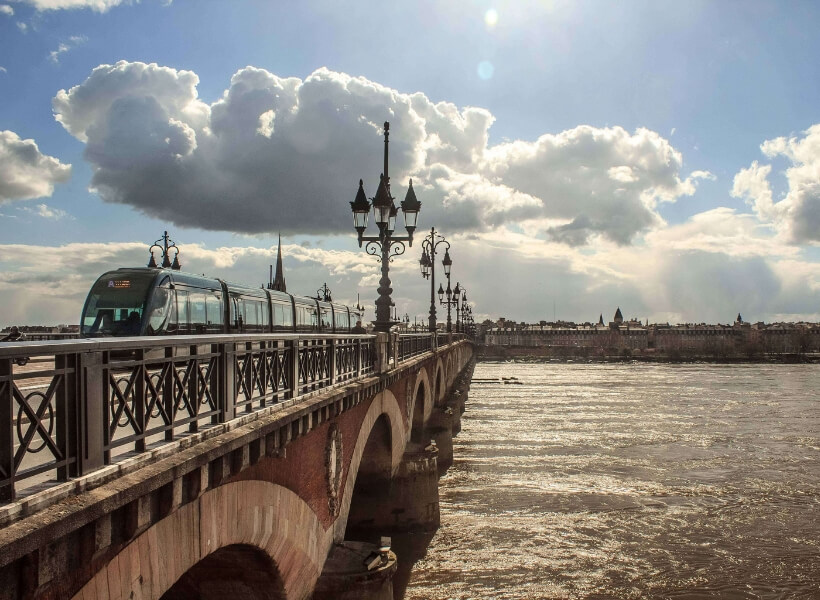 Read more about this episode
Show Notes
Category: Bordeaux Area