Categories: First Time in Paris, France How To, Paris
Secrets to Finding an Apartment in Paris with Phil
What You Will Learn about in Today's Episode
40″ On today's episode, Phil Goldsmith shares his tips and secrets for finding an apartment in Paris.
43″ Our next Paris Tour is scheduled for Oct 1 through Oct 7th 2017; we would love to have you join us in France, not only through the podcast but also in real life.
2'16 Interview with Phil Goldsmith starts.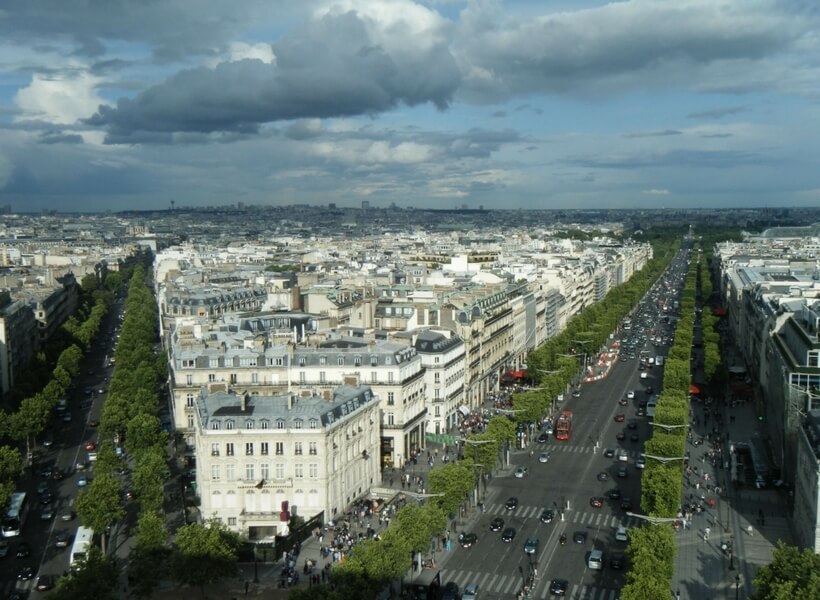 5'11 Why rent an apartment and stay at a hotel? An apartment gives you more of a chance of living like a local. Hotels are a lot more anonymous. Apartments are also more likely to be situated in a residential area rather than a business/commercial area.
For instance there are few apartments for rent in the 2nd arrondissement, but there are lots of hotels there. When staying in an apartment you probably won't get your breakfast at a café, but you may walk to the local bakery and get a chocolatine while observing real life.
7′ It is true that there is nobody living on the Ile de la Cité who is not either a millionaire or someone staying at a hotel.
7'34 Will renting an apartment save me money? We'll come back to this question later in the episode also, but renting an apartment doesn't so much save you money as it gets you better value for your money. Renting is cost effective for people who are staying for several weeks.
8'50 If you're going for just a few days, just get a hotel. Finding the right apartment takes a long time. There is no standard rating system for apartments, each agency does things their own way, you have to spend time looking into the place you are considering renting.
9'54 You get more room in an apartment than in a hotel. Apartments are great for kids or extended families too. Apartments make it easy to accommodate bigger groups.
11′ Gite de France are made for families, they typically have mom and dad and two or three kids. Those are mostly in the countryside.
11'38 Because apartments are a little less expensive, you can leave the apartment for a few days and explore other areas nearby.
12'12 The disadvantages of renting an apartment:
You have to do a lot of research to find an apartment.
People sometimes wonder if this is a legitimate rental. You're better off going through a reputable agency than Craig's List!
2-bedroom apartments are harder to find, but it can be done.
The apartment will be quirky or charming depending on how you want to look at this.
13'36 Some of the crazy places Phil has rented in the past: rickety tiny stairs and steep stairs without handrails or bathroom where you have to go out on the terrace to get to the bathroom.
15'30 Be prepared to deal with a security deposit. Different agencies handle this differently: some put a hold on your credit card, some what you to bring cash to give to the owner that you will get back when you check out. For some of the longer rentals there may be charges for cleaning and electrical bills. You know about this ahead of time if you read the website.
18′ What you need to know about rental agencies: there are countless numbers of them. They are either direct rental platforms like AirB&B or managed apartments. You may have heard of VBRO or HomeAway, AirB&B, Home to Go: those are the big ones.
There are also a lot of local Paris-based agencies that are in the managed apartment business. They manage the apartments on behalf of the owner. They all seem to have the word Paris in their name: Paris Attitude, Paris Stay, Paris à la carte, Paris Perfect, Vacation in Paris, etc. They know the Paris market better and their websites are designed for the quirkiness of the area. Their apartment descriptions are usually more detailed.
21'`4 Some agencies will take the reservation with a credit card. Some will require an international wire transfer. Sometimes transferring money between the US and France is a pain, it can be done.
22'55 There will be some cancellation policy imposed by the agency. It's not usually unreasonable, but you need to understand it. With a hotel room you normally only lose the first night, with a rental you may lose the whole thing.
24'30 Where do you want to stay in Paris? If it's your first time in Paris you need to understand how the city is organized. Look at the map and learn what the arrondissements mean and why it matters. The Latin Quarter is close to everything you want to see. If it's your first visit to Paris, stay as close as you can to Notre Dame.
28′ If you plan on taking the RER between the CDG Airport and the center of Paris, you have to know that it stops in the 5th arrondissement, so it's an easy transfer. So long as you don't have to change lines you should be OK.
29'35 The Ile de la Cité is a business area, in the day-time it is bustling. But at night it empties and you're left with just tourists. It is the opposite on the Ile Saint Louis.
30'50 You can choose a busy street or a quieter side street. You will also have the choice of facing the courtyard or the busy street. Pay attention to that.
31'43 Ask yourself what goes on at night on that street. You may pick a quiet street next to a night-club and if you're not used to city life you won't enjoy it. Make that choice carefully.
32'30 None of these apartments have parking. Take a walk of the neighborhood using Google Street View before you rent.
35′ Once you've found an apartment you're interested in, you need to decipher the listing. It'll give you the number of square meters (multiply by 9 to get the square feet). A studio apartment might be around 35 square meters. By comparison, the average hotel room in the center of Paris is 8 square meters!
37'25 Most apartments are non-smoking and most do not allow pets. Many are not air conditioned. Some apartments can supply a crib if you wish.
38'15 It is important to Phil to know what sort of building you're staying in. Is it a Haussmann building? Is it more recent? That makes a lot of difference in terms of ceiling height, decor, and light.
40'25 Some of the buildings will not be lit well because French people are obsessed with saving electricity. There will be timers in the halls. Use your cell phone as a flashlight in some of those older buildings with stingy occupants.
42′ The first floor in France is what Americans call the second floor. There may be some stairs involved even if the building has an elevator. If this matters to you, inquire about that.
43′ Passcode lock: most places nowadays have a passcode lock instead of a key. Some of the listings have floor plans, most only have photos. Look at the photos really carefully. AC is rare in France but WiFi is common these days.
French locks are very different from American locks. If you're not used to a simple American lock and don't live in a high security building, you will probably be surprised by what it takes to open a door in France.
Most places have security locks.  Some places have locks where if you don't move the door handle all the way up, it will not lock. You may have to have somebody show you how it's done if it's not immediately obvious. Make sure you have a number you can call if you run into a problem.
47′ From the photos, take a good look at the quality of the furnishings. If there are slip covers or a sheet on the sofa, it indicates that it's not great.
48′ Many rental apartments will not have an oven. Some will not have a microwave. Take a close look at what's there.
49′ Bed sizes in France. In the description you'll often read that the bed is King, Queen or Double, but those descriptions are an indication of size, it will not be what you're used to. Double beds are the most common size you'll see. French size are 140 (double) or 160 (queen) or 180+ king. French people never have enough pillows in apartments.
51'40 Water closet is separate in France. The bathroom is where you'll find a shower or bathtub + a sink. The toilet is separate. This is because French people think it's filthy to go to the bathroom where you brush your teeth.
53'47 Take a look at the reviews, most people will say it was great, what's even more important is that this place has been rented in the past.
55′ Checking in and out. There is no concierge or front desk, you need to make arrangements to meet someone. Allow enough time to get to the apartment from Charles de Gaulle airport (typically 90 to 120 minutes). Most apartment managers will ask you to call them when you are on your way.
56'44 Deposit in cash can be a problem because you'll have to carry the cash, but then what do you do with the cash when they give it back to you at the end? Ask if you can pay your cash deposit if dollars, so at least when you get it back you don't have to convert it back before you can use it.
58′ There is usually a house rules binder in the apartment that will explain how things work in the apartment. Avoid using the small home dryers, they are awful. Just wash and hang dry.
60′ There are very few American food items that you can't find at French grocery stores. Chili powder is one, coffee creamer is another.
61′ When you checkout, set a time with the apartment manager. Some places will ask you to replace things that you finish. They may ask you to strip the beds and empty the garbage.
63′ In Provence rentals are very expensive April thru November and cheap thru the winter months.
64′ Annie's arguments against renting an apartment:
If you're going the apartment route, you may be tempted to stay somewhere longer than you need to. Some place won't rent for less than one week and there are lots of places in France where the only way to make that work is if you rent a car and you use the apartment as a central point to go visit lots of things.
For people who already know that they know and like France, it's good to stay a while, but if it's all new to you, don't stay too long in one place or you'll get bored.
Subscribe to the Podcast
Apple
Google
Spotify
RSS
Support the Show
Tip Your Guides
Extras
Patreon
Audio Tours
Read more about this show-notes
Episode Page
Guest Notes
Categories: First Time in Paris, France How To, Paris