Categories: First Time in Paris, Paris, Paris Walks
Paris the Marais: Trendy and Beautiful
Le Marais neighborhood in Paris is a beautiful and trendy neighborhood in Paris. Elyse will tell us what it is, where it is, what's special to see and do in Le Marais and will suggest a walk.
It is one of Elyse's favorite neighborhoods of Paris, in spite of the fact that it's getting so trendy that it's full of people! Le Marais means "marshland", but it's not been a marsh for a long time. It is one of the oldest neighborhoods of Paris, located on the north side of the Seine river in the center of Paris.
Today the Marais overlaps both the 3rd and 4th arrondissements of Paris. Paris is divided up into numbered districts, and sometimes neighborhoods that were named at earlier times overlap between several of these numbered districts. In this case, le Marais is a historical district that existed far before the official designation by number. Le Marais has some very distinct boundaries.
We produced a podcast about La Bastille, le Marais neighborhood in Paris ends on the east side with place de la Bastille, on the south side it ends with the Seine river, on the west side it ends with a street along the Centre Pompidou, and on the north it ends with avenue Beaumarchais.
Historical Background
There was a man in the 1960s in France named André Malraux (he was an author and politician) who was a minister of Culture who is responsible for a 1969 law that preserves the entire Marais area. The reason why le Marais was selected for preservation is because it's a very old, medieval area of Paris. The Latin Quarter is also preserved in the same way, and so is part of Saint Germain. Most of the buildings in Paris, even the ones in the very center of Paris, date from the 1700s and later. But, le Marais is one of two areas of Paris where you will see the most medieval streets and houses. The oldest house in Paris is in le Marais, on a very cute little street called rue Montmorency and it dates back from 1407.
One of the reasons why le Marais became so popular is that it has so much charm. It has narrow windy streets with houses that are not completely vertical, they tip a little bit, with high chimneys on top, lots of plaques that indicate historical landmarks, and mixed in are many XV, XVI and XVII century mansions. This area has been very chic for a long time, so all the nobility and aristocrats built their homes there. Those are enormous, not Versailles enormous, but almost! By now many of those beautiful mansions are some kind of museum or public building. You can go into the courtyards or building of most of these places, so it makes for a wonderful walk.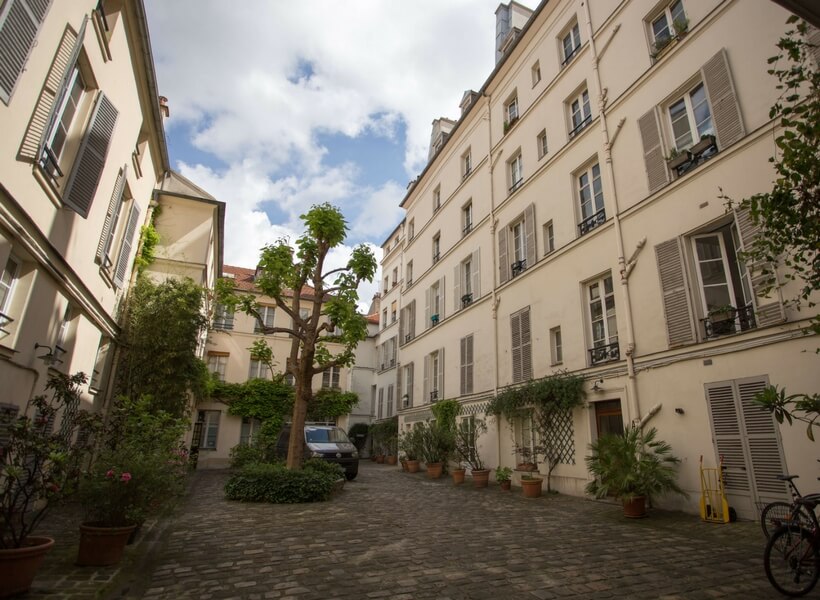 Le Marais neighborhood in Paris has lots of restaurants of all sorts. Some of these restaurants are inexpensive and others really chic. It also has a lot of boutiques, this is the place to go if you're looking for clothing and accessories if you want to be in the latest fashion. This is not a cheap place to shop for clothes, but if you want something unique that you will not find in all the big chain stores, this is a good place to go.
As far back as Roman times rue Saint Antoine already existed, so that particular street is 2000 years old. It wasn't called rue Saint Antoine at that time, but there was a street there already. That whole area north of the Seine was marshland back then, so the Romans built a dike and landfill, in order to protect the streets they were developing. This was an area outside the walls of Romans Paris. Around the 1100s, under king Philippe Auguste (we mentioned him in episode 21 about the Louvre because you can still see a portion of the protective wall he built under the Louvre) the middle of le Marais would have been on the eastern edge of his Paris, but by now some of it was inside of Paris. You can see part of the Philippe Auguste wall on rue Charlemagne in the Marais. Le Marais was a "country" area outside the walls, and around the 1200s monks decided that it would be a good place to build a monastery, and that's when the land started to be cultivated and developed. Once one monastery got established there, more came along.
Knights Templar
One of the most significant groups to establish a home in le Marais was the Knights Templar. As warrior monks, Knights Templars built an enormous walled monastery in le Marais. This order was originally formed to protect Jerusalem against the "Saracens" or Moslems. There is a street in le Marais called "rue du Temple" (Temple Street), another called "rue du Vieux Temple" (Old Temple Street), another called "rue du Trésor" (Treasure Street). Knights Templars were known for having immense wealth and one of the things that led to their demise is the fact that the King wanted to take their treasure. So, there are many streets in le Marais named after historical facts.
Later Developments with Henry IV
Later on (1400s) the Kings move the walls of Paris as far as la Bastille. The Kings have the Louvre and the Concièrgerie, then we get to wonderful Henry IV. Henry IV was originally from the South of France, so he had different ideas. He was also heavily influenced by the ideals of the Renaissance. Late 1500s and beginning 1600s, Henry IV decided to use up some of the open land in the Marais area to build a chic neighborhood to supplement his medieval homes in the Louvre and Concièrgerie. He set out to build something elegant and chic specifically. They cleared out a whole section of land and built something that is a must-see if you go to the Marais called place des Vosges today. At the time it was called King's Square. Mansard is the architect who designed this late French Renaissance style. The buildings are made of brick and stone and this style was imitated all over Paris later.
Place des Vosges
Why is it called Place des Vosges if it used to be called Royal Square? The Vosges are a mountain range in France. Henry IV was interested in collecting tax from various regions in France. He had created a new tax and the Vosges was the first region to pay this new tax, so the king renamed the square after the Vosges. Later Napoleon renamed it Napoleon Square, but that name didn't stick and it's called place des Vosges to this day.
Village Saint-Paul
Le Village Saint-Paul is the area where the Knights Templars used to have their large walled monastery, but it was torn down long ago. In the 1800s it became its own jurisdiction of about three square blocks. It's a quiet area with Antique shops and cafés that are usually open Sunday all day.
Jewish Neighborhood
A small part of what's left of an old Jewish neighborhood is still in Le Marais neighborhood in Paris The rue des Rosiers is mostly what's left of it, but there is also rue Pavée. Most of the Jews who moved in where from Eastern Europe and many of them were involved in the textile industry. There are markers all along those streets honoring various families who suffered during the Nazi occupation of Paris. Jewish-owned stores in those two streets are closed on a Saturday.
Many Museums including the Jewish Museum of Art and History
The Marais is home to a large concentration of all kinds of museums and most of those are housed in XVII or XVIII century mansions. One of those museums is the Jewish Museum of Art and History (http://www.mahj.org/en/index.php). This museum has a lot on the history of Jews in Europe and is a beautiful small museum. This museum is closed on Saturdays, but bustling on Sundays.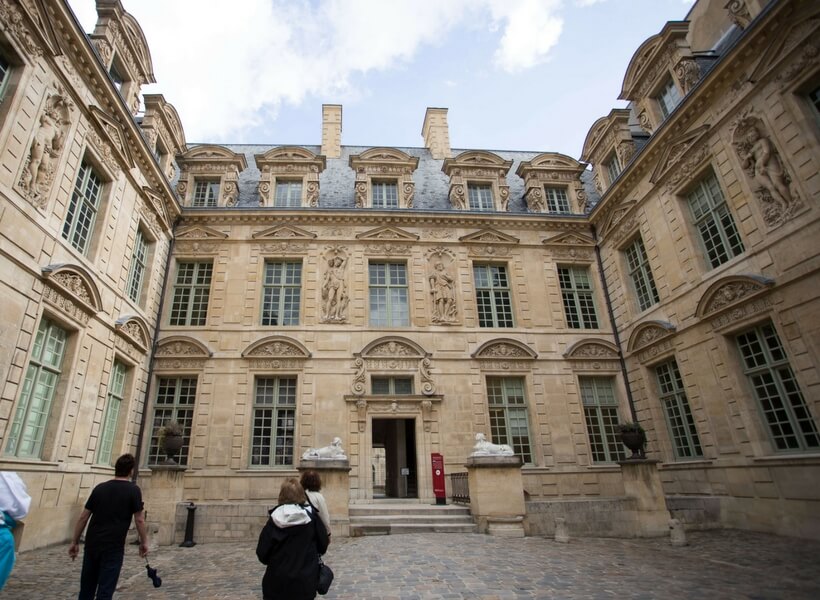 Brunch is the New Trend in France
French people now find it trendy to go out to Brunch on a Sunday, but in France Brunch is Sunday between noon and 3:00 PM. The Marais is a great place to go enjoy brunch in Paris!
Le Marais Gay
Another trend in France is that le Marais is now the home of all things gay in France. There are restaurants and cafés and even hotels that are specifically geared towards gay visitors. This trend started in the 1980s and is still going strong. This area is not inexpensive, but it doesn't seem to deter anyone from going.
A Feel of Paris
The Marais is a good place to get a feel of Paris. There are many quieter streets once you get away from rue Saint Antoine and rue des Francs Bourgeois (narrow but filled with shops and cafés). Another street worth looking at is called rue Sainte-Croix de la Croix Bretonnerie. A lot of streets in the Marais are crocked and narrow and quite old, which gives the area a lot of charm. There is a tower from the Duke of Normandy called Jean sans Peur who was assassinated in le Marais.
Must-See in the Marais
The place des Vosges itself is a must-see, so is hôtel de Sully (a private mansion, not a hotel where you can book a room!) The entrance to this hotel is on rue Saint Antoine, it's just a little bit to the east of metro Saint Paul.
You should see the musée Carnavalet (http://www.carnavalet.paris.fr/en/homepage) which is a free museum run by the city of Paris. This is the museum where you can learn about the history of Paris, the city. If you don't have time, at least go into the open courtyard. Note that the Carnavalet Museum is closed for renovations until late 2019.
Picasso Museum
The other wonderful museum in the Marais is the Picasso Museum, which is not open at this time, but should re-open soon (official re-opening date is Oct 25, 2014). This museum came to be in 1985 when Jacqueline Picasso had to give up a lot of art in order to pay for inheritance tax. Picasso had stashed hundreds of pieces of art in various houses to keep the prices high, but when he died the estimated estate tax was in the billions. The French government took a lot of the art in lieu of tax payment and made the art available in this museum.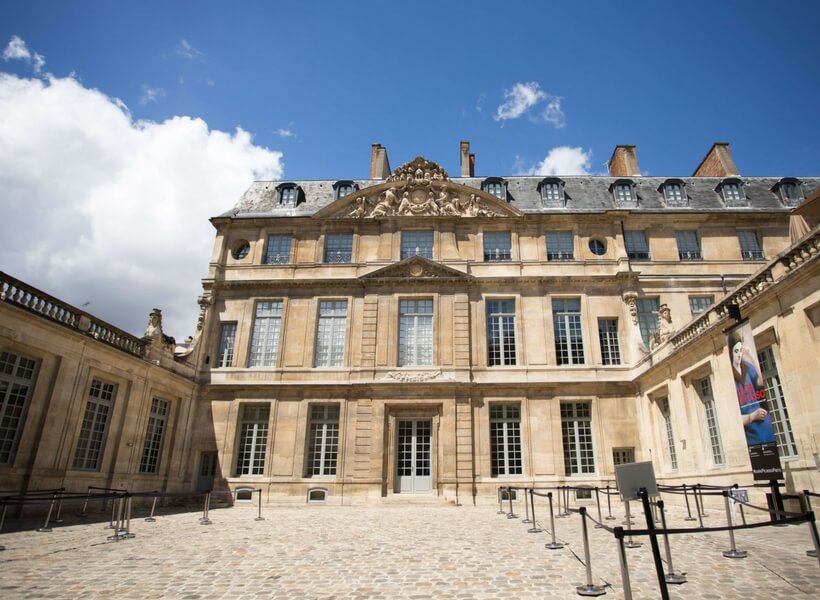 More Marais Museums
Cognacq-Jay, it is also free and housed in a magnificent mansion. This museum has a lot of paintings.
The museum of the history of France is also worth a visit, homed in the Hôtel de Soubise, it is part of the National Archives.
On the place des Vosges you can also visit one of the homes of Victor Hugo, which is free.
On rue du Fourcy you will find the Maison Européenne de la Photographie.
There is also a museum about hunting, a doll museum (Musée de la poupée, impasse Berthaud).
With so many museums and restaurants you could spend a week just in the Marais! This is also what makes it a great area to stay in.
Directions for Elyse's Tour in the Marais
For specific directions listen to the podcast, this description is around minute 42:00 until 48:00.
Elyse usually spends half a day in the Marais when she's in Paris with clients. This is how she tours Le Marais neighborhood in Paris. She gets off at metro Saint Paul (buses 23 and 29 are good too), then she takes them inside of Saint Paul church known for its wonderful dome, she also talks a little bit about the Lycée Charlemagne which is right there. Then she goes to rue Charlemagne and takes a small street to see a piece of the ancient wall. After that she takes her people to the Village Saint Paul where the antique shops and antiques are. Then pause for a coffee or drink. Visit courtyards. Go back to rue Saint Antoine and find the entrance to the Hôtel Sully, see the courtyard, there's also a nice bookstore that has books in English.
Go through a doorway and you're in place des Vosges. Look around places des Vosges and go to rue des Francs Bourgeois, then rue Sévigné where you have the Carnivalet museum (who is NOT the one who wrote Les Malheurs de Sophie).
Then you can go visit some museums if you'd like, then go to rue des Rosiers, rue du Temple where you can see the Jewish museum, and the Centre Pompidou is also right there. If you really want to do it justice, spend a day or two in the Marais. Rue du Trésor is a dead-end street with lovely restaurants.
A long time ago (1800s) they actually did find a treasure of gold coins from the 1300s while digging up for repairs on something and that's how the street was named. You will find the oldest house in Paris on rue de Montmorency.
If you're there in the summer time you can take a stroll down the river while in the Marais (Elyse gives instructions on how to go to Ile Saint Louis). There are also many small hotels in the Marais. Don't forget to also to look at the place du Marché de Sainte Catherine, a charming little square, a good place to sit on a bench and have a picnic if you want to do this on the cheap.
Subscribe to the Podcast
Apple
Google
Spotify
RSS
Support the Show
Tip Your Guides
Extras
Patreon
Audio Tours
Read more about this show-notes
Episode Page
Categories: First Time in Paris, Paris, Paris Walks