Table of Contents for this Episode
Categories: First Time in Paris, Paris, Paris Walks
The Lure of Montmartre Examined: Is It All It's Cracked Up to Be?
Where is Montmartre?
Montmartre is a Paris neighborhood, 4.5 kilometers north of the Seine River and the center of Paris, in the 18th arrondissement.  It is perched on top of a couple of hills and is the highest point in the city of Paris, at 130 meters. The Sacré Coeur church sits on the top of the hill and can be seen from most places in Paris.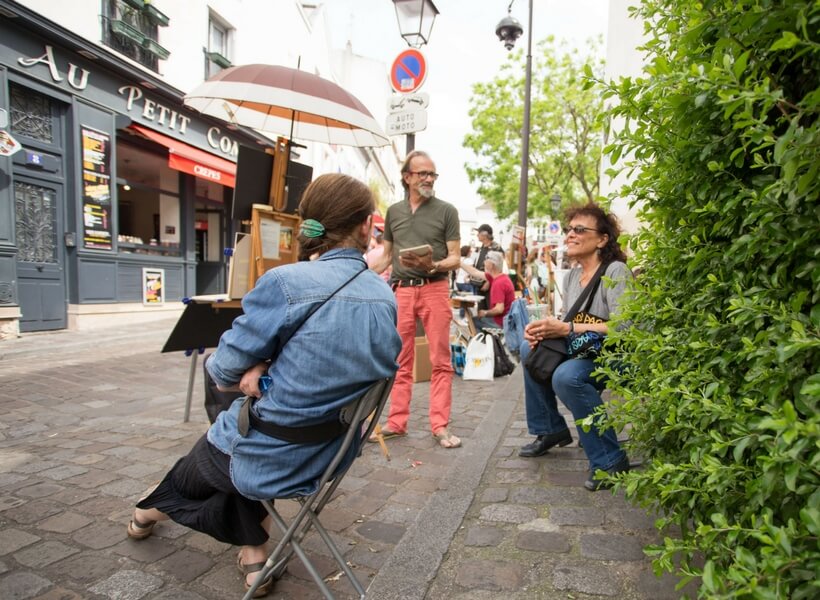 How to Get to Montmartre
You could walk up the rue des Marthyrs, then climb the 222 steps to get up to the Sacré Coeur. Or you could get on the métro, exit at the station called Abbesses, look around that area (Mur des Je t'aime), and then get on the funicular using the same metro ticket. The funicular drops you off near the Basilica.
Montmartre as a Neighborhood
Montmartre does not just attract tourists. There are lots of famous French entertainers (singers and actors) who live in Montmartre today. What attracts them there is the fact that Montmartre is still a small village with narrow streets, cobblestone pavement, a lot of ambiance and history. Maybe entertainers are people just like us?
Most tourists go to Montmartre to either see the Sacré Coeur Basilica or the artists who sit around and do drawings and paintings on Place du Tertre. But today we want to take you a little deeper into this neighborhood, starting with the history of how this neighborhood came about.
At the bottom of the hill south-west of Montmartre is where you will find the Moulin Rouge and some parts of that neighborhood, Pigale in particular, is seedy without being dangerous.
This is a pleasant neighborhood for French people today. Not as cheat as it used to be, but a good place.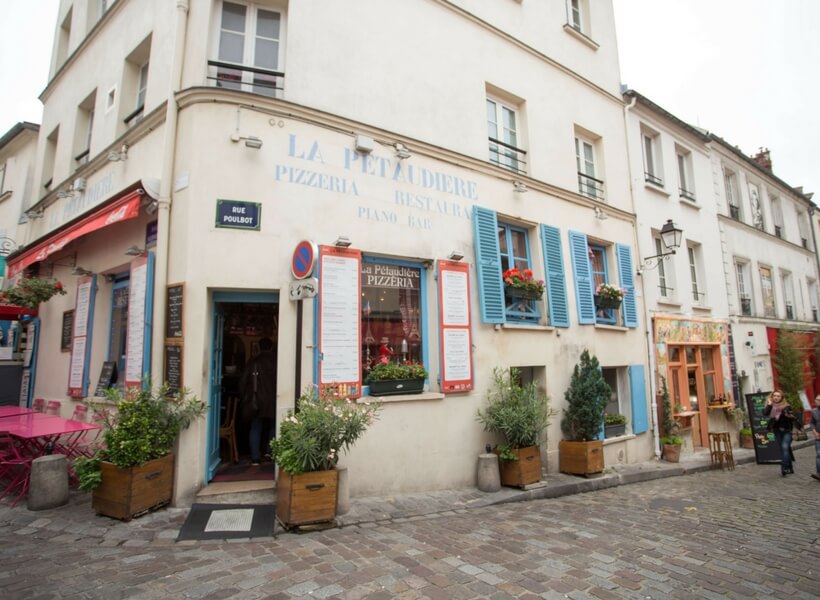 Montmatre, a Brief History
What does Montmartre mean? "Mont" means "mount" or "mountain". Let's not get carried away, it's a hill! But it is a mountain by Paris standards because Paris is quite flat overall.
Under the Romans and the Celts there was a sacred pagan temple near a church called Saint-Pierre de Montmatre, parts of which date back to the 12th Century.
Origins of the Name Montmartre
One of the reasons why this area is called Montmartre is possibly because of a temple dedicated to the God of Mars. This site was also the place where the first Christian Martyrs were killed, so the name could come from an old spelling of the word "martyr".
Martyrs at Montmartre
As the Roman Empire came to an end, Romans–who had been open to all sorts of religions so far–became very aggressive towards the Christian religion and killed many Christians all over France. Legend has it that the first martyrs who were probably crucified, died on the Montmartre hill.
Saint-Denis at Montmartre
Denis was one of the first Saints to Christianize the Paris area and Northern France in the 3rd century. Legend has it that he was beheaded at the top of the hill where Montmartre is today, and then went north while carrying his head for 10 kilometers, preaching the entire way. His walk ended where the Saint-Denis Basilica now stands. This church in Saint-Denis is a great place to visit if you've been to Paris many times and feel like you've run out of new things to do. There are many French Kings buried there and it is a great example of early Gothic architecture.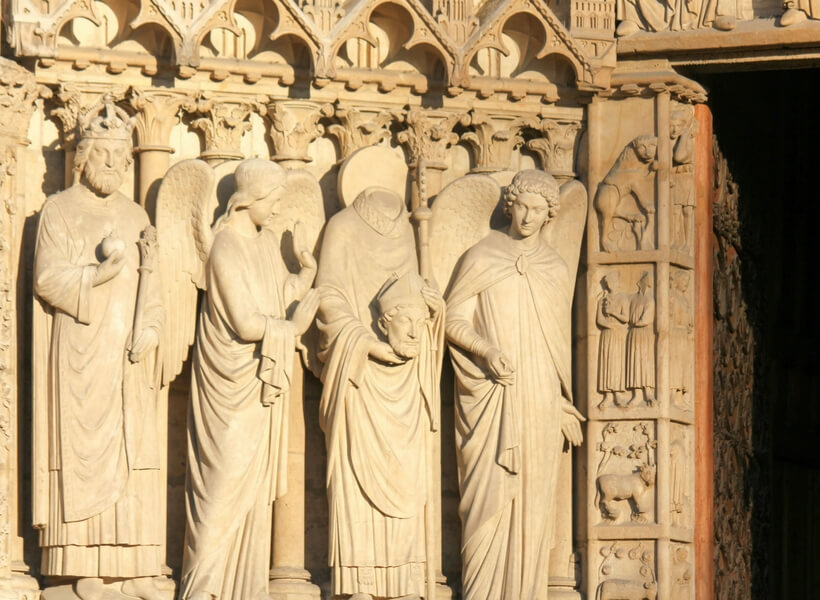 Montmartre the Village
Montmartre was not part of Paris until the middle of the 1900s, up until then it was its own separate village or commune. The people who lived in Montmartre were mostly working class and folks who had a trade. There were also gypsum mines under the Montmartre hill, so the area still has a lot of tunnels from when there were mines. Montmartre reminds Elyse of Greenwich Village in New York.
Vineyard in Montmartre
Montmartre used to have many vineyards, but the wine made there wasn't any good, so most got replaced by buildings. There is one vineyard left in Montmartre, and a wine festival to go with it. It usually takes place early October. For details search for "Fête des vendanges Montmartre". Thankfully, this wine festival includes wine from all over the country, so there is great wine to be had!
Montmartre during the French Revolution
Montmartre was an area strongly in favor of the French Revolution. French people know Montmartre because an important event called "La Commune" took place there. As you know if you've learned about the French Revolution, the decade before and after the Revolution were a hot mess. The people of Montmartre were frustrated and joined in the fight. Elyse explains some of the things that happened at that time (26′), but this is when Montmartre became annexed by the city of Paris.
How Did Montmartre Become a Place for Artists?
The spirit of rebellion and independence that the people of Montmartre showed during the French Revolution is what attracted artists like Renoir, Pisaro, Degas, Toulouse-Lautrec, Picasso, and many others to Montmartre. It was bohemian and a bit poor, edgy, and that's what artists were drawn to. One famous Cabaret was "Le lapin agile" which you can still see near the vineyard.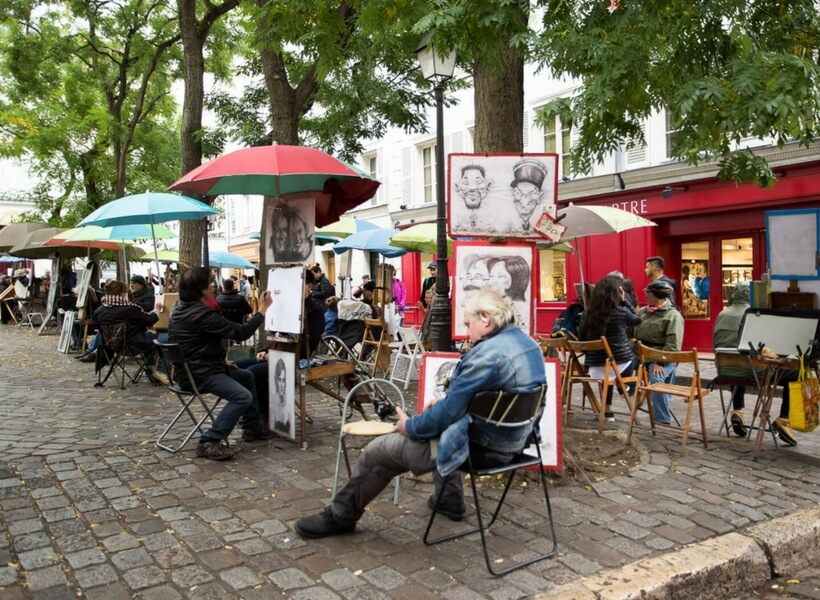 Le Mur des je t'aime or Wall of Love
The Mur des je t'aime is a wall of ceramic pieces with the words "I love you" written in every written language. It is a creation of Jehan Rictus. It is one of the best places in Paris to people watch according to Annie.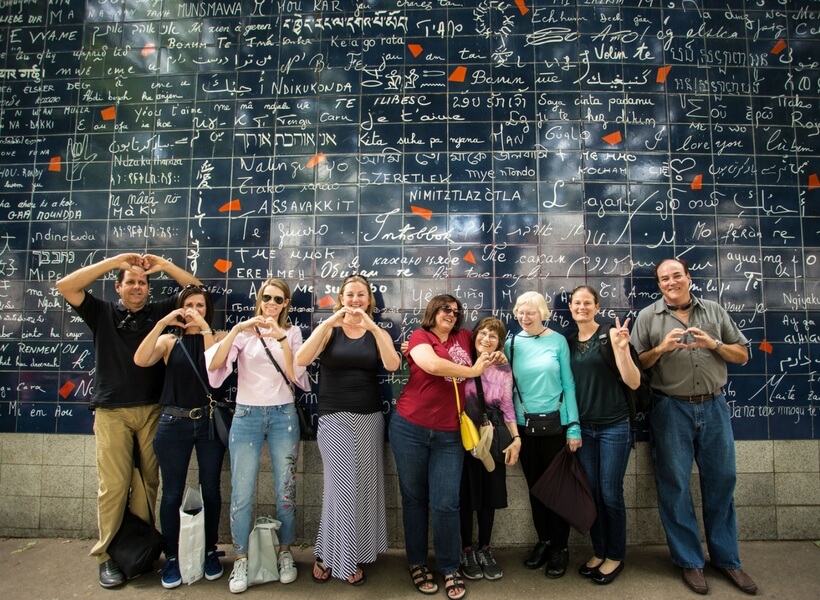 Le Passe Muraille on Place Aymé
In Montparnasse there is a statue of a man coming out of a wall. This statue was inspired by a book by Marcel Aymé, also called Garou-Garou. This is the story of a man who had the ability to go through walls. For the story, listen starting at 47'50".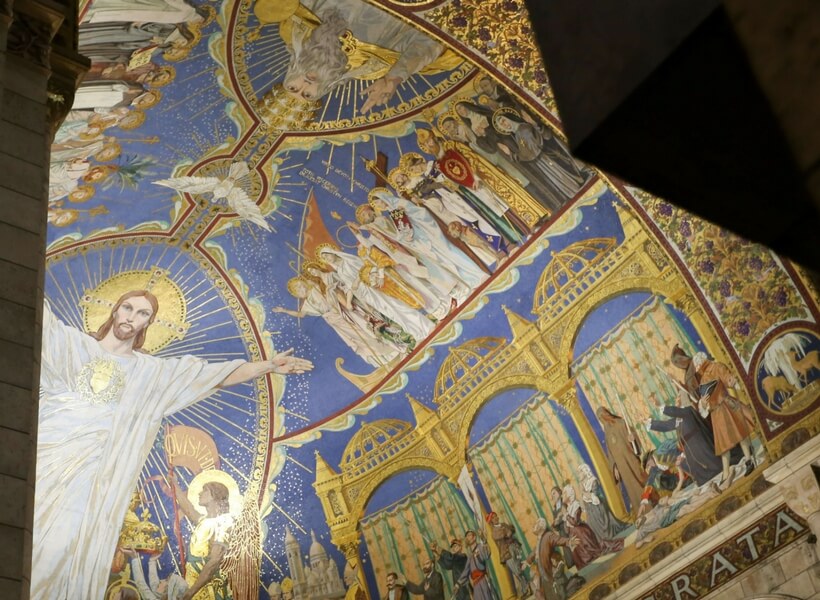 Subscribe to the Podcast
Apple
Google
Spotify
RSS
Support the Show
Tip Your Guides
Extras
Patreon
Audio Tours
Read more about this show-notes
Episode Page
Categories: First Time in Paris, Paris, Paris Walks