Table of Contents for this Episode
Categories: First Time in Paris, Paris, Paris Walks
Sometimes called Covered Passageway (passages couverts) or Galleries. Parisians all know about these places but tourists do not as a rule, so this is an off the beaten track to see in Paris.
The Ancestor of the Shopping Mall
Stores or restaurants that are privately owned. This is the ancestor of the shopping mall started in the 1700s. It was designed for the upper middle class or the rich. The first one is that still exists is from 1799, it is the Passage Panorama.
The first group was created around the Palais Royal two blocks behind the Louvre. The Comédie Française is also nearby.
A Brief History of the Covered Passageways
It was the home of Cardinal Richelieu for a long time who had an enormous palace built behind the Louvre as well as a park. After he died and the court moved to Versailles the land was taken over by a cousin of the King and it stayed in the hands of the Royal family for 70 or 80 years. Philippe d'Orléans took over the area, having changed his name to Equality Philip, a brother to the Duc d'Orléans, so a brother of the King. He had gambling debt and decided to start a commercial venture in order to make some money. He took this land and made the park into an open square with galleries and shops for the aristocrats. He was the first developer/speculator.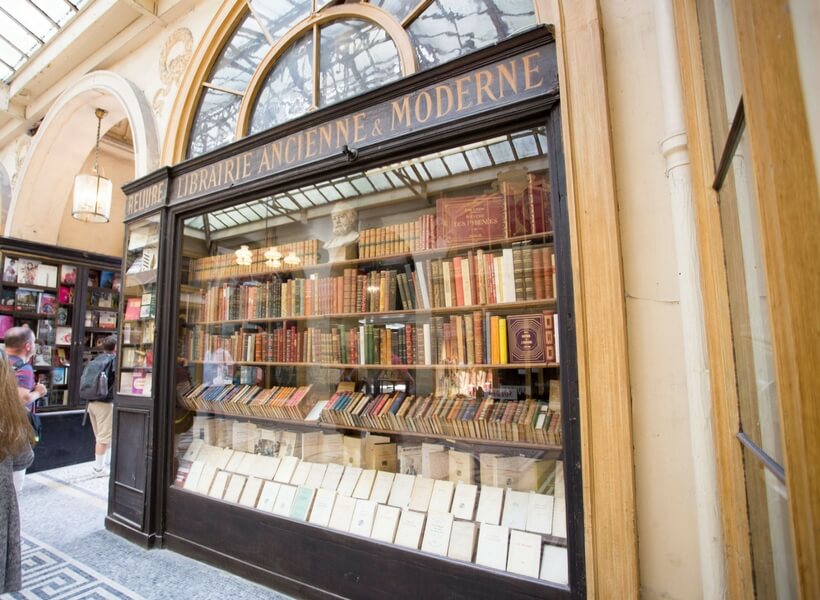 The Creation of Protected Commercial Spaces
It was a huge success. He created a classy place with cover from the weather. Eventually Philippe Egalité dies but by then he had inspired a lot of entrepreneurs. Soon after, in the 1780s people bought up most of that land that had been somewhat open. They took inspiration from the Palais Royal and took two mansions and created a covered street. In those days Paris streets were mud and quite awful. You could get around in a carriage, but as soon as you got out it was awful. They simply put a roof over the street with glass in the roof. The idea was to create a commercial space that was protected from the elements and could be closed off as a private street. They sold retail space inside. The first of such streets was quite small, 45 meters long. The longest was 190 meters long and is an L shape.
Most Covered Passages Date Back to 1790 through 1860
These covered passageways inspired architects and builders who created magnificent floors and ceilings, metalwork, stonework, etc. They were built between 1790 and 1860. There were up to 100 of them in Paris at one time. They were designed to attract well-off customers. They were emulated everywhere in France and Europe.
Baron Haussman and the Covered Passages
Haussman was responsible for modernizing a lot of Paris and create big wide boulevards and avenues. There were practical reasons for the mandate Haussman received, the army had to be able to march down those wide streets (1789 revolution), their size made guerrilla warfare more difficult, there was also a desire to create a healthier environment. Many buildings had to be razed in order to create those wide streets and so were covered passageways.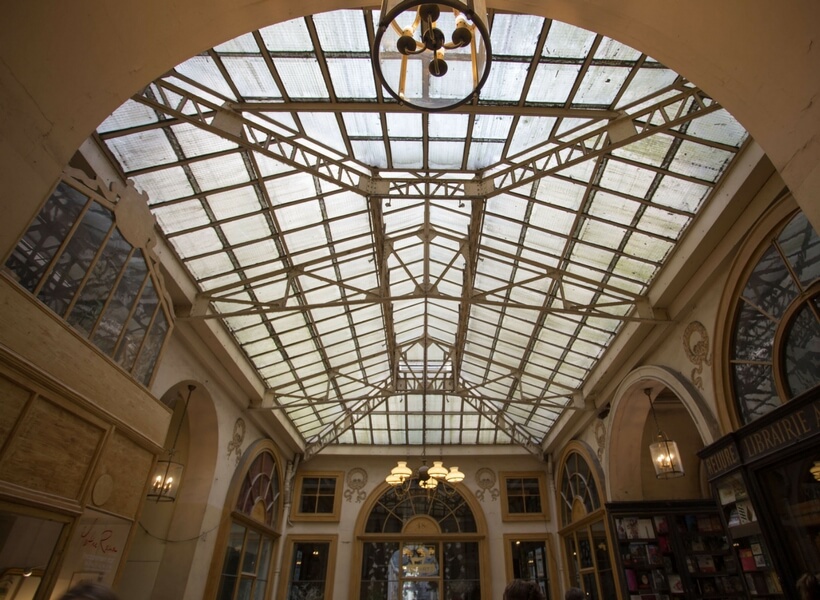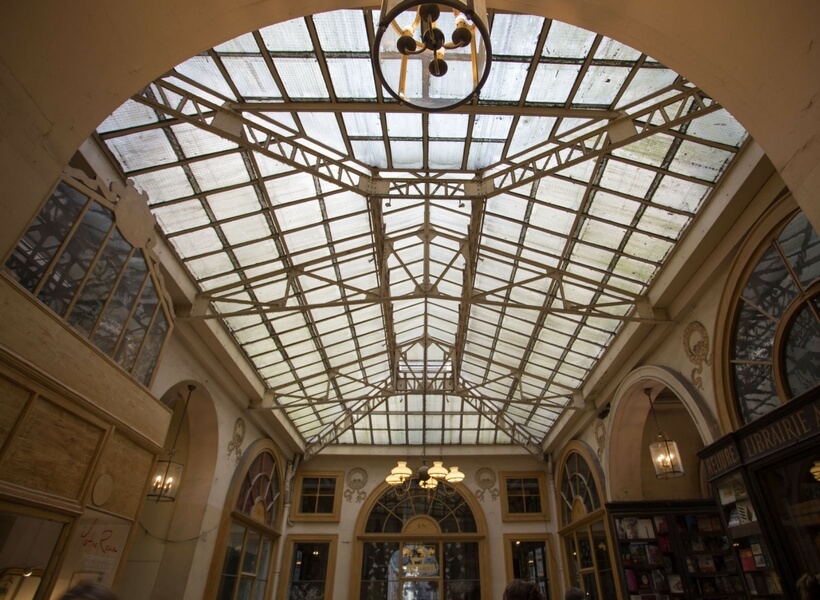 The Creation of the Grands Boulevards in Paris
In the center of Paris, 1, 2, 3, 4 and 5 arrondissements are mostly small medieval streets and few large boulevards. When you go to the second ring around Paris, you see mostly wide streets with a few small streets here and there. In the places where they destroyed covered passageways, they established what we now call the Grand Boulevards: boulevard Haussman, boulevard Montmartre, boulevard Poissonière, boulevard de Bonne Nouvelle, boulevard Saint Denis. Some of those follow the line of the old ramparts of Paris and are called Grand Boulevards. That's where the first department stores in the world were also created. Galerie Lafayette is on the Grand Boulevard right next to those covered passageways, and in many ways Department Stores replaced Covered Passageways. Le Printemps is also another major Parisian department store, and so is Samaritaine. The word "galerie" in Galerie Lafayette" reminded people of the sort of chic place they were building.
There Are 17 Covered Passages in Paris Today, Down from 150!
There were as many as 150 covered passages in the golden days, now there are 17 left. It's possible to see them all in one day if you get up early and keep going all day. Elyse tried to see some of the oldest ones and decided it's not necessary to see them all. The passageways that are left are in three neighborhoods and they are close to the department stores.
The Covered Passages Near Galeries Lafayettes and Printemps
Those are both nice and easy to get to.
1799 Passage Panorama, oldest one, known for framing shops and lots of restaurants.
1847 Passage Jouffroy, one of Elyse's favorites, lots of bookstores, jewelries, first one to have and entirely metallic and glass structure, has heated floors, a great salon de thé also. One of the developpers was Grévin, the man who started the Musée Grévin (wax museum) which is right there.
1847 Passage Verdeau (not "un verre d'eau" a glass of water).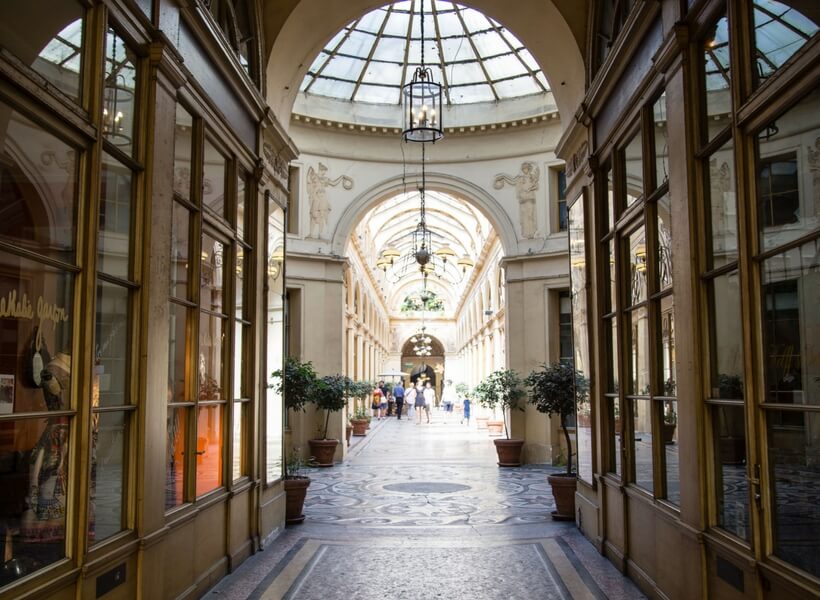 The Covered Passages Near the Palais Royal
Those are very fancy!
Galerie Vivienne
Galerie Véro-Daudat
Those passageways lend themselves well to taking a stroll (flâner) and be seen. So those are perfect for people who like to look around at fancy stores.
Grungy Covered Passages
There are some that are in disrepair and more grungy. There are many left near the boulevard Saint Denis, Strasbourg-Sébastopol metro stop, Passage du Caire has more run down stores.
Passage Brady is long and is entirely used by India and Pakistan spices, food, clothing, from that part of the world.
Galerie Colbert belongs to the National Public Library and looks grand. Passage du Grand Cerf is really beautiful between rue Saint Denis and place de la République.
Passage des Princes
It's worth going to visit some of them if you have the time. Some around Saint Denis are not as nice but still worth it. Some were known for housing theaters and that's where the expression "théâtre de boulevard" comes from the fact that these theaters were homed in the passageways on the Grands Boulevards. This is a great area to visit if you've been to Paris a few times and you want to try something new.
Passage de Choiseul, had theaters and cabarets, 1825, but the theater was turned into a bank.
Subscribe to the Podcast
Apple
Google
Spotify
RSS
Support the Show
Tip Your Guides
Extras
Patreon
Audio Tours
Read more about this show-notes
Episode Page
Categories: First Time in Paris, Paris, Paris Walks