Table of Contents for this Episode
Categories: Burgundy Area, French Food & Wine
Discussed in this Episode
Beaune Gastronomy
Beaune Hospices
Beaune Wine Auction
Cycling in Burgundy
Dijon Mustard Manufacturing
Conversation with Matthew Gamache
Matt and his wife first visited the area 19 years ago at a time when they had little money and didn't know much about what to see. But they wanted to do three things:
See the big cities
See as much as they could quickly
Travel by train (they were too young to rent a car)
They really enjoyed Beaune because it's a quaint place where you can see the countryside, it had wonderful food and lots of beautiful things to see. When they came back to France on another occasion, they decided to make a longer stop in Beaune.
You Can Easily Get to Beaune by Train
Beaune is really easy to get to by train, but once you are there, having a car would be an advantage so you can go out to the vineyards and see places like the Abbey de Cluny which are nearby, but not right in Beaune. Matt points out that if you're not going to stay in Beaune more than 2 or 3 nights, you can get around to the vineyards on bicycles relatively quickly.
Annie's Experience in Beaune
Annie spent 24 hours in Beaune summer 2016, driving in from Paris. Here are a few of her observations:
You don't see a lot of vineyards as you approach Beaune on the freeway from the north. You have to go out and look for vineyards. That is because they are choosy on where they grow grapes in Burgundy.
A Few Facts About Beaune
Beaune is a posh city in a department called Côte d'Or, #21. There are approximately 22,000 inhabitants in Beaune.
Beaune is a stop on the TGV line between Paris and Nice, so they get great train service. There is a small airport in Beaune, but it has no commercial flights.
The city center is very small, you can probably walk the whole thing in one hour.
Beaune is part of a region called Bourgogne Franche-Comté. It is 45 km south of Dijon and 150 km north of Lyon.
It came across to me as a posh city because it's a very clean city, but also it has no cheap housing. Another hint of wealth is that there are wine stores everywhere.
Food and Wine in Burgundy
Matt loves the food in Beaune, he always finds interesting dishes that are new to him. Matt had goat cheese for the first time in Beaune and he was blown away. They also had this dessert that looked like an éclair, but chewy and dusted with cocoa powder. They didn't know what it was called so they named it "the devil dog".
When they went back to Beaune on their second trip, they tried Époisses de Bourgogne and Délice de Bourgogne and those are his favorite cheeses in the world. When he and his family came back to France for a third visit (see Trip Report Loire Valley and Dordogne, Episode 82 and Trip Report Provence and Chamonix, Episode 83 which did not include a visit to Bourgogne this time) they realized that you can't get many of their Bourgogne favorites outside of the region.
Wine Sauces and Œuf en Meurette
You can get Burgundy wine anywhere in France, but not those specific cheeses or desserts or dishes such as Œuf en Meurette.
In Burgundy they use a lot of red wine sauce, which is really flavorful.
At the grocery store, Annie could not find wine under 7€ which is unusual for France.
Restaurant Recommendation: Annie recommends you try a restaurant called Le Raisin Gourmand, 164 route de Dijon, 21200 Beaune. Closed on Tue night, Wed night and Sunday all day.
Beaune Historical Background
The Duc of Burgundy, Eude III granted the city of Beaune the right to collect taxes in 1203 according to a written charter preserved at the Beaune municipal archives.
Hospices de Beaune
The Hospices de Beaune were founded in 1443 by a very rich nobleman called Nicolas Rolin. He married his third wife, Guigone de Salins, when he was 47 and she was 18. They had 3 children together. She pushed him to establish a hospital in their city. Back then hospitals were religious institutions founded and run exclusively by religious orders. Secular people did not start or run hospitals, but they did. Having said that, the couple was very religious and 30 years later they also started a religious order for the purpose of running the hospital (it was called "les sœurs hospitalières de Beaune"). Nursing was a religious calling and to this day in England you call a nurse "sister".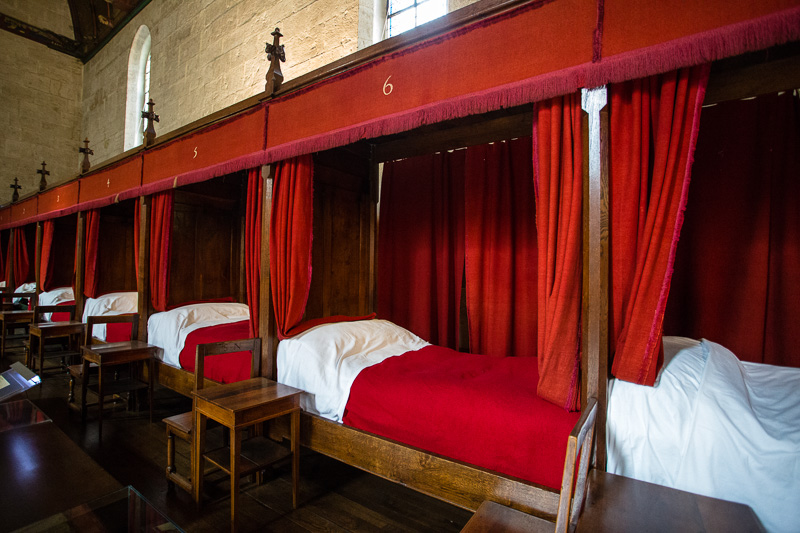 Don't Miss the Beaune Altarpiece
Nicolas Rolin commissioned the stunning altarpiece called The Last Judgement by Flemmish artist Rogier van der Weyden which you can see at the Hospices.
Guigone de Salins continued running the hospices after her husband's death and it kept on going as a medical institution until 1960, it has now become a museum.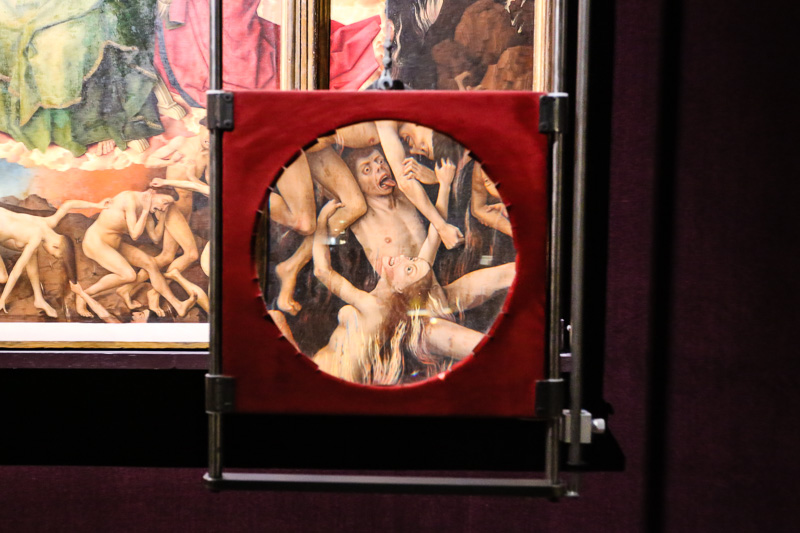 Prestigious Vineyards
The Hospices also owns prestigious vineyards and it is where the famous Bourgogne wine auction is held every year the 3rd Sunday of November: Vente des Hospices de Beaune, which is run by Christie's. Essentially, the charity that Nicolas Rolin and his wife Guigone started continues to this day, but now it's a big business that owns a hospital, a retirement home, prestigious vineyards, and the Hospices de Beaune museum.
All told there are 700 employees and the wine auction serves as a price indicator for prestigious wines worldwide. Some years the auction brings in one or two million euros, but some years it's as much as 11 million euros for the same wine. Yeah, big business!
Catholics and Protestants
During the wars of religion (1568) Beaune, which was heavily Catholic, was ransacked by Protestants with the financial support of the English. They only stayed for 2 days but did a lot of damage to the city.
The winter of 1709 was terrible in Beaune. It got so cold that even large wine barrels froze solid. This weather event killed a lot of people and caused a lot of destruction in nature too. Normally the weather is mild and wet.
In 1884 in Beaune they founded the first school dedicated to wine exclusively. To this day they have a Wine High School (Lycée Viticole de Beaune) where you go learn how to be a wine grower and wine maker. Wine is serious business there.
Bicycling around Beaune and Wine Tasting Etiquette
Matt enjoyed the fact that he was able to rent bikes from the bike shop in Beaune and ride to nearby vineyards. If you ride north from Beaune, within 10 minutes, you will get to small towns with beautiful vineyards. If you drive up the D18 road, you're almost immediately riding in the countryside and surrounded by vineyards. The great thing is that the terrain is flat, there's really no traffic, and you can bike from town to town, stopping here and there to taste wine.
Matt was a little bit intimidated to stop for tastings at the time, but the rule is if a place has a wine store, they want people to stop by. They know you'll buy a couple of bottles at best, but that's OK. If there isn't a store or a sign inviting visitors to stop by, then don't. It's as simple as that!
On the D18, you'll get to a town called Pernand-Vergelesses. If you go right in the town, you'll go up a pretty big hill with a monument at the top of the hill, and you'll get a beautiful vista from up there. It's also a wonderful place to have a picnic. This place will give you the feel of isn't it wonderful to be alive! Big cities are great, but small villages with beautiful views and great food are even better! It's small places like this one that makes travel great.
Jason and Robert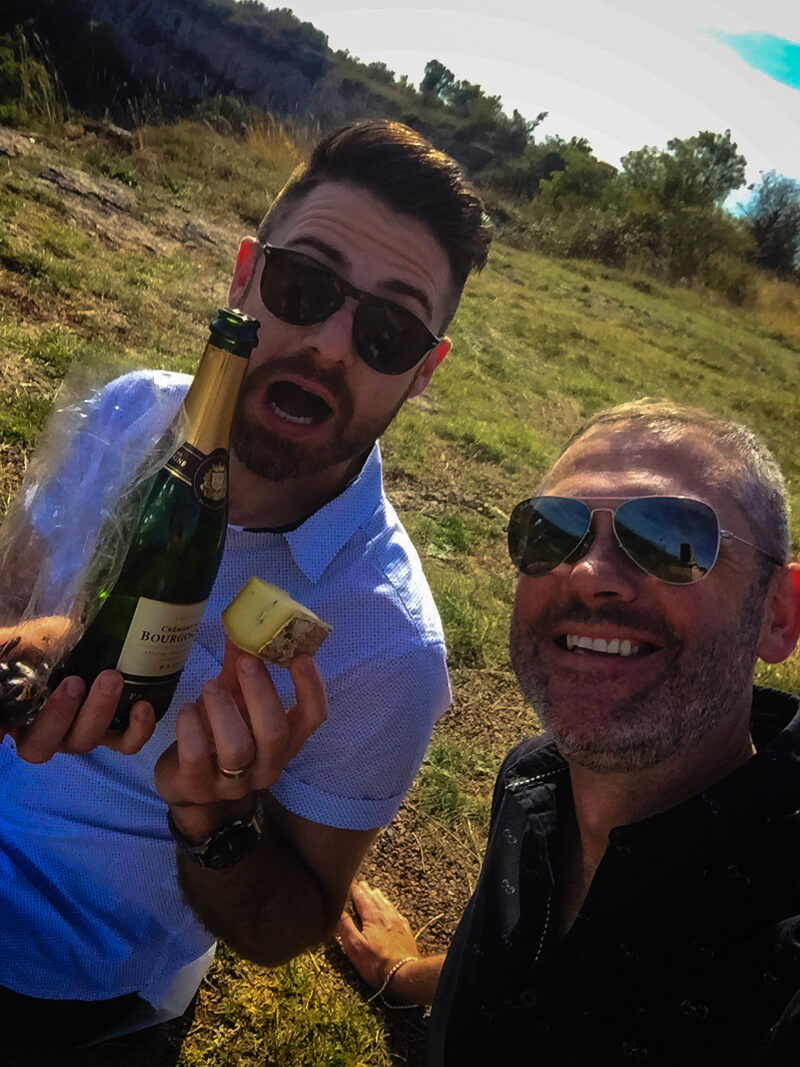 Jason and Bob live in Rochester, NY and came on the show to tell us about their honeymoon in France. They chose France because neither of them had ever visited France and they both wanted to give it a try. They wanted to find a good compromise between an active and passive vacation. Their visit to Paris was very active and Burgundy was a lot more relaxing, so they found the right balance. Today we concentrate on what they did in Beaune and Burgundy.
They are not wine experts or wine snobs, but they know what they like, such as French-style Chardonnay, Pinot, rosé in Spring and Summer, have enjoyed wine over the years. They saw that Beaune was at the center of a fantastic French wine region, so they decided to use it as their base to enjoy the area.
They came to Beaune on the TGV train and made the decision that they were going to concentrate on Beaune rather than Lyon. They rented a car in Lyon and made their way to Beaune via Macon. They found driving in France easy and the landscapes beautiful. Most people don't realize how rural France is. France only has 3 cities over a million: Paris, Lyon and Marseille. Otherwise it's mostly medium size cities and lots and lots of tiny scenic villages.
That's what makes France so charming. But to see most of these small villages, it is much easier if you have a car. Villages in France are hundreds of years old and built around the craft of wine-making or other local food craft, and that makes them even more enjoyable.
For accommodation they rented an Air B&B apartment near the mustard factory (La Moutarderie Fallot). It was cute, recently renovated, and well situated. It was also reasonably priced.
On their first day in Beaune they walked around the city and visited the Hospice de Beaune, which they really liked. The audio tour is done well, you can choose to press for more information or move on to the next thing if you wish. This feature makes it easy to go in-depth. The building is amazingly well preserved. It's not very big, it won't take longer than two hours even if you linger.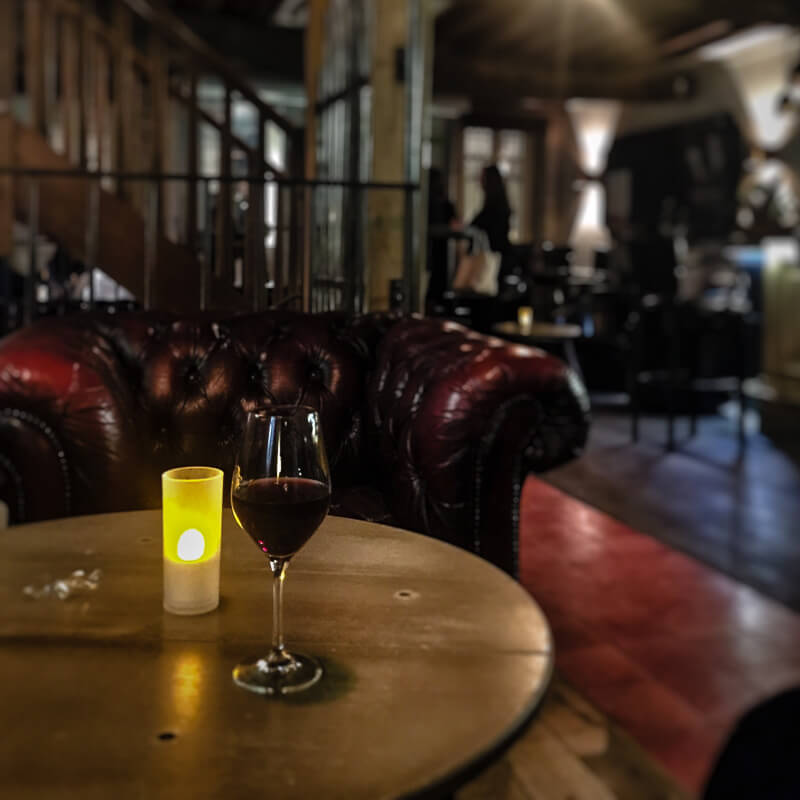 The wine auction in Beaune
The wine auction happens in November every year in Beaune (Nov 18, 19, and 20 for 2016) and are one of the pillars of the wine industry world-wide. When you visit the Hospices de Beaune, at the end of your visit, you will see some items related to the wine auction.
When visiting different vineyards in the Beaune area, vintners will share a lot of information about the specific plot of land the wine comes from, how long the plot has been in the family. And it turns out that some families own a row or two of grape vines, but the wine is so valuable that it's worth it.
Patriarche Pere & Fils tour and wine tasting. This particular winery has 5 km of "caves" (cellar in English) and they hold 3 million bottles. There are some video presentations at the beginning of the tour, and then you can do a self-guided visit and wander around all their bottles, and taste some 19 different wines at your own leisure. It was not crowded and very pleasant. The tour does not go into the wine production process.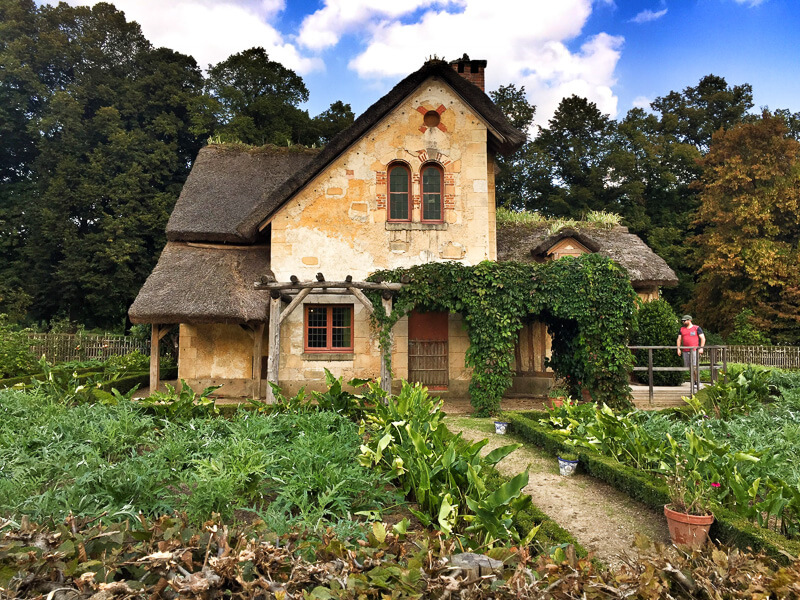 They had a glass of wine at Magnum Bar à Vins, then dinner at La Concorde on place Carnot. La Concorde was OK, but they much preferred the food at La Paupiette. A place Annie recommends is called Raisin Gourmand, it is NOT in the center of Beaune, but worth the short drive.
Côte d'Or and Southern Burgundy
The Côte d'Or is beautiful, especially at harvest season. They stopped at the village named Pommard, where they ran into a group of people who were dressed up and clearly had had a lot to drink. They didn't realize it right away, but they were celebrating the end of the harvest. Thankfully, they weren't driving but went around in a bus as a group.
Then they visited a vineyard in Volnay called Albert Boillot. The wine maker was really nice and very informative, and his wine was very well priced aroudn 25€. While this sounds reasonable to Americans, it is expensive for France because French people are cheap when it comes to wine.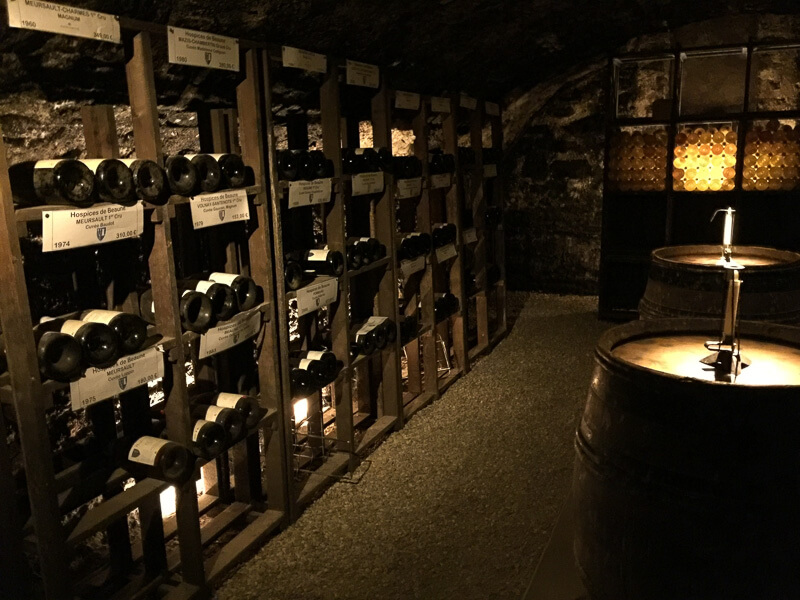 Next stop: Meursault. Meursault is a particularly beautiful town in its own right. Meursault has several restaurants and hotels, it is immaculate, it feels like a miniature Beaune. There are signs that indicate a bike tour in Meursault, and Bourgogne definitely lends itself to biking around, especially if you are going to spend a few days in the area. For instance Beaune to Volnay is only 6.1 km and Meursault to the center of Beaune is 9 km. A lot of it is flat, but not all. For instance, Volnay is up on a hill. Apparently the boulangerie in Meursault is wonderful, make sure to try it if you're there!
It is possible the do a one-way bike tour starting in Beaune, then Pommard, Volnay, down to Meursault, Puligny-Montrachet and then take the train from Chagny back to Beaune, with your bike on the train. That would be 20-30km total ride depending on if you follow butterflies or not.
Château de la Rochepot
It's a magical vista, this château appears as you go around the Burgundy countryside. The château is perched up with the village at the bottom with a cliff down to the town, just like in the storybooks. This one is a very small castle, you do have to hike up, but it's well-worth it. There is a small refreshment stand there, you could have a small lunch, soft drinks too. They were the only people there.
They were given explanations to read in English, but it's mostly in French, even though it's possible to understand a lot even if you have limited French. If you're in the area you should really stop by, it will probably only take 1/2 hour or 40 mn to visit, but it's a special little place with great views, especially from the top of the tower, and it's only 7 or 8 €.
Hameaux d'Ochres near Baubigny
Next, they took the D171 to get to a place called Hameaux d'Ochres where there is a lovely cliff with a view and they had an impromptu picnic there with some Crémant de Bourgignon, cheese and bread. Crémant de Bourgignon is the local sparkling wine, it is dry and pleasant, great for picnics!
Their last stop for the day was at Saint-Romain, the place where they manufacture a lot of wine barrels. This village is not as scenic, more of a manufacturing place. And since it was getting late, they went back to Beaune for dinner at a restaurant called Le P'tit Paradis, a small restaurant with wonderful service, a great way to end the day in Beaune! The food was wonderful there.
Côte de Nuit
The next day they went north to Côte de Nuit, but first they visited the local museum, a mustard museum called La Moutarderie Fallot. As part of the tour they explain details of how the mustard is made and various regulations as to where the raw materials can come from for the various grades of mustard. The process is very high-tech and you can taste the various kinds of mustard they make. You also get to make your own mustard with a mortar and pestle! The tour is done in both English and French.
They drove to Aloxe-Corton and had a wine tasting at Château de Corton André, then drove through Nuit Saint-Georges without stopping, and went as far north as Chambolle Musigny, then wine sampling at Caveau Des Musigny (they do get around!), drove around northern west slope back south, to Pernand Vergelesses. Our Lady of Good hope high up in that town has a stunning panorama.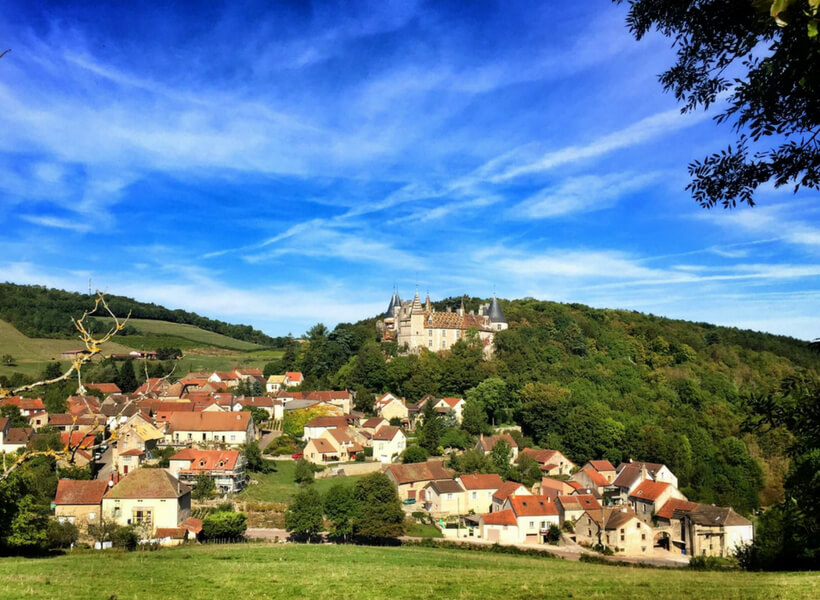 Subscribe to the Podcast
Apple
Google
Spotify
RSS
Support the Show
Tip Your Guides
Extras
Patreon
Audio Tours
Read more about this show-notes
Episode Page
Categories: Burgundy Area, French Food & Wine