Categories: Lyon Area, Provence
Let's go to Provence and Chamonix with Matt, his wife and two daughters. Matt tells you what it takes to have a grand time in France with your children and shares what their greatest day in France was and why.  Let me warn you: it is NOT on any of the top 10 lists you may have read, this is one of those places that turns out to be a wonderful surprise.
French Tip of the Week
Hopefully this is not a travel French phrase you'll need, but this is not to say that we don't have attractions made just for suckers in France!
"attrape-couillon" = something that catches suckers.
Provence and Chamonix Episode Highlights
4:35' They had to drive through Toulouse, why didn't they stop?
5:30' If you park your car somewhere in France loaded with luggage, will you get robbed? How can you avoid that?
7:10' Why is the speed limit around cities so low?
9:45' The Rest Stop Matt mentions near Carcassonne is called Port-Lauragais.
11:30' Tarrascon, not a touristy city, but a central location.
13:10' Provence Markets, Six kinds of tapenade and Brandade de Morue.
15:00' Beaucaire, its market, differences between life in Provence and the South West of France. Cicadas are loud indeed!
17:10' Carrières de Lumière at Baux de Provence.
21:10 Saintes-Maries-de-la-Mer. You could also get on a Tiki boat to see the Camargue from the marsh. The church is a must-see if you go!
24:20' Vaison-la-Romaine, that one was a bust for them because the kids had seen enough Roman Ruins! They weren't impressed with French pizza either.
25:30' Côte du Rhone wine driving tour and the town of Suzette. Rosé Côte du Rhone. How wine is priced in France and what wines get exported.
28:00' Arles and the Bull Games. Those are no-kill bull races where men run around trying to get ribbons off the horns of the bull. Family-friendly atmosphere.
31:00' Parking in France is a lot easier when you know how to parallel park!
32:15' French Tip of the Week: "attrape-couillon" = something that catches suckers.
33:00' Lubéron. They intended to see Gordes, Joucas and Roussillon, but Gordes was too crowded, there was nowhere to park at Abbeye de Sénanque so they just saw it from the road. Parking can be a problem in those super popular areas. They stopped at Joucas and enjoyed it, there is a nice playground there.
36:09' Le Sentier des Ocres in Roussillon, this is a ocre cliff hike, 45mn, fairly easy.
38:35' Pont du Gard and Haribo Museum Kids weren't impressed with the bridge, we discuss some ways to make it better.
42:00' They rented an apartment right in the middle of Annecy and loved it!
44:00' Tartiflette and Reblochon and many other cheeses such as Gruyère, Tome de Savoie, Beaufort, Cantal. What were the kid's favorite foods on this trip? Saucisse de Toulouse, Merguez.
48:00' Luge, cows and bells. How you buy local cheese or wine  from locals in France.
49:20' How 4th of July and Bastille Day events compare. Hint: Bastille Day isn't much to write home about!
52:00' Chamonix, Aiguille du Midi and Mer de Glace, magical activities. The other side is Le Brévent and Flégère, this was probably their favorite day in the whole trip!
FOLLOW US ON:
Discussed in this Episode
Places: Provence and Chamonix
Toulouse
Port-Lauragais Rest Stop
Tarrascon
Beaucaire
Carrières de Lumière
Château des Baux de Provence
Côtes du Rhone Wine Driving Tour
Saintes Maries de la Mer
Tiki in Camargue
Vaison-la-Romaine
Suzette
Arles
Bull Games in Arles
Van Gogh Easles
Lubéron
Abbey de Sénanques
Joucas
Le Sentier des Ocres in Roussillon
Le Pont du Gard
Musée Haribo (Uzès)
Annecy
Alpine Slide
Chamonix
Aiguille du Midi
Mer de Glace
Le Brévent
La Flégère — Foods: Tapenade
Brandade de Morue
Bergerac Wine
Tartiflette
Reblochon Cheese
Gruyère
Beaufort
Tome de Savoie
Cantal
Merguez
Subscribe to the Podcast
Apple
Google
Spotify
RSS
Support the Show
Tip Your Guides
Extras
Patreon
Audio Tours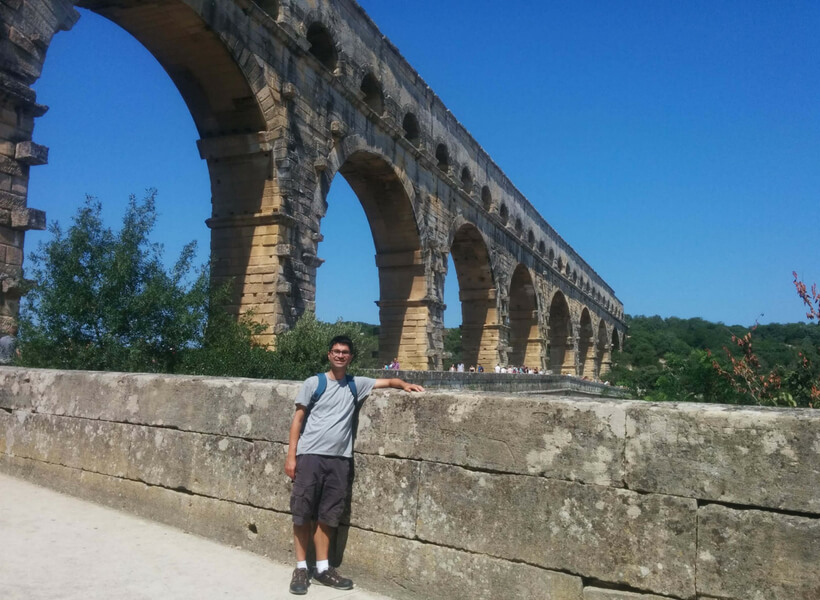 Read more about this episode
Guest Notes