Categories: Family Travel, France How To, Provence, Toulouse Area, Trains in France
Discussed in this Episode
Toulouse
Carcassonne
Montpellier
Marseille
Aix-en-Provence
Toulouse to Marseille outline
From Kelly Young
We have been home a week now and I  must say, I miss France already! I knew that I would enjoy our trip but didn't know I'd fall in love and not want to leave! LOL.
Toulouse
This was our first impression of France and Toulouse will always be special for me because of this. Toulouse is such a charming and beautiful city. We took a 1/2 day guided tour with Elyse on our first full day in Toulouse and had the most enjoyable time. Elyse is fun, enthusiastic, and full of stories and knowledge of the area. I'm so glad we took the tour!
After we left Elyse,  we went to the archaeological museum. We were lucky enough to get there at a time when a children's program was going on, so were able to listen in a catch a little bit of the presentation with the little French we had to get the gist of what the presenter was saying. They were young children around 3-5 so he was talking very slowing and using simple words, which was exactly what we needed!
Google Maps is not great in Toulouse
We discovered that Google Maps is useless is Toulouse when walking! We got lost on the way to l'Entrecote, and spent a good bit walking around areas we may not have seen otherwise. Especially walking after dark! Apple maps is much better at directing when walking. We found the hotel, shop, & restaurant/cafe staff to be very pleasant and very helpful. When we didn't have the French words, they usually spoke some English or we would muddle together through the communication barrier.
The troubles with trains in France
The train station however was another story! Our train was cancelled and figuring out how to book another train on the fly, then trying to navigate the train station and all that was a nightmare. Even though we had your tutorial, it was still a super stressful situation. The train station was super busy and we had a hard time finding an employee that spoke even some English and with it being so busy, was just hard to find someone who could help us.
Luckily my youngest was paying attention and figured our what voie we were to go to, but figuring out what car, etc. was a challenge. But in the end we figured it out and hopped on the train seconds before it left! Getting off the train in Carcassonne was another lesson learned!  We have decided to return to Toulouse this summer and spend a few weeks getting to know the city better.
Carcassonne
Arrive on the train…long story short, my family doesn't listen to me and when I said this is our stop, get the bags and let's hop off they just starred out me! They didn't think we should get off because nobody else in our car was. It took another person in very limited English telling them to hurry up or the train would start going to get their butts moving! 3 of my group had to jump off a moving train and the last one fell, luckily rolled away from the train and not towards the moving train!
Then we had the train staff yelling at us in French and they didn't speak any English! Definitely a "stupid Americans" moment! Trains in France are not at all like the trains in California! Needless to say, lesson was learned! By then end of the trip, trains were still stressful, but we learned how to navigate successfully! Carcassonne was a fun overnight stay. Like you had mentioned, most things were closed, but there were some shops open and we did manage to have a delicious cassoulet and tour the castle and torture museum! Glad we made the stop there on our way to Narbonne and will bring our grandson back when he comes with us in the future.
Narbonne
We had a lovely time in Narbonne. We stayed in a converted convent that is still under construction in some areas. It had a small rooftop terrace and provided a beautiful view of the city. We found the people lovely and surprised that we, as Americans, had chosen Narbonne to visit on our holiday. We found the churches in Carcassonne & Narbonne absolutely breath taking.
The kids by this point were completely pooped from all the walking we had done thus far and were not as excited as my husband an I were about these things. Who knew that the old folks would run circles around the kids! We never made it to the beach in Narbonne because jet lag set in for me and I was the one that was going to drive us to the beach. We decided to just meander around the city, do a little shopping, and visit a cafe or two.  Although we enjoyed our time in Narbonne, we have decided this is a good place to visit but we wouldn't want to live there.
Montpellier
I think arriving at the train station versus the airport in Montpellier provided a different first impression of the city. We we walked out of the station to the bustling atmosphere, with city trams going by and so many people everywhere. Our apartment was a 15 minute walk from the train station, which weaved us through busy streets of shops and  a few plazas that were busting with activity.
We stayed in an apartment right off of the Place du Marche aux Fleurs. There were 5 or 6 cafes on the square that were full to the brim with people. We dropped our bags and went downstairs to enjoy a drink and snack.  My daughter and her boyfriend left for home the day after we arrived and that left my husband, my youngest, and me to venture around the city.
We spent the rest of our time in Montpellier visiting the Fabre Museum. (Which we loved!), and some of the tourist office walking tour and then explored on our own. We fell in love with Montpellier too! Before coming to France we hadn't even considered living in a "big" city. Our vision was always the "suburbs" or a village or town close to a bigger city. However, after visiting we have decided that we could easily enjoy living in the city proper of Toulouse or Montpellier.
We again met lovely people everywhere we went. I feel there was more of a younger population to Montpellier, or at least in the city center where we were staying. This appealed to my daughter. We even met some students of the University that were from South Carolina taking French studies in International business in Montpellier. This was an added bonus for my youngest to see. We are trying to steer her toward going to University in France. We will come back to Montpellier this summer and spend a few weeks her too.
Marseille
By the time we got to Marseille we were exhausted! First impression leaving the train station was this is a much bigger city and different vibe than everywhere else we had been. We opted to take a taxi to the Vieux Port from the train station and encountered what for me was similar to NYC traffic. In fact, we immediately got the NYC vibe off of Marseille. We stayed right off the port on the top floor with a fabulous view.
We immediately noticed a lot of ambulance activity that we didn't notice in the other cities. I've never been anywhere, not even NYC, where I heard as many ambulance sirens daily & nightly! After settling into our hotel and walking to go get dinner, we came across right outside our hotel, what my daughter swears was a dead body being put into an ambulance. I didn't see it and can't for sure confirm that, but we were very cautious in our adventures in Marseille to say the least.
We took a boat tour of the Calanques because they were sold out of tickets for the day to Cheateau d'If. We learned that our idea of calm seas and French idea of calm seas are entirely two different things! It was a 2 hour white knuckled adventure! Which we won't be doing again! Hindsight, we should have visited the church on the hill! Which I wanted to do but we never managed sadly. We took a day trip to Aix-en-Provence. We loved Aix and found taking the bus there was very easy. We did  most of our shopping there and had an excellent meal at a little Lebanese place.
Aix is in consideration for the move, but I'm  not sure will will visit again this summer.  Marseille definitely has a different feel than the other cities we visited and it definitely wasn't our favorite, but I still liked it and would visit again. There is lots we didn't get to see due to time and simply being too pooped to hustle and get everything in. We also were a little intimidated by the stories of it being a dangerous city and coupled with the abundance of ambulances we saw. We didn't venture out much on foot from the Vieux Port. I'd like to return with a little more knowledge of the area or perhaps visit with a local or someone who knows the are very well. I think there is a lot more to explore that we would love. It'll definitely be a place were return to visit and explore, but we are not interested in a permanent move to Marseille. I would encourage anybody that expresses an interest in Marseille to go and visit. We found the locals here to be the most friendly and genuinely interested in us and where we were from and why were there.
My husband and I have fallen in love with France. In fact, we have even opened up to the possibility of exploring more cities before we settle down and start house hunting. But we are Californians and will probably not want to venture too far from the South of France since the climate is the most similar to what we have here.
You had mentioned when I purchased our itinerary that you'd like to have me on for a trip report. I do have more detailed stories and adventures I can expand upon and would be happy to be on your podcast. Even if that doesn't work out, I wanted to let you know how our trip went and to thank you again for your services with the itinerary. It was extremely helpful in our travels and I referred to it often. The places we didn't go that you recommended we will definitely visit on a future trip.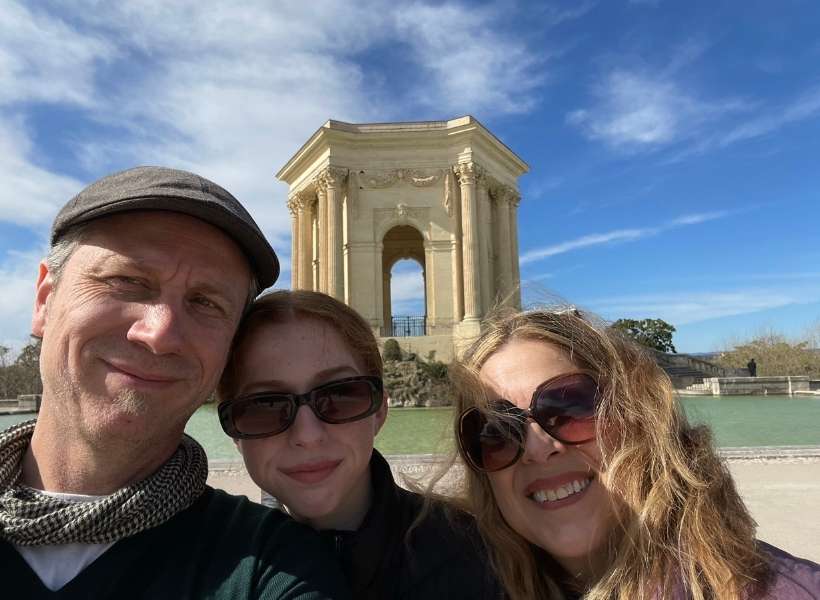 Subscribe to the Podcast
Apple
Google
Spotify
RSS
Support the Show
Tip Your Guides
Extras
Patreon
Audio Tours
Read more about this guest-notes
Episode Page
Transcript
Categories: Family Travel, France How To, Provence, Toulouse Area, Trains in France