This post contains affiliate links, meaning I get a commission if you decide to make a purchase through my links, at no cost to you. Please read my disclosure page for more details.
Categories: Alsace and Lorraine, Champagne Area, Hauts-de-France, Normandy & Brittany, Off the Beaten Track in France
On today's episode of the podcast we go on a quest for the Maid of Orĺéans and ask the question: Where did Joan of Arc leave her mark in France? Annie and Kim Loftus discuss many of the must-see sites related to this world-famous Medieval heroine
Book recommendation: Joan of Arc, a Life Transfigured
Hotels Recommended in this Episode
In Reims they stayed at the Hotel Campanile. This is a great location where you could walk to the city center and they have parking. Campanile hotels are typically inexpensive as well. In Reims they also enjoyed the restaurant Au Bureau near the Cathedral and Au Café de Reims.
The best hotel of the trip was in Rouen: Best Western Hotel Gustave Flaubert
Searching for Joan of Arc in Rural France
Joan was born in the middle of the 100-year war which went poorly for the French, particularly with the terrible battle of Agencourt (listen to episode 89 for the story on how that went). France was being ruled by an English King.
She was born in Domremy, which has now been renamed Domremy-la-Pucelle. You went there and will tell us what you saw there in a moment. Her father was a successful farmer and she was the oldest of 5 children. She was extremely pious and went to pray in the village church several times a day.
Joan started hearing voices at age 13 telling her that it was her calling to deliver France from the wicked English rulers and put a French King on the throne again. At age 16 (or was it 17?) she set off to meet the rightful heir of the throne, raised an army, inspired French people to support the cause and she did it!
She's been a legend ever since as the unlikely savior of a country in big trouble. She was at the center of two big trials which is why her life is well-documented and also why it's hard to talk about her without being a specialist because it's complicated!
There is also plenty of lore surrounding her life. But she was a real girl who died young in a tragic end and achieved amazing results by turning the 100-year war around in favor of the French. I found the Wikipedia page about her to be one of the best summaries out there of who she was and what she did. I also read the Wikipedia page about her in French and that's got so many details that it's horribly confusing.
Aisne-Marne Memorial Cemetery WWI
Château-Thierry monument WWI
Porte Saint Pierre, Joan of Arc entered the town of Chateau-Thierry through this stone gate. This is a fortress related to 100 Years War: The town was under the control of the English, Joan of Arc marched through and took it over for the French. Newly crowned King Charles VII was with her there.
This is where Charles VII was crowned and where many other French Kings were crowned too. Joan had to take the city from the English first, and then have him crowned. There is a Joan of Arc sculpture outside cathedral and chapel inside. You'll have to find the statue of the smiling angel of the Cathedral too!
Reims is a good place to stay when you go searching for Joan of Arc. They took day-trips to Domremy-la-Pucelle and Vaucouleur while staying in Reims.
Domremy-la-Pucelle
This is where Joan of Arc was born and raised, and she set off on her quest from here at age 16. What did you see there?
L'Arbre des Fées, the gift shop staff was so fun for a Joan geek like me, maybe because I was the only one there. It was another chance to practice my French.
Centre Johannique
Joan's childhood home and the garden where she heard the voices giving her instructions
Remy church next to Joan's home.
Vaucouleurs
Visitors Center, which is where you request to see Joan of Arc Museum.
Next to the Visitors Center, a shop called Mercerie Lagny. Nathalie, owner, was so delightful. Bought French made socks, Berthe aux Grands Pieds.
Eglise St. Laurent - chapel to Joan.
Up the hill is the gate of France where Joan left the city with her troops to go the dauphin at Chinon.
An old lime tree probably dates back to Joan's time. Sign explaining only living thing remaining that would have been there to see her off in 1429.
The old castle's chapel were Joan attended the Mass on mornings and stayed for hours in front of the statue of Notre-Dame-des-Voûtes. It was not open.
Compiègne
Came through on a Sunday and everything except the Château de Compiègne was closed.
Many half-timbered buildings in the city center.
Joan of Arc on city hall and sculpture in the plaza.
Joan captured nearby.
Tour Jeanne d'Arc, origninally called La Grosse Tour du Roi.
After Charles VII was crowned, he entered into pragmantic agreements with various Lords, some of whom used to be his enemies. Joan still wanted to get rid of all the English. When the English laid siege Compiègne the inhabitants send word to Joan of Arc that they needed her. She was able to rally 400 men to try and chase the English away from Compiègne but she was captured. They put her in various prisons, she tried to escape, no ransom was negotiated and she was burned at the stake in Rouen a year after her capture.
Rouen
Chemical plant explosion and awful smell in the air
The Joan of Arc Historical, an immersive experience - quite moving.
Rouen Cathedrale - light show in the summer months
Eglise St. Jeanne d'Arc, Rouen right next to Place du Vieux-Marché - Joan's execution site, marked with a towering sculptural cross.
Best dinner at D'eux-Mêmes restaurant - Palet Breton, Tube Choco-dessert and a Daurade.
Searching for Joan of Arc in Rural France Useful Links
FOLLOW US ON:
Discussed in this Episode
Aisne-Marne Memorial Cemetery WWI
Château-Thierry monument WWI
Porte Saint Pierre where Joan of Arc entered the town of Chateau-Thierry
Reims
Domrémy-la-Pucelle
Vaucouleur
Compiègne
Rouen
Subscribe to the Podcast
Apple
Google
Spotify
RSS
Support the Show
Tip Your Guides
Extras
Patreon
Audio Tours
If you enjoyed this episode, you should also listen to related episode(s):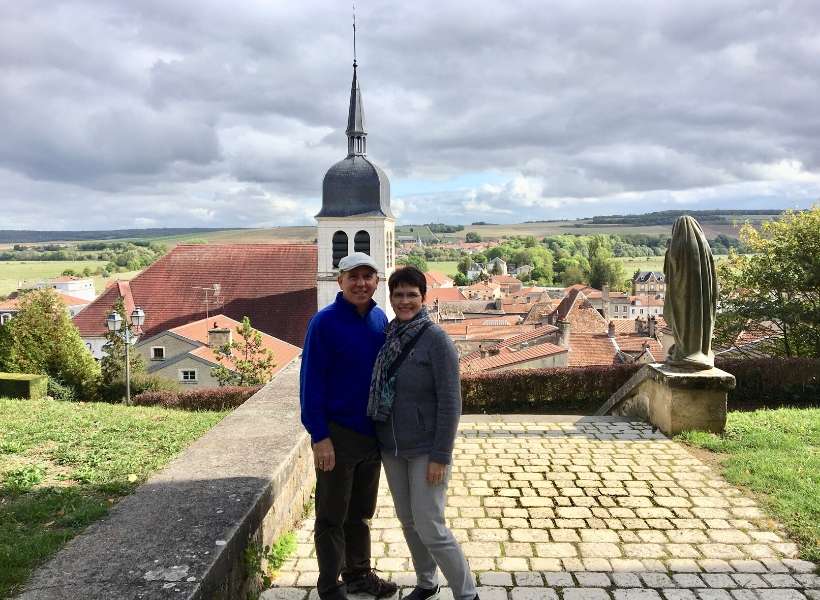 Read more about this episode
Guest Notes
Categories: Alsace and Lorraine, Champagne Area, Hauts-de-France, Normandy & Brittany, Off the Beaten Track in France