Categories: First Time in Paris, Paris, Paris Walks
Do the expressions "tombstone tourist", "grave hunter", "graver" or "tatophile" mean anything to you? These are the people who have a fascination with cemeteries and graves. Some of them travel the world to see wonderful cemeteries and the graves of specific famous people. If that's you, you'll think you've died and gone to heaven at Pere Lachaise*! (Sorry, couldn't resist.)
Most people who go to Pere Lachaise are just curious. It is the most visited cemetery in the world because the list of famous people buried there is so long. Frédéric Chopin, Edith Piaf, Jim Morrison, Oscar Wilde, Gertrude Stein, Marcel Proust, Jean-François Champolion, Maria Callas, Sarah Bernhardt, Georges Bizet, Honoré de Balzac, Jean de Lafontaine, Colette, Allan Kardec, Abelard and Heloise, Théodore Géricault, Molière, Victor Noir, Guillaume Apollinaire, Marcel Marceau, Camille Pissarro, Edmond James de Rothschild,  Amédéo Modigliani, Yves Montand, etc.
No Signs To Take You To Specific Graves
One BIG problem with Pere Lachaise is that there are more or less 70,000 graves there, and there are no signs taking you to the place where famous people are buried. Why aren't there any signs? Because, as seen by the French cemetery administrators, signs would be crass.
And yes, they have a point. This is a public cemetery, not a tourist attraction. But, of course, we know it attracts a lot of tourists, but it's still a public cemetery, so there is decorum to be followed. They won't put a sign to someone's beloved mother's grave, why should Jim Morrison be treated any differently? We care about these things in France.
How To Prepare Your Visit To Pere Lachaise
What are you to do about the lack of signs? Print and take with you this Pere-Lachaise MAP English.  It's in English and it shows you where the famous graves are. You can get a similar map on site at Pere Lachaise, BUT it's only available at one office at the bottom of the hill, and that office  closes over lunch while the cemetery is open. No need for you to wander around aimlessly for 2 hours, print the map at home!
Go On A Treasure Hunt
You should definitely turn your visit into a treasure hunt, especially if you are visiting with older children or teens. They will love the challenge, and trust me, unless you have a strong sense of direction, you will get turned around!
On a sunny day you will see lots of visitors around the cemetery, but if you go on a cold rainy day, you'll probably have the place to yourself. Well, it'll be you and the ghosts, of course.
Best Day to Visit Pere Lachaise?
Any day is good, but late October (Halloween!) or Early November (All Saint's Day) is best in my opinion. We don't celebrate Halloween the same way Americans do, but if you're in search of the macabre, creepy and spooky, it's hard to beat Père Lachaise!
All Saints' Day (November 1) is a busy day at Père Lachaise, families come to visit the graves and place flowers. The cemetery will be full of flowers, which will not happen any other week of the year.
A Perfect Place to Think
I love going to Pere Lachaise any time of year because I like to think about how I'm so lucky I'm not dead yet. I also take the business of deciding what to do with my remains seriously, because look at those graves, time will do terrible things to a burial site!
You should plan to stay at Pere Lachaise for a couple of hours so you have time to find a few of the graves you'd like to see. And when you are done, go to one of the cafés that surround the cemetery to relax and enjoy your favorite beverage. That will make you feel very much alive!
A Great Way To Learn About Great Musicians, Authors and Intellectuals
Pere Lachaise is a great way to introduce yourself or your children to some of the great musicians, authors, and intellectuals. I was inspired to find out more about some of the people who are buried there because you wonder why they inspire so much devotion to this day.
For example, Allan Kardec. I'd never heard of him in France or in America, but his grave always has flowers and visitors. I wondered why that was, and found out about a French guy who was a spiritual leader in Brazil. Who knew?
FOLLOW US ON:
Subscribe to the Podcast
Apple
Google
Spotify
RSS
Support the Show
Tip Your Guides
Extras
Patreon
Audio Tours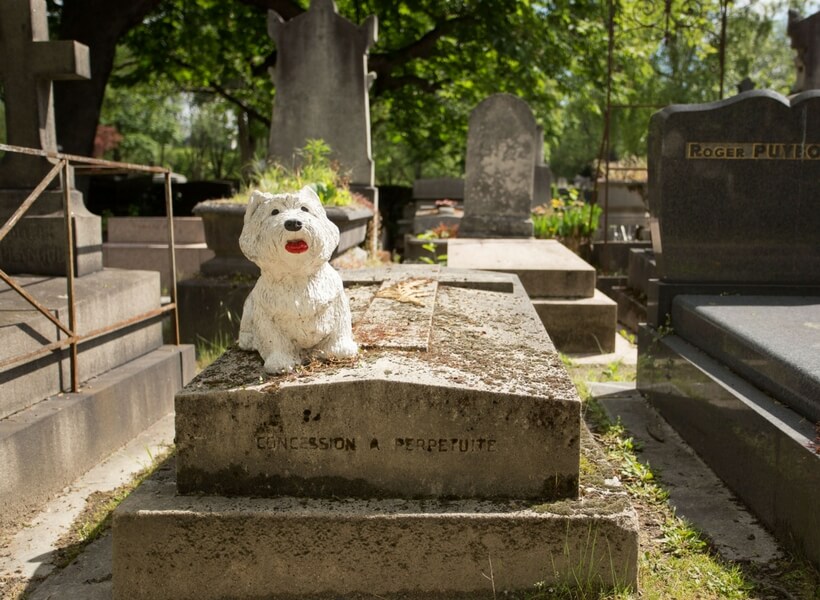 Let's Review
Is a visit to Pere Lachaise something I recommend for first-time visitors to Paris? Probably not. But for people who want to understand France on a deeper level, a visit to Pere Lachaise will hit the spot.
A a history buff, I like to revisit the contributions and lives of great people who have made an impact on the world. And there are so many greats at Pere Lachaise!
And, please, make your life easy, print this  Pere-Lachaise MAP English at home, so it won't matter what time you get there or if they ran out or whatever!
One last piece of advice: If you can, go on a sunny day, it'll feel cheerier!
*The correct spelling in "Père-Lachaise", I know that, and it pains me to misspell it. But I want the article to be found in search more than I want to be a stickler for French spelling, so there you have it!
Categories: First Time in Paris, Paris, Paris Walks