Category: French Food & Wine
When visiting France and important part of the experience is the food, isn't it? This is particularly true for my guest on today's episode, Michael Groves. He spends a lot of time in France and loves to try new restaurants. What are the best ones? He shares his method for finding them with all of us today.
But you have to know that most French people (like Annie) are not restaurant critics. We don't spend that much time worrying about where to eat. That's probably because we live in France full-time. We do go out for special occasions, but home cooking is still huge in France.
Nevertheless, while touring around France you might as well look for wonderful restaurant experiences. Listen to this episode to find out how you might go about doing that.
In this episode we also go through a round of "is it true that in France you can't"... Please don't make those incorrect assumptions even if you've heard them a million times!
Do you want to eat like a local in France? Here's how you do it!
Have you ever heard of the Michelin Bib Gourmand restaurants? These are the restaurants below one star, maybe working their way up to a star. Whatever they may be trying to achieve, they are definitely great places to eat! On that site you'll also find the "Table Simple" with an "assiète" (plate) symbol.
David Lebowitz is a great resource in English, so is Patricia Wells, their advice is very reliable. In French it's worth checking Gilles Pudlowski and Simon Says who writes for Le Monde. More are listed in the Guest Notes.
The Guide Vert is always a great resource and they have different guides for different parts of France, but most of them have not been translated into English.
Websites like Yelp or Trip Advisor are not ideal for France
Americans like to read reviews and they use Yelp and Trip Advisor a lot. But French people don't choose restaurants like that, at least not in 2020. So who ends up leaving reviews of restaurants in France on Yelp? Americans and other visitors.
There's nothing wrong with that, but how do you know if they know anything about French food? Do they know what classic French dishes are supposed to taste like? They might give an average restaurant 5 stars because the staff was friendly. Again, there's nothing wrong with that, but you're not getting the local perspective.
There are some reviews in French on those sites, if you read them you'll have better luck.
How about historical restaurants?
There are some wonderful historical restaurants in Paris such as Les Deux Magots, Brasserie Lipp, Café de Flore, Le Banaparte, Le Procope are in Saint Germain des Prés also. Sometimes they are a little bit overpriced, but it's worth it for the atmosphere.
In Montparnasse at the confluence of Boulevard Raspail and Boulevard Montparnasse you'll find several other classic restaurants such as Le Dome, La Rotonde, Le Select, La Coupole, etc. There's also an Entrecôte Restaurant nearby. The Luxembourg Gardens are also walking distance from there.
The Bouillon restaurants are also classic. There are different ones in different parts of Paris. The most famous one is Bouillon Chartier (faubourg  Montmartre, 9e arrondissement) where several movies were shot , but Annie likes Bouillon Racine (6e arrondissement), Bouillon Chartier Montparnasse (also 6e arrondissment), Bouillon Julien (10e arrondissement). Bouillon Pigale is fairly new unlike all the other ones.
How to eat like a local outside of Paris
When in Lyon you must try a "Bouchon" restaurant and go to Les Halles.
In Toulouse you must try the Victor Hugo market and restaurants upstairs. Le Pyrénéen a great seafood place in Toulouse.
Have you ever tried Cassoulet? There are many great restaurants that serve it all over France.
Remember that not every delicious restaurant is Instagram-worthy.
In Marseilles you must try a Bouillabaisse as well as Tunisian and Moroccan food, couscous is a favorite. Michael likes a restaurant called Toinou for seafood.
Chain restaurants ARE popular with French people
Many Americans love TGI Friday's, Olive Garden and the Cheesecake Factory, right? Well, it's the same in France! French people patronize chain restaurants too. We don't have as many chain restaurants as what I saw when I lived in America, but have have a few that are pretty good. So if you want to eat like a local, you can't count them out, especially if you're driving in France.
L'Entrcôte has several restaurants both in Paris and outside of Paris and they all serve great steak-frites with a secret sauce.
Chez Léon is a place for French fries, beer and mussels.  You'll find it mostly in the north of France.
Other chains that are good for people who are driving through France are Buffalo Grill, Hippopotamus, Courte-Paille, Autogrill, L'Arche, etc. You'll find them at freeway rest-stops and in the suburbs. These are places French people really enjoy because the food is predictable and good. They are the Applebee's or Denny's of France!
Are these things true about eating in France?
Is it true that you shouldn't eat anywhere that has a menu in English? No! Answer starts 29 minutes into the episode.
You shouldn't eat at a restaurant that has photos on the menu? Most restaurants don't have photos on the menu, but if they do it just means that it's a chain restaurant and they are fine.
Some say that in France you should not ask for a doggy bag. Is that true? Most restaurants in France do not stock to-go boxes. And they won't serve you so much that you can't eat it all. But you can ask to take your leftovers if you'd like.
Is it true that you don't need to tip in France? You don't need to tip extra in France but it's nice if you do. Don't agonize over how much to tip, any tip you leave will be appreciated.
People say you shouldn't order red wine with fish and white wine with meat. Is that correct? The reality is nobody cares what you drink! If you're not sure you can ask the waiter to recommend a good wine for what you're ordering, they'll be happy to help. It's not a problem if you don't drink wine either.
Should you try traditional French foods when you're in France? Things like foie gras, escargots, croque monsieur, poulet fermier, steak-frittes, tarte tatin, etc. Why wouldn't you? If you're so enclined, do it! But it's not like it's mandatory.
Is it true that you must pay for bottled water at a restaurant in France? "Une carafe d'eau" is always free and you could even ask for a coffee and a glass of tap water, or a glass of water with your ice cream.
Must you speak French or you'll get terrible service? Absolutely not! Waiters in France are really accommodating, but keep in mind that in rural France maybe they don't speak English!
FOLLOW US ON:
Discussed in this Episode
Is it true that you shouldn't eat anywhere that has a menu in English? [29:29]
You shouldn't eat at a restaurant that has photos on the menu? [30:14]
Some say that in France you should not ask for a doggy bag. Is that true? [31:31]
People say you shouldn't order red wine with fish and white wine with meat. Is that correct? [33:32]
Is it true that you don't need to tip in France? [35:48]
Should you try traditional French foods when you're in France? [39:52]
Is it true that you must pay for bottled water at a restaurant in France? [43:43]
Must you speak French or you'll get terrible service? [45:48]
Subscribe to the Podcast
Apple
Google
Spotify
RSS
Support the Show
Tip Your Guides
Extras
Patreon
Audio Tours
If you enjoyed this episode, you should also listen to related episode(s):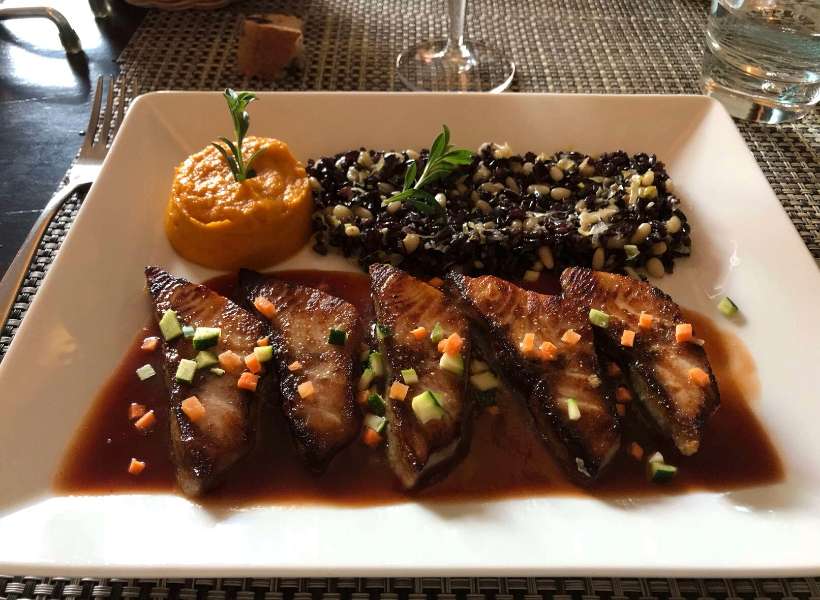 Read more about this episode
Guest Notes
Category: French Food & Wine