Category: France How To
This is a Join Us in France Short episode. Bonjour, I'm Annie Sargent.
Let's talk about how you can deal with strikes in France.
This is France, we have strikes! Whether you agree with it or not, French people have a right to strike and you, as a visitor, can't do anything about it.
Let's talk about 8 things you need to do when planning a trip to France so it won't matter if there's a strike or not!
Don't make reservations for the day you land. Your flight might get delayed even if there aren't any strikes! Your first day in Paris you should be walking around, take a boat ride along the Seine (which you don't have to reserve), take one of my self-guided walking tours on the VoiceMap App which you can do any time, drop in any café or restaurant that looks good to you and go to bed early. That's your stress-free first day in Paris.
If your flight is delayed, don't yell at the staff. When I was in Paris a few weeks ago, there was a surprise air-traffic controller strike in Toulouse and when I showed up at the airport, they said no flights to Toulouse for the rest of the day. Not on this airline, not on any other airline. I wasn't happy about it, but there was nothing I could do other than make arrangements for the night and wait. Don't demand to see the manager, don't throw a fit, that never works in France.
One of the companies that strikes the most often is the RATP, that's the metro, bus, tram system in Paris. Knowing that, choose a hotel that's within 1 mile of Notre Dame, then you can hoof it wherever you need to. If you go to joinusinfrance.com and type "Paris hotels" in the search box you'll find the page that lists all the hotels we use and recommend. Paris is a wonderful walkable city. If you're staying in the city center you'll do fine without the metro.
You wanted to take the train, but they are on strike. Train employees strike a LOT. What can you do instead? Install an App called Bus Radar and look for regional bus options. I know the bus has this grimy low-class reputation in America but the bus is fine in France! It's clean, it's comfortable, and it's safe! Regional buses hardly ever strike, which makes them a wonderful plan B.
Venues and museums go on strike too! Get up to date info on what's on strike and what's not by reading Twitter! Twitter is the best place to find up to the minute information. I retweet a lot of these strike announcements and you'll find me by searching for ParisPodcast on Twitter.
If you see a group of demonstrators, walk the other way! Most demonstrators are peaceful, but some come just to provoke the police and police use tear gas and use rubber bullets, you don't want to be in the middle of that! Walk away from groups of demonstrators!
There's no point stressing about what's going to happen during a demonstration announced 3 weeks from now. Nobody can tell you about the granular details of strikes until it's happening. You're much better off planning every trip to France like you're going to run into a strike and have a plan B as outlined here.
You may want to purchase travel insurance, but some of them exclude strikes in France, so read the small print.
Take a deep breath, it's going to be fine. Strikes are a dime a dozen in France, they are terribly inconvenient, but nobody dies. Even a massive strike in France only involves maybe 1% of the population. As far as where these strikes happen? It's maybe over 1% of the surface of Paris. It's easy to avoid them.
I realize you're worried that it's going to affect you, but chances are it won't. And if you plan your trip right using the advice I've given you here, even if you run into a strike, you'll be fine. Thank you for listening, au revoir!
FOLLOW US ON:
Discussed in this Episode
Don't make reservations for your first day in Paris [00:30]
Stay calm if your flight is delayed [01:05]
Stay in central Paris! [01:10]
When the train is on strike take a regional bus [02:18]
How to find out if venues and museums are open today [02:52]
Do not approach demonstrators [03:17]
No-one can predict the future [03:40]
Look into travel insurance [04:08]
Subscribe to the Podcast
Apple
Google
Spotify
RSS
Support the Show
Tip Your Guides
Extras
Patreon
Audio Tours
If you enjoyed this episode, you should also listen to related episode(s):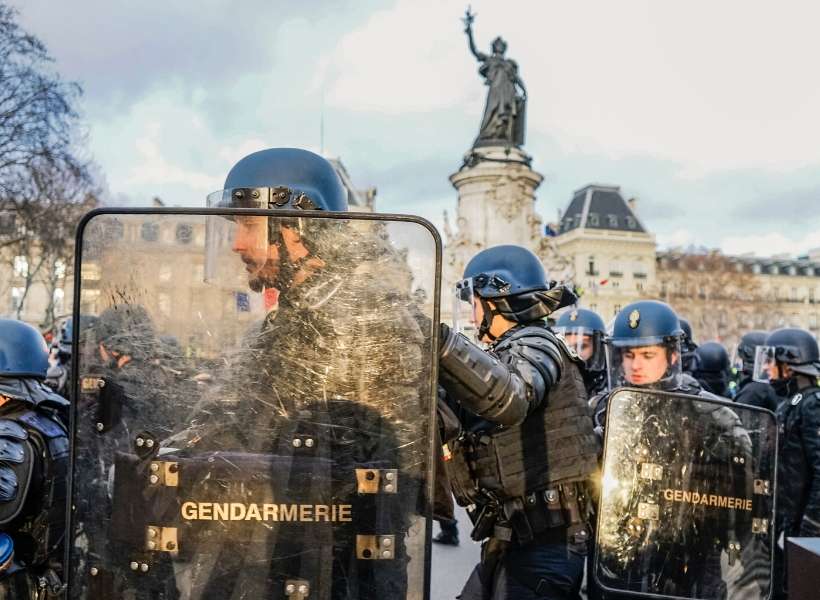 Category: France How To