This post contains affiliate links, meaning I get a commission if you decide to make a purchase through my links, at no cost to you. Please read my disclosure page for more details.
Categories: Honeymoon in France, Provence
On today's episode Annie Sargent brings you a conversation with Denise Tham from Canada about her 10-day honeymoon in Provence. The newlyweds  stayed in Avignon, visited Arles, the Pont du Gard, Uzès, drove around the the Petit Lubéron (where they found a lovely bed & breakfast listed below), and ended in Marseille.
How to Plan Your Honeymoon in Provence
Listening to this episode will make your own honeymoon planning much easier because Denise did the hard work: she found great accommodations, great restaurants and she even figured out the best way to get around in Provence!
Transportation in Provence
Provence is tricky because there are places you can't get to without a car. And yet there are times when having a car in Provence makes everything difficult because there is nowhere to park!
Denise and her husband used a combination of train and car rental, which is the best way to proceed. You definitely don't want to hold on to your rental car in large cities in Provence because parking will drive you nuts!
On the other hand, parking in small Provençal villages in late September / early October wasn't an issue. The key is to plan ahead and book your rental in advance because last-minute car rentals cost a fortune in France!
Is Marseille worth a Visit?
In this episode we also discuss the age-old question: is Marseille a good place to visit in Provence? This conversation starts 35 minutes into the episode, but to summarize, we both think Marseille is a wonderful place if moving around multi-cultural environment feels natural to you.
What if You Don't Want to Use Airbnb?
More and more people are weary of using Airbnb. Denise found great places to rent through Booking. To find the gems, go to this page, then scroll down and on the left you'll see a lot of criteria, including Apartments, Villas, Hostels, and price range. It's worth mentioning because a lot of people don't know it's a possibility!
Provence Accommodations Recommendations
Maison d'Ulyse near Pont du Gard
Le Clos des Eydins in Bonnieux
Restaurants Recommendations
Denise's husband is a chef, so they paid attention to restaurants and have great recommendations for lovely places to eat.
La Fourchette and L'Agape in Avignon
Lunch and L'Occitane Spa at La Maison d'Uzes
Bistrot le 5 in Menerbes
Le Petit Cabanon and Le Bistro du Cour in Marseille
Click play to listen or if you'd rather read our conversation click on transcript. You'll also find Denise's notes by visiting the guest notes.
Episodes about Honeymoons in France
FOLLOW US ON:
Discussed in this Episode
Uzès
Lubéron
Nîmes
Roussillon
Avignon
Bonnieu
Arles
Gard
Pont du Gard
Baron
Provence
Petit Lubéron
Bonnieux
Ménerbes
Chateau de Lacoste and the Marquis de Sade
Goult
Sentier des Ocres
Le Colorado Provençal
Marseille
Lourmarin
Notre Dame de la Garde in Marseille
Le Panier in Marseille
La Savonnerie de la Licorne in Marseille
Cour Julien in Marseille (better restaurants than near the port!)
Is Marseille a nice city to visit? Un Petit Cabanon restaurant in Marseille
Bistro le 5 in Ménerbes
Le Clos les Eydins
Volver restaurant in Uzès
Nuit Blanche
La Maison d'Uzès and La Table d'Uzès
L'Occitane
La Fourchette
L'Agape
profiteroles
Pass "La Liberté" in Arles
Hiring a professional photographer
Subscribe to the Podcast
Apple
Google
Spotify
RSS
Support the Show
Tip Your Guides
Extras
Patreon
Audio Tours
If you enjoyed this episode, you should also listen to related episode(s):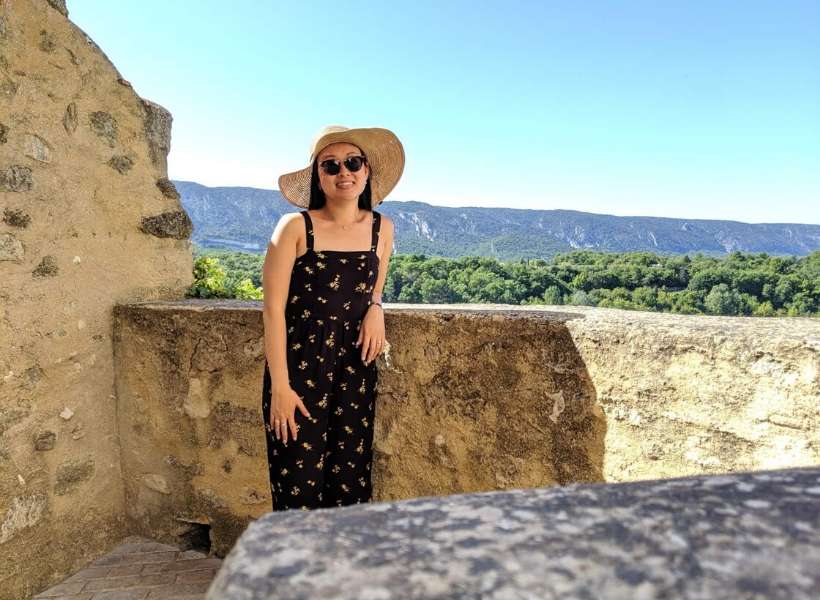 Read more about this episode
Transcript
Guest Notes
Categories: Honeymoon in France, Provence