Categories: First Time in Paris, France How To, Paris
On today's episode, a conversation where Annie asked listeners to share their favorite shopping spots in Paris. Listeners mentioned so many places they love to go back to over and over again! Several stand out for clothing, food, wine, accessories, cosmetics, hobbies, gifts, it's all here!
Favorite Shopping Spots in Paris
It's funny for me to talk about shopping because I'm not much of a shopper myself. I mean, if I need something, I'll go get it. But I don't go out just to look around, see what's at the stores, keep up with the trends. Now when I go back to the US and I have more time on my hands, then I enjoy going to Costco, Malls, look around. I always buy a lot of things in the US.
I think it's because I don't get to do that whenever I want so it's a treat. It's probably the same for you when you come to France. It's a treat because it's different to your daily life.
So, I asked on the Join Us in France Closed Group on Facebook what your favorite stores are in France and I got a lot of answers. A lot of you have visited France more than once, some of you are repeat offenders indeed! It's a fun list!
Department Stores and Grocery Stores
BVH
BVH Marais of course, right by the Hôtel de Ville. I like to go there to look for scarves, but they have all sorts of things, including a big hardware store in the basement.
Monoprix
This is the one that got the most votes and it is much like the French Target! What can I tell you about Monoprix? It's got a little bit of everything, it's not super fancy, but they carry solid products at a good price.
Galleries Lafayette
Galleries Lafayette: In French department stores, don't forget to go to the basement where all the food is! But on Boulevard Haussmann go to Lafayette Gourmet across the street.
Printemps
Annie loves the one on Boulevard Haussmann, but listeners also mentioned the one under the Louvre. The mall under the Louvre is really nice actually, last time I was there I walked out with new Bose headphones!
Au Bon Marché
This beautiful store is in St Germain, we talked about it in episode 287. Despite the name it's not cheap. Not even a little bit cheap! I've never bought anything there, but it's a beautiful store, worth a visit just for that.
La Grande Epicerie
I almost added that one to my Saint-Germain-des-Prés tour but it was going to make it too long, but it's an interesting kitchen supply store not in Les Halles. It's also a wonderful food store with lots of expensive items.
Mariages Frère
Expensive teas, they have several locations. I don't think they serve tea in any of the stores which makes no sense to me.
Maisson Plisson
This store is at 93 Boulevard Beaumarchais a bit pricey, but excellent food.
Wine Stores
Surprisingly, listeners only listed Devinis. There are of course many specialty wine stores in Paris, including  Nicolas (a chain) and hundreds of independent wine stores.
Bakeries
Ladurée
Not sure what to say about them because they are really famous and have stores all over the world. They are still a favorite for many people!
Pierre Herme
Macarons and beautiful pastries, several locations in Paris including one on rue Bonaparte, included in my Saint Germain tour
Des gateaux et du pain
Two stores, one rue du Bac, one in Montparnasse
Cafés
Angelina's
Who hasn't heard of Angelina's? Annie particularly loves their Mont Blanc, a pastry with chestnut paste.
Cheese Stores
It's hard to point to one wonderful cheese store in Paris because there are so many and they're all so nice!
La Ferme Saint-Aubin
This one is a favorite even though it's pretty small: 76 Rue Saint-Louis en l'Île, 75004 Paris, France
Perfume and Cosmetics
Fragonard
A chain that you'll find all over France
CityPharma
Rue du Four in Saint-Germain-des-Prés: skin care products and advice from the sales ladies.
Caudalie
All sorts of beauty products. The shop at the Carrousel du Louvre is nice.
Officine Universelle Buly
Historical beauty store in Saint Germain, I considered it for my Saint Germain tour also, but it would have made the tour too long. Very interesting place!
Marius Fabre
A listener said: I can't live without the Orange-Cannelle soap, savon de Marseille, olive oil face and body cream
Yves Rocher
They have stores all over France and they are famous for giving out samples!
Jewelry Stores
Les Nereides
Pretty and romantic costume jewelry
Merci Store
This store is in the Marais and is great for bracelets
Fried Frères
Jewelry, Beads, Buttons SEQUINS Paris since 1886
13 Rue du Caire, 75002
Lady Bird
On rue des Abbesses. They sell quirky jewelry, hosiery, and other unique fashion accessories.
Galerie Le Sud Paris
You'll find it in the Marais They sell beautifully-made glass jewelry and art pieces.
Clothing Stores, Fashion & Second Hand Stores
IKKS
There are several throughout Paris and France, they have stores for men, women, kids, etc.
Reciproque Paris
This is a large confinement store with sells fashions and decor items. 95 Rue de la Pompe, 75116 Paris.
Soeur
On 88 rue Bonaparte, you walk right in front of it on my Saint Germain tour but I didn't point it out because I'm really interested in food and not clothes!
Crimson
Beautiful cashmere
La Petite Maroquinerie
A small neighborhood store in Montmartre selling recycled leather goods.
Inès de la Fressange
The store is on rue Grenelle 24 Rue de Grenelle, 75007 Paris
Longchamps
Famous bags, of course!
Heyraud
Lovely shoes
Louis Vuiton
The original store is on Place Vandome, very posh!
Art Supply Store & Hobbies
Sennelier
Picasso and Degas bought art supplies there. It's a darling, crowded store with beautiful paint.
La Bien Aimée
Yarn store- amazing hand dyed yarn
La Maison du Pastel
Art supplies on 20 Rue Rambuteau, 75003 Paris
La Droguerie
Near Les Halles. Best wool and craft shop ever!
Home Decor & Gifts
Durance
Amazing candles
Pylones
This is a chain that you'll find all over the world, but they have nice Paris-specific items.
Astier de Villatte
Ceramics, candles, fantasy items
Deyrolle
This one you cannot skip! Saint Germain des Prés, included in my tour, whimsy, nature, gifts for naturalists and gardeners, totally unique.
Bazartherapy
A little bit of everything for the home 15 Rue Beaurepaire, 75010 Paris
Truffaut
Nursery, home décor items, items for pets
La Chaise Longue
Home, accessories, decor. This is in the 16e.
Ice Cream Shop
Berthillon
The original store is on the Ile Saint Louis
FOLLOW US ON:
Subscribe to the Podcast
Apple
Google
Spotify
RSS
Support the Show
Tip Your Guides
Extras
Patreon
Audio Tours
If you enjoyed this episode, you should also listen to related episode(s):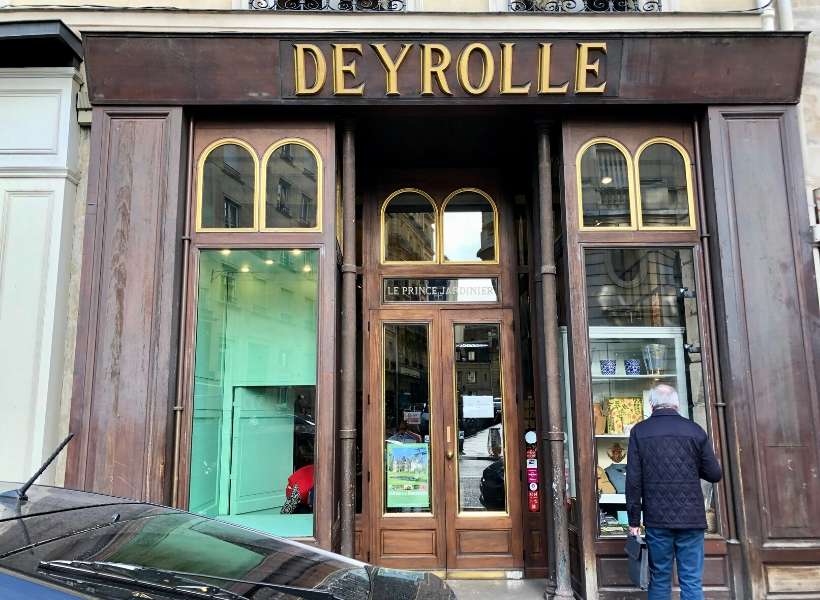 Categories: First Time in Paris, France How To, Paris