This post contains affiliate links, meaning I get a commission if you decide to make a purchase through my links, at no cost to you. Please read my disclosure page for more details.
Categories: First Time in Paris, French History, Paris
This episode features our frequent and very popular guest Elyse Rivin. If you enjoy her episodes, please consider supporting her on Patreon.
Department stores in Paris aka Grand Magasins are surprising in many ways. Of course you can shop your heart out and find some of the most wonderful items in Paris, but their history is amazing too! And, that was a surprise to both of us, it has a lot to do with the emancipation of women.
In today's episode Elyse discusses the 4 that are left today and what not to miss when you visit them.
Department Stores in Paris aka Les Grands Magasins
The history of department stores in Paris has a lot to do with what activities were acceptable for women to do outside the home. But the buildings are also gorgeous and worth a visit all by themselves, even for people who aren't big spenders!
Les grands magasins mark a revolution in how people shopped. Custom-made items became too expensive and ready-made goods were now a good alternative. Mass production of textiles became possible in the 1840s due to the industrial revolution.
If you were a woman of the upper class in the 1800s there weren't a lot of activities that were acceptable for you. You could go to the theater, you could go shopping only accompanied by a man, you could visit parks accompanied by family. But you were not supposed to go wandering on your own.
Le Bon Marché
Started in 1852 as a Grand Magasin by the Boucicaut family near the métro Sèvres-Babylone. The name "bon marché" means two things in French: good items and inexpensive.
Everything they sold was ready-made, prices were good because they sold enough volume, and they could deliver! Something completely new: you could return items you weren't happy with!
Women could go shop there and it was acceptable, but the store keepers were mostly men. Eventually Bon Marché started hiring women as sales clerks which was another revolution in the business.
Bon Marché advertised a lot and put out catalogs and it was a huge success! So much so that Bon Marché also built a hotel right across the road for all the patrons that came to Paris just to see this new department store.
The Bon Marché is the only Grand Magasin on the Left Bank, the other two are near the Opéra Garnier in the Right Bank.
Le Printemps
Le Printemps grand magasin was inspired by Bon Marché and was started on the right bank in 1865 by two savvy businessmen. This is the biggest department store in Paris in terms of surface. This is the store where the concept of sales was invented. At the end of the year, after Christmas, they decided to make room for new items by discounting the previous year's inventory.
Printemps has a gorgeous dome that you can see by going to the Brasserie du Printemps. Follow the signs or ask someone to direct you. There are other cafés and places to eat, but the one under the dome is called "Brasserie du Printemps". A great place to eat in a beautiful environment. A good meal at lunch around 30€.
They innovated also with electric elevators which people wanted to see and ride! At Christmas time they have beautiful window displays outside the store. They commission great designers to work on those windows and people come to see them by the thousands!
You can have access to the rooftop terrace at Printemps as well as at the next place we'll talk about, which is the Galeries Lafayette.
Les Galeries Lafayette
The Galeries Lafayette is the only one of the department stores in Paris that has branches all over France. This means that it's a much bigger company. They also opened in 1865. Two cousins from Alsace decided to create this store and they named it after the boulevard.
In this store big name clothes makers and cosmetics companies rent space. The building for housewares is spectacular across the street from the building that has the dome.
The building is gorgeous and a must-see even if you don't like shopping! They were the first ones to add escalators. The whole center part of the store is open and you can see the dome from street level.
There is a glass walk that you can take. It is free but there's usually a long line. When you out onto the glass walk you can be right underneath the center of the glass dome. It is spectacular, but not ideal for folks who are afraid of heights!
At the top you'll find a nice cafeteria where you can eat for 20€. It's nothing fancy, but you can look out towards the roofs of Paris. Rooftop access is also free and highly recommended.
La Samaritaine
This is no longer a department store and it's not going to reopen until some time in 2021. Originally the reopening was slated for 2020, but the pandemic threw a wrench in that.
This one is along the Seine River by the Pont Neuf. It was a department store for 135 years, it was built as an Art Nouveau / Art Déco building. We don't know why they other 3 are still going strong and this one has failed commercially. It closed in 2005 and was bought up by LVMH. When it reopens it'll be apartments and stores.
FOLLOW US ON:
Discussed in this Episode
Le Bon Marché [07:45]
Printemps [21:52]
Les Galeries Lafayettes [29:54]
La Samaritaine [39:07]
Thank you Patrons and how too you can support the show [48:10]
How France is re-opening following the pandemic [49:51]
Subscribe to the Podcast
Apple
Google
Spotify
RSS
Support the Show
Tip Your Guides
Extras
Patreon
Audio Tours
If you enjoyed this episode, you should also listen to related episode(s):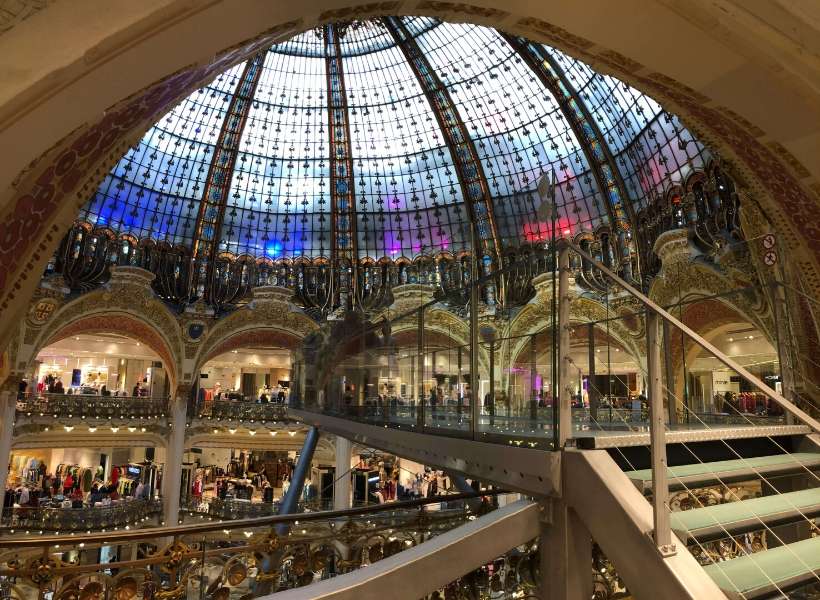 Categories: First Time in Paris, French History, Paris