Category: Toulouse Area
This episode features our frequent and very popular guest Elyse Rivin. If you enjoy her episodes, please consider supporting her on Patreon.
Cordes-sur-Ciel was voted as French people's favorite village in 2014. Would you like to know what's so special about it? Listen to this episode!
Elyse raves about Cordes-sur-Ciel. Cordes because it is so beautiful, situated within gorgeous landscape, and it is rich in history. It is so close to Albi that you could visit both in one day and see very different places within a short time. Should you see it or should you skip it? It has its disadvantages (STEEP hills!) but we give you ways to work around those. Enjoy the show!
French Tip of the Week
French Travel Phrases You Might Need:
[1:19] French Tip of the Week: how do you pronounce the name "Manon" in French? Examples of difficult words with the sound "on": oncologie, le Lubéron, Ontario, le baron, la Gironde.
French Food Chat
[4:20] What's the secret to making good soup?
Current Exhibitions in Paris
[5:20] The new Exhibition at the Orsay Museum on depictions of prostitution in paintings.
[10:00] New Exhibit at the Grand Palais Picassomania, on Picasso and his legacy. If you want to get in you should get your tickets in advance.
Cordes-sur-Ciel, Most Beloved French Village
[13:00] Discussion on Cordes-sur-Ciel.
The name Cordes-sur-Ciel is new, based on a work by a poet who  renamed it in 1993. The name Cordes is much older because this village was created in 1222. Today it is in the Tarn department.
Cordes-sur-Ciel and Cathar History
Cordes was a heavily Cathar town in the Middle Ages. Cordes was on the northern edge of the territory that belonged to the Count of Toulouse, Raymond VIII.
The Concept of Bastide in Southern France
Cordes was a charted town (a "Bastide") where the people knew they would be protected (walled city), where they'd get tax rebates, every resident would be treated equally, the residents would be protected by his armies if needed. Raymond VII had the trust of the people, so he got a lot of people to go colonize this new area.
Why is Cordes named Cordes? Because of Cordoba in Spain which was a capital of textiles and leather work. Within the space of 30 years the town was so successful that they had to expand the wall 5 times!
Cordes is a Steep Village
Cordes is a steep town, walking all the way up is a bit of a hike. May 1st thru Sept 30th for 3€ you can take the tourist train at Place de la Bouteillerie and be dropped off at Porte de la Jane.
There are 32,000 villages in France. We're not sure what the official definition is according to the INSEE, but that's a lot of places for a small country. What makes a village special is its architecture, the site where it's built, and its history. Cordes gets an A on all of these!
A Great Example of Gothic Civil Architecture
Cordes has the most civilian Gothic architecture in France. By 1250 it was the richest town in the south-west of France besides Toulouse.  The people of Cordes threw the Inquisitors down the well because they didn't want to put up with it.
The Story of the Water Well
[36:30] The story of the water well in Cordes.
The bird business "ormeau" is NOT a bird or a tree, it's a sea shell. The name "place de l'Ormeau" has to do with Saint Jacques de Compostelle!!! Elyse is embarrassed and Annie shall tease her about that for a long time 😉
Practical Considerations About a Visit to Cordes
[53:00] How long should you plan to stay in Cordes?
French people are not very tough about visiting places like Cordes when it's raining, so if you go on a rainy day you'll be mostly alone.
Cordes-sur-Ciel does not have a big cathedral, but the church it has is worth visiting.
Cordes-sur-Ciel est steep, it's possible that in the Middle Ages they used mules a lot. You may want to even today!
Elyse recommends visiting Albi and Cordes in the same day. You have time for both.
Book a Private Tour with Elyse
To hire Elyse to give you a tour, look her up on Facebook: Toulouse Guided Walks. Or contact her through her website: Toulouse Guided Walks
FOLLOW US ON:
Discussed in this Episode
Most Beautiful Village
Plus beau village de France
The story of the well in Cordes
Bastides
Civilian Gothic Architecture
French Secrets on How to Make Great Soup
Subscribe to the Podcast
Apple
Google
Spotify
RSS
Support the Show
Tip Your Guides
Extras
Patreon
Audio Tours
If you enjoyed this episode, you should also listen to related episode(s):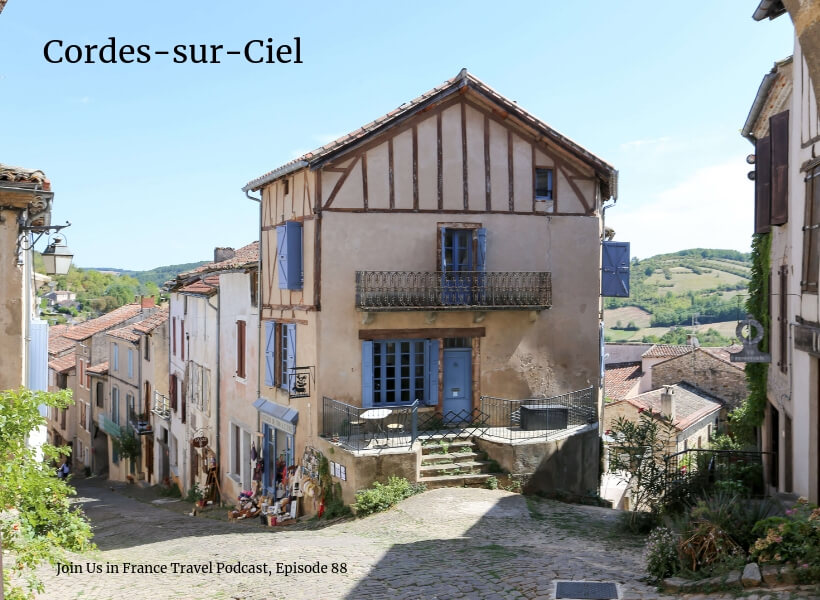 Category: Toulouse Area