Categories: Day -Trips from Toulouse, Off the Beaten Track in France, Toulouse Area
This episode features our frequent and very popular guest Elyse Rivin. If you enjoy her episodes, please consider supporting her on Patreon.
On today's episode of the podcast let's talk about Lautrec and Castres in the Tarn. This is another day trip from Toulouse you can do in 1 day or take it easy and spend a few extra days exploring the area.
We'll talk about Lautrec and its wonderful purple garlic, the city of Castres and its surprising Goya Museum, and the Sidobre where you can enjoy nature, biking and hiking.
We've done episode about several departments you can visit all around Toulouse, see the list of related episodes below.
Lautrec and Castres in the Tarn
The Tarn is a fairly large Department that has some of everything. That's why today we'll talk about a little bit of history, a little bit of art and some natural beauty too!
First Stop: Lautrec
The village of Lautrec is famous for its garlic production and also because it is very scenic. Lautrec is on the Plus Beaux Villages de France which means that the village has historical interest and is well-taken care of.
Lautrec is a medieval village that started in the 900s in the middle of rolling hills. Originally it was a castrum, a military defensive position. There are still a few pieces of fortification and two stone entry arches you can see today.
The town was named after Isarn de Lautrec who was the ancestor of Henri de Toulouse-Lautrec, famous post-impressionist painter from the south-west of France.
Lautrec's Tortured Past
Lautrec has survived countless number of battles. It was taken by Simon de Monfort during the war against the Cathars. It also suffered under the Wars of Religions in the 1600s because Lautrec stayed Catholic while nearby Castres was Protestant. Under the French Revolution the Benedictine Abbey was destroyed but the church remained.
The Garlic Festival in Lautrec
There are still a lot of beautiful houses from the 1500s and 1600s you can see in Lautrec. You can park at the bottom and walk up or park near the center of the village.
There is a windmill that is still in use for grinding organic wheat. You can visit it and buy the locally made flour. Don't let organic flour sit too long, it will go bad fast because it has no preservatives inside.
There are a few restaurants, boutiques, craft stores. The village is famous for its garlic festival which takes place in early August. This garlic has an AOC and is pretty expensive to buy, but (according to Elyse) it's still worth it!
The Garlic Festival offers music, somebody dressed as a giant head garlic, a parade, a big communal meal where they serve garlic everything! You can buy braded garlic, it's all very nice.
Here is the garlic paste recipe Annie mentioned in the episode. Totally decadent and delicious!
You could spend a half-day in Lautrec before driving to Castres.
City of Castres
Castres is a medium size city of about 41,000 and growing because of the aeronautics industry. It is a dynamic city in terms of cultural events as well.
Castres is not a tourist destination at all, but there are some surprisingly cute places right along the Agout river (see photo above). Maybe have a meal on Place Jean Jaurès and visit the Goya Museum?
Goya Museum in Castres
The Francisco Goya museum in Castres is remarkable. A local man and painter named Marcel Briguiboul donated his collection of paintings which included many Goya paintings. This is the largest collection of Goyas outside of the Louvre, definitely worth a visit.
Goya was very scarred by the Napoleonic wars and there is a whole collection of his work related to war at this museum.
Jean Jaurès, Son of the Southwest
Jean Jaurès was born in Castres and this is where he entered political life as a Deputy. He is probably the most celebrated French politician ever. He was influenced by the conditions of local mine workers who lived in the area.
Jean Jaurès was a great orator and a Republican (which means someone in favor of a Republic as opposed to a Monarchy). He was a pacifist and oppressed France entering WWI and he was assassinated as a result.
A visit to Castres is a nod to French culture and history because there is an interesting small Jean Jaurès Museum in Castres that we recommend you visit.
The Sidobre: Great for Families
This area is famous for its granite and rock formations. You can enter at Vals et Plateau (on Departmental 30) where the major tourist office is. They can give you maps of hiking and biking tracks.
Much of the area is forested, so it's shady, we love that in the summer! There are 15 points of interest you can visit. You can do this on bikes. Details on what you can do in the Sidobre here.
This is a wonderful place to get your kids away from the Playstation, they will love all the physical activities you can do with it being particularly difficult or dangerous.
There is an Eco Museum and a Museum of Protestantism in the area as well and they are both interesting, although probably everything will be in French. Well, actually, their websites are translated into English, so you never know!
How to Find Great Hotels and Restaurants in Rural France
When visiting rural France, look for the label Logis de France. By definition they are small, some have more amenities than others as indicated by the number of stars. What's great is that those hotels always have a nice restaurant. And you will find them in some of the most out-off-the-way places where there are no hotel chains!
FOLLOW US ON:
Subscribe to the Podcast
Apple
Google
Spotify
RSS
Support the Show
Tip Your Guides
Extras
Patreon
Audio Tours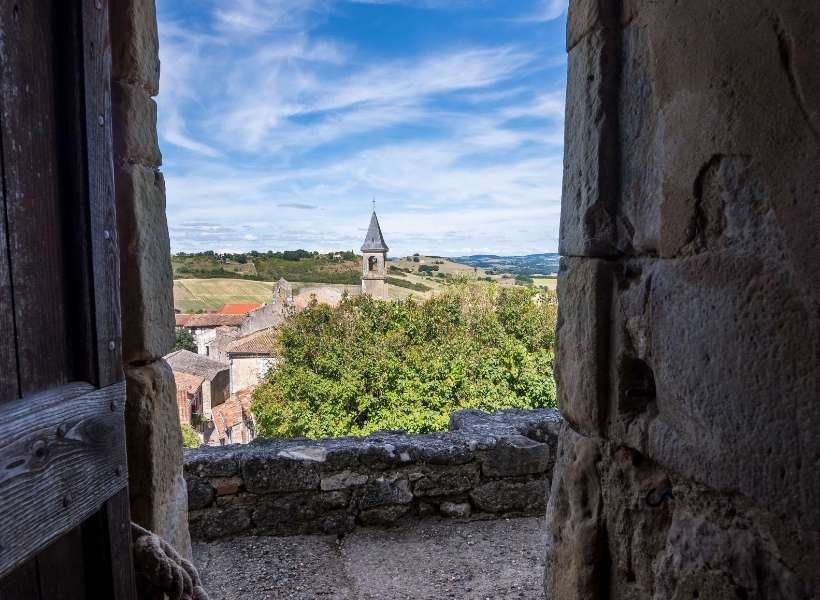 Read more about this episode
Transcript
Categories: Day -Trips from Toulouse, Off the Beaten Track in France, Toulouse Area