This post contains affiliate links, meaning I get a commission if you decide to make a purchase through my links, at no cost to you. Please read my disclosure page for more details.
Categories: Family Travel, First Time in Paris, Paris
What happens when brothers meet in Paris? Well, they have a great time, of course! Annie's guest on today's episode, Ernesto de Jesus, lives in California and his brother lives in the Philippines.  They decided to spend some time together in Paris.
They took the Eurostar to get from London to Paris and that was uneventful. Booking the ticket on-line was easy, then they took a taxi between the train station and their hotel and that made it much easier. They got their first glimpse of the city from the taxi and that was a great experience.
Ernesto's Hotel Recommendations
They stayed at two different hotels because they wanted to experience both left bank and right bank. Their first hotel was in Saint Germain des Prés and their second was the Hoxton in the 2e arrondissement. The Hoxton is a gorgeous restored building, but the area is not as walkable as Saint Germain.
Book Recommendation
Ernesto used the Paris in Stride book to walk around the Palais Royal and Covered Passages areas. There is an abundance of Japanese restaurants in this part of Paris.
Food Tour Experience
Ernesto and his brother took a food tour by Paris by Mouth. The did a Taste of Saint Germain tour and got to try some great food! Baguette tradition are big in France and usually taste better than the normal baguette.
After the tour they went to Beaupassage to look at the stores and have some lunch. There are several restaurants and some art installations in the area.
They tried an award winning croissant at La Maison d'Isabelle in the Latin Quarter and a small restaurant called Le Timbre. That's a small restaurant near the Luxembourg Gardens run by a husband and wife team. French food at a good price and you can reserve on-line.
Another place they tried is called Frenchie and it's really popular, they have a restaurant, a wine bar, a to-go place. It's more American food than anything. They also tried chocolates and fruit jellies at Jacques Genin as recommended by the food tour leader. They thought the best macarons they ever had were at Pierre Hermé.
Day-Trip to Versailles
They took at tour with Blue Fox. Met the guide at Gare Saint Lazare and rode all over the garden grounds. Ernesto feels like they didn't get to see mych of the inside of the palace because they got there too late and it was already dark in October. On the other hand, they had the Hall of Mirrors almost to themselves.
For people who don't want to take the time to go all the way to Versailles, you'll see something similar by going to the Napoleon III apartments in the Louvre or the Opera Garnier. And the Luxembourg Gardens are a wonderful place to relax too!
Hiring a Professional Photographer
This was a really good experience because it's hard to get good photos while traveling. This particular photographer was really good and has a nice smile. Ernesto hired Macky for this shoot.
Navigo Easy and Museum Pass
The Navigo Easy is the new way to travel around Paris. You don't need a photo and you can recharge it when you run out or to take longer trips like to Versailles.
You can take bus #69 that goes by a lot of monuments for the price of one ticket.
The museum pass was well-worth it, but rules are going to be changing now due to the pandemic, so check their website for updates.
Why Do So Many Paris Taxis Refuse Credit Cards?
Paris taxis are supposed to all take credit cards. The reason why they tell visitors that they don't is because they don't want to declare all of their income to avoid taxes.
If you don't have euros with you, ask before you board the taxi, but they are ALL supposed to take cards.
Paris Is a Walk-Able City
Some people say Paris is over-ratted and that it's a cliché destination. But it's really fun to be there and it's a very walk-able city which makes it really enjoyable.
Traveling with a Brother
Ernesto's brother is an architect and they both enjoy photography. They've traveled together before and knew what to expect. His brother also studied in Italy so he had been to Paris before.
Article in the journal Nature I mentioned in my personal update.
FOLLOW US ON:
Subscribe to the Podcast
Apple
Google
Spotify
RSS
Support the Show
Tip Your Guides
Extras
Patreon
Audio Tours
If you enjoyed this episode, you should also listen to related episode(s):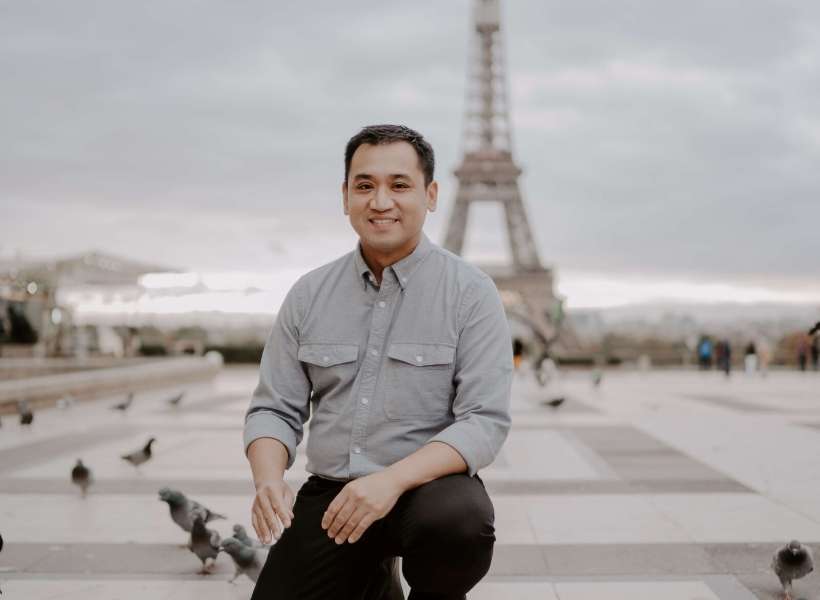 Read more about this episode
Guest Notes
Categories: Family Travel, First Time in Paris, Paris